Have you not heard of Amazon First Reads? Don't worry; a lot of people haven't. But if you're an Amazon customer, you're going to want to know about this relatively undiscovered deal that lets you get your hands on brand new books for a super low price, or even for free!
In this article, I'll talk you through everything there is to know about Amazon First Reads so that you can take advantage of this money-saving program.
What is Amazon First Reads?
Previously known as Amazon Kindle First Reads, the newly revamped Amazon First Reads is a program designed to give booklovers exclusive early access to brand new titles from Amazon Publishing. That means you could be checking out your favorite author's new book before anybody else!
But it's not every new book (unfortunately, that would be too good to be true). Instead, every month, the editors choose around nine or ten titles due to be published the following month. These titles cover a wide variety of genres and age ranges, with children's and young adult novels included in the mix.
Amazon First Reads customers can then select up to two of these not-yet-released titles for a super low price or even for free (more on this later).
How Does Amazon First Reads Work?
Anyone with an Amazon account can take advantage of the Amazon First Reads program, and best of all, it's entirely free to join. There's no monthly subscription fee and no obligation to purchase anything. Instead, you simply pay for the books you read, as and when you like.
But if you're an Amazon Prime member, then I have some excellent news for you; YOU don't pay a penny! All Prime members are automatically entitled to at least one free e-book from the Amazon First Reads selection each month.
Not an Amazon Prime member? You can sign up for a 30-day free trial here, which gives you enough time to try out all of the great Prime services, AND snag yourself a couple of free Amazon First Reads e-books, too. (But beware; if you don't want to continue with Prime, make sure you cancel your trial before the 30 days is up; otherwise, you'll be automatically billed for the following month.)
If you don't want to get involved with Prime or take advantage of their free trial, you can still sign up for the Amazon First Reads program for free. The only difference is that you'll pay $1.99 for each new release e-book you select, which is still a pretty great deal.
Signing Up to Amazon First Reads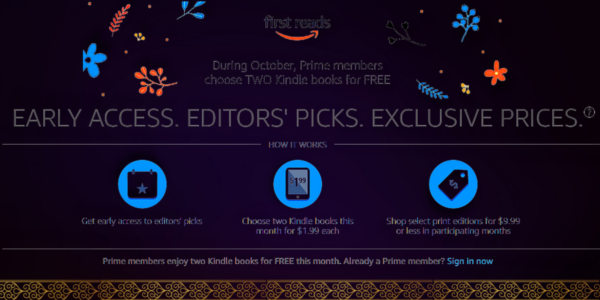 When you sign up to Amazon First Reads, you'll be kept in the loop with a monthly email with details of the new editor's picks for the month. If you see a book that you like the look of, you can navigate to the purchase page by following the link within the email.
But if you don't want any more unnecessary emails cluttering up your inbox, you can still use Amazon First Reads without even signing up. Just head over to the First Reads page at the start of each month, see if there's anything you want to read, and follow the steps to claim your book.
Is Amazon First Reads Just for e-Books?
No! While the usual monthly selection is strictly in e-book format, you can also buy print editions of brand new titles during selected months. After all, e-Books aren't for everyone, and even the biggest fans of digital reading enjoy a hard copy from time to time.
All Amazon First Reads print edition books cost $9.99 or less. They're also available to anyone, whether you're a Prime customer or not.
How Do I Read e-Books from Amazon First Reads?
e-Books from Amazon First Reads work in exactly the same way as any other e-book. You can read them on a Kindle or other e-reader device, on your iPad or tablet, on your computer, or even on your smartphone using the Kindle reading app.
Whether you receive a First Reads e-book for free through your Prime membership, or you pay the $1.99 fee, the title you choose will be yours to download and keep forever. They become part of your permanent library, just like any other e-book purchase would.
What Kind of Books Are Available on Amazon First Reads?
Pretty much every popular genre you can think of! Every month, there are around nine or ten different fiction books to choose from, and the editors are careful to include a wide variety so that most people can find something they'll enjoy.
For example, this month, the brand new books on offer are…
Plus, this month, there's also a bonus children's picture book, entitled A Home Again, by Colleen Rowan Kosinski and Valeria Docampo.
As you can see, there's a whole host of fiction on offer and even something for the little ones too.
When does Amazon Update its First Reads List?
A new selection of editor's picks appears on the first of every month. But don't worry, you don't have to rush to make your selection; you have the whole month to decide which, if any, of the brand new books on offer you want to choose.
At the end of the month, those books are officially published and become available to anyone who wants to buy them, and a new list of pre-published titles replaces them.
Is Amazon First Reads Worth the Money?
If you're already an Amazon Prime customer, then taking advantage of First Reads is a no-brainer; after all, it's free! Every month, you get a brand new title from big-name authors before anyone else without paying a penny. So, if you're a Prime customer who's not already using First Reads, then what are you waiting for?!
But if you don't have Prime, the question of whether or not Amazon First Reads is worth it all depends on you.
One of the great things about the program is that it's not a subscription service, so you're not locking yourself into any monthly fees or contracts. Instead, you can browse the selection of new books each month; if one catches your eye, great. If not, you can hold off and see what comes up next month.
And if you do see a title you can't wait to read, then it's just a one-off payment of $1.99; not bad if it's a great book! But that's for you to decide…
A Note for Kindle Unlimited Customers
If you're a Kindle Unlimited customer, you'll be able to read every single new release e-book on the Amazon First Reads list completely free of charge once they are officially released to the general public at the end of each month.
So, for most people with a Kindle Unlimited subscription, Amazon First Reads is kind of redundant. It's simply a sneak peek of the books you'll have unlimited access to in a month's time.
But, for some Kindle Unlimited users, taking advantage of the First Reads program might still be worth it. For example, if a new title from your favorite author makes the list, you might not want to wait a whole 30 days until it's officially published before you can start reading. You might also want to download and keep an e-book forever, rather than just borrowing it through Kindle Unlimited. With Amazon First Reads, every book you receive becomes part of your permanent library.
Either way, there's no commitment, subscription, or contract to sign up to, so you can hop in and hop out of these offers whenever it suits you.
Conclusion
Amazon First Reads is a pretty neat service, but unlike some other deals and programs from the world's biggest online book retailer, this one is still relatively unknown.
But if you're a true book nerd, and you love getting your hands on brand new releases, then it's definitely worth keeping your eyes on the Amazon First Reads page. I'd also recommend signing up for the program to receive monthly updates in your inbox so you don't miss out.
There are a lot of book-based services on Amazon, and some of them can end up doing nothing more than burning a hole in your pocket if you don't make the most of them. But thankfully, Amazon First Reads isn't one of them.
There's no subscription charge or commitment needed, so you can jump on an offer whenever it suits you and skip as many months as you like. You'll only pay when you buy an e-book, and if you're a Prime member, you'll pay nothing at all!
To sign up, learn more, or check out this month's editor's picks, head over to the official Amazon First Reads page. And if you find a book you love, let us know all about it in the comments below!