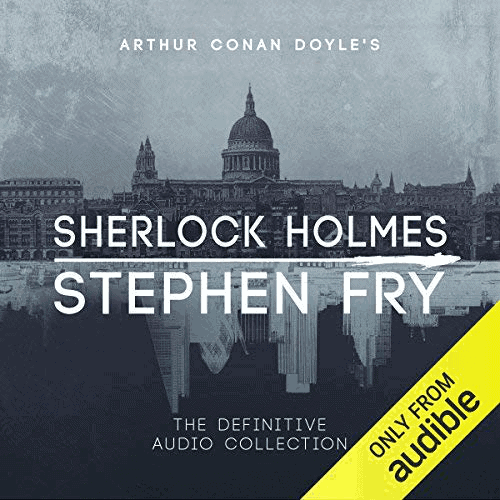 This Sherlock Holmes audiobook is a relatively new one on the scene. There are of course many different Sherlock Holmes audiobook variations. This latest one is an exclusive from Audible and is narrated by the Holmes enthusiast, Stephen Fry.
We aren't going to try to persuade you to listen to this Holmes audiobook recording over other versions. But we will tell you that it is a brilliant depiction of Sir Arthur Conan Doyle's great work. Remember that the only place you can hear this version of the audiobook is by having an Audible account. If you aren't currently using their service then you can register for your free trial here.
Sherlock Holmes Audiobook
Author: Sir Arthur Conan Doyle
Narrated by: Stephen Fry
Type: Unabridged Audiobook
Length: 71 hours & 57 minutes
Language: English
Release date: 27/02/2017
Publisher: Audible Studios
Category: Classic Detective
Stephen Fry's Sherlock Holmes audiobook narration
There are a lot of Sherlock Holmes audiobook variations. Though there is a special one that comes to mind when someone mentions Sherlock Holmes and audiobooks in the same sentence. Which is this one, Sherlock Holmes: The Definitive Collection, an incredible Audible exclusive.
This 72 hours long audiobook won Audible's 2017 Member's Choice Award, and rightly so. Stephen Fry has given us an everlasting gift with his narration of all of Arthur Conan Doyle's Sherlock Holmes novels and short stories. On top of this, Fry starts each great story with his own personal introduction. Straight away you will realise that he is the perfect person to narrate each gripping title. You can tell that his love and enthusiasm for the characters ring true.
Due to the reading be an Audible exclusive, this version of the Sherlock Holmes audiobook can only be purchased if you are an Audible member. It would cost you £79.99 to purchase it outright. But with Audible's credit system you can get it for a meager £7.99, which is the equivalent to 1 Audible credit. If you don't have an Audible account already then you're in luck! You can sign-up for their 30 days free trial, receive 1 free Audible credit, which can then be used to purchase Sherlock Holmes: The Definitive Collection narrated by Stephen Fry. We hope you enjoy it as much as us.

Audible
Audible boasts the largest audiobook store. With a simple mobile and tablet app it's difficult to look elsewhere. Amazing Audible exclusives are the cherry on the cake! New Audible users will receive a 30-days free trial for the best audiobook service on the market!
Layout
I listened to the audiobook from start to finish, therefore, I didn't have any issues with chapter location. We would suggest that you do the same. However, if you want to skip to a specific story then you should check the summary on Audible, it has all sections listed there. It is slightly annoying that some of the books are split into different parts, although it doesn't take a second to download the next part if you are connected to WiFi.
However, this small inconvenience doesn't stop it from being one of the best audiobooks of recent times, and shouldn't stop you from purchasing the amazingly read Sherlock Holmes audiobook by Stephen Fry!
About the author
Sir Arthur Conan Doyle is best known for being the creator of Sherlock Holmes' adventures. Arguably the most famous detective fiction novels and short stories that have been written. Arthur Conan Doyle was born in Edinburgh, Scotland in 1859. Before becoming the author to the great Sherlock Holmes, he studied medicine at the University of Edinburgh. It was during this period that he started writing short stories. His first published piece was called 'The Mystery of Sasassa Valley' which was set in South Africa.
In 1881 after university he voyaged the SS Muyamba to be the ship's surgeon. After returning he went back to working in doctors practices and in 1885 he completed his Doctor of Medicine degree. It wasn't until 1886 before his first Sherlock Holmes piece was picked up by a publisher. 'A Study in Scarlet' appeared one year later and received great reviews.
In 1890 his next Holmes adventure was published, 'The Sign of Four' after that the publishers and the people wanted more. Doyle became one of the best paid authors of his time. Some of his over pieces have often been overlooked due to the fame of Sherlock Holmes.