As part of the book tour hosted by Rockstar Book Tours, Hooked To Books is very excited to be one of the first lucky bloggers to read and share our opinion on Alisha Klapheke's latest novel Plains of Sand and Steel, the second book in her Uncommon World series.
Check out our review on the fantasy novel, and don't forget the exciting "refreshments" in the giveaway section!
---
Plains of Sand and Steel by Alisha Klapheke
Title: PLAINS OF SAND AND STEEL (An Uncommon World Novel)
Author: Alisha Klapheke
Pub. Date: June 16, 2017
Publisher: Alisha Klapheke
Pages: 325
Formats: Paperback, eBook
Find it: Amazon, B&N, Goodreads
A ruler's young bride with a body to conceal, a mercenary bent on revenge, and the Fire magic that will alter their story forever.
The Wrath and the Dawn meets Truthwitch in the second standalone, full length novel of the Uncommon World series.
When her new royal husband dies at the beginning of an invasion, Seren must hide his body and use the visions the Holy Fire gives her to save the Empire from itself and its enemies. But if the high-ranking general who hates her discovers her secret, he'll have her put to death.
When invaders slaughter Ona's family and shatter her artist life, she joins Lucca, an experienced mercenary and her exact opposite, and heads into war. She just knows the "chanting" she can do—imposing one's will on the world and watching it come to life—will break the invaders and give her sweet vengeance.
Both want to save the Empire but with tangled histories and new passions swirling around them, their divided motivations turn a possible victory into a deadly storm.
---
Review
Plains of Sand and Steel (Uncommon World series) by Alisha Klapheke
Plains of Sand and Steel is the first novel by Alisha Klapheke I've ever read. Although the title makes it sounds like a sequel of her previous book Waters of Salt and Sin, it actually features an independent story.
Plains of Sand and Steel tells the story a young woman who rises up to take charge of the empire after the sudden death of her royal husband. It features her courageous attempts to conceal a secret and protect her people from the invaders. The novel is war, revenge, friendship, betrayal, and love beautifully entangled in an fantasy setting.
While it's a book with a very well developed plot and lots of interesting actions, in this review, I'd like to focus on the characters that I find interesting.
Seren the protagonist, Pearl of the Desert, is definitely a very likable character.
I like how she starts off as the concerning wife of the kyros, but at the same time a 17 years old girl with all the insecurities and inconfidence. And then as the tragedy dawns on her life and the risk of a war comes close, she struggles to put trust in herself and to take charge.
Seren as a wife is humble and appears cautious and submissive:
"She stepped closer to Meric, hoping it wasn't too close. Sometimes he wanted to show her affection in public, but other times, no. Only ninety odd days into a marriage at seventeen, and she had little idea how to be a wife."
I can feel the deep love for her land and her people, as the vision appears in front of Seren's eyes:
"The corners of the Empire shimmered into view. Places she'd traveled to with Father when he was still the High General. Far off towns and seas. Markets and boats. Laughing children. Men and women talking, some singing, some arguing. Light skin, darker skin, people from every clan in the plains and the border towns in the mountains where Father had taken the family when he retired.
Then Akhayma came into view."
The author makes it very obvious that the Pearl of the Desert was not born with a heart of steel. Even as she already has the power, every decision Seren makes involves thorough consideration for the safety and the wellbeing of the people around her. She puts herself last.
But when in time of need, Seren goes on to discover her own strength, and gains confidence in herself. She is intelligent and down to earth – she knows her place and the challenges she were to face. And she has the courage to follow what she believes is right, to conceal the death of the kyros and put effort on fighting the enemy, knowing she may have to pay for it with her own life.
I like how the author lets Seren relax at being her own insecure, soft-hearted self. She does keep her head cool when making difficult decisions, but never really tries too hard to be a heroin.
Another character in Plains of Sand and Steel that really draws my attention is General Adem, a loyal, patriotic general, who is obsessed with laws, traditions, and royalty. He somewhat reminds me of Javert from Les Misérables. Thankfully, his fanatical absolutism is of a lesser extreme and his loyalty towards the people is greater than his obsession with "true royal blood". He contributes a great deal to the challenges Seren has to face, but at the same time someone she can always trust and understand.
Now to the things that take off one star from my rating.
Although the author suggests right at the beginning that it is a loveless marriage between Seren and the kyros, and does allow her the necessary mourning, I still feel that there could be more description of a loss she feels toward his death. After all, Meric is her family. I expected to see more of her emotions, especially during the hiding of his body (in their bedroom!).
Also, the physical connection at the end of the novel between Seren and Lucca is somewhat disappointing. It is expected, but doesn't come as natural and romantic as I'd like it. It's almost unaffectionate.
Overall, Plains of Sand and Steel is a nice read, with surprising twists and turns and a pleasant ending, and very interesting characters. Needless to say, I would recommend it, and I definitely look forward to reading its sequel.
---
Uncommon World series
Make sure to grab the companion novels in the Uncommon World Series!
---
About Alisha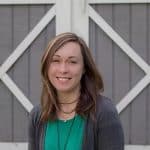 Award-winning author Alisha Klapheke wants to infuse your life with unique magic, far-flung fantasy settings, and romance. Her inspiration springs from medieval art and artifacts, the world travel she enjoys with her husband, and the fantasy she grew up reading when she was supposed to be doing her math homework.
When she's not writing, Alisha teaches Thai kickboxing, Brazilian jiu jitsu, and krav maga at her family's dojo just outside of Nashville. That may be why writing fight scenes is her favorite.
​
Kathleen Rushall of Andrea Brown Literary Agency represents Alisha in all things books.
Website | Twitter | Facebook | Goodreads | Instagram
---
---
Giveaway
1 winner will receive signed paperbacks of WATERS OF SALT AND SIN, FEVER, and PLAINS OF SAND AND STEEL & Swag (Stickers & A Signed Map), AND Paperbacks of AIR AWAKENS by Elise Kova & FIRST YEAR by Rachel E. Carter, US Only.
3 winners will receive eBooks of WATERS OF SALT AND SIN, FEVER, and PLAINS OF SAND AND STEEL, International.
a Rafflecopter giveaway
---
Tour Schedule