Do you want to encourage your kids to read more? Unfortunately, in this digital age, it can be really tough to get your tween's face away from a screen and into a book, but luckily, there are tons of fantastic middle-grade books to choose from to whet their appetite for reading.
Middle-grade books are aimed at young readers between eight and twelve years old. They're generally packed with exciting, engaging, and adventure-filled plot lines as well as familiar themes of everyday life that kids this age identify with, like friends, family, and school. Yet while the characters are designed to be relatable, they're often slightly older than their target audience; after all, 'big kids' aren't interested in reading stories about 'little kids.'
Middle-grade books span all kinds of different genres, from fantasy and sci-fi to mystery, horror, and historical fiction. But no matter what kind of themes a story contains, good middle-grade books encourage young readers to see the world from a new perspective.
If you're looking for some great titles to keep your kids interested in reading, then you've come to the right place. Here's a list of nine brand new books that eight- to twelve-year-olds will love. Some are from familiar, celebrated children's authors, and others are by debut writers whose work is already shooting to the top of the GoodReads chart.
Middle Grade Books
| Sr. No. | Title | Publication Date | Print Length | Author | Publisher | Where to Buy |
| --- | --- | --- | --- | --- | --- | --- |
| 1 | Poison for Breakfast | August 31, 2021 | 168 pages | Lemony Snicket | Liveright | Amazon |
| 2 | Ghost Girl | August 10, 2021 | 288 pages | Ally Malinenko | Katherine Tegen Books | Amazon |
| 3 | Stowaway | August 03, 2021 | 384 pages | John David Anderson | Walden Pond Press | Book Shop |
| 4 | Carry Me Home | August 24, 2021 | 208 pages | Janet Fox | Simon & Schuster Books for Young Readers | Amazon |
| 5 | One Kid's Trash | August 31, 2021 | 240 pages | Jamie Sumner | Atheneum Books for Young Readers | Amazon |
| 6 | Hope Springs | August 10, 2021 | 336 pages | Jaime Berry | Little, Brown Books for Young Readers | Book Shop |
| 7 | The Smashed Man of Dread End | August 17, 2021 | 304 pages | J.W. Ocker | HarperCollins | Amazon |
| 8 | The Many Meanings of Meilan | August 17, 2021 | 368 pages | Andrea Wang | Kokila | Amazon |
| 9 | Erik vs. Everything | August 03, 2021 | 288 pages | Christina Uss | Clarion Books | Book Shop |
1. Poison for Breakfast by Lemony Snicket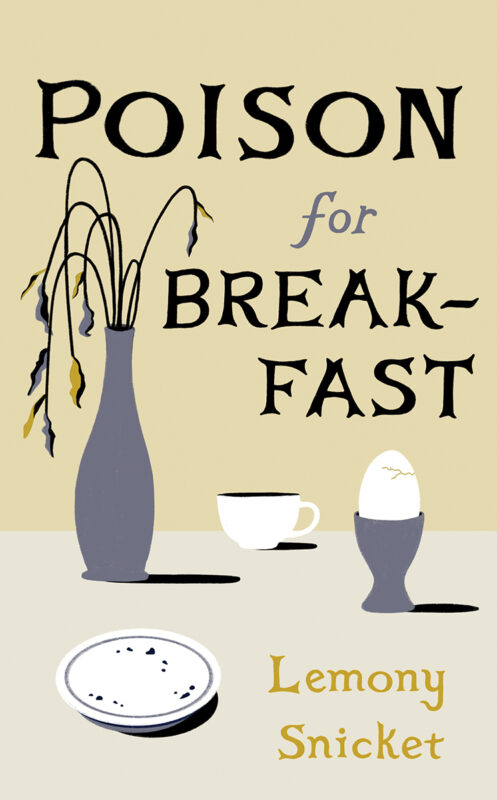 Lemony Snicket is used to solving mysteries. Over the years, he's investigated countless crimes, conspiracies, and suspicious events, but this time it's different. This time, HE'S the victim.
It all began after a seemingly ordinary start to the morning, when out of the blue, Snicket received an alarming note pushed under his door: "You've eaten poison for breakfast." But it's too late, it's already in his belly, and so the only thing left to do is to set out on a mission to find out who poisoned him, how they did it, and why.
He wanders the streets of the town, trying not to dwell on his imminent demise and focus instead on solving the mystery before the poison takes hold. As he weaves through the crowds of familiar faces, he discovers a winding series of clues, but can he solve them and find an antidote before it's too late?
2. Ghost Girl by Ally Malinenko
Zee Puckett has always loved spooky stories, but ever since the storm, it feels like she's living in a real one. Strange things are happening, people are going missing, and there's a peculiar new principal at school who gives her the creeps. Could he be behind it all?
When she shares her fears with her friends, none of them believe her. And thanks to her "crazy" stories, Nellie, the school bully, even gives her a new nickname; Ghost Girl.
But thankfully, there's one person who takes Zee's theories seriously; her best friend, Elijah. Together, they watch as things go from bad to worse. One by one, everyone's darkest and most selfish desires are becoming a reality. Could someone be looking inside their souls, making sinister plans?
Now Zee and Elija, along with their unlikely new associate Nellie, must work together to solve the mystery behind these spooky events and make sure that their very own ghost story has a happy ending.
3. Stowaway by John David Anderson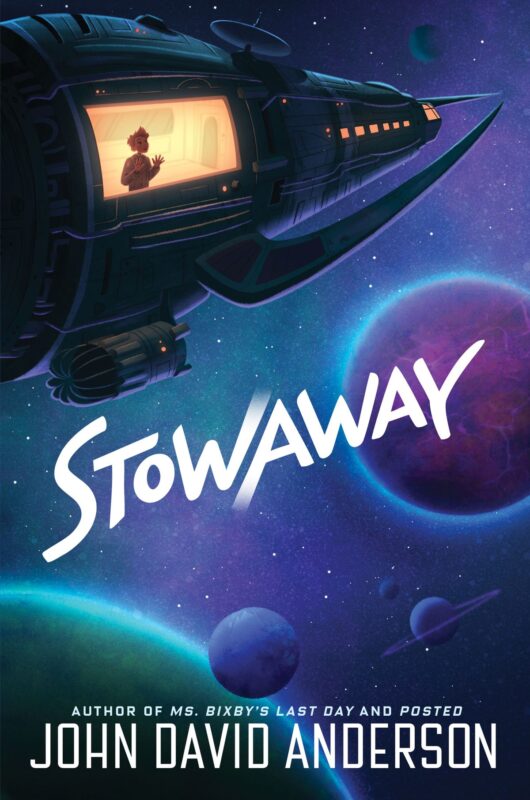 A team of scientists has made an incredible new discovery; a rare mineral buried deep within the crust of the Earth. Yet while the scientists know they've stumbled across an important find, they have no idea just how important it really is until a group of aliens arrives on the scene.
The aliens offer all kinds of amazing rewards in exchange for the mysterious mineral, from brand new futuristic technology to intergalactic protection and a place within the interstellar coalition; anything at all to ensure their claim on the new discovery.
But it soon becomes clear that these aliens aren't the only ones searching for this precious substance. Other extraterrestrial forces are desperate to get their hands on it too, and an intergalactic war soon begins to rage across the surface of the Earth, leaving the human race caught up in the middle.
Leo is one of these humans, and after his mother is killed in the crossfire, he, his brother, and his father have no choice but to escape the warzone of Earth and head into outer space. But their mission to find safety is full of danger and peril, and when their father is kidnapped, it's up to Leo to navigate the galaxy to save his family and perhaps even the entire human race.
4. Carry Me Home by Janet Fox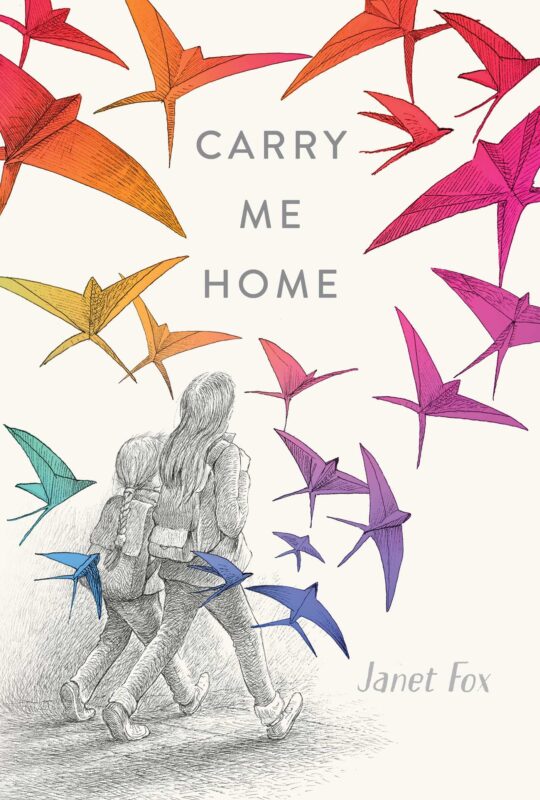 When twelve-year-old Lulu's dad goes missing, she isn't too worried at first. He's left home once before, but he came back pretty soon, and so she and her little sister Serena wait patiently for his return.
Yet as the days go by and there's still no sign of him, Lulu begins to wonder if he's ok. But despite her concerns, the sisters make a pact to keep their father's disappearance to themselves. Just one wrong move and they could be separated, sent to live far away from each other and the life they know.
So, Lulu, as the eldest, takes on the role of the parent, but it's not easy to run a household when you're only twelve, and it's even harder to keep a secret as big as theirs.
But as the old saying goes, things always look darkest before the dawn. Thanks to their new friends and community, the sisters are about to learn a valuable lesson that family can be found in the most unlikely of places.
5. One Kid's Trash by Jamie Sumner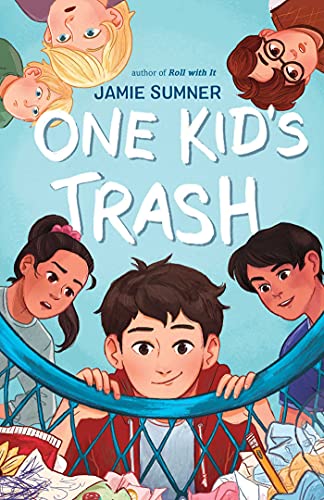 Hugo is less than impressed when his dad announces his plans to retrain as a ski instructor in the Colorado mountains. His father's midlife crisis means that he's forced to move to a brand new town, join a brand new school, and leave all of his friends behind.
To make matters even worse, Hugo is smaller than pretty much every other kid his age, and if his past experiences are anything to go by, the kids at his new school won't let him forget it.
But against all odds, for the first time in his life, he's about to become one of the coolest kids in class. That's because Hugo has a hidden talent for Garbology, the scientific study of trash. As a Garbology expert, he can tell you anything there is to know about a person just by looking at the stuff they throw away. And in the eyes of his new classmates, that makes him a superstar.
But, after a lifetime of being teased for his small stature, his new social standing starts to go to his head. Can Hugo remain grounded despite his newfound fame, or will life have to serve him a slice of humble pie first?
Also Read:- 22 Motivational Reading Quotes for Kids
6. Hope Springs by Jaime Berry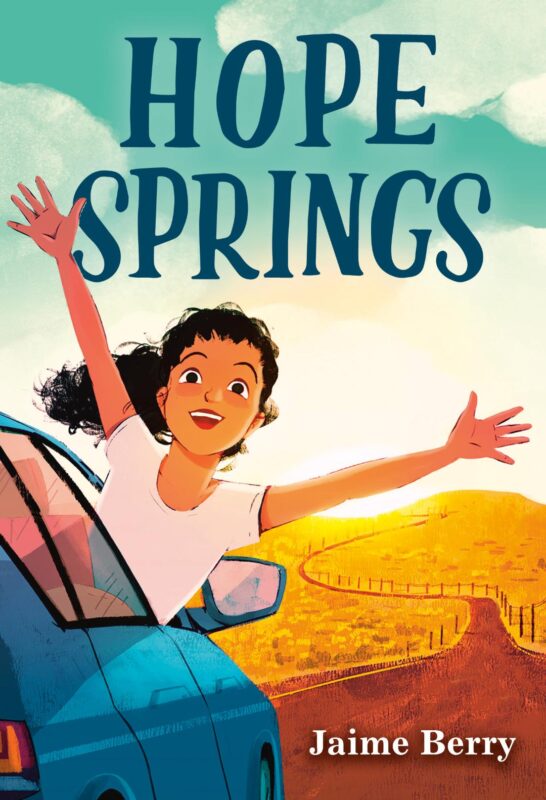 At just eleven years old, Jubilee Johnson has already moved home more times than she can remember. So much so that at this point, she and her nan are relocating experts. And for years, wherever they've gone, it's just been the two of them, but now, Jubilee is starting to wonder whether it's time for a change.
So, when Jubilee begins searching for their next home, she's drawn in by a small town called Hope Springs. The place looks nice enough, and the people sound friendly, but the most exciting part about this Texan town is that it just happens to be the home of her TV crafting hero, Arletta Paisley.
As they settle into their new lives, Jubilee makes some unlikely new friends, and for the first time in her life, she feels like she's laying down some roots.
But things take a turn for the worst when the opening of a new big-box superstore threatens the quiet community of Hope Springs. And the worst part is, Jubilee's hero Arletta is the face of the campaign.
Now, she's faced with a tough decision; move on to a new place, just like she's always done, or stick around and fight for what's right. But does she have what it takes to protect her new friends and stand up to the hero she once idolized?
7. The Smashed Man of Dread End by J.W. Ocker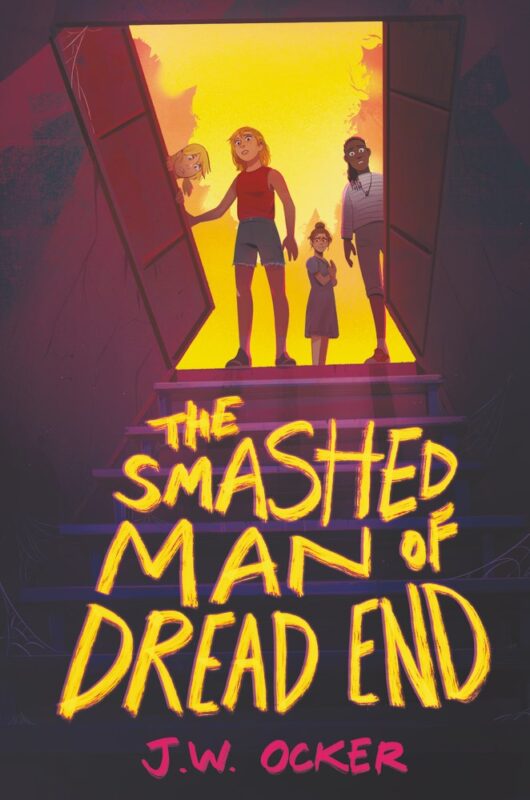 Noe Wiley was beside herself with excitement about her family's upcoming move to a brand new street. And after that fateful incident at the sleepover last year, she's ready to meet a new group of kids and put the past behind her.
But the new neighborhood isn't quite what she expected. Everything seems a little strange, from the creepy woods at the bottom of the dead-end road to the peculiar trio of girls she meets while she's unpacking. Radiah, Crystal, and Ruthy are nothing like the kids from her old neighborhood; instead of welcoming her and showing her around, they issue her a simple, sinister warning; stay out of your basement, no matter what.
But Noe doesn't take kindly to being told what to do, so she decides to ignore their instructions and head downstairs to investigate. After all, it's HER basement, not theirs. So what right do they have to tell her where she can and can't go in her own house?
But Noe's defiance soon turns to terror when there, in the darkness, she sees a shadowy figure emerge. Could she be dreaming? Or could this be the start of a real-life nightmare?
8. The Many Meanings of Meilan by Andrea Wang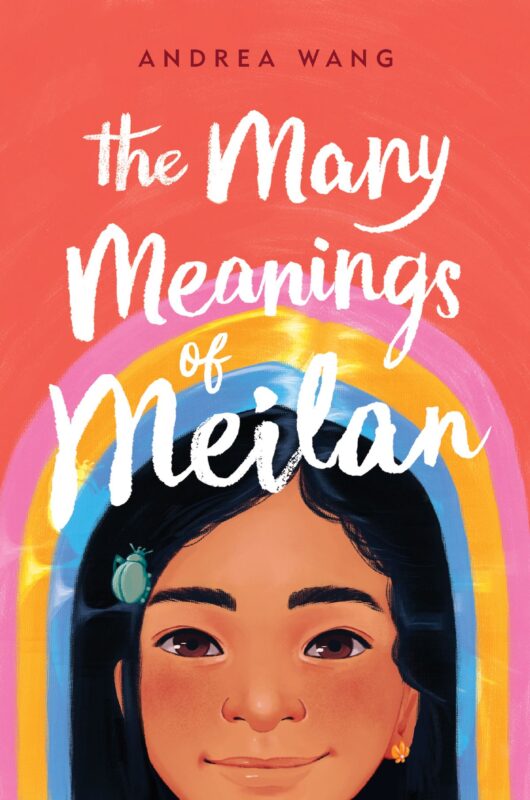 Just before Meilan starts seventh grade, a family feud erupts that forces her and her family to leave their Chinatown home in the big city of Boston forever. Leaving everything they've ever known behind, they make their way to the dull, rural town of Redbud, Ohio, where life couldn't be more different.
Everyone here looks, talks, and dresses the same, and Meilan sticks out like a sore thumb. But things go from bad to worse when the school's principal insists she starts calling herself Melanie. Apparently, it sounds "less foreign," and so overnight, she loses her Chinese name and a little bit of her identity disappears along with it.
But secretly, Meilan is doing everything she can to explore the meaning behind her name. She daydreams about the many different Meilans, each corresponding to a Chinese character with unique qualities. Slowly, she begins to see that she, and her name, are more powerful than she'd ever realized.
9. Erik vs. Everything by Christina Uss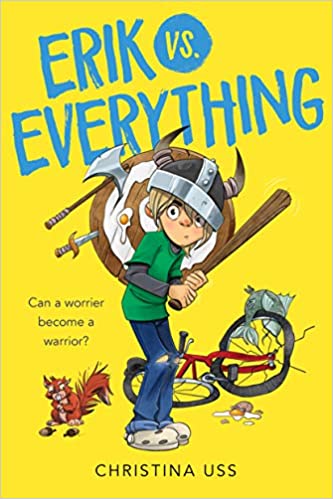 Erik Sheepflattener is anxious by nature. While the rest of his Viking family are brave, bold, and live by their own rules, he does his very best to avoid trouble, which usually means hiding away from life.
But his insistent family members keep pushing him to try new things, and eventually, his big sister Brunhilde decides enough is enough; she's dedicating her summer to helping Erik conquer his fears.
Erik is terrified of his sister's plan, yet when he tries to object, it falls on deaf ears. But whether he likes it or not, this is going to be the most memorable summer of his life. Will he remain trapped by his fears, or will he decide to embrace life's challenges, even if it scares him?
Conclusion
These nine brand-new, action-packed books are guaranteed to captivate middle-grade kids and keep them hooked on reading for years to come.
Do you have any suggestions for great books, new or old, that children in this age group will love? If so, drop a comment in the box below!
Bonus read:- 10 Types of Books For Young Children