Seeing your kids immersed in an epic book is one of those proud parent moments we all crave. Instilling a love of reading into children at a young age is an incredibly valuable gift that can last a lifetime.
Studies show that kids who are book lovers almost always go on to love reading as an adult.
And what better way to get your children started on their reading journey than with an epic kid's book.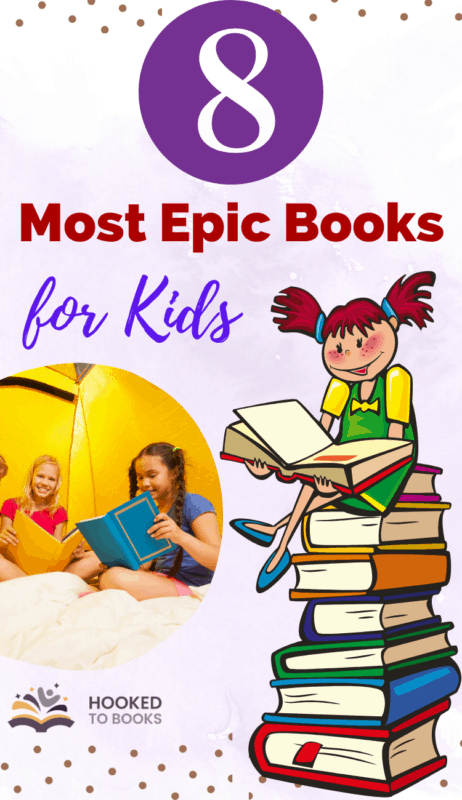 What do we mean by epic? Epic tales usually feature a hero or heroine on a fantastic adventure with many twists and turns. Often there's a quest to save someone or something, uncover a hidden truth, or solve a mystery.
These books are exciting and engaging and difficult to put down. They're the kind of tales that will keep your kid's eyes off the TV or smartphone and stuck inside a good book instead.
As a kid, I loved reading and was lucky enough to come across some epic books myself. Below, I've put together a list of 8 of the most epic books for kids available today.
Epic Books for Kids
There are some fantastic new authors featured here, as well as some absolute classics that have withstood the test of time.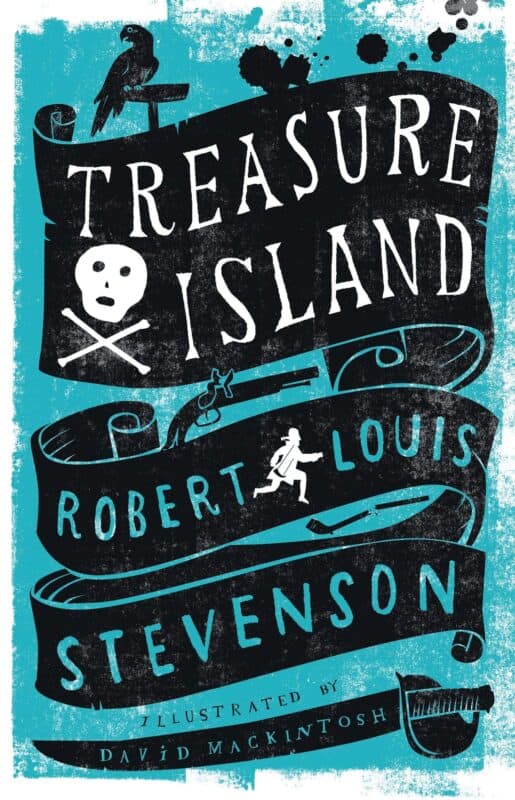 Although Robert Louis Stevenson wrote Treasure Island way back in the 1880s, this classic book is still captivating young audiences today. It's frequently hailed as one of the greatest adventure books of all time and has been the subject of countless movies, comics, and TV shows throughout recent history.
Treasure Island tells the story of the open seas, hidden treasure maps, and cunning pirates. It's a classic coming of age story, centering around a young boy named Jim Hawkins.
Jim lives in Bristol, England, where he lives a quiet life helping his parents run a seaside inn. But when the mysterious and disheveled Captain Billy Bones arrives, things change dramatically for Jim.
Billy Bones is a pirate, and he has a real-life treasure map in his possession. What follows is a truly epic adventure filled with breathtaking cliff hangers and incredible twists and turns.
Treasure Island will be a hit with any child who loves adventure. The author Robert Louis Stevenson said it himself, "If this doesn't fetch the kids, why, they have gone rotten since my day." And when the kids finish it, why not read it yourself?! This book is a literary masterpiece suitable for all ages.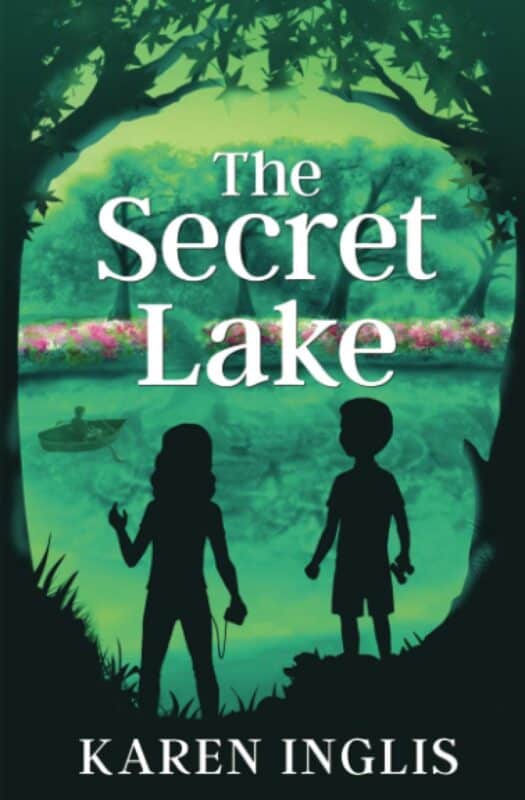 This page-turning adventure book tells the tale of Stella and her little brother, Tom. After moving to a brand new house in London, the siblings stumble across an intriguing mystery. Their elderly neighbor Mrs. Moon has a little dog, and it keeps disappearing. When the dog reappears, he's always soaking wet. But why?!
They set out to spend their summer solving the mystery, but in their quest for answers, they find that they've accidentally stumbled back in time. They're still in their London neighborhood, but something's different. It's 100 years in the past.
The Secret Lake is an addictive adventure filled with mystery, intrigue, and edge of your seat plot twists. It's a modern children's classic that is set to be at the top of the kid's reading charts for a long time to come.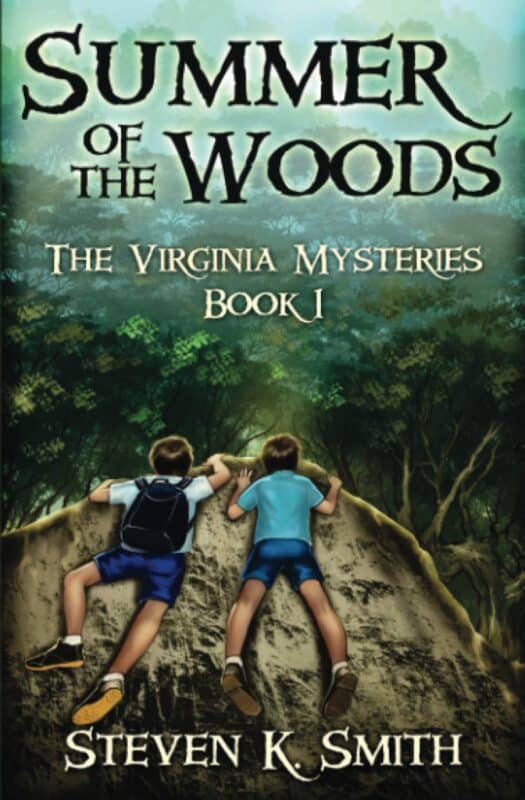 Brothers Derek and Sam are settling into their new home in Virginia. But they weren't expecting their new house to be quite so, well… creepy. The big old wooden mansion creaks with every step. And the surrounding forest makes the place feel even spookier.
Soon, a mystery starts to unravel for the two young brothers as they stumble across an old coin collection that takes them on a whirlwind adventure. The boys are about to embark on a summer filled with secret forests, hidden passageways, and historical mysteries to solve.
This epic tale is part of a larger series, The Virginia Mysteries. Each book features fictional quests and adventures with genuine places, people, and events from Virginia's rich history. Each book is a gripping page-turner that will enthrall even the most book shy kids. That's why it landed the spot as being one of the most epic books for kids.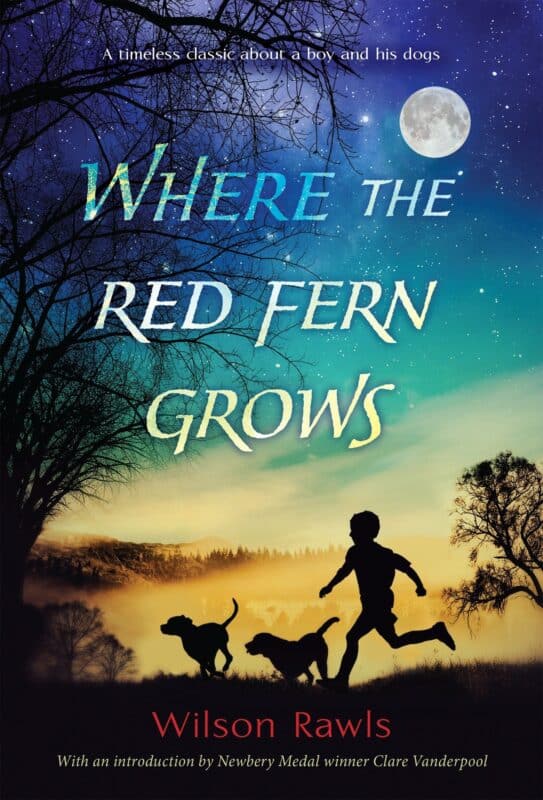 This classic adventure story centers around a young boy named Billy. Billy is desperate for two dogs of his very own. He saves and saves, and eventually, he has enough money to buy two beautiful raccoon hounds; Old Dan and Little Ann.
Billy is overjoyed, and together, he and his two dogs become the most prolific and successful hunters in all of the valley. He's even relieved from his duties around the house and is instead allowed to hunt full time with his furry friends.
They enjoy great success together, but tragedy awaits. A mountain lion attack spells the end for Old Dan, and Little Ann sadly passes away just a few days later. Billy is broken at the loss of his beloved dogs. But can a message from above help to heal his broken heart?
The Red Fern Grows is a beautiful tale about the powerful connection that exists between humans and dogs.
Although originally written for children, this book is well-loved by readers of all ages. It's known as one of the most moving and emotive children's books of the 20th century.
11-year-old Bastian is tormented by bullies at school. One day, with the bullies in hot pursuit, he finds himself hiding out in a dusty old bookstore.
The store is owned by a surly and cantankerous elderly man named Mr. Coreander. Mr Coreander is studying a large, strange-looking book entitled 'The Neverending Story.' In a moment of sheer impulsivity, Bastian swipes the book and makes a run for it.
Bastian senses right away that there's something special about this peculiar old book. So he sets up a secret reading space in the attic at his school, where he escapes to read it, undisturbed.
From the moment Bastian begins to read, he's transported into an enchanting new world called Fantastica. Bastian embarks on an epic adventure where he meets all kinds of weird and wonderful creatures.
But there is trouble brewing in Fantastica, and his new friends need his help. Can Bastian muster the courage and strength to help save the creatures of this magical land before it's too late?
The Neverending Story was written by bestselling German author Michael Ende's and has been captivating young audiences since it was originally released in 1979. In 1984 it was famously adapted to film, becoming one of the most classic kids movies of the 20th century.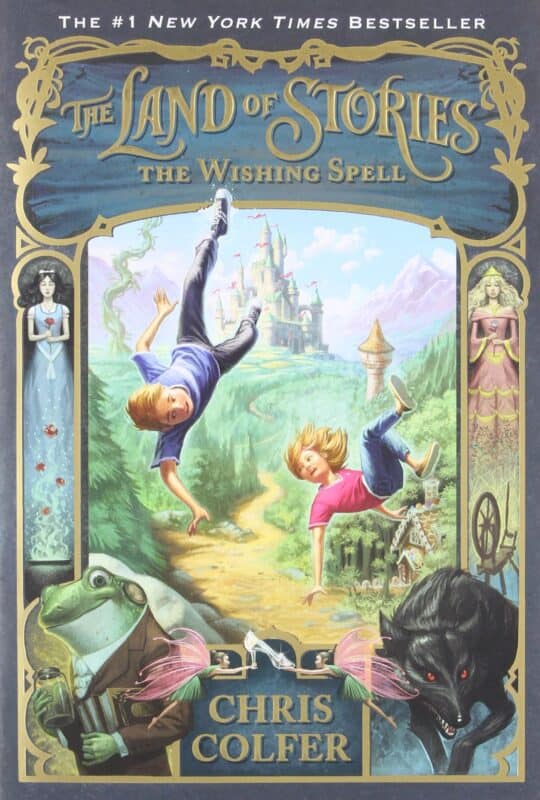 We can't make a list of the most epic books for kids without mentioning the classic "The Wishing Spell"
When twins Alex and Connor Bailey bailey first pick up a mysterious storybook, they have no idea that they are about to embark on an out of this world adventure.
In a premise similar to the Neverending Story, the book transports the boys to a strange new world filled with folklore and magic. They meet real-life fairy tale characters that they thought were works of fiction.
But not all these characters are friendly; they find themselves face to face with goblins, witches, trolls, and a whole host of other unsavory creatures.
Can the twins find their way back home to their own world? Or will they be stuck in the land of fairy tales forever?
The Wishing Spell is the first book in The Land of Stories series by Cris Colfer. The series hit the New York Time's bestsellers list several times thanks to its gripping narrative, captivating characters, and fantastical themes.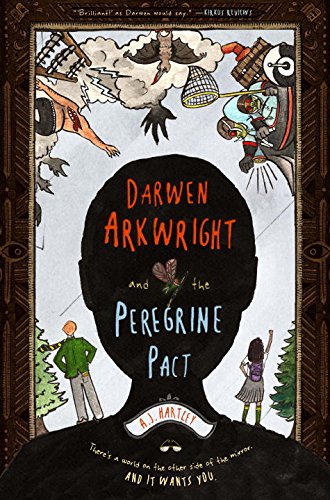 Darwen Arkwright is an 11-year-old boy who has lived his entire life in a rural English town. In a sudden twist of fate, he's shipped off to live with his aunt in Atlanta, Georgia. But Darwen knows nothing about America, and he's terrified for what this new life might have in store for him.
One day, soon after he arrives, Darwen spots something extraordinary indeed; a human-headed bat. He follows the creature all the way to Octavious Peregrine's Peculiar Shop of Mirrors, run by the very peculiar indeed, Mr. Peregrine.
Mr. Peregrine gives young Darwen a distorted old mirror. But as he soon finds out, this is no ordinary mirror. It holds magical powers that will transport him into a mysterious and bizarre new world.
Along with some newfound friends, Darwen must navigate this strange new land and embark on an adventure that will change him forever.
Darwen Arkwright and The Peregrine Pact is the debut book from bestselling author A. J. Hartley. It's an enchanting tale of adventure and intrigue that will have any young reader hooked from the very start. It's one of the most epic books for kids!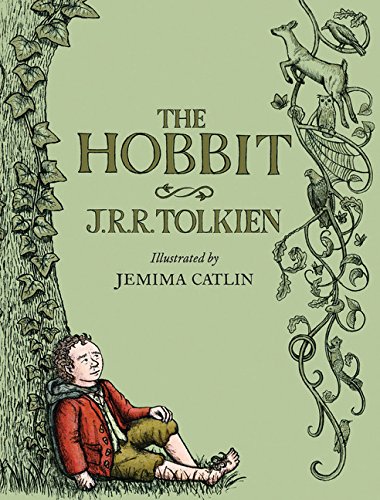 Bilbo Baggins is a short, hairy-footed, unsuspecting hobbit who lives a peaceful life in Bag End. Until one day, when his world is turned upside down by the arrival of the wise old wizard Gandalf.
Gandalf persuades a reluctant Bilbo to join a group of 13 dwarves and embark on a long and dangerous mission to steal back lost treasure from a Maraudian dragon. Bilbo finds himself battling terrifying mythical creatures and fighting for much more than just stolen treasure.
JRR Tolkien's The Hobbit has been a children's classic for almost 100 years, and it still captivates readers of all ages to this day. This book can be a more challenging read than many other children's books, but a timeless tale like this is an essential feature on any young reader's bookshelf.
Conclusion
If you want your child to become an avid reader, it's essential to get them hooked to books at an early age. These epic children's stories will captivate young readers and solidify a love of reading that will last a lifetime.