If you have ever wanted an excuse to go and explore and travel then you need to read these Mark Twain travel quotes.
Let's be honest, we live in a world that loves to travel, and why not right? Travel is good for you, good for your soul, and just a perfect reason to explore what is unknown to us.
If you are feeling the itch to travel read the words of Mark Twain in these travel quotes. It will make you want to pack your bags and go explore.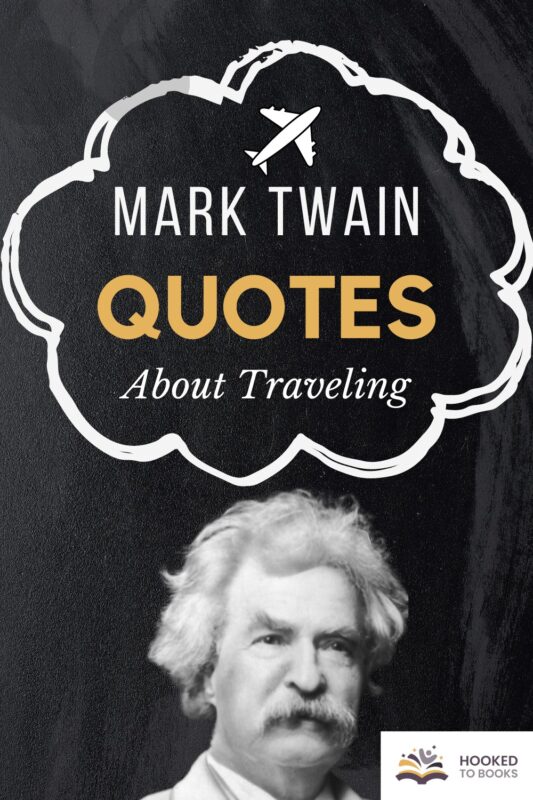 20 Mark Twain Travel Quotes to Inspire Traveling
"There is no better way to find out whether you like people or hate them than to travel together."

— Mark Twain
"There is no unhappiness like the misery of sighting land (and work) again after a cheerful, careless voyage."

— Mark Twain
"One gets large impressions in boyhood, sometimes, which he has to fight against all his life."

— Mark Twain
"Travel is fatal to prejudice, bigotry, and narrow-mindedness, and many of our people need it sorely on these accounts. Broad, wholesome, charitable views of men and things cannot be acquired by vegetating in one little corner of the earth all one's lifetime."

— Mark Twain
"The elastic heart of youth cannot be compressed into one constrained shape long at a time."

— Mark Twain
"The gentle reader will never, never know what a consummate ass he can become until he goes abroad."

— Mark Twain
"It liberates the vandal to travel––you never saw a bigoted, opinionated, stubborn, narrow-minded, self-conceited, almighty mean man in your life but he had stuck in one place since he was born and thought God made the world and dyspepsia and bile for his especial comfort and satisfaction."

— Mark Twain
"Be good and you will be lonesome."

— Mark Twain
"Travel has no longer any charm for me. I have seen all the foreign countries I want to except Heaven and Hell and I have only a vague curiosity about one of those."

— Mark Twain
"Now and then we had a hope that if we lived and were good, God would permit us to be pirates."

— Mark Twain
" I am technically "boss" of the family which I am carrying along— but I am grateful to know that it is only technically — that the real authority rests on the other side of the house. It is placed there by a beneficent Providence, who foresaw before I was born, or, if he did not, he has found it out since — that I am not in any way qualified to travel alone. "
"With courage you will dare to take risks, have the strength to be compassionate, and the wisdom to be humble. Courage is the foundation of integrity."

— Mark Twain
"Take the universe as a whole, and it is a very clever conception and quite competently carried out, but I don't think much of this globe as a work of art. It would have been better to take more time to it and do it right, it seems to me, than to rush it through, helter-skelter, in six days, just for reputation."

— Mark Twain
"It is curious — curious that physical courage should be so common in the world, and moral courage so rare."

— Mark Twain
"It is a subject that is bound to stir the pulses of any man one talks seriously to about, for in this age of inventive wonders all men have come to believe that in some genius' brain sleeps the solution of the grand problem of aerial navigation — and along with that belief is the hope that that genius will reveal his miracle before they die, and likewise a dread that he will poke off somewhere and die himself before he finds out that he has such a wonder lying dormant in his brain."

— Mark Twain
"Nobody can steer a donkey, and some collided with camels, dervishes, effendis, asses, beggars and every thing else that offered to the donkeys a reasonable chance for a collision."

— Mark Twain
"In our day we don't allow a hundred and thirty years to elapse between glimpses of a marvel. If somebody should discover a creek in the county next to the one that the North Pole is in, Europe and America would start fifteen costly expeditions thither; one to explore the creek, and the other fourteen to hunt for each other."

— Mark Twain
"Mousa is short enough, but I don't quite like it. It seems colorless – inharmonious – inadequate; and I am sensitive to such things. How do you think Satan would do?"

"Yes, master. Satan do wair good."

— Mark Twain
To do something, say something, see something, before anybody else — these are the things that confer a pleasure compared with other pleasures are tame and commonplace, other ecstasies cheap and trivial. Lifetimes of ecstasy crowded into a single moment."

— Mark Twain
"I speak of the famous bridge of boats which Xerxes ordered to be built over the narrowest part of the Hellespont (where it is only two or three miles wide.) A moderate gale destroyed the flimsy structure, and the King, thinking that to publicly rebuke the contractors might have a good effect on the next set, called them out before the army and had them beheaded. In the next ten minutes he let a new contract for the bridge. It has been observed by ancient writers that the second bridge was a very good bridge. Xerxes crossed his host of five millions of men on it, and if it had not been purposely destroyed, it would probably have been there yet. If our Government would rebuke some of our shoddy contractors occasionally, it might work much good."

— Mark Twain
There you have it! The very best Mark Twain travel quotes to get you thinking about traveling. Share your favorites in the comments below!

Check out these other posts.