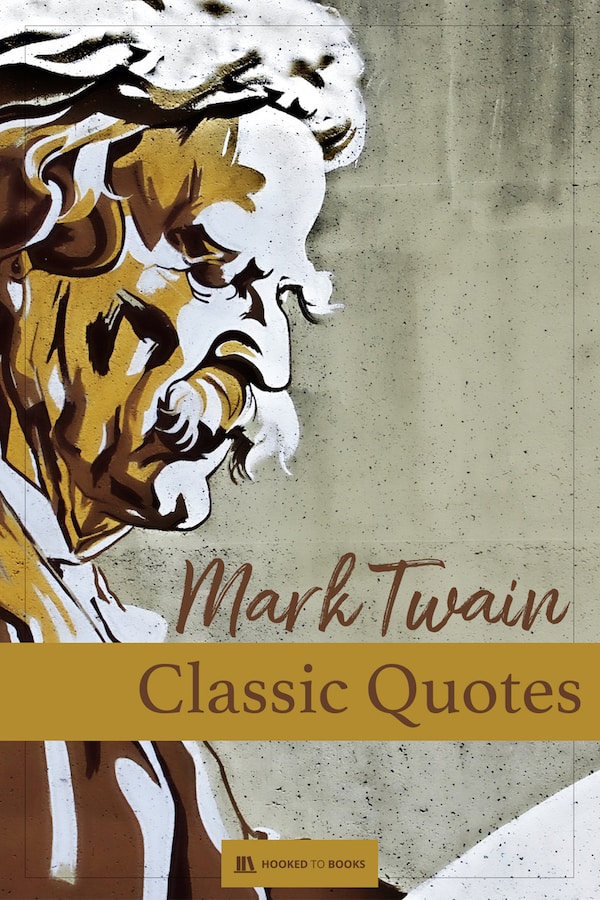 More than 100 years after his death, Samuel Langhorne Clemens (best known by his pen name Mark Twain), is still one of the most oft-quoted American authors and humorists, including his inspirational travel quotes.
Famous for both his stories of true friendship such as The Adventures of Huckleberry Finn, as well as for his witty chronicles, satire, and general observations on life, Twain's famous quotes often ring as true and as relevant today as when they were written.
Twain himself was a friend to many: from everyday people to presidents. He championed the rights of minorities and women, and he also encouraged the work of one young woman who would go on to change the world herself: Helen Keller.
Some of Twain's remarks on friendship and kindness, as well as observations on life, death, and all that lies between, are captured below with inspiring quotes relating to true friends:
The Best Mark Twain Quotes
Good friends, good books and a sleepy conscience: this is the ideal life.
The rule is perfect: in all matters of opinion our adversaries are insane.
Comedy keeps the heart sweet.
It is curious – curious that physical courage should be so common in the world, and moral courage so rare.
The proper office of a friend is to side with you when you are in the wrong. Nearly anybody will side with you when you are in the right.
Golf is a good walk spoiled.
The holy passion of Friendship is of so sweet and steady and loyal and enduring a nature that it will last through a whole lifetime, if not asked to lend money.
When your friends begin to flatter you on how young you look, it's a sure sign you're getting old.
I find that principles have no real force except when one is well fed.
One learns peoples through the heart, not the eyes or the intellect.
Whenever you find yourself on the side of the majority, it is time to pause and reflect.
Grief can take care of itself, but to get the full value of a joy you must have somebody to divide it with.
When all is said and done, the one sole condition that makes spiritual happiness and preserves it is the absence of doubt.
It takes your enemy and your friend, working together, to hurt you to the heart: the one to slander you and the other to get the news to you.
The proper office of a friend is to side with you when you are in the wrong. Nearly anybody will side with you when you are in the right.
Let your sympathies and your compassion be always with the underdog in the fight – this is magnanimity; but bet on the other one – this is business.
I don't like to commit myself about heaven and hell – you see, I have friends in both places.
Always do the right thing. It will gratify some people and astonish the rest.
An enemy can partly ruin a man, but it takes a good-natured injudicious friend to complete the thing and make it perfect.
Life does not consist mainly, or even largely, of facts or happenings. It consist mainly of the storm of thoughts that is forever flowing through one's head.
Habit is habit, and not to be flung out of the window by any man, but coaxed down-stairs a step at a time.
Don't part with your illusions. When they are gone you may still exist, but you have ceased to live.
Against the assault of laughter nothing can stand.
Great people are those who make others feel that they, too, can become great.
I do not fear death. I had been dead for billions and billions of years before I was born, and had not suffered the slightest inconvenience from it.
Anger is an acid that can do more harm to the vessel in which it is stored than to anything on which it is poured.
Forgiveness is the fragrance that the violet sheds on the heel that has crushed it.
The secret of getting ahead is getting started. The secret of getting started is breaking your complex overwhelming tasks into small manageable tasks, and starting on the first one.
We are strange beings, we seem to go free, but we go in chains – chains of training, custom, convention, association, environment – in a word, Circumstance – and against these bonds the strongest of us struggle in vain.
Humor is mankind's greatest blessing.
Nothing so needs reforming as other people's habits.
Clothes make the man. Naked people have little or no influence on society.
The fear of death follows from the fear of life. A man who lives fully, is prepared to die at any time.
We like a man to come right out and say what he thinks – if we agree with him.
Few things are harder to put up with than the annoyance of a good example.
The best way to cheer yourself is to try to cheer someone else up.
The human race has one really effective weapon, and that is laughter.
I don't like to commit myself about heaven and hell – you see, I have friends in both places.
Circumstances make man, not man circumstances.
When we remember we are all mad, the mysteries disappear and life stands explained.
Get the facts first. You can distort them later.
Courage is resistance to fear, mastery of fear, not absence of fear.
When you fish for love, bait with your heart, not your brain.
If you do what you've always done, you'll get what you always got.
The trouble with the world is not that people know too little, but that they know so many things that ain't so.
The secret of success is making your vocation your vacation.
It's not the size of the dog in the fight, it's the size of the fight in the dog.
Don't let schooling interfere with your education.
Why not go out on a limb? Isn't that where the fruit is?
Honesty is the best policy – when there is money in it.
Age is an issue of mind over matter. If you don't mind, it doesn't matter.
If you tell the truth, you don't have to remember anything.
References
Twain, Mark. The Collected Works of Mark Twain: The Complete and Unabridged Novels. Cambridge World Classics, 2010. Kindle Edition.