It was a privilege for us to read all the stories that you shared about the books of your life. It was hard work for us to shorten the list of the best essays into 100, then 20. It took us long days of discussions and even debates to finally come out with the final five, and pick the most deserving one.
And here they are…
| | Name | Institute | Essay Link |
| --- | --- | --- | --- |
| 7 | Lilianne Tran | University of Manitoba | Click Here |
| 6 | Samantha Miller | La Salle University | Click Here |
| 5 | Ekene Okobi | University College London | Click Here |
| 4 | Alma Landa | The French Pastry School | Click Here |
| 3 | Josh Kaplan | Rancho Solano Preparatory High School | Click Here |
| 2 | Daniella Anderson | Miami-Dade Honors College-Wolfson | Click Here |
| 1 | Aaryn Kealty (Winner) | University of Wisconsin | Click Here |
Our warmest congratulations to Aaryn Kealty for becoming the first winner of the Hooked To Books Scholarship Program, and on getting congratulated by the author of the book she wrote about!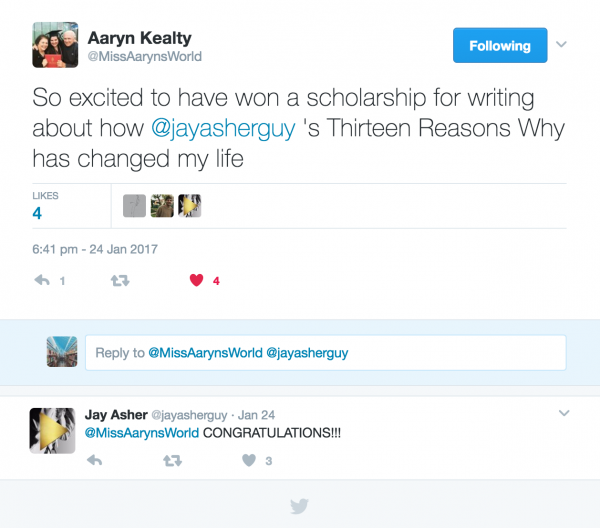 If you are not the winner, don't ever feel frustrated. Your not winning a scholarship does not mean you're any lesser in talents, in your writing skills.
We were completely impressed by your writings, and were so overwhelmed to immerse into hundreds of stories. We followed closely as you analyzed how an author constructed their ideas. We cried as you tell about your painful childhood. We smiled as you have evolved into your better self, and as you found your happiness. We cheered as we read about the unique and beautiful traditions in your family.
You touched our hearts, and we are deeply grateful for that.
#7 – Lilianne Tran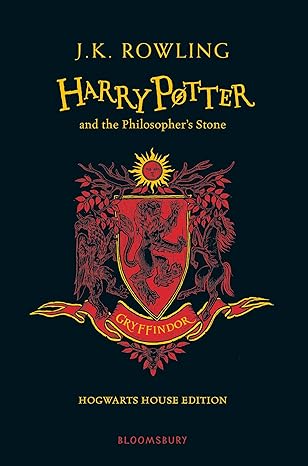 Harry Potter and The Philosopher's Stone
For my 9th birthday, my father gifted me with a copy of Harry Potter and the Philosopher's Stone. That day began my immersion into the Wizarding World of Harry Potter. Little did I know, that small 223-page novel was the beginning of my life as an avid bibliophile. I have learned a lot about the real world during my journey through the Harry Potter series. However, most importantly, I have learned a lot about myself and the person I hope to become in the future. Reading these novels has changed how I perceive the world, and those around me. The Harry Potter series was my first initiation into literature, and from there on, I became a book-worm in the fullest sense.
The fantasy and magical aspect that these books touched upon was the perfect setting to draw my 9-year old self in. J.K Rowling has a way of writing that encompasses and connects to all age groups and genders. As a child, I was able to keep up with the language and understand what was happening. As I grew older, I was able to read more in depth and uncover the subtle messages and lessons sprinkled throughout the series. As a young adult, I hope to look back on the series and uncover the exact moments within the novels that helped shape me as a person. The world of Harry Potter is one that will never grow old. As the generations change, and I grow older, I still continuously go back to read my favorite series. The magical world draws in the audience, but the heartfelt writing, and the realistic characters are what keep the reader captivated.
The main reason that it continues to be an ever-growing fandom is because of the strong messages portrayed through the series. These messages and life lessons remain relevant to everyday life, no matter how much the generations continue to change. As I grow as a person, and learn more and more about becoming an adult, I find similarities to the characters in the novels that I wasn't able to before as a young child. These messages are the ones that I keep with me in my everyday life. I grew up reading the Harry Potter series, and I was offered the chance to grow with the characters as I continued to read each novel. Each novel had a moral or a message that I learned from, and as the books progressed, the morals progressed along with them.
Through these series, I have learned the importance of friendship, and love, and the significance in keeping these aspects of my life dear to me. The Harry Potter series holds a large emphasis on the power of love, and how important it is to keep love alive in your heart. This is the main message that I had learned from the series as a child. Despite how others acted around me, I kept that same message with me as I grew up. As the books progress, I learned the importance of acceptance. I took the notion of love, and I turn it into that of acceptance. I love those around me, and accept them for who they are, because that is how I would in turn like to be treated. Now that I am older, the major message that has stuck with me through the novels is that of choices. Many of the characters within the novel are faced with a decision, and the decisions they make are what shape them into who they are. I keep in mind that the mistakes I have made in the past can be rectified by the decisions I make in the future. This very moral that I have held onto is the largest aspect that I have taken away from the series. I believe that this very idea is what has most shaped me into who I am today. I trust that every choice I make correlates to who I am, and who I can become. I am confronted with choices on a daily basis, and no matter the severity of these choices, I keep in mind that I have the ability to choose between right and wrong, no matter what influence others try to push on me. The basis of my morals, and my life lessons are shaped around those that I have learned from the Harry Potter series. These novels such as Harry Potter have the ability to change the notions of the modern culture around us, and are so significant to our everyday culture in that regard.
As a child of immigrants, English did not come easily to my parents. However, I was able to excel far beyond their initial goals because I was ravenous in the way I devoured books. My parents were always ecstatic that I had a love for reading, even though it seemed to consume my everyday life. I would attempt to do everything with a book in hand. To this day, I always eat with a book hidden under the table, sneaking glances whenever my parents aren't looking. I have mastered the art of washing dishes, doing laundry, and cooking all while reading. I find different objects to prop open books to the desired page as if it were an art form. I even go so far as to walk to the bus stop while walking, which isn't always the safest way to travel. When given the opportunity, I will read until my head aches. Even then, I am unable to put my book down, especially if I am in the middle of a chapter. I owe my happiness to the Harry Potter series. Without it, I would never have been introduced to the magical properties of a great novel. It is impossible to describe the joy in my heart after finishing a great novel. I feel the emotions of characters so deeply, and am always left with a sense of heavy nostalgia after finishing a book. This heavy ache on my heart, and swelling behind my eyes is so welcomed, despite the sadness I feel. Reading is therapeutic for me as it gives me a reprieve from the outside world. In times of stress, turmoil, or celebration, the cure or reward for me is always a great book. I am grateful that I can turn to a novel during these moments in my life, as I can always find guidance to help me through whatever situation I am facing.
To this day, I still own my copy of Harry Potter and the Philosopher's Stone with my father's original inscription on the first page. I still hold on to my childhood, as I keep the hope alive that I'll one day receive my Hogwarts letter. Although I have read many books throughout my life, none have made as big of an impact as the Harry Potter series. I take what I have learned from the Harry Potter series to heart, and I apply these lessons to my everyday life and choices. I owe my love of literature to this series, and my every-growing book collection is proof of that. I will never be able to find a series that has impacted my life as significantly as the Harry Potter series has. However, that thought has never dampened my passion for reading, and I continue to use novels as guidance through my own hardships, just as I use the Harry Potter series. I believe in the power of literature, and the ability of a great novel to change someone's life, as I am living proof of it.
---
#6 – Samantha Miller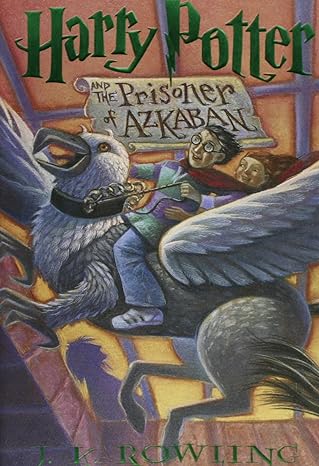 Harry Potter and the Prisoner of Azkaban
"Harry Potter and the Prisoner of Azkaban" changed my family … therefore my life. We live in a world of children being over scheduled. School work, soccer teams, dance class. It never ends. In my home we tried to avoid the over scheduling by never allowing each child more than one activity outside of school. That doesn't help when there are 3 children. We still we always on the run. My family tried to avoid this as much as possible and my parents made reading time a priority.
My parents also did have a steadfast rule – never allowing us to see a movie unless we had read the book first. When I was in first grade the most discussed movie was "Harry Potter and the Prisoner of Azkaban". I wanted to see this movie so badly but that wasn't allowed. Not until I had read the book. I also had to read the previous books in the series first. I was not the strongest reader. I also have a sister and brother younger than myself. They would never have been able to read these books. This started my favorite family tradition. Two or three nights a week my father would gather us all in the living room and read aloud to the entire family. He would read a chapter or two ahead and be ready for us. He had voices for every character. He made the people come to life in my mind. It would take my family months to finish a book. Only after it was completed would we be allowed to watch the movie. We would then have a discussion night. Imagine listening to a 4, 6 and 8 year old discussing the differences between written work and film. I look back on the experience in amazement. We always did decide that the book was ultimately better than the movie.
Fast forward ahead by seven years. I am now in eighth grade. Our family reading time has continued through our busy years. We finally finish Harry Potter and Deathly Hallows in time to be able to see the movie upon release at the theatres. We caught up to the movies! My sister broke into tears the evening we finished the last book. This process had been a part of her life for as long as she remembered and she was devastated to be without it.
My father didn't disappoint us though. Harry Potter may have been over but he always found something to read to us. "The Hobbit" came next followed by the Lord of the Rings series.
In August of my senior year of highschool I left for a year abroad in Belgium as a foreign exchange student. I am 17, my sister 16 and my brother 14. We could very well read anything on our own but traditions are strong. "Harry Potter and the Cursed Child" released July 31. My plane left on August 9th. The challenge was on. I couldn't go a year without reading this myself but Harry Potter is a family event. My father read the entire route to Newark airport, finishing the last 11 pages standing in the airport terminal.
All of this began with a 7 year old wishing to go to the movies. The family memories of our time together are so much more than just reading time. "Harry Potter and the Prisoner of Azkaban" changed my childhood as I plan to carry this tradition to my family someday.
---
#5 – Ekene Okobi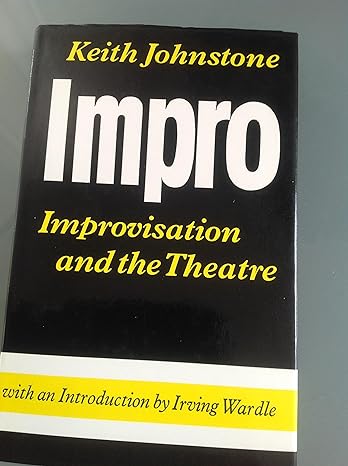 Impro: Improvisation and the Theatre by Keith Johnstone
I grew up surrounded by books that became my friends. In my formative years writers like Laura Ingalls Wilder, Beverly Cleary, Paula Danziger, Madeleine L'engle, Maya Angelou and Zora Neale Hurston sparked my imagination and a lifelong love of the written word.
When I first read the Hooked to Books 2016 scholarship essay question, I nearly screamed. Identify just one book that changed my life? Impossible! But, spurred by the knowledge that I've recently been accepted into the University College London Institute of Education's Graduate Certificate Program in Psychology, and must muster every penny possible to finance this course, I got to thinking:
Nearly a decade of post-graduate study, and subsequent careers in communications and education has altered my reading patterns. I now read much more non-fiction than fiction (although a month ago I did revisit Their Eyes Were Watching God more than 20 years after my sophomore English teacher initially gave me a copy; now knowing Janie's narrative arc provided me the opportunity to bask in the beauty of Hurston's blooming prose). Currently, I'm prone to reading periodicals such as The New Yorker and Vanity Fair, books in the vein of Malcolm Gladwell's Outliers, historio-political treatises like Michelle Wallace's Black Macho and the Myth of the Superwoman, and foundational texts like Maxine Green's Variations on a Blue Guitar.
Not all non-fiction writing is created equal, and some texts are far more compelling reads than others. Sometimes it takes repeated self-reminders that one must be professionally conversant with colleagues to maintain the motivation needed to get through certain works. That being said, it caught me by surprise to realize that there is one piece of non-fiction writing read at a crucial juncture in my life that affected my personal, creative and professional trajectory. That book is Keith Johnstone's Impro:
Improvisation and the Theatre. After absorbing the Hooked to Books 2016 Scholarship essay question, I wildly scanned my 80cm X 11cm Charcoal Grey Ikea bookcase, which housed a library that's been truncated by numerous moves around the country and in the cities where I've lived. I've left behind/traded/lost/let go so many treasured tomes how could I possibly pick from what was missing?
Then my eyes lit on the black spine of Impro, with its yellow and white printing. I don't think the copy I currently own was the one given to me by a former member of the all-female sketch comedy troupe I co-founded with Mariama Nance, a childhood friend. BYOB (Be/Bring Your Own Be-yotch) was conceived after I returned to New York City from the San Francisco Bay Area where I'd taken classes at the American Conservatory Theater, or Studio ACT. In addition to Scene Study and Singing, I took an Improvisation course whose instruction was guided by Johnstone's work and writing. My classmates and I were taught to resist "joke-prov", and encouraged to build on each others' offers to co-create moving stories that unfolded from a mutual give-and-take designed to refine both E Okobi 2016 Hooked To Books Scholarship Essay our listening skills and creative impulses. I was hooked and wanted to do more. I moved back to New York in June 2001 determined to start an improv troupe.
In the loft we shared with three others on McKibben Street in Brooklyn, Mariama and I assembled an assorted group of young women who were game to cocreate loosely scripted scenarios during sporadic rehearsals. By then, I'd gotten my hands on a copy of Johnstone's Impro for Storytellers, from which I'd occasionally read passages to the patient ladies before we attempted to build scenes based on games such as "Small Voice" and "Boris". We found a venue to stage our work: the hulking Brooklyn Lyceum on Fourth Avenue and President Street. Once a Russian bathhouse, it was slowly being transformed into a twostage theater seemingly single-handedly by its owner Eric Richmond and "Lucky Dave" the theater manager/concessions stand employee who apparently lived in the cavernous building during its restoration. (Side note: The Brooklyn Lyceum is currently contested space under litigation between Richmond, municipal officials and the development company that purchased it during what Richmond contends was an unauthorized auction). Our first show was scheduled to go up September 14, 2001, but then murderers rammed planes into the World Trade Center Towers, so we had to re-schedule.
We went up in October instead, one of our first sketches featured a woman unsuccessfully trying to get refunded for airline tickets purchased to attend a class reunion in Minneapolis. She no longer wanted to go due to a fear of flying developed after an unspecified international aviation disaster. It was funnier than it sounds. And we were off! Thanks to my complete embrace of Johnstone's ethos, I was fully present during rehearsals and performances, only regretting cues I'd missed, or dropped set-ups, not what my thighs were doing in my costume, or how my hair looked under the lights. I don't think I was alone. We had a rotating cast during our short run, but a solid regular in our crew was Sasha Whyte, our neighbor who was slightly younger and like little sister to us. Sasha even shared a Christmas holiday with my family in California one year.
I don't remember exactly when Sasha gave me a copy of Impro. It might have been around the time that BYOB's run ended. Or, it could have been in Fall of 2002, when I was about to move back to my mother's house in Pacifica, a bedroom community off Highway 280 into San Francisco. All I know is I finally began reading Impro after I returned to California, during a period of readjustment that included switching from a comprehensive, 24-7, 365-day-ayear subway system, to having to rely on rides begged from my home-body mom, and an hourly bus that stopped running at 10PM weeknights (6PM on Sundays). I read Impro while waiting for the bus, while on the bus, while on the BART train ride into The City. I eventually moved to Los Angeles, which was easier to navigate, but presented similar challenges. I felt out of place and out of step. In retrospect, I was also likely suffering the post-traumatic effects of 9/11.
Some books catch a person at the right time, and Impro caught me right then. Its emphasis on Status and Spontaneity especially resonated with me because I was living in California with no car—when having access to one so often determined a person's social standing and actual mobility. It was hard for me to get jobs because potential employers were dubious about my ability to get to work consistently (a recurring line in job postings was: "Must have access to reliable transportation"), and yet I couldn't get a car loan without first proving I had a consistent income. And anyway, I didn't really want a car. At that point in my life, I craved the ability to stumble out of a bar at 2AM and get onto some sort of safe, cost-effective, reliable conveyance that got me as close to door-to-door as possible. I wanted to be able to go dancing, go to shows, make art all night and then go home hassle-free. I was able to access some acting and improv activities, however I felt so stifled and angry for the most part during that time.
"You have to be a very stubborn person to remain an artist in this culture, it's easy to play the role of 'artist', but actually to create something means going against one's education." (Johnstone, p. 77)
I read Impro now, and some of its creaky bits show through: the casual sexism, the unfortunate exoticizing of non-European cultures, but my first encounter with Impro clearly articulated for me what had, up until then been an unformed set of truisms:
Human beings rely on status to inform their interpersonal interactions. Status can be read, misread, challenged, negotiated and subverted. Status is key to narrative.
Cultivating a habit of awareness and responsiveness keeps the narrative moving forward, and maintains a nimbleness and flexibility to one's own potential, and to the potential of others.
People fear change and would rather remain with an unworkable situation than take a promising new direction—thus stifling the potential of the narrative.
"Learning" and "Education" are not necessarily mutually inclusive. Some systems set them up to be mutually exclusive—sometimes these systems run schools. Such systems can stifle the narrative.
Masks can be empowering and inspiring, they can also be overpowering— depending on the level of awareness and intention in the wearer. Skillful use of them can greatly enhance the narrative.
These tenets clarified my onstage choices, honed my creative writing, and sharpened my reportage. It enabled me to observe and shape my own narrative, as well as recognize how others intentionally or unwittingly manifested narrative in their lives.
By weaving together citations from studies on human behavior, overheard conversations, memories, musings and notes from his days as a student, educator and performing artist, Johnstone reveals in Impro how we are subjected to an educational process that often teaches us to 'appear' clever at the expense of nurturing and maintaining our wonder and alertness—an innate skill all babies posses in order to help them decipher the world.
It was around this time that I got into the American University in Washington, DC School of Communication's Broadcast Journalism program. In "J-School", and during my cub reporter days, my newfound awareness led me to seek stories about individuals that dramatized larger trends. Some professors and editors resisted my ideas as a way to wield status, and maintain an attachment to the status quo they may not even have been aware of. I started to understand how others often projected status and narrative onto my body, my face, and my name; refusing to acknowledge or challenge an implicit bias about young women of color with foreign monikers.
Thanks to my Impro-inspired credos. I've learned to approach my life like an improvisation game; responding to strictures others try to impose as an invitation to outwit a system designed fit folks into boxes. When I realized that it would be difficult to make a living as a reporter, and admitted to myself how much I missed being creative, I returned to school for an MA in Educational Theatre from the New York University Steinhardt School. I've since infused my love of Impro literally and figuratively into my teaching practice; remaining open to co-sharing the narrative with students, and using improvisation as a teaching tool. Johnstone's insights into educational systems prepared me for the work of Paolo Freire and Augusto Boal, authors of Pedagogy of the Oppressed, and Theatre of the Oppressed (TO) respectively. Both Freire and Boal were educators in their own right. Both encouraged facilitation practices that fostered the agency of students. I joined a TO troupe, and relied on my improvisation chops to co-create devised scenes with troupe members that transformed our personal stories into scenes designed to help audiences actively grapple with systemic oppression.
Like Johnstone, Freire and Boal before me, I've come to understand the limitations of much contemporary classroom instruction. Simultaneously, my understanding of improvisation as a pedagogical and creative tool has enlarged to a more nuanced recognition of its influence on global arts practices. My evolution from young artist to ambitious reporter, and also impassioned educator has convinced me of the power of narrative. I'm determined to marshal the skills gained through these experiences to facilitate processes through which young people engage in the agency that thoughtful improvisation manifests.
In Mindset, Carol Dweck's research reveals how student achievement is affected by the ways in which they are praised, something to which Johnstone alludes when he writes, "If I tell a student 'Say a word', he'll probably gawp. He wants a E Okobi 2016 Hooked To Books Scholarship Essay context in which his answer will be 'right'. He wants his answer to bring credit to him, that's what he's been taught answers are for." (Johnstone, p. 119) Dweck cautions against praising students for being "smart" and instead recommends acknowledging their effort. When I learned about Mindset, I wondered if Dweck had ever read Impro, and if so, what her response to it would be. Dweck's concepts underscore a personal goal to foster in as many young people as I can the love of discovery that sustains lifelong learners. I believe that inculcating in them an understanding of the art of improvisation is key to their development into engaged citizenry unafraid to put effort into creative problem solving.
Like Johnstone, I've watched students light up with comprehension when I name and describe the concept of Status and provide opportunities for them to play with it. As a social justice educator, I also consider it an essential part of their social development to ask them to identify how Status is read and performed by peers and in their communities and homes. I've watched their brilliance shine when they summon the confidence to be spontaneous, to not censor their own creative impulses. I've brought in masks, I've had them make masks and seen them joyfully inhabit and create compelling characters. I've watched them relax when I tell them that we all play multiple roles in our lifetime, even in a single day, that it's ok to 'put on a front', so long as it's one that allows them to maintain a personal sense of integrity. My work in arts education has convinced me of the importance of an expressive arts therapeutic practice designed to bolster the self-esteem, and support the mental health of youth, teens and their families.
This is why I've applied—yet again—to graduate school. I want to work as a psychologist who uses the arts and education in a clinical practice. I want to research and write about the efficacy of such treatments. I want to surpass yet another educational milestone, another opportunity to flex and stretch my improvisation muscles. I approach this uncertain future joyfully, if there's one thing I know, it's that change is growth. I learned that from Impro.
---
#4 – Alma Landa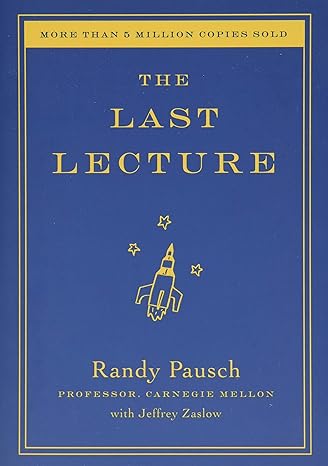 The Last Lecture by Randy Pausch
I learned to read when I was 5. Since then I've always had a book on my bed table. From animal stories, to Disney books and novels my knowledge and interests in books changed as I grew older.
I've always felt something special for real-life-based books. It's as if through the pages I am allowed to live another life, see another perspective, learn something I never imagined, eloping every time I finish one. Yeah, if you read books, you will understand how amazing it is.
Two years ago during a vacation with my dad in Germany I read a book called "The Last Lecture" by Randy Pausch. At that time I was going through a rough path that included an eating disorder problem and depression. I was 21.
The book is about a computer science teacher who got diagnosed with pancreatic cancer with only a few months to live. He decides to give a lecture during those last months at a university about how he accomplished his childhood dreams. And while doing that he writes this book.
I can say that two years ago I was very unhappy, and the worst part is that I had "everything". I had my two parents happily married, 3 siblings, I was on a one-month trip around Europe, I had just started college and I was healthy (before my eating disorder started). I thought that I had no reason to be sad, but I felt incomplete.
When I started reading this book I suddenly felt related to it, the way the author talks about his positivity in life even though he knows he's leaving behind the wife he adores and his three kids amazed me. I wondered what was it that made him think that way and why I couldn't face whatever I had going on in my life.
I'm not trying to compare stories, everyone has his/her own battle, but I knew that if he could do it, so did I. Three days later I finished the book.
What was so incredible in his life-story was how he accomplished everything he set his mind to. Ever since he was a little kid he wanted to work at Disneyland, he wanted to get married, create a computer program and get into a good university among other things. I still remember the passion of how he writes about doing all this and how provoking every situation and with a lot of effort and dedication he reached goal after goal.
Now, this is a real-life-story, so again, if he could do it, why couldn't I? So I started thinking about what I really wanted to do with my life. How do I want to feel right now? How do I want to look at myself? Do I want to wait for a miracle to happen or should I make it happen? A lot of thoughts were growing together in my mind.
I always loved baking, but instead I decided to go to college to study engineering because of pure fear of not making good money as a pastry chef (I realized that years later). This is a big part of why I was being so sad back then. I realized I was missing out on my life because I was afraid of not achieving my dreams, so instead I just bailed on all of them. Doing other things that seemed "important enough" for the society but not for me.
One of the quotes that Randy Pausch writes moved every cell on my body and thanks to those little pushes that somehow were there for me made me start to follow my dreams. He wrote "The brick walls are there to stop the people who don't want it badly enough. They're there to stop the other people".
And this is how one single book changed my life completely.
I didn't want to be someone more in my city or just a student or a daughter or a girlfriend. I wanted to be me, the real me, the one God created full with passions and dreams.
I started making plans, focusing on my health and my eating habits, looking out for my well being. I finished college in Mexico June 2016 and moved to Chicago to take a course in one of the best schools of French pastries in America. I'm about to graduate as a Pastry Chef (Dec 2016) and I just enrolled for the cake program at the same school.
My life has changed in so many ways. I feel complete, grateful and happy. I'm enjoying life in a way I never thought it was possible.
I realized that when you do something out of pure love, you enjoy the bad, the hard and the good times. Your job is more than a job and while doing it the right way, you start to spread the true value of life to other people. I want to be an example that you can do whatever you set your mind to and that it doesn't matter the size of your dream, as long as it's driven with as much passion as you have.
Passion is what's taking my dream into reality. I'm truly grateful to have found what I really love in life, for my family and for the inspiration in "The Last Lecture" gave me, because not a lot of people my age have it that clear, sometimes not even older people. And knowing that while I do this, I can make the world just a little bit better is just so gratifying that I know I have to do what it takes to make this dream come true. Work hard, take risks and commit to this dream as a precious part of my life.
---
#3 – Josh Kaplan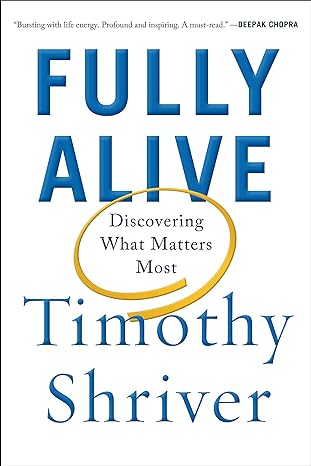 Fully Alive by Anne Lamott
Growing up with a stutter was difficult. My thoughts were always fully formed, but the words would get stuck. The harder I tried to force them out, the more they would jam up, like train cars going off a track. Sometimes kids would laugh or make fun of my stutter, but mostly they just ignored me. They had better things to do than wait to hear my ideas, so they assumed I had none worth hearing. Eventually, I gave up talking to people entirely. They thought I was stupid, and soon enough, I thought so too.
My parents signed me up to play soccer in the hopes that being part of a team would help me make friends. I wasn't particularly athletic, and I could barely kick a ball. But soccer is a game anyone can play. On the field, my stutter didn't matter. I discovered that I could lead, quietly, through action rather than words. Eventually, speech therapy resolved my stutter, but it was on the soccer field that I learned how to be me.
By the time I entered high school, my stutter and the pain it caused me were entirely behind me. My sophomore year, my English teacher required us to read a autobiography of our choosing. The assignment didn't appeal to me, particularly, so I chose one, almost at random, from the library. It was called Fully Alive: Discovering What Matters Most by Timothy Shriver. I wasn't expecting much from it other than an easy read, but it changed the trajectory of my life. The now-CEO of Special Olympics, Shriver documents his meaningful interactions with people who have intellectual disabilities, from his aunt, Rosemary Kennedy, to the kids at Camp Shriver, the summer program that eventually became Special Olympics.
Fully Alive grabbed my attention for one reason in particular. One of soccer teammates had a brother with Down Syndrome. Every season for as long as his brother and I had been teammates, this boy had come to every game and every practice. We are all nice to him, of course, and even thought of him as our honorary mascot. But, to be honest, since he seemed happy enough to be kicking a ball around by himself on the sidelines, I never game him too much more thought. Fully Alive gave me a new perspective and the incentive to strike up a real conversation. I learned that the reason he played soccer by himself wasn't because he was happy playing alone, but because kids like him had no team to play on. I realized that although soccer is a sport for everyone, not everyone is included in the sport.
I understood the pain of being excluded simply because of an inability to communicate. So, in February of 2015, I launched GOALS (Giving Opportunities to All who Love Soccer), a unified soccer program for kids with and without special needs. GOALS partners youth athletes who have intellectual disabilities with neurotypical peer buddies. The athletes and buddies play together, as unified pairs, in small-sided, non-competitive scrimmages.
The first GOALS program had just nine participants. Today, we hold GOALS events twice a month for fifty players of all abilities. GOALS has impacted over 400 kids and is now an official partner of Special Olympics Arizona. But I don't measure the success of GOALS by the numbers. Success comes in the form of an athlete like Micah, who came reluctantly to his first GOALS event, having never tried sports before, preferring instead to play video games by himself. Micah was surprised to find that he loves soccer, and he looks forward to playing with his friends at every GOALS event, where his diagnosis of autism doesn't define him.
What makes GOALS special is that it is not a community service program for kids with intellectual disabilities. GOALS is a program that serves the entire community, understanding that our community includes people of all abilities. GOALS champions people for what they bring to the community, rather than defining them by what they take. GOALS breaks down the barriers that separate kids with special needs from their neurotypical peers, creating intentional connections that allow true friendships to develop. For many kids, GOALS is the first time they experience genuine acceptance.
Through sports, we have the capacity to create something better than tolerance. Tolerance is for summer heat, visits to the doctor's office, and lines at the bank. Kids with intellectual disabilities deserve more than tolerance. They deserve acceptance. So often, kids with intellectual disabilities are isolated socially, for no other reason than that kids pass them by. But special needs kids can be incredibly smart and talented. We just need to slow down long enough to get to know them. Some need more time to turn their ideas into words, but we can afford to have those slower conversations. That is why, for me, unified sports will be a lifelong passion, and why Special Olympics is where my career path lies. Through sports, anyone can communicate that each of us is valued, each of us is a part of the team, and each of us is a friend worth having.
---
#2 – Daniella Anderson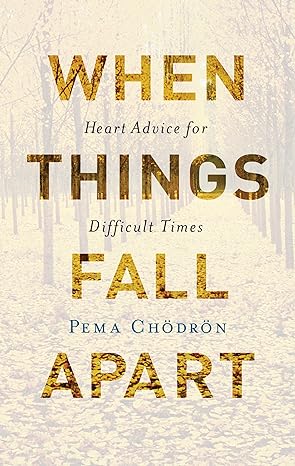 When Things Fall Apart by Pema Chödrön
Books are not just for decoration. The fragrance of a physical book: the paper, the ink, the glue, can remind us of simple days. Of a summer day spent reading on a long road trip, a fall afternoon in a coffee shop, or in my case, climbing the tree outside my childhood home, book in hand. I would perch myself at the top where the branches would make a perfect U shape, and I'd begin a new journey. They are portals. Like magic, they take us to places we could never imagine without them. They make us feel real emotions, like when our favorite character must fight off a beastly creature or even when we read self-help books in troubling times.
I received the book "When Things Fall Apart" by Pema Chodron from my mother when I was going through a challenging time. At first I was skeptical about reading it, but once I started, I felt like this book was meant for me, like I needed to read it. It's those moments when you know that something life-changing is about to happen; like when you graduate from high school or meet someone that you know is going to mold the person you are to become. Pema was one of those people and although I have never met her, I felt like I was connected to her.
Pema Chödrön is an American Tibetan Buddhist. She is reaching her eighty-first birthday next year. She has had many publications throughout the last 40 years. This book however (When Things Fall Apart) is one that I related with the most. The book talks about handling disappointments in our lives. Pema was married and everything seemed to being going well. That is, until her husband told her he cheated on her. Instead of falling apart, she decided to seek out advice from many great leaders and mentors. Through her travels, she gained a new perspective on life, learned more about herself, learned how to cope with challenges, and accept things we can't change.
This book gave me a new perspective on my life. One thing it taught me is that the world is best experienced fully. We all tend to get stuck in the same routine, afraid or too comfortable to change it. But doing something unfamiliar instead of heading in the same direction can open you up to so many more possibilities: to things you never thought you'd love but do and to moments in time that you would have never experienced if you hadn't taken the plunge. Experiences shape us and lead us down the path to the future.
This book led me to travel to the Dominican Republic to participate in a service mission. During a walk on the beach near base camp, I was drawn to a long stick. As I felt its rudimentary "Y" shape and pressed my fingers over the individual knots, I pondered. Why am I here? What is my purpose? What makes me unique?
"Why" is the overwhelming question we all ask ourselves, especially when we must discover our purpose in society. In my youth, I surrounded myself with a "bubble" where I was the center of the universe. In this world, security was my only objective. I tried to avoid discomfort from every aspect of life. I quickly discovered that my meager fears weren't protecting me, but rather oppressing me.
I burst the "bubble." I became less self-concerned and developed a broader view on the world. Everything transformed; from letting go of fear, anger and procrastination, I began changing my habits and finding work that matters. Once I got out of this narrow sphere, I began to see the vast expansion of the world. I started to see the needs of others and understand their inequalities. I became motivated to help find solutions, better their futures, and impact the negative environments that some are born into. In this journey, it doesn't matter what finite actions you take, it is the cumulative knowledge and skills you learn that presents you with the ability to impact lives. The goal is to harness your abilities and use your unique gifts. What matters is the higher purpose of becoming bigger than yourself.
The irony is that the journey, which began with a book, carried along a movement that inspired me to explore outside of my "bubble" and assist those in need; it gave me a sense of belonging and purpose. It led me straight to the kind of work I want to do. I realize there is much I have yet to learn. I know that every step I take can affect my future-self in a positive or negative way. I want to make sure I don't lose my opportunity to grow into the person I'm meant to be. I am exploring the optimal opportunities on how to reach that objective by reaching out to who I feel can provide the best instruction for my needs. I have been given so many wonderful opportunities in my current academic world these past two years. The next step is to pop yet another "bubble" as I move on toward my advanced degree. What I learned from my experience I will apply to further my studies so that I may transition into the next sphere and deepen my impact on those who are in need. With a more innovative environment, I can surround myself with inspiring individuals that have the same passions and goals. The more opportunities I take, the more I will be able to impact others.
It takes great courage to meet life on its terms and accept responsibility for our actions. And since life invariably brings challenges, the effort continues until the ability to contribute ceases. My usual practice thus far has been to hold on to familiar ways, but as I am finding out, that just doesn't work. "To be fully alive, fully human, and completely awake is to be continually thrown out of the nest. To live fully is to be in no-man's-land, to experience each moment as completely new and fresh. To live is to be willing to die over and over again." –Pema Chodron.
---
#1 – Aaryn Kealty
(Winner)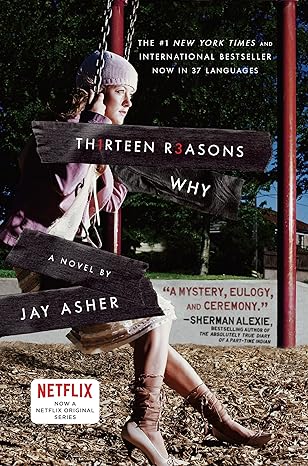 "A lot of you cared, just not enough"
My friend Anna and I met in grade school.
Anna was the first girl to get unnatural blonde streaks added to her already blonde hair that she straightened everyday. She was the first girl in our class to wear eyeliner and mascara. She listened to rap, pop, and R&B music and filled her walls with concert posters.
Even at ten or eleven, when the rest of us were watching Disney Channel shows, Anna was going to Usher and Christina Aguilera concerts with her older sisters.
In middle school, Anna was the first one to have a boyfriend in one of the grades above us. She was the first girl to get kissed under the stars, and the last one to be sent to detention for talking over our teacher.
Anna walked with confidence, spoke with enthusiasm and treated all of her classmates, especially her close friends, with respect.
Today, Anna is the happiest I have ever seen her. She's finishing college, celebrating the birth of her older sister's first child and most importantly, planning the wedding of her dreams to the man of her dreams. Anna's life is full of adventure, promise, excitement and warmth.
But Anna's future hasn't always seemed so bright.
I was in middle school the first time I read Jay Asher's Thirteen Reasons Why.
The words resonated with me, every page turn churned my blood. For those of you who don't know the book, I highly recommend you go out and pick up a copy and set aside time to read it in a day, just as I do once a year.
Clay Jensen is mourning the loss of his classmate and crush Hannah Baker when a strange box of tapes finds its way to Clay's doorstep. We quickly learn that before killing herself, Hannah Baker recorded herself on 12 sides of cassette tapes, a "Baker's dozen" of people who played a role in her decision to kill herself.
This story is one of pain, misunderstanding, loneliness, and most importantly betrayal. Betrayal in any form you can imagine. Betrayal at a time in one's adolescence when betrayal is the worst thing that can happen.
From personal experience, I think educators should be required to read, discuss, workshop and maybe even teach this book.
I remember exactly where I was when Anna called me crying about her dad's affair. But for the life of me, I can't remember where I was when she called me from the hospital saying she stole her dad's phone to call me. She was ok, but on round the clock watch. No calls. No texts. No contact with the world outside. She wouldn't be out for a while. They were keeping her there. They didn't want her to try to hurt herself again.
After the affair, Anna and her three older siblings dealt with the rupture of their family differently. The oldest child, her favorite sister, moved out of state, cutting herself off from not only her parents, but her younger siblings. The second child, who was just starting school not too far away developed a taste for parties, boys, and leaving her phone at home. She communicated with her family often, but at a distance, in vague words and promises to visit that she never kept. The third child, the only boy, threw himself into the drug scene at our high school. He had been suspended one less time than it took to be expelled and he was riding a fine line between certainty and uncertainty. He didn't care for much at that point. He was never home.
This left Anna alone in a war zone. She felt for her mother, but understood her father. Before the affair, her mother worked all the time, paid little attention to her family, and was burned out from her first three children, leaving Anna unsupervised.
The first time Anna cut her hair, I wasn't too concerned. It looked cute, a nice bob with bangs. It shaped her face well. But when she died her hair brown and then black, I began to wonder whose attention she was seeking. In the book Thirteen Reasons Why, Hannah gives herself an extreme haircut hoping that others will notice and compliment her on the change. I made a point of being supportive of each of Anna's hair decisions. Her parents didn't even notice.
She started meeting boys online and talking to random stranger in chat rooms; everyone at school knew. At first, I thought it was because she was lonely at home and needed someone to talk to in the silence of her room. She came into school one Thursday with bags under her eyes and a fake smile on her face. I had sex with Joe last night. I had no idea who Joe was. Turns out, he was almost double our age and they had sex in the back of his car after she took some strange pills and drank booze from a water bottle. This is where I started to panic.
In Thirteen Reasons Why, Hannah Baker is sexually assaulted in a hot tub after a series of sexual exploitations by her male classmates. In this scene in the book, Hannah explains how she gave up, how she laid there and how she let someone else control her body. She had no fight left. I was scared Anna had no fight left.
Mr. Porter, a teacher and confidant, fails Hannah Baker in Thirteen Reasons Why. Essentially, she goes to tell him that this is it, this is the end, she is going to kill herself, and he doesn't help her. She pretty much tells him that this is it. And what does he do? He doesn't listen. He- not only as the adult, not only as a teacher, but as the person she confides in- has the power to help her, to call her parents or to call for some sort of help. And he doesn't. Hannah Baker killed herself because the people around her who saw the signs of someone who was thinking about suicide did nothing.
In February of 2010, Anna called me around 9:30 p.m. as she usually did on Thursday nights. There was nothing out of the ordinary that night when I picked up the phone, until I heard Anna breathing on the other end. She had been crying, I could tell. I asked what was wrong. Nothing. I can't remember what I said back to "nothing" but I remember what she said next. Do you ever feel like you can't breathe? Sometimes I feel like I can't. Sometimes I feel like every day is a bad day with no good things in it. Sometimes I don't want to have days at all.
She changed the subject quickly, but I couldn't stop repeated her words in my head. The conversation went on as usual, we went over the answers to our math homework, we talked about the cute boy who was a new student a week earlier and who was already crushing on him, we talked about how much we hated our English teacher, and then my dad came in and told me it was time for bed. Five more minutes, Aar, please. I stayed on the phone with her for ten more minutes until my dad came in and threatened to take away my phone for the next week.
When I finally said "good-bye, I'll see you tomorrow," she said: I love you, Aar. And hung up without saying "I will see you tomorrow."
I told my dad. I told my dad Hannah Baker killed herself because she was alone. Hannah Baker killed herself because she couldn't bear to live another day. Hannah Baker changed her hair and no one noticed. Hannah Baker was abused by men who saw her as weak and easy to use. Hannah Baker had been trapped in a rumor mill of lies and broken friendships. No one listened to Hannah Baker.
I laid in my dad's arms and I sobbed because no one helped Hannah Baker. My dad held me in his lap and I pulled away. Anna is going to kill herself.
In retrospect, I would have expected my dad to hesitate, to not want to believe me. But he didn't. He kissed me on the forehead and stood to leave. I could hear the hard steps he took as he hurried down the stairs to our living room. I didn't hear him dial numbers or the phone ring on the other end. But I knew for some reason everything would be ok.
Anna's mom answered, annoyed, tired, and still working late into the night. She hadn't seen Anna since the afternoon when she got home from school and went to hide out in her room.
Kill herself? No, not her Anna. Please, my dad said. Go check on her. Anna was making a loop with one of her dad's belts when her mom threw the door to her room open. On the floor next to her were three letters. Mom. Dad. Aaryn.
To this day, I have never read the letter Anna wrote for me in what she thought would be her final minutes. I do, however, have all of the notes she wrote me in the weeks after she was rushed to the psychiatric hospital. I keep them all in the front cover of my tattered copy of Thirteen Reasons Why.
Thirteen Reasons Why has changed my life in so many ways. Most importantly, it saved my best friend's life. But it has also inspired me to go back to school and pursue my lifelong dream of becoming a high school English teacher.
The knowledge, understanding and passion that I have gained from this book is unmatched. It has taught me to listen, but also to look, and not just to look, but to see. I listened to what Anna was saying, she was saying she was ok, and she was trying to look like she was ok, but I saw that she was not. I looked beyond what we both wanted to see, an unbreakable version of Anna, and I saw what I needed to see, the broken mess of a girl who was ready to take her own life. Without this book, I never would have known, and Anna may not be with us, inspiring us and pushing us in life today.
Thirteen Reasons Why has given me the eyes to work with adolescents. It has opened my eyes beyond my own experiences and shown me what pain and social injustice can do to a vulnerable teenager. I hope that in my career as an educator I am able to take what this book has taught me and I am able to play Mr. Porter's part the right way. As an educator, I will be a vessel for this book, a means of transfer, a mode of communication, and a teacher of compassion and awareness as this book has been for me.