Writing murder mystery stories is not easy, as a writer must have an excellent writing style to create the whole scenario that can excite the readers, fill them with anticipation, and keep them at the edge of their seats, making the book unputdownable.
One such writer is M.C. Beaton, and all her book series give the same feeling as described to the audiences. One such book series of her is the Hamish Macbeth series. The series is loved by many, including me. It has over 30 books under its title and is still ongoing.
In this article, I will discuss the Hamish Macbeth series and list all published books thus far. If you want to start with this series or are already a fan of this author, check out this article on Hamish Macbeth books in order, and start with the gripping series immediately.
Who is M.C. Beaton?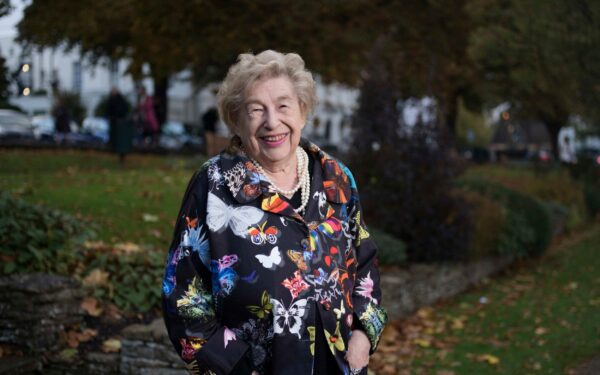 M.C. Beaton, or Marion Chesney, was born on June 10, 1936, in Glasgow, Scotland, and is one of the international best-selling authors. M.C. Beaton is famous for Agatha Raisin, Hamish Macbeth series, and other Regency romances. The author's Agatha Raisin series has gained immense popularity and has been translated into 17 languages.
She has written several books under various pseudonyms. But M.C. Beaton was preferred because of the success of her famous mystery stories under this pseudonym.
M.C. Beaton died on December 30, 2019. She will always be remembered as one of the best authors, her name printed on many amazing books she delivered.
The Hamish Macbeth series is still ongoing even after her demise with the generous efforts of writer R.W Green, M.C Beaton's long-time friend. A course at a fishing school during a trip is what inspired the first Hamish Macbeth book.
M.C. Beaton's Hamish Macbeth Books in Order
Hamish Macbeth Series in Reading and Publication Order
Hamish Macbeth is a popular series by M.C. Beaton, and it narrates an ample number of murder stories. The series' main protagonist is Hamish Macbeth, a lazy and underachiever cop solving various murder mysteries in the Scottish Highlands. The first book of the series was published in 1985.
The series is still ongoing, with over thirty books under its title. The series is loved by many because of the thrilling ride the audience experiences while reading. The Hamish Macbeth series also inspired a TV show in the early 2000s.
There are a total of 35 books in the series, and one is yet to be released in the year 2024. The Hamish Macbeth series still continues to thrill the fans of the series with its amazing stories.
I recommend you read the series in its order of publication to follow the stories throughout without leaving any crucial details.
I will list all the books under the series title in their reading and publication order and briefly describe a few books from the lot. If you want the whole list of books in this series, check out my compilation.
1. Death of a Gossip (1985)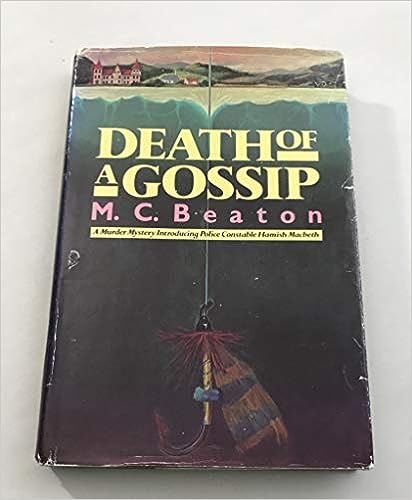 It's the series' first book and introduces us to the protagonist, Hamish Macbeth, a Lochdubh Constable.
Lady Jane Winters, a widow and a gossip columnist, never fails to reveal the guilty secrets of others. A lot of people are the victims of her sharp tongue, including Hamish Macbeth. She joins the fishing school and starts doing the work she does best, seeking secrets. But no one imagined someone would try to silence the lady by murdering her.
Hamish Macbeth, with the help of Priscilla Halburton-Smythe, must investigate the matter to catch the culprit who committed the crime. Unfortunately, no one is willing to talk in the school, so Hamish must dig deeper to solve the case.
2. Death of a Cad (1987)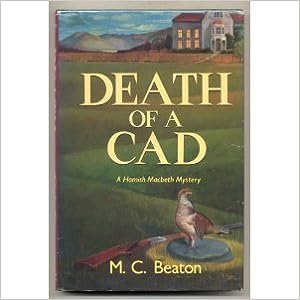 Constable Hamish Macbeth has started developing feelings for Priscilla Halburton-Smythe. But Priscilla has a fiance, a playwright, whom she brings to London. He excites everyone in Lochdubh except for Hamish Macbeth and for apparent reasons. The happy couple is also throwing an engagement party.
Captain Peter Bartlett, one of the many guests at the party, is shot dead, and most people aren't bothered by the incident. Hamish must come forward and investigate the case to discover the actual culprit among the guests when most have reasons to despise the dead victim. But it will be challenging to find the truth amid his heartbreak and all other incidents.
3. Death of an Outsider (1988)
Hamish Macbeth is exiled to the outpost of Cnothan. He, with his dog Towser, misses his place, Lochdubh, former love Priscilla Halburton-Smythe, and the lazy days.
The most hated man of Cnothan is dumped into a tank. The tank is filled with crustaceans, and the only remains of the murdered man are his bones. After this discovery, the sea creatures are sent to the best restaurants, and the case is handed over to Hamish Macbeth.
Now, Constable Hamish Macbeth needs to deal with his superiors, who want the matter to be closed, and find the killer soon before he starts murdering more people and piling up bodies one after another.
4. Death of a Perfect Wife (1989)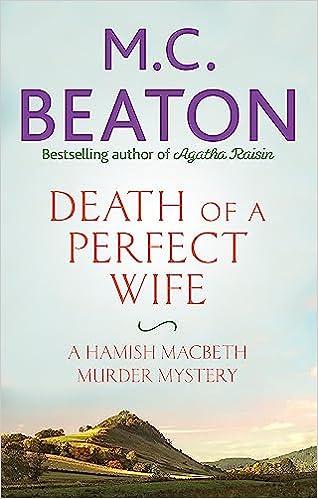 The constable, Hamish Macbeth, now has a new Land Rover and an entire summer to have a good time. But the peace in his life does not stay for long for several reasons.
Hamish's beloved Priscilla returns to town with her fiance, which breaks his heart. And the town is in chaos because of the spread of midges (Scottish mosquitoes) all over.
A new couple moves to Lochdubh, and things start to change under their influence. Lady Trixie Thomas moves in with her husband and starts to teach the town's ladies some new habits. She convinces them to have control over their diet, such as consuming low-cholesterol meals, avoiding tobacco, and much more. This triggers anger among men around the town. This lady, the perfect wife, is poisoned, and now Macbeth must find the culprit.
5. Death of a Hussy (1990)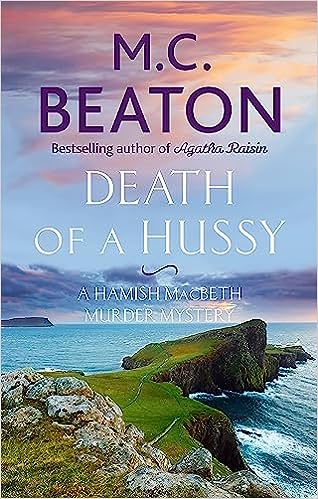 This book narrates the murder case of Maggie Baird, a wealthy middle-aged but not-so-generous woman.
A case is reported when Maggie's car catches fire while she is inside her car and instantly dies. The people living in her Highlands Cottage, including her niece and four former lovers, become the prime suspects, more so because Maggie was going to pick one of the lovers as her husband.
All five were poor and hence had the motive to murder wealthy Maggie. Also, all of them had easy access to Maggie's car.
Constable Hamish Macbeth has to use his super brains to catch the real culprit. But will he be able to find the murderer among the suspects, or the actual killer is someone else?
6. Death of a Snob (1992)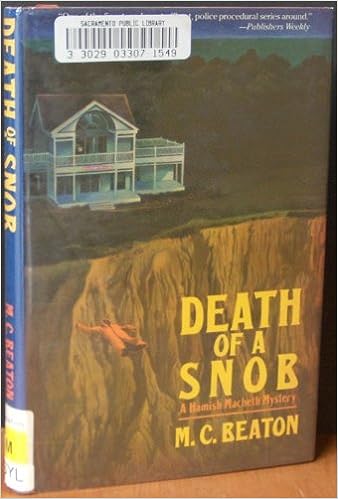 According to an astrologer's prediction, Jane Wetherby, the owner of a health farm, believes that her life is in danger. So she asks Hamish to spend Christmas on the health farm with all her friends. Having no other plans for Christmas, Hamish accepts the invitation.
The moment Hamish arrives at the place, he has a feeling of dread that something is definitely not right. The locals are unwelcoming, and a few of the guests are rude and snobbish and the person that tops this list is Heather Todd.
Suddenly, Heather is dead, and all the guests are suspects. Now, it's Hamish's job to find the culprit among the group.
7. Death of a Prankster (1992)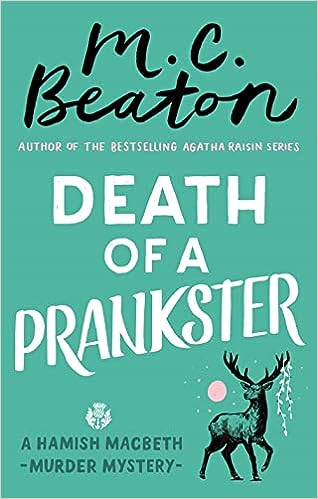 This story narrates the murder case of another rich person. Old practical joker Andrew Trent tells all his near and dear ones about his near-death call and asks them to visit the remote Arrat House to bid farewell. But when they arrive in the chilly winter, they meet a very healthy and happy Andrew, ready to torture all of them with his not-so-funny jokes.
But when Andrew Trent's body is found in the place suddenly, things take a different turn. Hamish tries to get all the secrets and truths from the relatives, but making them confess is difficult. Hamish's former love interest, Priscilla, joins him in the investigation.
8. Death of a Greedy Woman (1993)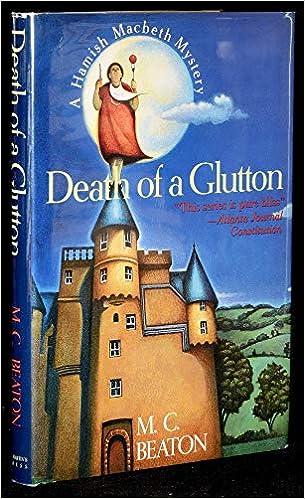 Hamish Macbeth finds it difficult to have a quiet and peaceful time since another murder case arrives at his door.
Eight members of the Checkmate Singles Club arrive at the Tommel Castle Hotel to attend the matchmaking event in the hopes of finding nice partners.
The dating director, Maria Worth, does the matchmaking of the eight singles when four new couples are formed. But not soon after, each couple starts to dislike their partners.
With the arrival of Peta, Maria's greedy partner, the feeling of hatred in the place increases. And things turn worse when Pate is found dead. Hamish must now dig into the case's truth to catch the killer.
9. Death of a Travelling Man (1993)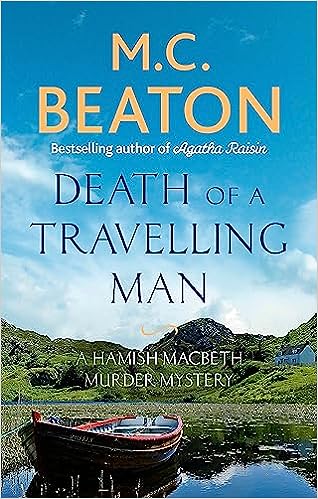 Hamish Macbeth is promoted, and his new boss is Sean Gourlay, a gypsy traveler. Hamish thinks his boss is dull-witted and is annoyed by him and his girlfriend.
Since their arrival, he has had a bad feeling and can sense something is fishy. And his suspicions start proving right.
Money starts to disappear, the doctor's drugs are missing, and many other strange things begin to happen in the village. But the most terrifying was when Sean's dead body is found brutally beaten up.
Everybody starts suspecting his girlfriend, but Hamish starts to dig more and investigates the matter, including all the villagers and the occurrences in between. After discovering some secrets about the murdered traveler, he is hellbent on finding the killer.
10. Death of a Charming Man (1994)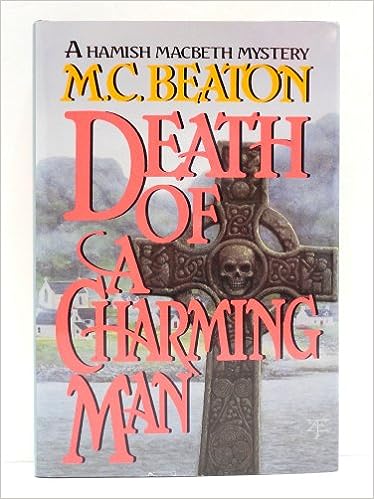 Hamish is happy because Priscilla has agreed to marry him, and he is enjoying a blissful time with his beloved fiance. The police Sergeant is free to go fishing, drink a lot of coffee, and be lazy all day, as the crime rate in the village of Lochdubh has decreased significantly. Until now, of course!
Peter Hynd's arrival has suddenly created chaos in the village. He is a handsome, unmarried man with a good income, and all the ladies in the town are practically swooning and fighting over him.
On the other hand, Priscilla is pushing him for a career change, a better job. Hamish, tired of Priscialla's plans and schemes related to their house and job, finds amusement in the fights of the village ladies regarding a man. But the amusement turns into a worry when a series of physical abuse, death threats, and murder of a charming man haunts the small village of Lochdubh.
A Highland Christmas (1999) (A Christmas special release)
Knock, Knock, You're Dead! (2016) (Short Story)
Conclusion
M.C. Beaton, the international best-selling author, has delivered many books that have amazed readers with their mystery and suspense. I personally love her books and have thoroughly enjoyed this series.
By seeing the long list of books, you might want to back out, but trust me, once you start with this series, you will find it well nigh impossible to stop before you reach the end.
I hope this article about Hamish Macbeth's Books in Order has given you a little sneak peek into books in this series.
Have you already started reading this series? If you have, share your experience so far in the comments below. I will be delighted to read all your reviews!