Being a good writer is a talent not many possess. Writing is a very difficult skill to master, and to ace this; one needs depth and understanding of every step included in becoming an extraordinary writer.
Most authors write in a particular genre. Only some have the versatility to write in various genres. David Rosenfelt is one such author who has tried his hands in various genres and writing styles. He has written book series, standalone novels, and non-fiction books.
Today, I will briefly talk about David Rosenfelt and list all the book series and other novels he has written so far in their reading and publication order. If you are a fan of the author or are simply curious, check out my article on "David Rosenfelt Books in Order" to start your reading journey right away.
Who is David Rosenfelt?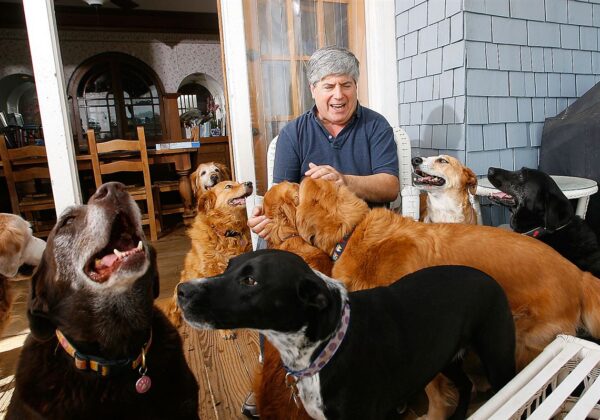 David Rosenfelt was born in the year 1949 in Paterson, New Jersey. He is the middle child and had a very normal childhood. He completed his degree from NYU (New York University) and started his career in the movie industry. He worked in the United Artists before becoming the Marketing President of Tri-Star Pictures. Later he switched to writing.
Open and Shut of the Andy Carpenter series was his debut novel. David was nominated for Edgar Poe Award and won the Shamus Award, and also received many other awards and recognitions. He has written multiple book series, standalone novels, and non-fiction books.
David and his wife have started Tara Foundation, a dog rescue organization that has helped 4000 dogs so far.
David Rosenfelt's Books in Order
| Sr. No | Title | Publication Date | Print Length | Publisher | Where to Buy |
| --- | --- | --- | --- | --- | --- |
| 1 | Open and Shut | May 9, 2002 | 256 pages | Mysterious Press | Amazon |
| 2 | First Degree | June 1, 2003 | 256 pages | Mysterious Press | Amazon |
| 3 | Bury the Lead | June 9, 2004 | 272 pages | Mysterious Press | Amazon |
| 4 | Blackout | January 5, 2016 | 288 pages | Minotaur Books | Amazon |
| 5 | Fade to Black | January 29, 2019 | 320 pages | Minotaur Books | Amazon |
| 6 | The K Team | February 23, 2021 | 304 pages | Minotaur; Reprint edition | Amazon |
| 7 | Animal Instinct | April 6, 2021 | 304 pages | Minotaur Books | Amazon |
| 8 | Don't Tell a Soul | June 24, 2008 | 320 pages | Minotaur Books | Amazon |
| 9 | Down to the Wire | March 16, 2010 | 304 pages | Minotaur Books | Amazon |
| 10 | Dogtripping | July 23, 2013 | 288 pages | St. Martin's Press | Amazon |
Andy Carpenter Series in Reading and Publication Order
Andy Carpenter is the first and most popular series written by David Rosenfelt. Andy Carpenter, the main protagonist of the series, is a lawyer and an animal lover. Andy works with his golden retriever, Tara, to solve the mysteries and place the criminals behind bars.
It's a legal thriller series with a combination of suspense and laughter that keeps the audience engaged. The character Andy and the author have similar interests when it comes to loving and helping dogs.
The series has over 20 books under its title and includes other impactful characters in Andy's life.
It's recommended to read the Andy Carpenter series in order so you can follow the whole story. However, if you like, you can also read it in any order, as each book tells a particular mystery story. That said, there are instances when the previous tales are mentioned in the next book, so to avoid any spoilers, it's better to read the series in its reading and publication order.
I will list all this series's books in reading and publication order so you can follow the sequence easily.
1. Open and Shut (2002)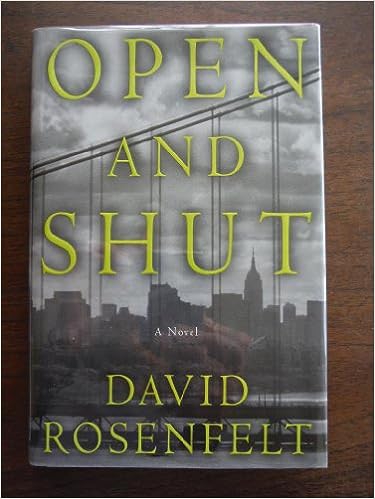 It's the first book of the series and also the debut novel of David Rosenfelt. This story introduces us to the main lead of the story, the smart and witty lawyer, Andy Carpenter. He is a talented lawyer who knows how to turn the tables in his favor in the courtroom with his intelligence.
Andy's life was going very smoothly until his father dropped dead in front of him during a game at Yankee Stadium. Nelson Carpenter, the father of Andy Carpenter, also an ex-district attorney, had asked him to take one of his past cases without giving him a reason to do so. Also, his father had left him $22 million of inheritance money, which Andy knew nothing about.
Andy must find the secret of his inheritance money and solve the case at hand, which might have some connection with his dad.
2. First Degree (2003)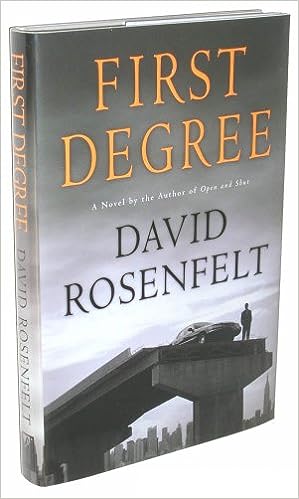 It's the second book in the series, narrating a mystery case that Andy never wished to encounter. Andy Carpenter has moved to his childhood home and is hungry for a case to solve. A talented lawyer never has to wait for long when it comes to new cases.
The body of a burned and beheaded cop is found, and Andy is asked to investigate. During the investigation, a stranger barged into the lawyer's office to confess his crime regarding this murder. When the case looked straight and easy to solve, another very unexpected suspect was discovered by the police.
The police bring Laurie Collins, the private investigator and love interest of Andy as a prime suspect in this murder. Andy must dig deeper to discover the truth and catch the real culprit.
3. Bury the Lead (2004)
In the third book of the series, Andy is continuously rejecting cases, unwilling to take any work. But when one of Andy's friends, Vince Sanders, calls to ask for a favor, he can't refuse.
Vince Sanders is a newspaper owner and is in a difficult situation because Daniel Cumming, his star reporter, is being used as a mouthpiece by a serial killer.
Andy was taking this case as a quick chase and run until an unconscious Daniel was discovered near the body of the murderer's recent victim. Daniel is arrested despite his claims of him being innocent.
Andy investigates further to know the truth and finds shocking secrets about Daniel on the way.
Doug Brock Series in Reading and Publication Order
Doug Brock is another book series written by David Rosenfelt. It's a crime fiction thriller series focusing on the life of a single character and the mysteries surrounding him.
Doug Brock, the main protagonist of the series and a New Jersey state police officer, was recently shot and went into a coma. Due to this, he suffers from amnesia and tries to recall his past life.
The series has three books and narrates the story of Doug Brock, his life mysteries, and the cases he will solve in between.
All three books in the series follow a new crime investigation story. However, it is recommended to read them in the reading order; otherwise, the major memories of Doug Brock's life which are the important part of the story will be missed. Also, it will be difficult to understand the whole plot of the series.
I will list the books in the series in their reading and publication order. Have a look!
1. Blackout (2015)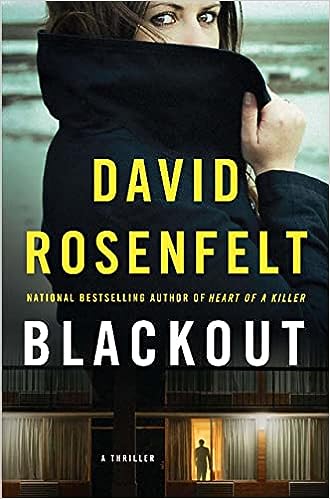 It's the first book in the series and introduces us to Doug Brock.
Doug Brock is a New Jersey State police officer who has been chasing Nicholas Bennett, a wanted criminal, for years. Nicholas kills someone close to Brock, and he goes out of control.
Due to some reason, Brock is suspended from the police force, but his obsession with this case does not allow him to stop. He continues his investigation unofficially.
During the investigation, Doug discovers something important. He contacts his team partner, Nate Alvarez, who is furious to know that Doug is still working on the case. Later Doug is shot in a hotel room, and things start to take a turn.
After recovering from the coma, Doug finds it hard to accept that he has lost his memories of the recent case and the last few years. But his determination leads him to find the truth once again.
2. Fade to Black (2018)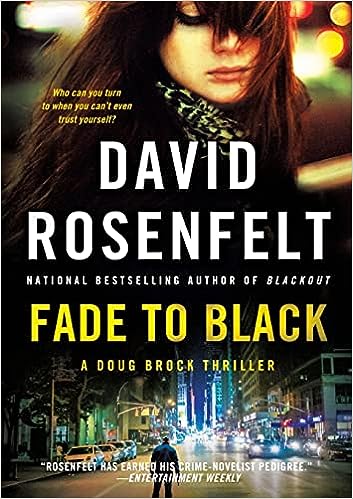 It's the second part of the Doug Brock series.
In the first part, the severe gunshot incident resulted in the officer going into a coma, and now he is suffering from amnesia. In the hopes of getting his memory back, Doug Brock has joined the amnesia support group. He is reunited with his fiance on the way.
In the support group, he met a man named Sean Conner, who is also a patient of amnesia. Sean approaches Doug and shows him a scrapbook of a murder victim he discovered in his attic. But he has no particular recollection of why he has the information.
Doug Brock agrees to help him and opens the cold case. But soon, he finds out that he has a very personal connection with the case, and that's when things start to change for him.
K Team Series in Reading and Publication Order
K Team is a spin-off series of the famous Andy Carpenter series by David Rosenfelt. Here a new team of officers is introduced to the readers, making it more interesting.
The New Jersey police officer Corey Douglas and his K-9 partner Simon Garfunkel (a German Shepherd) have recently retired. But they don't want to give up their thrilling job yet, which leads them to propose an idea to other officers for forming a private investigation team.
They present this idea to Laurie Collins, the wife of lawyer Andy Carpenter, and her investigating partner, Marcus. Excited to solve more cases, she agreed to the proposal and named their four-member team the K Team.
In this series, four books have been released so far. And it is recommended to read them in order and after the Andy Carpenter series to follow the story and avoid any spoilers in between. I'll list the books in their reading and publication order, have a look.
1. The K Team (2020)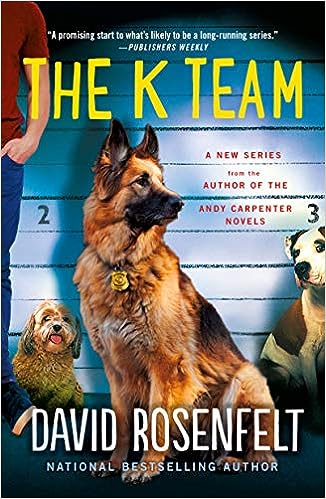 The K Team is the very first book of the series, which narrates the first case of the K Team members. As mentioned before, the private investigation team has Corey Douglas, Simon Garfunkel, Laurie Collins, and Marcus. The name of the team has been chosen in honor of Simon.
After forming the team, they get their first case to solve. Henry Henderson, a judge, and a very tough one for that matter, also fair, contacts the K team. They all have faced the judge sometime during their professional journey. Henry is being blackmailed and asked for ransoms. Unwilling to involve the police, he hires the team to find the blackmailer.
2. Animal Instinct (2021)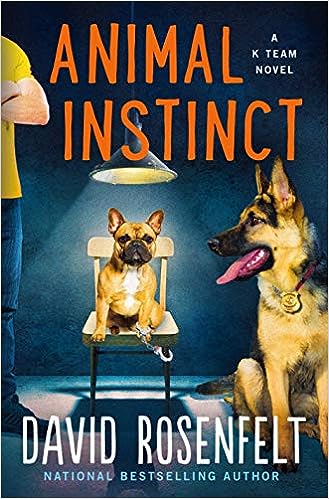 This book narrates the second case of the K team. When ex-police officer Corey Douglas was in the force, he received a call reporting a domestic violence case of Lisa Yates and her boyfriend, Gerald Kline. But Lisa has denied the accusations against Gerald directly despite the red marks on her face. With no option left, Corey had to leave without any further investigation.
Now, Lisa's body is found shot in the streets, and Corey has taken the responsibility to solve the case with the help of his team. With further help from Andy Carpenter, they dig deeper into the case only to discover shocking secrets.
Standalone Novels
Along with all the book series, Andy has also written standalone novels. If you are new to this author's books, his standalones will be a great choice to get the hang of the writing style and genre. So far, he has released five standalone novels, one yet to be published in the upcoming year.
1. Don't Tell a Soul (2008)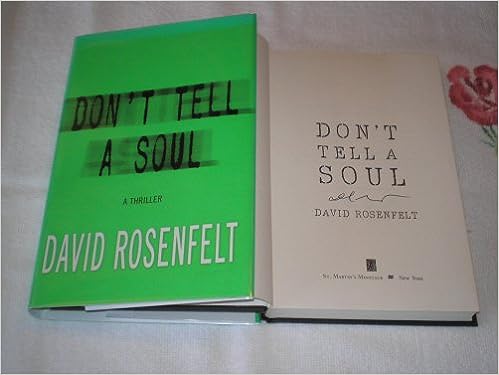 It's the first standalone novel written by David Rosefelt. The story revolves around the character Tim Wallace and his problematic life.
Tim's wife, Maggie, died in a boating accident, and the cops are convinced he is the killer. Tim was the only eyewitness to the incident but not the killer. Eventually, the police force cleared his name from the case.
On New Year's Eve, after the tragedy of Maggie's death, he reluctantly goes out with his friends and faces another problem. A drunk stranger comes to him and confesses his murder crime, providing proof and leaving him dumbfounded.
It turns out that the man was telling the truth, and Tim again comes under the radar of the police department, with no intention of sparing him this time. But Tim is also hellbent on discovering the truth and improving his worsen life to somewhat better.
2. Down to the Wire (2010)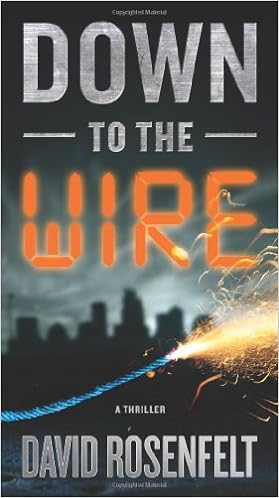 In this standalone book, the story follows an ordinary man Chris Turley, a reporter for the Bergen News. He has tried to be like his father, Edward Turley, one of the great investigative reporters. But unfortunately, Chris only gets the job to cover press conferences and town hall meetings.
A sudden giant explosion in an office building where he saves five people makes him the hero, and his photo in the next day's newspaper turns him into a celebrity. With the growing popularity, his career starts looking like his father's, but was it his luck or someone's plan to keep him in the right place at the right time?
Soon he discovers all this was not a coincidence but a full-fledged plan to trap him. When his life has turned into a nightmare, will he be able to escape it?
Non-Fiction Novels
David Rosenfelt has also written non-fiction novels. If you are an animal lover, you will love these books. He has written these novels based on his own story about dog rescue and the overall circumstances in between. I'll provide the list of books below, so if you are intrigued, check it out!
1. Dogtripping: 25 Rescues, 11 Volunteers, and 3 RVs on Our Canine Cross Country Adventure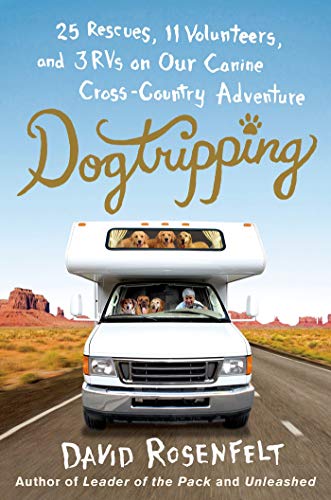 As mentioned, David and his wife have started Tara Foundation to rescue dogs. This book tells the story of how the foundation's idea evolved.
The author David Rosenfelt and his family were moving from Southern California to Maine and thought he was fully prepared. But when the situation came to moving with 25 dogs, things started to look difficult. However, he had arranged for Rvs, volunteers, kibble, GPS, food, etc.
The book narrates their adventure of shifting from one place to another with a bunch of canines. This humorous and sweet story shows us how the couple became foster parents for countless helpless dogs.
Conclusion
David Rosenfelt, the mystery writer, has grabbed our minds with his fantastic books. I liked most of his books and will recommend them to you all.
I hope this article about David Rosenfelt Books in Order will help you choose a book series or a standalone novel from the list. Or are you already a fan of David and have read his amazing mystery books? If yes, then share your review of the books. I will be happy to read them.