I could write a fanfiction about Fangirl.
I love it that much.
As a writer of fanfiction, a lover of books and a massive nerd, it's very difficult not to. For now, let me share this book review of Fangirl.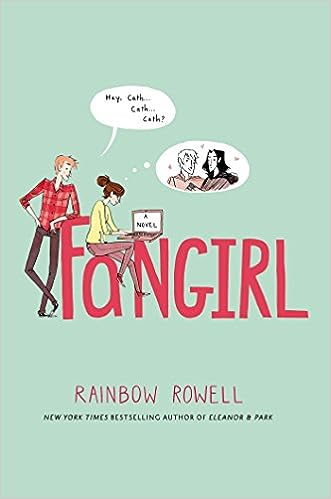 Hardcover, 459 pages
Published September 10th, 2013
Reviewed by Hayley Anderton
About Cath and Her Passion
Cath is a shy girl moving to college on her own.
Separated from her twin, Wren, for the first time, she finds comfort in the only other constant in her life – writing. Her favorite book series, the tales of Simon Snow (based loosely on Harry Potter) are the center of all her writing.
She's been writing fanfiction for years, and she's a big hit on the internet. That's what's important to her – not boys, or falling in love, or settling in at college.
That's not part of her plan.
But then she meets Reagan and her best friend, Levi. If anyone can drag her out of her fantasy world, it's them.
Told through snippets of fanfiction and a third person narrative of Cath's life, Fangirl is a must read.
The Characters of Fangirl
I don't even know where to begin talking about my love for this book.
Rowell's characters are one of a kind, and by no means one dimensional.
Cath in particular is relatable, loveable and familiar. She's the girl teenagers can see themselves in – quiet, withdrawn, waiting to be drawn out of their shell.
And then there's Levi – bouncy, excitable, and the exact opposite of Cath.
And yet Rowell manages to make them mesh well together. Their friendship is simply perfect.
All of Rowell's characters have the ability to be more than one thing.
There's never a definitive villain all the way through – all of the characters have their flaws. That's what makes them so real, and so accessible.
Showing Mental Disorders as What They Are
Another aspect I love in this book is the handling of mental disorders.
Though it's not explicitly said, Cath suffers from anxiety, and her father shows symptoms of bipolar. Rowell handles this topic with care and clear, extensive research.
Too many Young Adult novels do nothing to access difficult topics, and many that do manage to romanticize disorders – in particular, depression and schizophrenia. Rowell doesn't shy away from these issues, or try and display them as anything other than what they are.
Overall Conclusion
If a book can make me both laugh and cry, then I know it has substance.
Rowell's sensitive portrayal of her characters and showing their vulnerabilities makes me love them more, but I wouldn't love them half as much if they hadn't made me laugh. It's a reiteration of my previous point – these characters are not characters.
To me, they're real people. People that the reader will form a real opinion on. People that you've wanted to slap but also to hug at one point in time.
Rowell's strength is realism, whether it's in her plots, her characters, or the topics she approaches. That's what Fangirl brings to the table.
There's no denying her writing is important. She has raised the bar high, and continues to in her more recent novels, Carry On, and Landline.