I love cooking almost as much as I love reading. On the weekends, I can usually be found in the kitchen, preparing something exciting for dinner. And while I sometimes make up recipes as I go along, I often use a cookbook for inspiration too.
But up until recently, I never owned a cookbook stand. I guess I never thought I needed one, yet looking back, I really did. Resting a big chunky book on the side of the kitchen counter didn't always work out so well; the pages would fold backward, and I'd lose my place, resulting in messy handprints all over the pages as I tried to find it again.
But since I bought my cookbook stand, that's a thing of the past. Now, I always have the page I need right there in front of me, and it stays clean and mess-free, even in the midst of a chaotic Sunday afternoon cook-a-thon.
At a Glance: Our top 7 pick for best Cookbook Stand
7 Best Cookbook Stand
To help you narrow down your search for a cookbook stand, I've put together a list of the 7 best options on the market right now. I've included some super practical options, as well as some more unique and stylish stands that complement the aesthetic of your kitchen.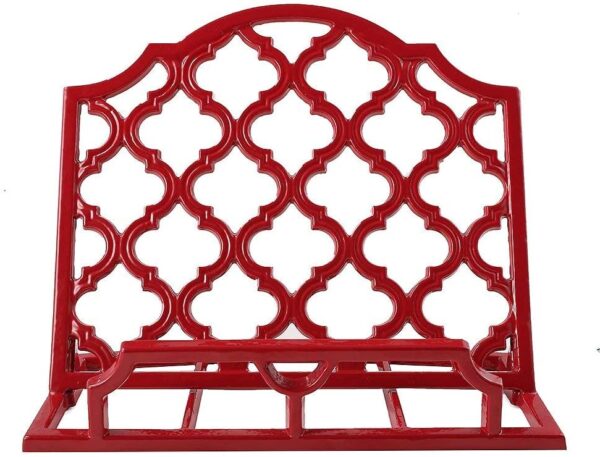 The best heavyweight cookbook stand
If you're looking to make a vintage statement in your kitchen, then this decorative cast iron cookbook stand will do the trick. Looks-wise, the intricate lattice pattern blends perfectly with classic and traditional interiors. It also comes in various colors; timeless dark coffee gold, clean and simple white, and an eye-popping red.
Since it's made of cast iron, this cookbook stand is one of the studiest options out there. It comes with a non-slip mat which ensures it doesn't budge, even if you accidentally knock it (plus, it also protects your countertops from scratches). Even the biggest, heaviest hardback books sit solidly in place.
But of course, this also makes it pretty heavy, so it's not an easy stand to move around from room to room. If you're looking for something more portable, check out the TRIPAR or the Regal Trunk stands below.
As well as being weighty, this JOGREFUL stand is pretty big too. At almost 11.5 inches long, 9.1 inches high, and 5.1 inches deep, it's big enough to hold pretty much any handheld device, like an iPad, Kindle, or tablet.
Cleanability-wise, this cookbook stand has mixed reviews. The cast iron is coated in a heavyweight powder-coated steel finish, which protects it from rust and keeps the surface smooth. You can clean it relatively easily by wiping it with a damp dishcloth, but the intricate design has a lot of crevices that make it trickier to remove dried-on food.
Overall, this mid-price cookbook stand offers good value for money, with over 91% of Amazon reviews coming in at five stars. It's a good option if you're looking for a stand to hold heavy, bulky books, but you don't want to spend a small fortune.
Pros
Solid, sturdy cast iron material
Classic vintage design
Non-slip mat that protects countertop from scratches
Perfect for extra-large cookbooks
Cons
At 4.5 pounds, it's quite heavy
The lattice design makes it harder to clean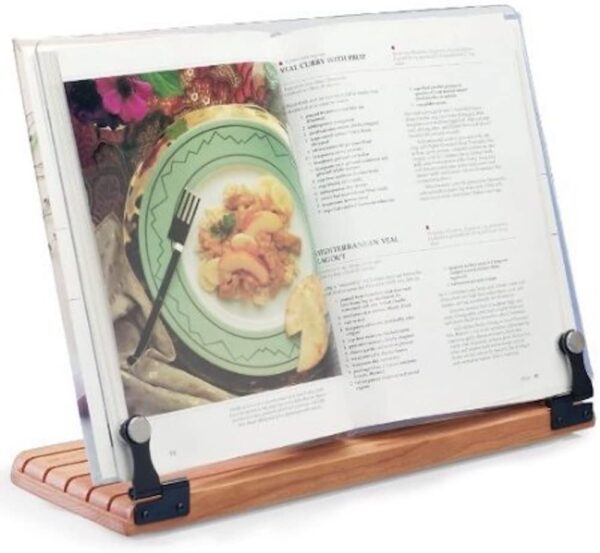 The best cookbook stand for messy cooks.
If you're prone to spills in the kitchen, this deluxe cookbooks holder from Clear Solutions is a good option for you. It features a clear acrylic shield that sits in front of your open cookbook to protect it from any accidental splatters. When you want to turn the page or switch out your book, the shield can be pulled forward and then pushed back to fit the depth of the book.
This stand also features sleek metal hinges that allow the frame to fold flat for easy storage. This makes it relatively easy to transport (but bear in mind at 3.6 lbs, it's still not the lightest option out there, and it's not ideal for taking with you on the road).
At around 19 x 13 inches, this is one of the biggest cookbooks stands on the market; not great if you're short on kitchen space but fantastic for holding oversized cookbooks. It's also ideal for use with your iPad or tablet since you can adjust the tilt of the stand and view your device from various angles.
In terms of clean-up, one pass over the acrylic shield with a cloth will remove any food residue. The cherry wood base features some slats and grooves, but it's easy to wipe them clean with a damp sponge and a little soap.
This Clear Solutions cookbook stand is one of the most expensive options on our list, but it's a high-quality, American-made product that will withstand whatever your kitchen throws at it.
Pros
A clear acrylic shield protects your cookbook from splatters
Folds flat for easy storage
Large size to accommodate even the biggest cookbooks
Adjustable tilt allows you to change the viewing angle
Cons
Too big for small kitchens
More expensive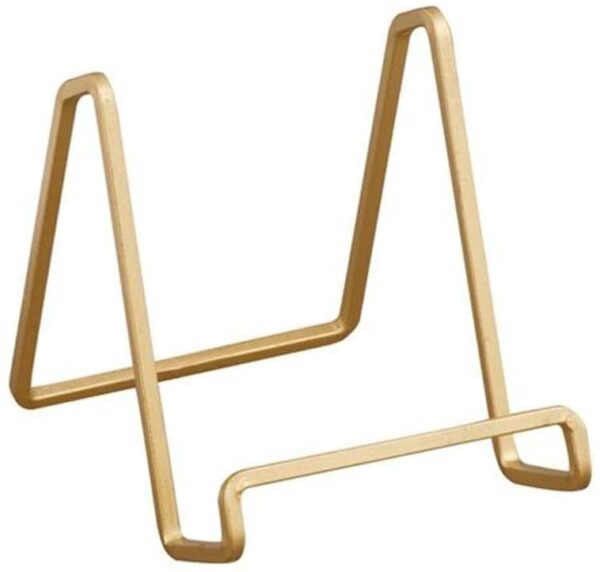 The best budget cookbook stand
This no-frills TRIPAR stand is cheap, chic, and super simple. The basic wire design with a classic gold finish looks great in most kitchens, whether you have a contemporary minimalistic space or a more traditional style of décor.
Weighing in at just 4.64 ounces and measuring just 6.5 x 5.7 inches, this is the smallest and most lightweight stand on our list. It's easy to move it around the house or pack it in your suitcase, plus it's ideal if you're looking to save on countertop space.
That being said, its small size means that this stand is limited in what kind of books it can hold. It's only designed to accommodate smaller, lighter books, so large or heavy cookbooks are out of the question. Still, it's large and secure enough to hold your iPad or other devices, so you can cook your favorite recipes while listening to music or watching videos.
The TRIPAR stand can also double up as a chic and stylish easel to display plates, tiles, or artwork around your home. It might not be the most robust stand on this list, but if you're looking for a basic, low-cost option for smaller cookbooks, then it's ideal. For larger, heavier books, go for something more solid, like the JOGREFUL stand.
Pros
Simple, chic design
Lightweight and easy to move around
Inexpensive
Holds an iPad and other tablets
Cons
Not suitable for large or heavy books
The most stylish cookbook stand
From an aesthetics point of view, this cookbook stand is my personal favorite. The lightness of the bamboo complements the elegant cut-out pattern and ties in oriental design elements that would look great on most kitchen countertops.
It's relatively lightweight, and at just 11 x 8.1 inches, it's also pretty compact. That being said, there are two bigger sizes available if you are looking for something to accommodate extra-large books.
This Wishacc stand adjusts to five different angles, so there's less need to crouch down or strain your neck to see a recipe while you cook. You can also use it as an iPad stand while you're sat at a desk or relaxing on the sofa. Plus, it folds down completely flat, so it can be stored away or packed in a backpack or suitcase to take with you on the road.
This stand has some of the best reviews on Amazon, with 4.8 out of 5 stars. Plus, it also happens to be one of the least expensive options on this list. The only real drawback is the shallowness of the bar at the base, which makes it less suited to extra-thick books, which of course, cookbooks often are.
Pros
Elegant design
Adjusts to 5 different angles
It folds down flat for easy transportation and storage
Works well with an iPad or other tablet
Cons
Not suitable for very large books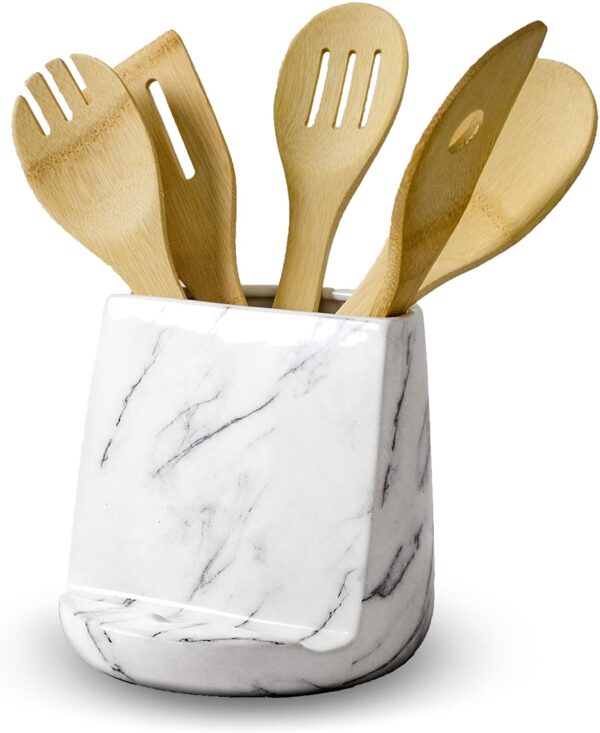 The best two in one cookbook stand
Why have a cookbook stand when you can have a cookbook stand and a utensil holder, all in one!? This convenient space-saving option lets you store spatulas, ladles, tongs, whisks, and cutlery in the spacious well at the back, so it's a good option if you don't have much room on your countertops and need to make the most out of every square inch (as is the case in my kitchen).
The cookbook stand itself measures 6 x 6 inches, making it one of the smallest on our list. But unlike the lightweight TRIPAR stand, this one is solid and sturdy enough to hold books much bigger than its size. Plus, the ceramic marble material has enough weight to it that it will stay exactly where it should be, even when holding a heavier cookbook.
Like all of the stands on this list, the More Than You Can Chew stand can accommodate a tablet, iPad, or e-reader, plus it's also ideal for smartphones. The downside is, unlike the Wishacc stand or the Clear Solutions stand, there's no way to adjust the angle. Plus, since it's a utensils holder, it's not practical to move around and use in other rooms in your home. In short, it's a super handy multi-use stand, but unlike a lot of options out there, it's limited to the kitchen.
Pros
Utensil holder and cookbook stand all in one
Saves on counter space
Solid enough to hold large and heavy books
Works well with an iPad or other tablet
Cons
Not practical to use outside of the kitchen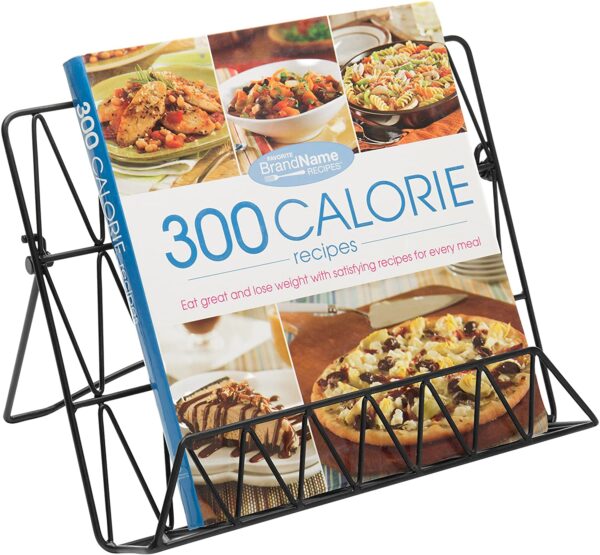 The best multi-use cookbook stand
This simple metal wire stand from MyGirft might not be fancy or elegant, but it's practical, affordable, and can be used in pretty much any room in your house, not just in the kitchen. It makes a handy book stand for reading in the bath, or you can use it to display artwork, decorative books, or even vinyl covers. It's also large enough to accommodate pretty much any sized tablet or e-reader. Plus, the whole stand folds down flat, so moving it around from room to room is easy.
The black geometric design is neutral enough to work with most styles of décor, but if you're looking for a little extra sparkle, there's also a gold color option.
The MyGift stand is relatively lightweight compared to many on this list, but that doesn't mean it's flimsy. At over 11 inches in width, with a generous 2-inch deep base, it can securely hold extra-large, heavy cookbooks with no problems.
For me, the main drawback of the MyGift stand is its cleanability; sure, a damp cloth will remove any food splatters or caked on dirt, but the wire design makes it a little trickier than some of the easy wipe-clean options out there. That being said, if you're not a messy cook, it shouldn't pose too much of a problem.
Pros
It can be used for multiple purposes
It folds down flat for easy transportation
Can accommodate large and heavy cookbooks
Cons
Harder to clean than some others on this list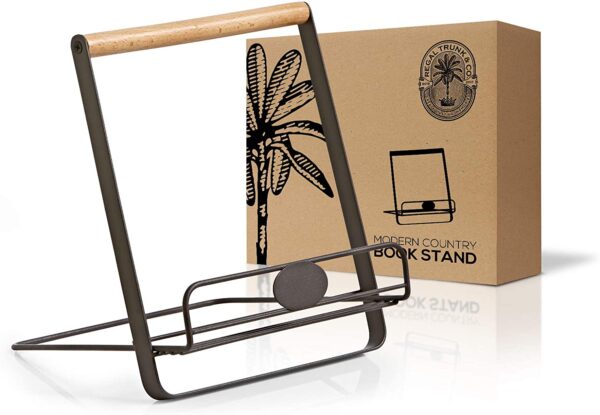 The best portable cookbook stand
The Regal Trunk cookbook stand is another super simple yet chic option that would look great in a modern, minimalist kitchen, yet the simple black frame with a touch of natural woodworks with pretty much any style of décor.
This stand is one of the most portable options on the market; it folds down completely flat and is so compact it can be easily stored away in your kitchen drawer when it's not in use. It's also a good option for a multipurpose reading stand around the house, and of course, you can use it with your iPad, tablet, or smartphone.
The back adjusts to various angles, so there's no need to strain your back or neck while you're reading or checking a recipe. The base of the holder is also adjustable to accommodate extra-large books or create a more secure, snug fit for thinner books too. It's worth noting, though, that some customers said loosening and tightening the base can be tricky and takes a little time to adjust.
Overall, this is a sturdy little cookbook stand considering how compact and lightweight it is, and the iron frame means that it can hold an impressive amount of weight for its size.
Pros
Extremely portable
It folds up to a compact size
Adjustable angles
Can accommodate heavier books
Cons
The base can be tricky to adjust
Other Uses for Cookbook Stands
Cookbook stands are designed for holding cookbooks, but did you know there are tons of other ways to use them that have nothing to do with cooking?
Many people use cookbook stands for reading in the bath, which helps to keep the pages dry. Others use them for hands-free reading during home workouts or during chores like laundry, ironing, or washing the dishes. Cookbook stands also make great display stands for tiles, plates, bowls, and other pieces of art.
But my favorite thing about my cookbook stand is that I can also use it as an iPad stand. In fact, most cookbook stands can double up as an iPad, tablet, e-reader, or smartphone stand. Having your device raised up at eye level helps you get that perfect viewing or reading angle, which can be a game-changer while you're doing chores around the house, and, of course, cooking.
There are plenty of ways to use a cookbook stand, even if you don't consider yourself much of a chef. If you love reading as much as I do, or you like to watch videos on your tablet while you multitask around the house, a cookbook stand is a handy item to have around.
How to Choose a Cookbook Stand?
There's an endless variety of cookbook stands on the market these days, and while most of them work in roughly the same way, they can also vary quite a lot. Some are more decorative, some are sturdy and practical, and others have additional features and built-in extras.
Before you make a purchase, think about what you'll be using your cookbook stand for. Ask yourself the following questions.
Are you planning on keeping it in the kitchen at all times, or does it need to be portable?
If you're looking for something you can move from room to room or take with you on a trip, foldable or collapsible options are your best bet. Opt for something sturdy yet lightweight, for example, a foldable metal stand.
Do you want to use it as an iPad, e-reader, or smartphone stand?
As I already mentioned, a lot of cookbook stands also do a great job of holding electronic devices. Some are even specially designed to do this and feature built-in charging ports.
How heavy are your cookbooks?
Many cookbooks tend to be big, bulky, and heavy. If you have these kinds of books, make sure to choose a strong and solid stand that can take the weight. Some cookbook stands can be quite flimsy, so read the reviews carefully to see how it holds up with heavier books. If you have a lot of bulky cookbooks, you might want to opt for a wooden block or marble stand. These can hold even the heaviest books, plus they also look great on your countertops.
How easy is it to keep clean?
Cooking can be a messy job, and no matter how careful you are, your cookbook stand is likely to get food splatters and stains on it eventually. Smooth, wipe clean surfaces like wood, metal, and marble are all easy to keep clean.
Conclusion
Cookbook stands are a super handy addition to your kitchen countertops, but they don't just help you read recipes; they can be used for all kinds of things. They make a great iPad stand, so you can watch videos while you cook and do chores or even get work done at your desk. Plus, some cookbook stands can be used for reading in bed or in the bath, and many people also use them to display art around their homes.
Whatever you're planning on using your cookbook stand for, hopefully, you've found the perfect one for you from this list. If not, check out our Hooked to Books guide to the best book stands of 2022 for some more inspiration for multipurpose book stands that you can use in the kitchen and elsewhere.