For avid readers who are also night owls (and that seems to be most of us!), a book light is more than a gadget. A great book light is like a friend that keeps you company on your bookish adventures late into the night.
Best of all, book lights let us indulge in the written word without disturbing our partners.
For you musicians out there, a quality book light offers quiet support during hours of practice. It shines on sheet music and keyboards, keeping the light — and your focus — where it's needed.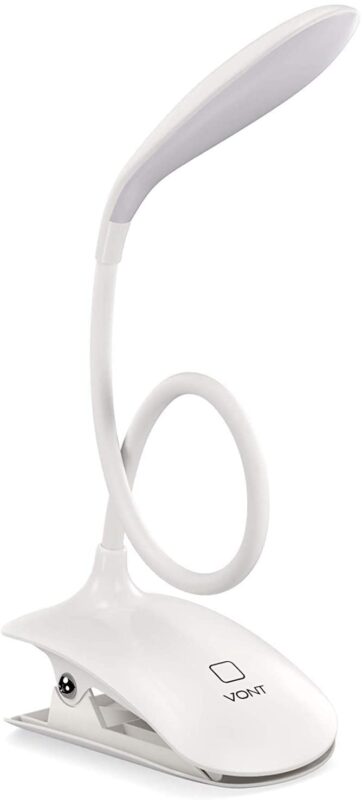 Vont LED Clip-On Reading Light
Our #1 Recommended Book Light
This Vont book light is super lightweight and portable, while offering ample ambient light to read by. You can clip it onto any object, not just books, plus the bendable stem aims in any direction so you can avoid waking your bedmate.
*We earn a commission if you make a purchase, at no additional cost to you.
And, for the crafter or hobbyist, book lights make a trusty sidekick offering a sharper view of stitches, brushstrokes, or jewelry making.
Take our advice: choose your book light as carefully as you would choose your partner.
You've got lots of choices out there, but don't worry — we've narrowed it down to the best of the best. Below you'll find some of the highest-rated book lights. Happy reading!
---
Best Book Lights for Fashion and Function
Based on a thorough comparison and relative evaluation, we recommend the following book lights.
---
1. Vont LED Clip-On Reading Light — 2023 Best Book Light to Buy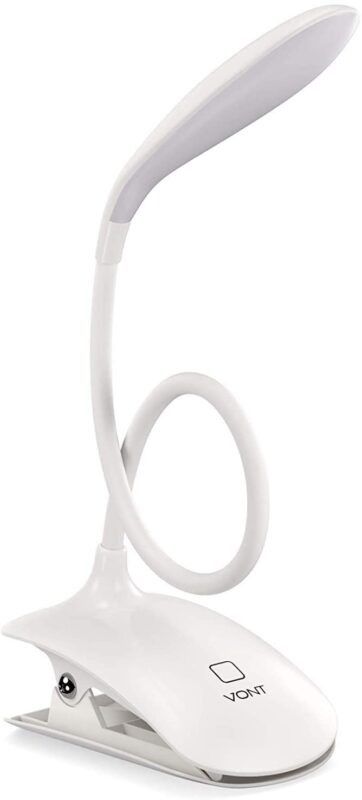 The Vont LED clip-on reading light features a sleek design with a strong clip, flexible gooseneck, and three power settings from dim to bright. 
While the clip may be too large to attach to smaller paperback books, the large base of the reading light allows it to stand on its own without being clipped. So you can stand it on your desk or bedside table to use as a desk lamp.
Twelve individual LED bulbs offer flicker-free light and can be dimmed or brightened according to your needs.
As a result, it stands out as one of the brightest book lights on the market. The cool white light helps increase your alertness and concentration ability, making it an ideal alternative light source for detailed tasks when a serious task lamp is not available.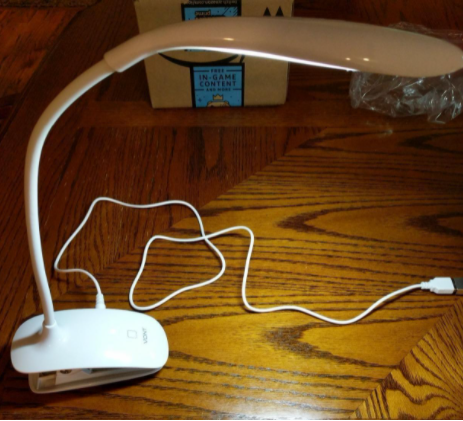 The brightness is adjustable through 3 levels. With a powerful rechargeable lithium battery, the lamp can last up to twice as long as its competitors.
At this mode, however, it can still be quite bright. Therefore, if you want a soft warm light to read at night, you may want to get a bedtime book light.
The sleek design includes a 360-degree flexible gooseneck, perfect for providing indirect light when you need it, or direct light onto your sewing or craft project.
The neck of this light is worthy of praise itself. It's flexible enough to bend into an "O," but is at the same time very strong and stable.
If you've used a book light with a loose shaky neck, you'll understand how significant the difference this small detail can make.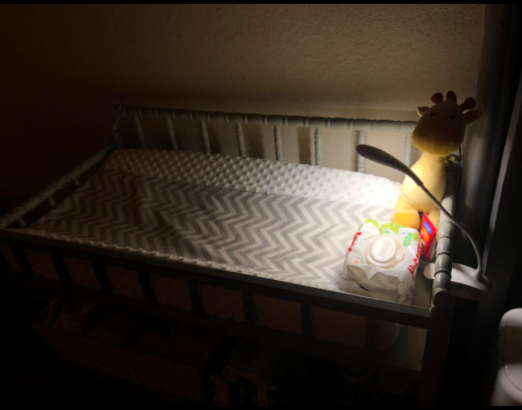 The base can also stay independently on a flat surface to support the whole item to work as a desk lamp. The secret? There's a super anti-slip silicone pad underneath it.
Pros
Extra bright, dimmable
Strong, wide clip opening
Can stand independently
Rechargeable built-in battery
Lifetime warranty
Cons
Can be too large for clipping on small books
---
2. Ecologic Mart's Eye Care — Best Book Light for Reading in Bed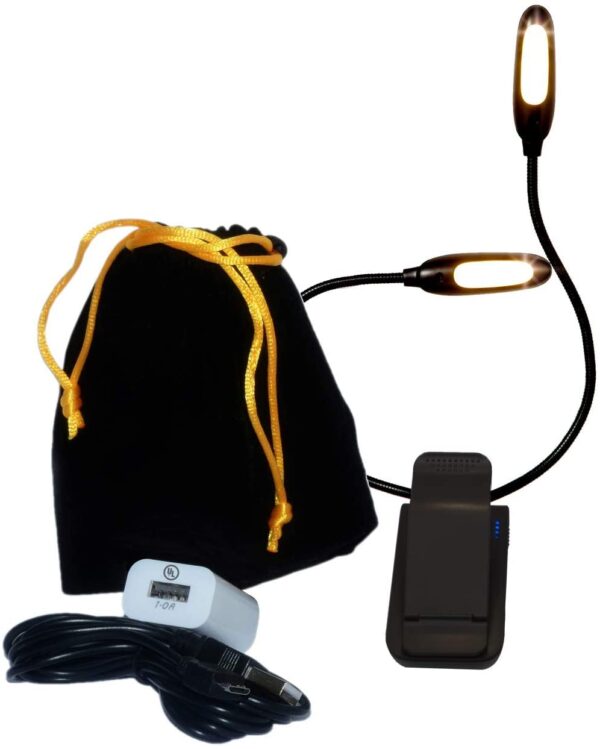 When choosing a book light for reading in bed, the warmth level of the light illuminated is one of the most important criteria you should care about.
You'll want to make sure the light is pleasant to the eye and doesn't mess with your sleep hormones.
With its warm light illuminated at 3000K, this Ecologic Mart's item wins our vote for the best bedtime reading book light.
The Ecologic Mart Eye Care book light consists of 2 branches that can work independently, or simultaneously when you have a big book or an intimate reading partner.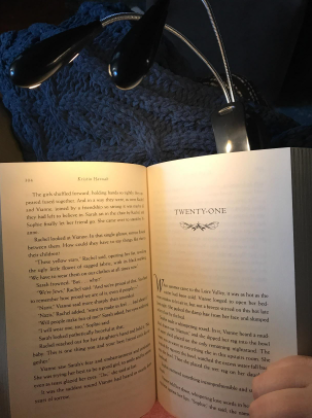 Try various lighting options — there are 3 in total. And both of you can now read in your desired shade of amber.
Be it your time with a romance fiction book, your parents' mini chess game or your child's comic adventure, this light promises to make it a moment of coziness.
Despite having 2 light heads, it takes only one and a half hours for this beast to fulfill its rechargeable 1000mAh batteries via a USB cord.
Depending on how you use this book light one charge can last from a few days to several weeks. You won't have to worry about it dying out of a sudden though — there are indicators to show you the charging and battery status.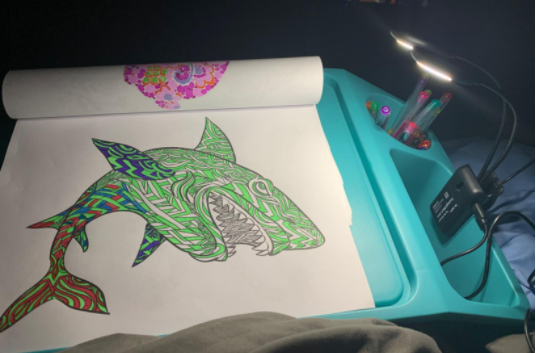 Another impressive feature of this product is that its charger head comes with two ports. You can simultaneously use and charge the light and/or even your phone as well using the same block.
One thing to note, however, is that the item can be slightly heavy if you want to clamp it onto the book or ereader and hold in your hands for a long time.
Pros
Bright
3 brightness levels
Eye-friendly warm light
Has branches that work independently
Rapidly rechargeable battery
Lifetime warranty
Comes with adapter
See also: The Best Ereaders of 2023
---
3. The Original Mighty Bright — Best Book Light for Travel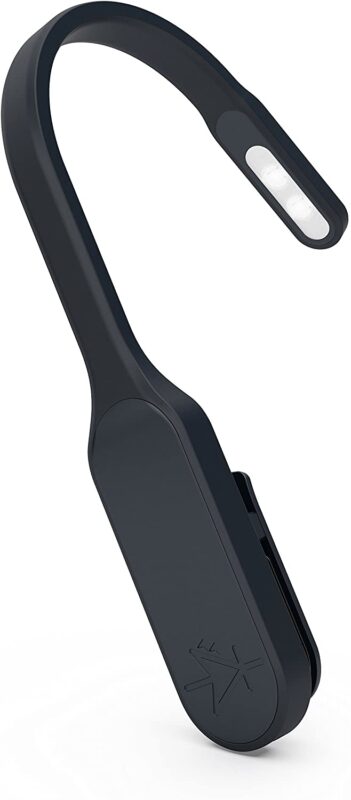 Our nomination for the best clip light for travel is made based on the criteria of portability, battery durability, and charging flexibility. The Original Mighty Bright doesn't miss a single of all the listed requirements.
This Mighty Bright item is very compact. The manufacturer seems to consciously make the design of this light as simple and space-efficient as possible.
At 0.3 ounce and dimensions of 1.2 x 3 x 5 inches, you can put it anywhere in your laptop bag, backpack, or suitcase. You won't even notice it's there.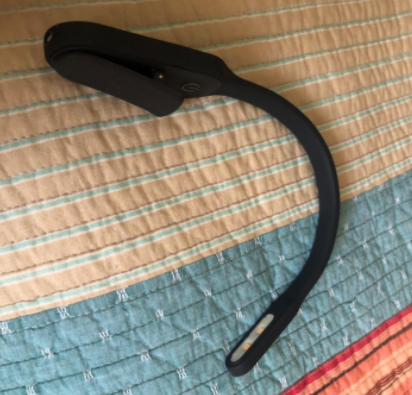 The light's flexible neck and its two brightness levels ensure focused, even illumination on your page when the surrounding lighting condition changes as you're on the go.
It uses power from a built-in rechargeable battery that can last from several days to weeks after a single one-hour charge. Never lug around those extra AAAs anymore! Just plug in a standard USB cord whenever the light indicator turns red.
The clip of this light also makes it a perfect travel companion. It's firm enough to secure its hold on a book, but thin and small enough to store in your carry-on and it won't create any lumps when you turn the pages.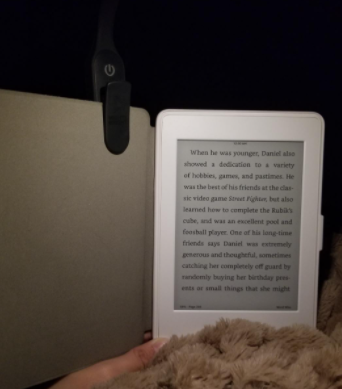 Since it's humble in size, the clip won't clamp onto thick objects like your tableside. Not that it's made for that purpose, but it could be a minus point for some people.
If you're looking for fun colors for your book light, the Original Mighty Bright is the way to go. It is available in black and white, along with purple, blue, green, and lavender.
Pros
Even illumination
Long flexible neck
Standard recharge cable
Rechargeable battery included
Lightweight
Cons
The thin clip is not suitable for large hardcovers
---
4. Mighty Bright 42610 — Best Light for Paperbacks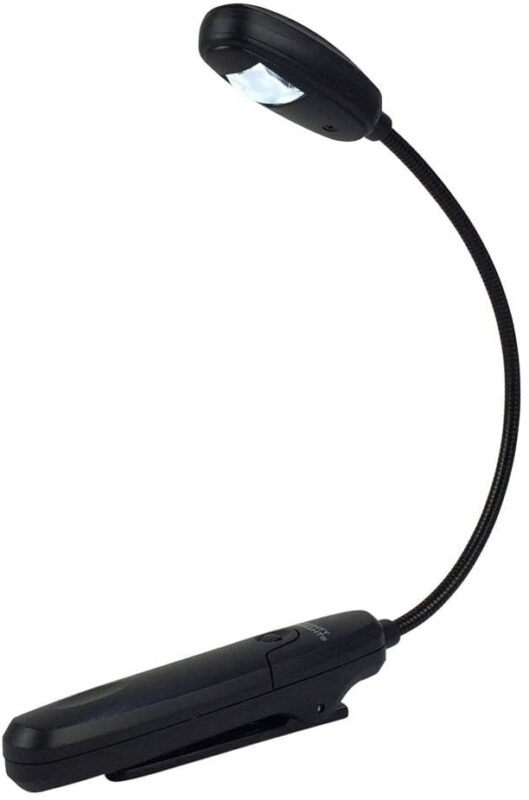 If you ever tried reading with a book light on a paperback, you've most likely been annoyed having to adjust, or re-clamp the light as it moves and threatens to fall off when the pages bend. The Mighty Bright TravelFlex 42610 is made to solve the problem.
At 3 ounces and a very reasonable size, the Mighty Bright TravelFlex is extremely portable (hence the name "TravelFlex"). But that's not the main reason it's become the editor's choice for the best book light for paperbacks.
The device has a long clip, which is composed of a thicker bar where the battery is, and a movable metal piece.
The bar is long and heavy just enough to support the item to stay sturdy on the book and prevent the soft, thin book from folding or bending.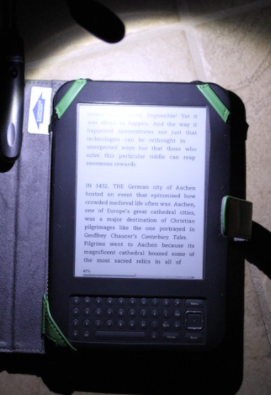 The movable part, meanwhile, is small and thin. This allows it to stay inside the book without creating an obtrusive lump, causing difficulties when turning pages, which usually happens when you clip a normal light on a small and thick book.
The TravelFlex has an LED that produces bright, but soft and even light, thanks to its thoroughly designed optical grade lens.
While the number of LEDs is limited, the light comes with a long and very flexible neck that brings the head to wherever you want it on a large book.
It's also available in a few fun colors, like blue, pink, and silver.
Pros
Bright
Flexible neck
Thin upper clip designed for softcovers
Energy-efficient (1 AAA lasts for 25 hours)
Cons
Has a single LED

Comes with only one brightness mode
---
5. Ecologic Mart's Adjustable LED Light — Be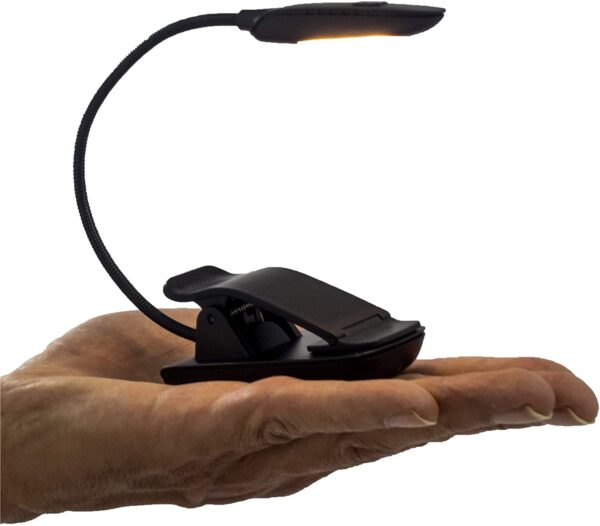 Ecologic Mart's Adjustable LED Light is perfect for book lovers and crafters alike.
With warm, amber light for reading before bed, and bright, white light for crafting or jewelry-making, you can easily switch between hobbies with a single light.
The small size (0.64 ounces) is perfect for smaller paperbacks and easily portable to take with you wherever you do your reading.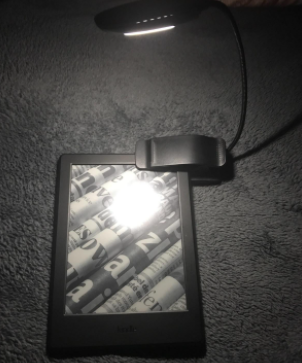 The 3 different light colors have 3 brightness settings each, so this book light is extremely customizable to your needs.
While the included battery is rechargeable via the provided USB cable, many reviewers claim the included battery doesn't have much lasting power.
Fortunately, Ecologic Mart has incredible customer service and is willing to work with you to make sure you are happy with their product.
Pros
Switch between warm, cool, and natural light
3 brightness settings for each color light
Sturdy neck
Small size is perfect for paperbacks
Rechargeable
Cons
Clip is somewhat large for smaller paperbacks
---
6. TFY Clip-on Reading Light: Best Book Light for e-Readers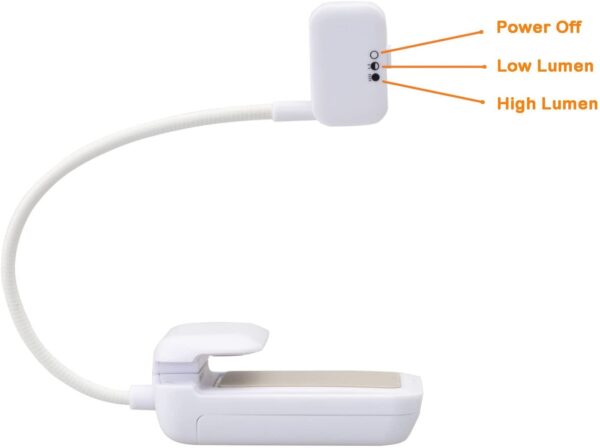 If your e-reader doesn't have its own built-in LEDs, then reading at night can be a challenge. But the TFY Clip-On reading light is a simple, practical solution if you don't want to shell out on a brand new device.
This handy TFY portable book light has a strong maneuverability clip. It can accommodate all of your regular paperbacks and hardback books, as well as your e-reader or tablet too.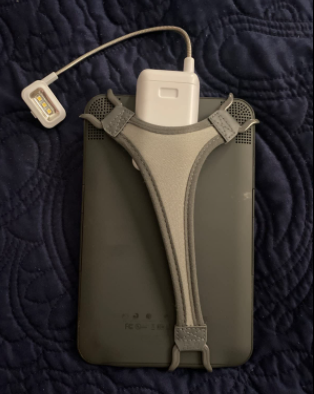 The clip securely connects to the edge of your device without obscuring your screen, and it's designed to stay fixed without wobbling or sliding out of place.
The arm is fully adjustable, so you can angle it in multiple directions to suit your needs. Plus, this TFY booklight can also fold out to become a freestanding light that you can use as a mini desk lamp or even a subtle bedside light for reading at night.
Pros
Affordable price
LED bulbs
Clips onto any book and multiple devices, including an e-reader
Lightweight
Foldable and compact
Adjustable brightness and position
---
7. Lumiens L9 — Best Clip-On Music Stand Light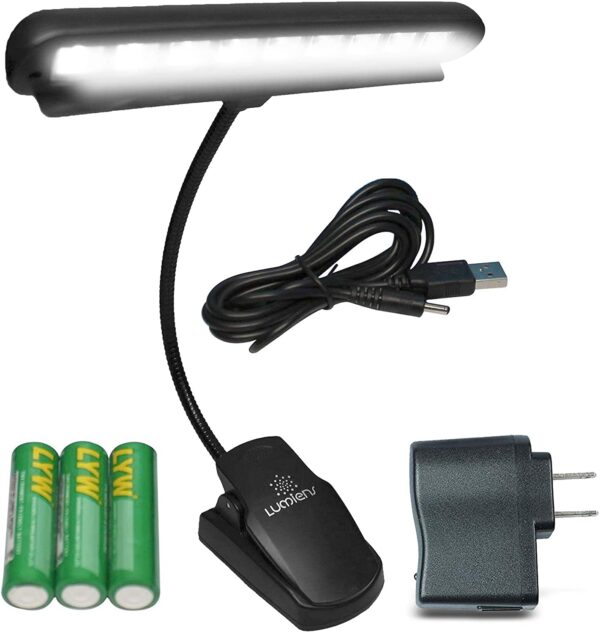 A light for the music stand must have strong enough a clip to clamp firmly to the stand, and should be broad and bright enough to shine evenly across the pages of a wide-open score.
In these respects, the Lumiens L9 is an excellent candidate.
The Lumiens L9 comes with nine LEDs aligned in a row on its head (hence the name). This allows its light to be evenly distributed on both pages (or 3 pages even) of a music book or the piano keyboard.
Around its head is a ridge, which prevents excess spill even when the illumination is on the higher intensity. Thanks to that, you can rest assured that the light won't annoy other band members and the audience with a relentless glare.
This gadget has a great clip, which can open up to 1.75 inches — wider than most normal clip reading lights.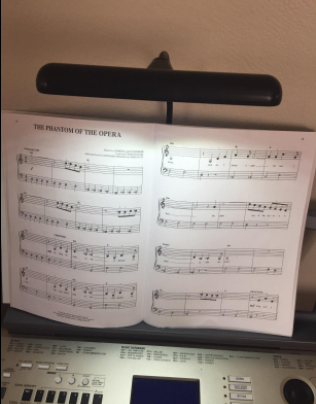 Its strong grip promises not to loosen a bit when you adjust the extraordinarily long (10 inches or 25.4 cm) flexi-gooseneck. Inside it, there is a silicone pad to enhance stickiness and protect the gripped surface against scratches.
Included in the package is a 78 inches (2m) power cord, which means you don't have to always stand near a power socket while using it.
Another perk is that it can also run off the AC current with 3 rechargeable AA batteries, which can last 20 hours of continuous use.
Pros
9 lights, 2 brightness levels
Powered by battery/AC adapter
Fully adjustable arm
Low energy consumption
---
8. Vekkia LED Eye-Care Book Light — Best Book Light for Kids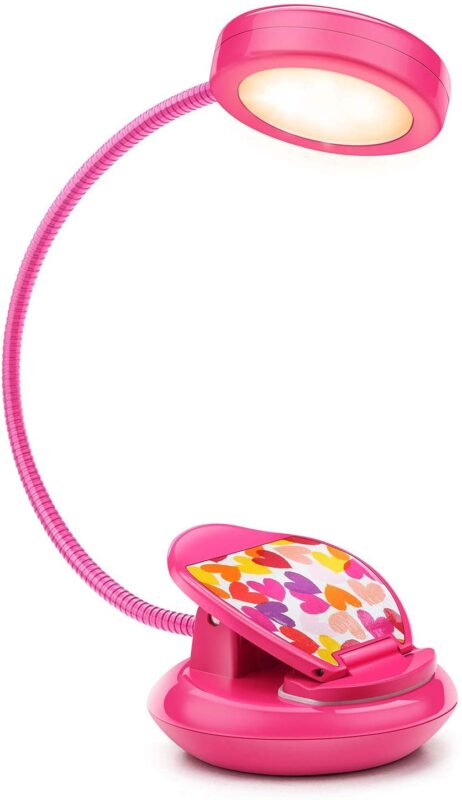 For voracious readers, it's always great when the children in your life pick-up an appetite for books. For the littlest book-lovers in your life, the Vekkia LED Eye-Care book light is an excellent option.
This book light is small and lightweight, making it perfect for smaller chapter books and smaller hands.
The Vekkia book light has three brightness settings of warm light to protect young eyes, and it's rechargeable with any USB cord.
The charge lasts for 40 hours on the lowest brightness setting, making it perfect for travel, or for kids who may not remember to charge the light often.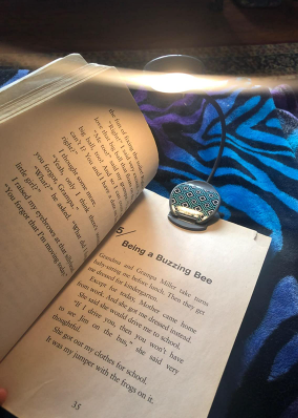 This book light for kids comes in black, gray, and rose red. It has a fun, colorful design on the clip, which helps get young people excited about using it.
The Vekkia book light is great for multipurpose use. It can be used for reading during long car rides, plane travel, or camping trips. Its design makes it an optimal computer light or light to use while studying or doing homework.
It can easily illuminate two pages of books of all sizes, making it useful as a music stand light, as well.
Pros
3 warm light brightness levels
Lightweight
Rechargeable
Protects eyes with soft diffused light
Cons
Not large enough for bigger hardback books
---
9. CeSunlight — Best Hug Light for Reading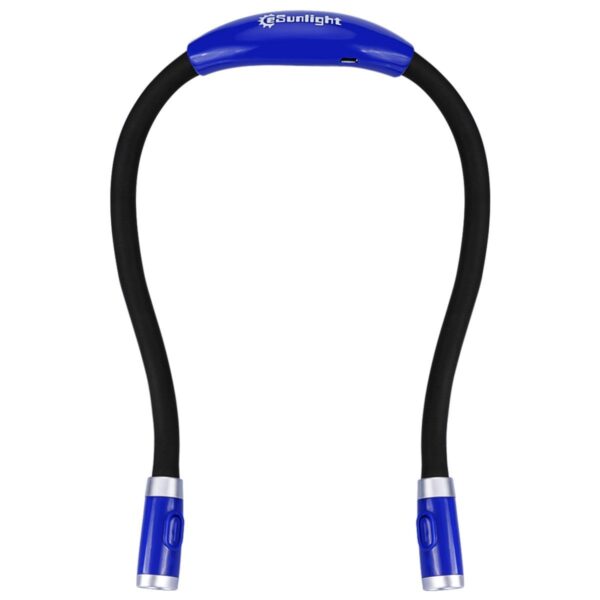 When you want to read with a small light but don't fancy adding more weight to your book, a hug light would be very useful for you.
Unlike other book lights, the CeSunlight doesn't clip onto your book. Instead, you can hang it around on the back of your neck, and have the light heads pivoting from your shoulders.
This leaves you with free hands and versatile positions for reading, knitting, walking, or other activities.
With steel alloy arms, the item feels much more solid and sturdy than its weight (3 oz). The arms are firm but flexible, allowing you to direct the light to wherever you want it.
To protect your neck, the arms are covered with silicone. This silicone hug feels very soft on the skin, and it saves you from the horrible cold feeling when the metal touches you too!
On the two ends of the hug light are the light heads, each having its own on/off button. This is where you control the brightness mode: floodlight, spotlight, or both. If you're reading in bed at night, the floodlight is perfect.
It's bright enough to shine on a small area of your book, but dim enough not to wake up your bedmate.
The spotlight mode, meanwhile, is more suitable for knitting or repairing things while in the dark. And the full mode is best for outdoor activities, such as jogging or dog walking.
The best thing about the hug light is that it uses rechargeable batteries. Charging it is simple too: you just need a USB cord to do the job.
A 3-hour-charge can last anywhere from 6 to 10 hours depending on the brightness mode you choose.
It's used more often during travel, for a walk outside, or as an emergency light than a long-hours task light. And it does its job more than well.
Pros
Lightweight
Compatible with 2.0, 3.0 USB ports
Has 2 brightness levels
Has 2 LEDs
Low price tag
---
10. i2 Gear – Best USB Book Light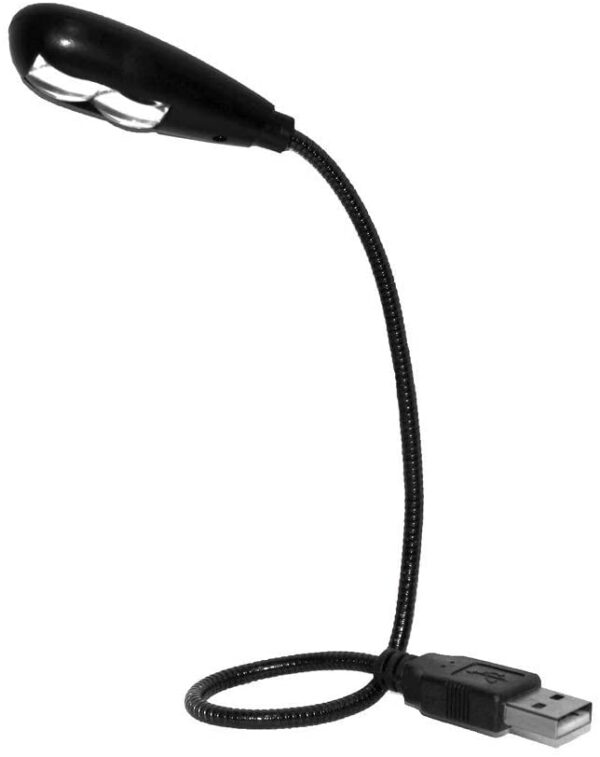 Thinking of a petite USB light to shine on your laptop keyboard, or on your novel while you read under the blanket? Take a look at this i2 Gear cutie.
As the name suggests, this is a mini light that can be connected to your laptop or PC via a USB port.
The entire item weighs only 1.0 oz or 28g. Its head can stay stable on a small flexible gooseneck arm without any other support.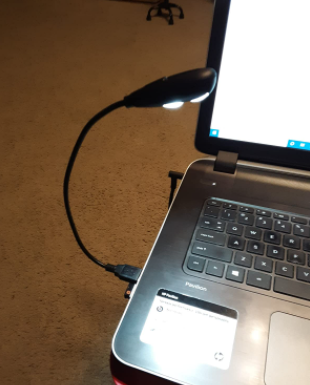 Despite the tiny size, the i2 Gear has 2 LEDs with 2 levels of brightness, which can be set via a switch on its head.
As it is very small, the light focuses on a small area. At the brighter level, it's just enough to see your laptop keyboard and perhaps a post-it note next to it.
Made to be handy, the light comes with no battery, but it can work when connected to your power bank or any other normal charger with a USB cord.
At its size and weight, the gadget is extremely portable. However, other than illuminating a book and keyboard, there are not many circumstances when it would be more useful than a lamp or a flashlight.
Pros
Lightweight
Compatible with 2.0, 3.0 USB ports
Has 2 brightness levels
Has 2 LEDs
Low price tag
Cons
Doesn't work without power source
---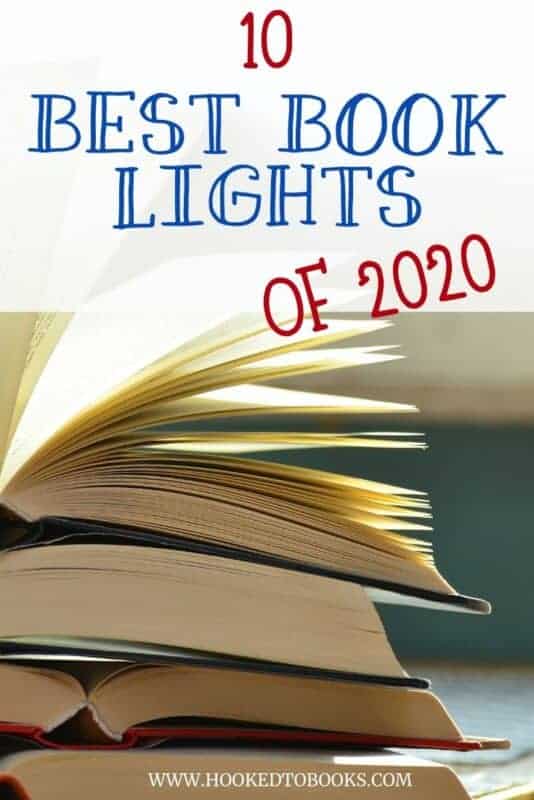 Below are the main criteria you should consider when choosing to purchase a book light.
High light quality and multiple brightness modes

The overall light quality is the most important requirement when looking for the best book light.

Some lights are too bright or uneven, some are too harsh or too dim or flickering, all of which are not good for your eyes.

A good book light should illuminate evenly on an open book. There should be different brightness settings that allow you to adjust the brightness mode to obtain the desired level for different reading environments.
Ability of non-disturbance

Stray light might awaken your bedmate or other travelers, thereby leading to interpersonal strife. That will not be tolerated. The light should shine on the page and nowhere else.
Sturdy clip and flexible neck

The Clip should be big enough to attach to your book or music stand. But it should be soft enough to not rip the pages.

It should adjust to the pages nicely. The neck of the book-light should be adjustable and stay in place, so as to position the light exactly where you want it and keep it there.
Battery life

When choosing a book light, pay attention to how long it lasts on a single charge, and whether a battery replacement will be necessary.

Remember that if you don't have a good battery life, you don't have a good book light. This depends on the quality of the book-light, quality of the battery as well as the brightness setting in use.

If you hate having to buy new batteries every time yours dies out, a rechargeable book light will be the best choice for you. It's much more convenient.

Besides, having a rechargeable one helps you save your money on the battery cost too. It is important, however, to follow the instructions from the manufacturer on charging the battery to keep its lifetime as long as possible.
Lifetime and warranty period

Notwithstanding advertisements from the distributor or manufacturer, it's hard to feel completely secure about the product's lifetime. Your booklight may stop working at any time due to the breakdown in any part of it.

A long warranty period will always be helpful, with which you may be offered a refund or a free-of-charge replacement in the granted period of time.