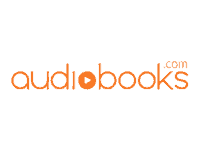 £7.99/month
30-day free trial
2nd largest audiobook store
Available on iOS, Android and Windows devices
Buy additional credits for £7.99 each
Purchase new titles in
About Audiobooks.com
Next on the list is our Audiobooks.com review. A lot of people believe that Audiobooks.com have ripped off Amazon's Audible branding. Just because the colours are similar doesn't mean that they've copied Audible.
Audiobooks.com has been around since 2011 and was recently acquired by RB Media in 2017. RB Media is one of the biggest audiobook publishers in the whole world so you know that Audiobooks.com is going to have a great selection. The people behind Audiobooks.com are book lovers like you and us. Their aim is to have people from all walks of life listening and educating themselves via their awesome audiobook service! Keep reading our Audiobooks.com review for important information and our full list of pros and cons.
URL – https://www.audiobooks.co.uk or https://www.audiobooks.com
Device Compatibility – iOS, Android & Windows
Support for Offline Listening – Yes
Free Trial – Yes
Keep Books if you cancel – Yes
Monthly Cost – £7.99 or $14.95
Contact – [email protected]
Audiobooks.com Free Trial
We only list the best audiobook services here, that's why we are writing about Audiobooks.com! Audiobooks.com free trial is a great way to get acquainted with their awesome product. We decided to go with one of the most famous travel writers, Bill Bryson, A Walk in the Woods. The abridged version of this audiobook is narrated by the author himself.
If you aren't happy throughout your 30-day free trial then you can cancel at any time. You will still get to keep your chosen book too! On the other hand, if you want to continue using Audiobooks.com then you don't have to do anything. Sign-in and pick your next audiobook title when your audiobooks.com free trial ends.
Subscription Plans
Unlike Audible, Audiobooks.com only has one membership option. So how much does Audiobooks.com cost I hear you ask? The same as Audible's basic plan, £7.99, which entitles you to 1 credit a month.
If you want to access more than one audiobook a month then you can with ease. Just purchase an additional credit for the same price (£7.99) then head to the Audiobooks.com library to pick your next title!
If you have Instacredit enabled on the Audiobooks.com app then you don't even have to purchase an extra credit. Choose the book you want and it will automatically bill your registered card, this is why we crowned Audiobooks.com with the best audiobook app.
Gift Vouchers
Audiobooks.com gift center contains 4 different present packages. These range from 1 month to 12 months. Be aware that you need to be purchasing the gift for a person that is in the same country as yourself. If you are a UK user then only people in the United Kingdom can redeem the gift.
If you have received one of their gift vouchers all you need to do is create an account, head to my account and add the Audiobooks.com promo code into the box. Apply the code, then start picking which audiobook title you would like to purchase.
| | |
| --- | --- |
| Subscription Plan | Cost |
| 1 Month Membership | £7.99 |
| 3 Months Membership | £23.97 |
| 6 Months Membership | £45.44 |
| 6 Months Membership | £90.88 |
Audiobooks.com Store
The Audiobooks.com library is no small feat with over 100,000 audiobook titles available. The store is well organised, therefore it's easy to locate certain books you are looking for. You also aren't limited to purchasing your audiobook from the desktop or mobile browser, unlike every other audiobook service out there. With the Instacredit feature on the Audiobooks.com app, it makes it super easy to start listening to another popular audiobook whilst on the go.
Genre Categories
Biographies & Memoirs
Business & Economics
Comedy
Drama
Erotica
Fiction & Literature
Foreign Language Titles
Health & Wellness
History
Kids
Language Instruction
Mystery, Thriller & Horror
Non-fiction
Politics
Religion & Spirituality
Romance
Science & Technology
Science Fiction & Fantasy
Sports & Recreation
Teen
Travel
TV & Radio
Book Lists
Perfect First Listens
Top New Releases
Sunday Times Bestsellers
Sunday Times Non-Fiction
Essential Summer Listens
The Best of 2018 So Far
The Summer of Love
The Art of Adulting
Great British Reads
Nobel Laureates in Literature
Man Booker Prize Winners
The Other Side of the Castle
From Page to Screen in 2018
Richard and Judy Book Club
Swearworthy Self-Help
For Podcast Lovers
These are the main genres that you will find in the Audiobooks.com store. They then have many subcategories under each of these to make it super simple to find your perfect book.
Audiobooks.com also have the 'Book Lists' section which gives you a lot of different options. If you're stuck for a new audiobook then having Top New Releases or Sunday Times Bestsellers makes it much easier to make your pick.
Device Compatibility
At Audiobooks.com you can easily stream the best audiobooks from the desktop version. For us and most of our readers, we find the mobile app the easiest way to listen. You aren't limited to mobile and desktop though.
When listening to an audiobook your position will always be saved even when switching devices. If you are listening on your laptop at home, then start playing on your mobile device you get a popup asking you to confirm your current position. This enables you to always maintain your bookmarked position in the audiobook.
Audiobooks.com App
It's time for the specific Audiobooks.com app review! Making use of the Audiobooks.com app is extremely straightforward on any handheld device. Head to your app store and type in audiobooks.com, if you can't locate it just look for their bright orange logo.
Audiobooks.com mobile app has all the listening features that you could ask for. Night mode, ability to adjust the narration speed, track (chapter) selection, fast forward or rewind 30 seconds or just use your finger to pinpoint your spot. You can add a bookmark wherever you like even though it does it automatically when exiting the app. There is also an add a note feature where you can make a comment, perfect for note taking. All of these comments are stored in the 'my notes' section in the main navigation menu.
What makes the Audiobooks.com app even better is that you can still contact their customer service team whilst in the app. This can be done by calling toll free, via email or even live chat. Keep reading our Audiobooks.com review for their support opening hours and direct contact details. Get the Audiobooks.com app
Help & support
The support team over at Audiobooks.com was extremely helpful when we got in touch with them. I wanted to ask if we could buy extra credits during the free trial period and they explained for me what to do. Go to your account details on a laptop or desktop and then click start Audiobooks.com membership now.
We got in touch with them over live chat, which makes for great customer support. You can also get in contact via email or toll-free telephone call to speak to their welcoming employees.
There is also their helpful FAQs section that you can read through before reaching out to the Audiobooks.com customer support team.
Audiobooks.com vs Audible
Arguably the two giants in the audiobooks industry, Audiobooks.com vs Audible, which will be crowned the best audiobook service?
First of all, Audible wins when it comes to amount of audiobooks offered. Then there is the pricing of additional credits that Audiobooks.com offers at £7.99. If you listen to more than 3 books a month then we would say that Audiobooks.com comes out on top.
Audiobooks.com app is definitely better than Audible, this is mainly due to their Instacredit addition that allows you to purchase a new audiobook in the app. Audible doesn't currently have such a feature.
All in all, they both offer great services. Audible being more expensive for extra purchases may turn people off, that is until they see the huge audiobook selection.
Why don't you be the judge? Sign-up for an account with Audiobooks.com and Audible to get one free credit on each. After that, you can see which you prefer and then decide to stick with whichever is your favorite. You can let us know what you thought of Audiobooks.com and Audible in the comments below.
Audiobooks.com Review Summary
That's it for our Audiobooks.com review, we hope you got what you were looking for. We have rated their audiobook app as the best available for iOS, Android and Windows devices. It is simple and easy to use, and also has the Instacredit option to buy a new book at any time, leaving your life stress free. The only part you have to worry about is which popular audiobook to choose.
Their competitive pricing and their large store offering have given Audiobooks.com a great reputation. Not only that, the customer support is very helpful and can be contacted on your computer or directly through the Audiobooks.com app. With Audiobooks.com offering you a free audiobook on sign-up there really is no excuse to not test their product!
FAQs
Can I return an audiobook?
Unfortunately, Audiobooks.com don't allow you to return books after purchasing them like Audible does. This just means that you need to make sure you are picking the right title the first time around. See our best audiobooks section for some ideas.
How can I cancel my Audiobooks.com membership?
Audiobooks.com makes it easy to cancel your membership at any time, even within your free trial period. All you need to do is go to the My Account section and scroll down until you see next payment date, below that there is a button saying 'cancel account'. Click this button and that's it, complete.
Also, note that this can only be done only on your desktop or mobile browser, you can't find it on the Audiobooks.com app.