Do you know Amazon Kindle has more than 30 million active users in the US? Amazing, right?
Many readers prefer Kindle over books because of the lightweight and the feature to store multiple books at once. However, some people prefer both Kindle and books, using each according to their convenience.
I, as a reader, use both for reading because I love the feel of paper and filling my shelves with books; on the other hand, Kindle is helpful during long travel journeys and when I am in the mood to read one book after another.
As an avid reader, I can say that Kindle, with its many benefits, is a great gadget to have!
If you are contemplating 'which Kindle should I buy' or searching for a good one, my compiled list of the best Kindles will surely help you.
I recently bought a Kindle for myself and also suggested one to my friend. Both are included in the list; scroll down for the list of 5 best Kindles of 2023.
5 Best Kindles of 2023
Let's have a look at the compilation of the 5 best Kindles you can choose from. Read through to know the benefits and more before selecting the one that suits you best.
Kindle Paperwhite: With Larger Display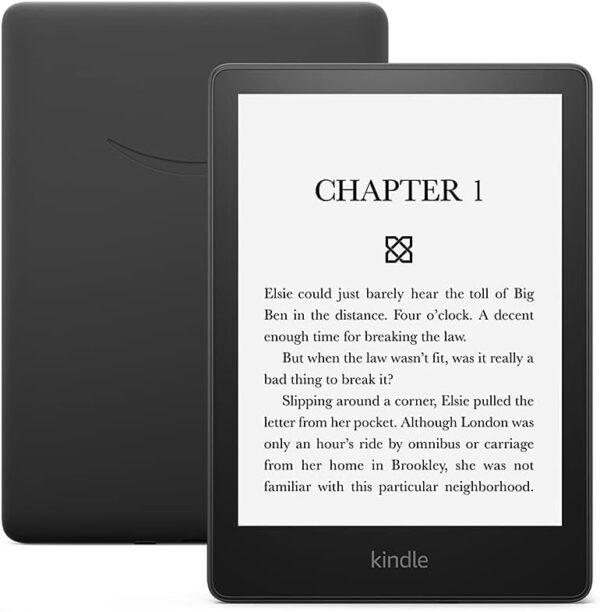 | | |
| --- | --- |
| Display: | 6.8" |
| Size: | 6.9" x 4.9" x .32" (174.2 x 124.6 x 8.1 mm) |
| On-Device Storage: | 8 GB |
| Battery Life: | 10 Weeks |
Kindle Paperwhite is one of the best you can get within an affordable price range and added features.
With thinner borders and a lightweight model, you can enjoy reading anytime, anywhere. The 300 ppi glare-free display gives you a real paper feel!
Now you can read sitting on a beach or while taking a long relaxed bath, without worrying about water splashes, as the paperwhite model is capable enough to protect itself.
You can easily adjust the screen shade from white to amber and text size for a better reading experience. Readers will get a battery life of up to 10 weeks if used for half an hour daily, with the light setting at 13.
Amazon Kindle Paperwhite Signature Edition: With Wireless Charging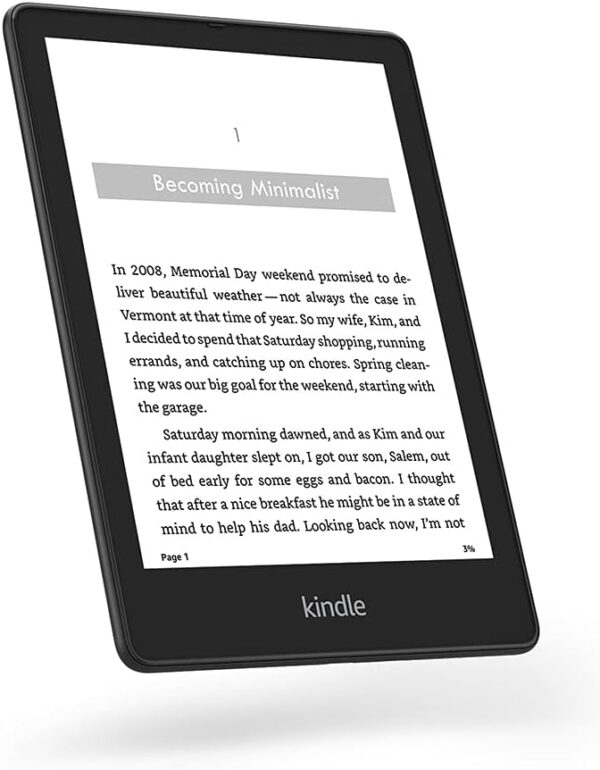 | | |
| --- | --- |
| Display: | 6.8" |
| Size: | 6.9" x 4.9" x .32" (174 x 125 x 8.1 mm) |
| On-Device Storage: | 32 GB |
| Battery Life: | 10 Weeks |
This Paperwhite Signature Edition has all the features of Kindle Paperwhite, with added wireless charging and 32 GB storage capacity. So, now you can store more of your favorite books!
The Signature edition also allows to adjust the screen shade from white to warm amber along with an adaptive front light feature that automatically adjusts the brightness of the screen according to the lighting conditions.
The thin, lightweight model lets you read while traveling without any hassle, the 300 ppi glare-free display is gentle to the eyes, and the waterproof feature protects your Kindle from splashes.
It takes less than 3.5 hours to charge fully with any compatible 10W Qi wireless charging pad.
Amazon Kindle: Lightest and Most Compatible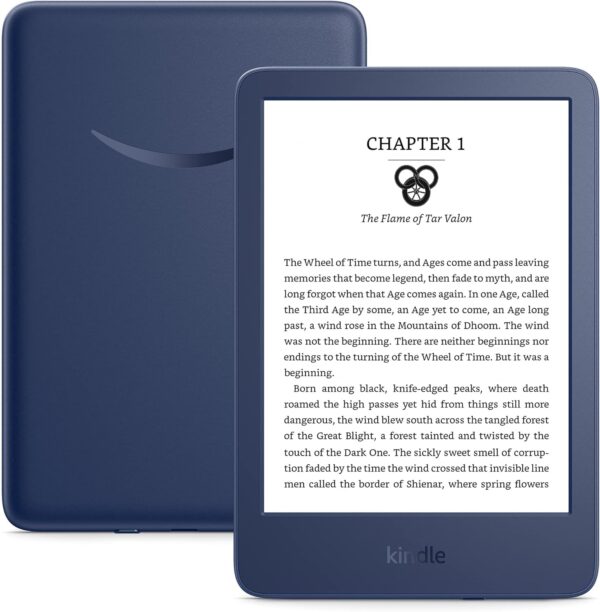 | | |
| --- | --- |
| Display: | 6" |
| Size: | 6.2" x 4.3" x 0.32" (157.8 x 108.6 x 8.0 mm) |
| On-Device Storage: | 16 GB |
| Battery Life: | 6 Weeks |
This Kindle is best suited for people with budget constraints, as it provides all the satisfactory features at a reasonable price. And 16 GB storage allows you to add more books to your collection.
The 300 ppi glare-free and paper-like display lets you read comfortably. It has an adjustable front light and dark mode feature that helps with reading day and night.
You can tune out emails, messages, and more with this distraction-free device to read without any disturbance. It is lightweight, compatible, and designed with sustainability in mind.
It provides a battery life that lasts up to 6 weeks if used for half an hour daily.
Kindle Oasis: With Sleek Ergonomic Design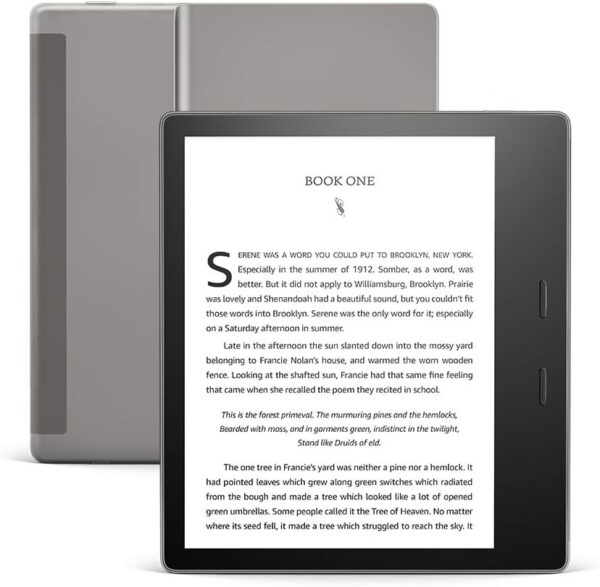 | | |
| --- | --- |
| Display: | 7" |
| Size: | 6.3" x 5.6" x 0.13-.33" (159 x 141 x 3.4-8.4 mm) |
| On-Device Storage: | 8 GB |
| Battery Life: | 6 Weeks |
Kindle Oasis gives the best reading experience with a 7" display and adjustable warm lights. It also has page turn buttons, so you can easily switch back and forth with single taps.
This model allows you to switch from reading to listening and vice versa, and this can be done even in the middle without losing your place. With ergonomic design and the latest e-ink technology, it gives you a feel like you are reading on paper.
It is a waterproof model with a large display and provides 6 weeks of battery life if used half an hour daily with the light setting at 13.
Kindle Paperwhite Essentials Bundle: Enhances Reading Experience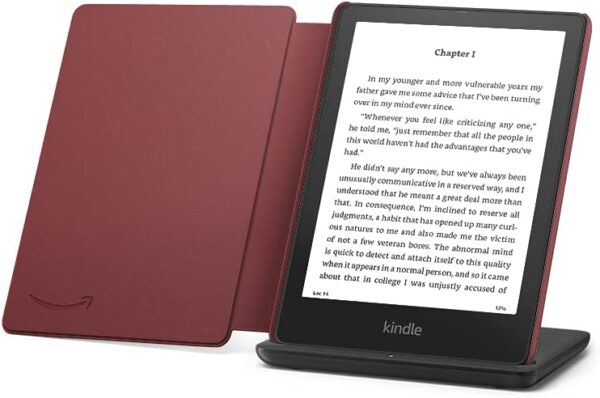 | | |
| --- | --- |
| Display: | 6.8" |
| Size: | 6.9" x 4.9" x .32" (174 x 125 x 8.1 mm) |
| On-Device Storage: | 32 GB |
| Battery Life: | 10 Weeks |
The Paperwhite model has a 32 GB storage capacity that allows you to store many of your favorite books. Like the others, the 300 ppi glare-free display, adjustable warm light, and auto-adjusting front light will enhance your reading experience.
It provides 10 weeks of battery life with a single charge via USB-C or Qi wireless charger (which is included with this Kindle).
Overall, it is a good Kindle to have with all the necessary features for better reading.
Wrap-up
Amazon Kindle is a great device to have as a reader. It provides lots of features and benefits that you can enjoy.
They are also available at reasonable prices so you can choose according to your budget. I hope through this article, you will find a suitable Kindle for purchase.
Do you also read books on Kindle? Share your experience and the Kindle model you are using in the comments below.