Waste of Space by Gina Damico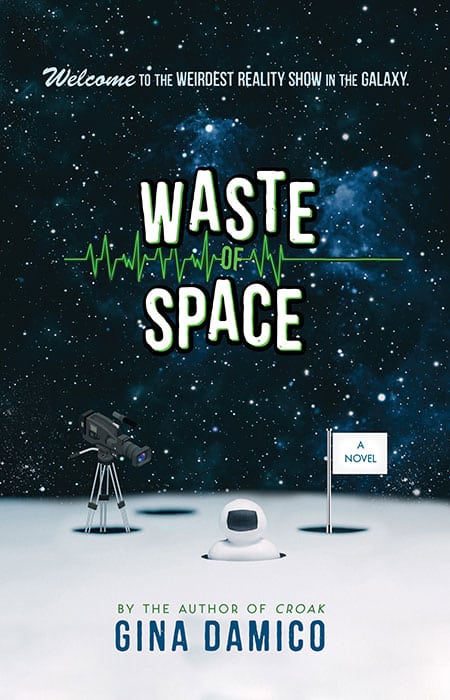 Title: Waste of Space
Author: Gina Damico
Publication date: July 11, 2017
Publisher: Houghton Mifflin Harcourt for Young Readers
Formats: Hardcover, eBook, audiobook
Pages: 400
Find it: Amazon, Audible, B&N, iBooks, TBD, Goodreads
Cram ten hormonal teens into a spaceship and blast off: that's the premise for the ill-conceived reality show Waste of Space. The kids who are cast know everything about drama—and nothing about the fact that the production is fake. Hidden in a desert warehouse, their spaceship replica is equipped with state-of-the-art special effects dreamed up by the scientists partnering with the shady cable network airing the show. And it's a hit! Millions of viewers are transfixed. But then, suddenly, all communication is severed. Trapped and paranoid, the kids must figure out what to do when this reality show loses its grip on reality.
Interview
Hi Gina, thank you for joining us at Hooked To Books.
– Where did Waste of Space come from? What inspired you to write the book?
I've been a fan of reality show competitions since they first started (The Mole was the all-time best – try and find some episodes to watch!) and have always been fascinated by how people act while on camera. They change their personalities, they say and do stuff they'd never do in real life, and all the while knowing that they'll be edited to bits, that the producers can manipulate their stories into the narrative they wish to advance. Add all that to the fact that there almost was a spaceship reality show —
https://en.wikipedia.org/wiki/Mars_One#Reality_TV – and the idea was sparked.
– Do you watch reality shows a lot?
Yes, but I try and limit to just my favorites. I like skilled competitions, like Project Runway and Top Chef, and who-can-last-the-longest game shows like Survivor and The Amazing Race.
– How long did it take you from start to finish?
After I first came up with the concept I wrote the first few chapters, then put it away for a while, then came back to it a year later and banged out the rest of it.
– What are your favorite characters in Waste of Space?
I love all the teen characters – they each come across at first as shallow and one-dimensional (just as most characters are presented on reality shows) but as the plot moves forward a lot more of their inner selves are revealed. But my favorite to write was probably Chazz Young, the head of the network that airs the show. He's loud, bossy, manipulative, and narcissistic — which made him a lot of fun to write.
– Are any of the characters establish based on a real-life model?
Yes, in that a lot of them come from the well-established reality contestant tropes that have become the norm over the years. They all say the same things ("I didn't come here to make friends!") and make the same moves (i.e. throwing fellow castmates under the bus), so a lot of the character choices just naturally diffused throughout the cast.
– Finally, what is the coolest thing that you have ever knitted?
A pancreas!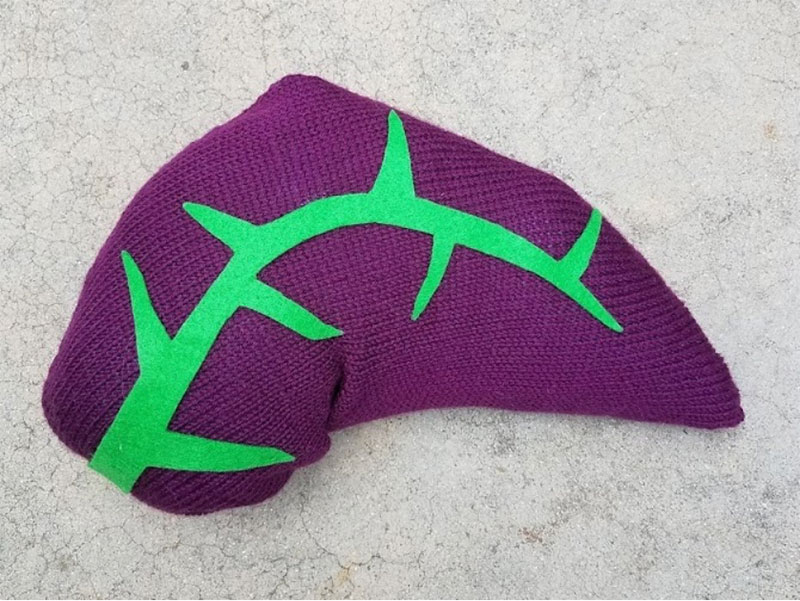 Thank you very much, and all the best for your new books!
Thanks for having me!

About Author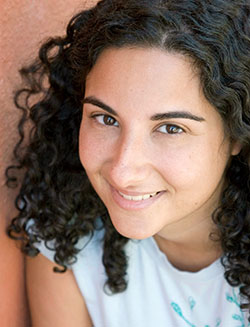 Gina Damico is the author of Croak, Scorch, and Rogue, the grim-reapers-gone-wild books of the Croak trilogy. She has also dabbled as a tour guide, transcriptionist, theater house manager, scenic artist, movie extra, office troll, retail monkey, yarn hawker and breadmonger. A native of Syracuse, New York, she now lives outside Boston with her husband, two cats, and one dog, and while she has never visited hell in person, she has spent countless waking hours at the Albany Regional Bus Terminal, which is pretty darn close. Visit her website at www.ginadami.co.
Website | Tumblr | Twitter | Facebook | Instagram | YouTube | Goodreads
GIVEAWAY!
3 winners will receive a hardcover of WASTE OF SPACE! US Only.
Tour Schedule
Week One:
7/3/2017- Wandering Bark Books– Guest Post
7/4/2017- Eli to the nth– Review
7/5/2017- Two Chicks on Books– Excerpt
7/6/2017- BookHounds YA– Review
7/7/2017- Hooked To Books– Interview
Week Two:
7/10/2017- Novel Novice– Review
7/11/2017- A Dream Within A Dream– Excerpt
7/12/2017- Lisa Loves Literature– Review
7/13/2017- YA and Wine– Interview
7/14/2017- YA Book Madness– Review