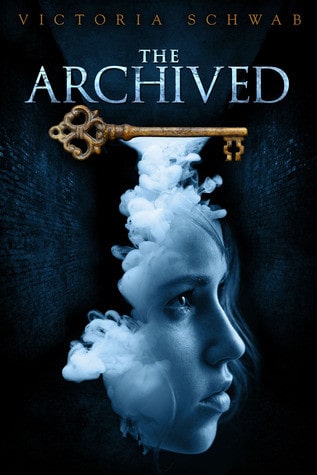 The Archived (The Archived #1)
Victoria Schwab
Publish Date January 22, 2013
Hyperion
ARC from Around the World Tours
Reviewed by Michelle

Each body has a story to tell, a life seen in pictures that only Librarians can read. The dead are called Histories, and the vast realm in which they rest is the Archive. Here's a fascinating book review of The Archive.
Who is the Keeper?
Da first brought Mackenzie Bishop here four years ago, when she was twelve years old, frightened but determined to prove herself. Now Da is dead, and Mac has grown into what he once was, a ruthless Keeper, tasked with stopping often-violent Histories from waking up and getting out. Because of her job, she lies to the people she loves, and she knows fear for what it is: a useful tool for staying alive.
Being a Keeper isn't just dangerous—it's a constant reminder of those Mac has lost. Da's death was hard enough, but now her little brother is gone too. Mac starts to wonder about the boundary between living and dying, sleeping and waking. In the Archive, the dead must never be disturbed. And yet, someone is deliberately altering Histories, erasing essential chapters. Unless Mac can piece together what remains, the Archive itself might crumble and fall.
Why The Archive is a Must-Read
In this haunting, richly imagined novel, Victoria Schwab reveals the thin lines between past and present, love and pain, trust and deceit, unbearable loss and hard-won redemption. –Goodreads
From the first second I heard there were ARC's of Victoria Schwab's newest book, The Archived, floating around I was constantly looking for ways to get my hands on a copy. The Near Witch was one of my favorite books in 2011 (I read it early) and I loved it so much that I knew I had to get my hands on anything Schwab ever writes. I was ECSTATIC when The Archived arrived in my mailbox from a blog tour site. ECSTATIC. And it did not disappoint. Oh no, my friends, I dare say that The Archived is better than The Near Witch – and that's saying something. I loved everything about it – every little thing. I was so sad when it ended and even sadder to think that I have to wait that. much. longer. for the second one. This is one book that I'm SO happy will be a series because I need more of Mac, the Histories, and the Archive.
Getting to Know the Characters
It's been a while since I've written a review and this one might be all over the place because I have so many feelings! But.. they are good feelings so here goes..
Let's start with the characters. I absolutely adore Mackenzie. She is tough and can kick some butt – she became a Keeper at 12 when 16 is the age limit! Girl has got to know how to fight, how to use her words to persuade the Histories, and be smart when it comes to keeping the real world and the Archive world separate. And there's even more to her. Her love for Da and her grief over her brother and her relationship with her parents.. You just want to hug her and let her know that eventually things will be easier. But then she would hate that. Schwab could not have written Mac more perfectly and I can not wait to see where her story goes. I love the flashbacks with Mac and Da. Da is one of my favorite characters in the book and he's not even really there – he's just in Mac's memories but he is so smart and full of wisdom and I just wish he could've stayed around more. There is also a couple boys in The Archived that are worth your time and consideration – Wesley and Owen. I know what you're thinking – Oh no, another love triangle. But stop right now.. It's really not. Mac's relationship with the two boys are complex and so much more than "another love triangle." I loved the way Schwab had that aspect of the book play out.
The World and the Law that Rules Them
Schwab's world building in The Archived is top notch. There is so much put into the different aspects of the Archive and the world surrounding it – the Narrows, the Outers, the Librarians, the Keepers, the Crew, the keys. And so many rules that go along with each aspect. It truly takes the reader to a whole new world and sucks you into it. I just really loved everything about it.
The mystery that Mac is trying to solve about the Archive and her new home (the Coronado) is so interesting and really had me guessing until the very end. I could not figure out who was on what side and which way it would all go. And I loved it. Schwab gives clues throughout the book of who it might be but then she will add something else that has you second guessing that clue.
Everything about this book is perfect. I couldn't have asked for a better story, better characters, better mystery, better anything. The Archived is (so far) my favorite book of 2012. Love love love. <3