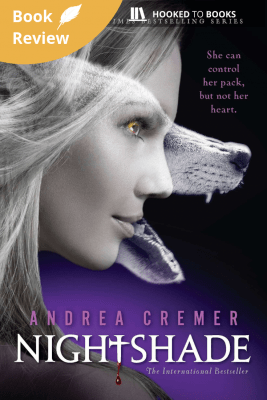 Goodreads Description:
Calla Tor has always known her destiny: After graduating from the Mountain School, she'll be the mate of sexy alpha wolf Ren Laroche and fight with him, side by side, ruling their pack and guarding sacred sites for the Keepers. But when she violates her masters' laws by saving a beautiful human boy out for a hike, Calla begins to question her fate, her existence, and the very essence of the world she has known. By following her heart, she might lose everything— including her own life. Is forbidden love worth the ultimate sacrifice?
My Thoughts:
I have heard nothing but great things about Nightshade since it came out so why it took me until January to read it I have no idea. I loved this book. Sure, there were times when I wanted to throw it across the room and times when I would find myself saying out loud, "Really, Calla?! What is WRONG with you?!" When I start talking to the characters that's when I know I'm reading a great book.
Nightshade starts off with Calla saving Shey's life – for no other reason besides the fact that she feels drawn to him. She's never met him before and thinks she will never see him again – but oh is she wrong. Shey turns out to be the new kid in town – and he knows Calla's secret. While Calla hopes that Shey will keep quiet about what happened – she also has to deal with Ren – the Alpha that she is supposed to marry in a few short weeks. (I gotta say it – I LOVE Ren. Okay.. moving on..) While Calla balances her relationships with the two boys she and Shey start to uncover secrets about the pack that puts all their lives in danger.
TEAM REN!
My favorite parts of this book were when Calla and Ren were together. I really felt like their relationship had so much more depth to it compared to her and Shey's. I honestly don't get Calla's attraction to Shey. Maybe because he's new and different? There were a lot of twists in this book (several that I saw coming) but I loved it and flew through it. I bought it for my library and it never sits on the shelf. They are loving it too!
Overall, loved this book and CAN NOT wait for the next one. I really hope Calla ends up with Ren or I will not be a happy camper.