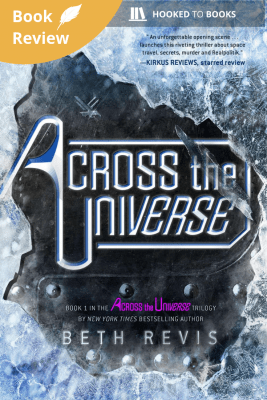 Goodreads Description:
A love out of time. A spaceship built of secrets and murder. Seventeen-year-old Amy joins her parents as frozen cargo aboard the vast spaceship Godspeed and expects to awaken on a new planet, three hundred years in the future. Never could she have known that her frozen slumber would come to an end fifty years too soon and that she would be thrust into the brave new world of a spaceship that lives by its own rules.
Amy quickly realizes that her awakening was no mere computer malfunction. Someone-one of the few thousand inhabitants of the spaceship-tried to kill her. And if Amy doesn't do something soon, her parents will be next.
Now Amy must race to unlock Godspeed's hidden secrets. But out of her list of murder suspects, there's only one who matters: Elder, the future leader of the ship and the love she could never have seen coming.
My Thoughts:
Oh my. How I loved this book. It's almost hard for me to write this review because all I can really say is I. Freakin'. Loved. It.
At the beginning of Across the Universe we meet Amy and Elder. Amy is still on Earth (or Sol-Earth as it is called later in the book) getting ready to be frozen to board Godspeed, the ship that will take her and her family to another planet 300 years away. Elder is on Godspeed, 250 years after Amy was frozen and is the second in command of the ship. When Amy wakes up 50 years too early and before her parents, she is forced to deal with life on a ship that is full of lies and secrets and murders taking place. That's a lot of crap to deal with as soon as you become unfrozen after 250 years. Elder is struggling with his role as soon to be leader and the secrets that he is finding out – one being that there are frozen people on the ship and now they are being murdered.
On a ship where all the people look the same, Elder is completely taken with Amy but she is leery of him – and with every reason to be. I do love that Revis didn't throw in a love triangle. I'm so tired of love triangles. There are more ways to keep characters relationships interesting in stories besides throwing in another love interest.
Beth Revis has crafted a truly interesting and different world with Across the Universe. The ship that she created is so cool. So many secrets to it and there is SO much to explore with this story. I was so happy to hear that its going to be a trilogy. I would be thoroughly disappointed if I didn't get to know more details about Elder, Amy, and the adventures of Godspeed.
I completely adored this book. When I bought my copy I also bought one for the library and I've been pushing it on all my "readers." All the students and teachers that have read it has loved it. I have the school newspaper class and my book reviewer did her review on this book. I can't wait to get it into more hands.
If you haven't read this book – stop what you are reading and do it. Now.