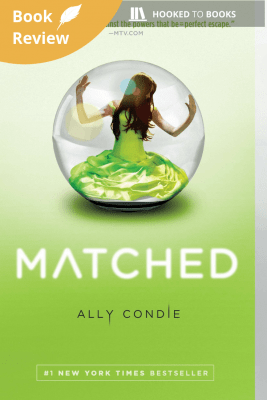 Goodreads Description:
Cassia has always trusted the Society to make the right choices for her: what to read, what to watch, what to believe. So when Xander's face appears on-screen at her Matching ceremony, Cassia knows with complete certainty that he is her ideal mate . . . until she sees Ky Markham's face flash for an instant before the screen fades to black.
The Society tells her it's a glitch, a rare malfunction, and that she should focus on the happy life she's destined to lead with Xander. But Cassia can't stop thinking about Ky, and as they slowly fall in love, Cassia begins to doubt the Society's infallibility and is faced with an impossible choice: between Xander and Ky, between the only life she's known and a path that no one else has dared to follow.
My Thoughts:
I went into Matched with high expectations and it did not fully disappoint. I listened to most of it on audio from the library and even enjoyed the reader. (Sometimes I just don't connect with them. I'm listening to Torment right now and that's kinda what it is.. even though the book is enjoyable.) I found the premise of the story intriguing – the society knowing fully what is "best" for everyone from their jobs to their mate to what food they need to survive and how much they can exercise based fully on data that is compiled about them all their lives.
When Cassia is matched with Xander, her childhood friend, they are both shocked but thrilled. How lucky to end up with someone you know and like! But when another face pops up on her data card, the face of another childhood friend, Ky, Cassia starts to wonder about him. When Ky is put into Cassia's group for hiking, they start to get closer. As Cassia's relationship with Ky develops, she starts to second guess the society and everything it is doing in controlling their lives.
Overall, I really enjoyed this book. It is not the best dystopian I've read but it was entertaining and I want to know what happens with Cassia, Ky, and Xander. The world Condie created seems so thought out – I would really love more information about it. There seems to be a lot more that can be explored and a lot of unfinished business with all the characters.
Also, I've gotta say that I had a chance to meet and listen to Allie talk at the Breathless Reads stop (post coming soon!) in Raleigh, NC last weekend and she was so sweet and funny. I had so much fun at the signing.