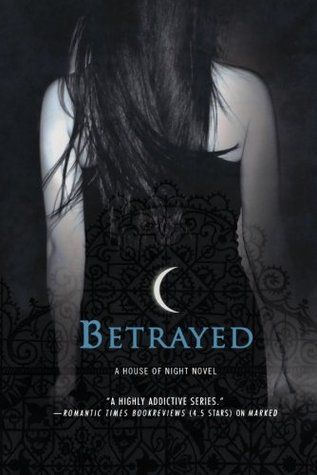 Welcome to Day #2 Betrayed House of Night Reviews!
*Spoilers for previous book are included in this review*
Goodreads Description:
Fledgling vampyre Zoey Redbird has managed to settle in at the House of Night. She's come to terms with the vast powers the vampyre goddess, Nyx, has given her, and is getting a handle on being the new Leader of the Dark Daughters. Best of all, Zoey finally feels like she belongs–like she really fits in. She actually has a boyfriend…or two. Then the unthinkable happens: Human teenagers are being killed, and all the evidence points to the House of Night. While danger stalks the humans from Zoey's old life, she begins to realize that the very powers that make her so unique might also threaten those she loves. Then, when she needs her new friends the most, death strikes the House of Night, and Zoey must find the courage to face a betrayal that could break her heart, her soul, and jeopardize the very fabric of her world.
My Thoughts:
After taking over as the leader of the Dark Daughters, Zoey has even more problems to face. There are murders taking place that are pointing to the House of Night and Zoey and her friends try to figure out how to stop it – by dealing with normal teenage drama like too many boyfriends and the mean girls that have been bumped down a few notches since book one.
Betrayed was more fast paced and better developed than the first book. The author's really seemed to be developing the story more and giving the characters a little more depth. The writing was better in this book too – they stopped putting the random thoughts of the narrator in parenthesis every other sentence. (Or the audiobook just allowed for me to not realize it like I did in the first one – either way – it was much better).
I liked the road the Cast's put Zoey and her friends on – leader and council of the Dark Daughters, making it a community service group, and even making Aphrodite seem not so horrible.
I will say though that even though these are YA I think a lot of the language and sexuality is a bit much. I have middle schoolers and we are combined with the public library so these books are available to them since they are in the YA section. Some of the younger students I try to recommend other books instead of these. The 8th graders still seem a little to young for them IMO.
Overall, I think the second book of the series was better than the first. More action, more character development, and better writing made it a fun, easy read and had me reaching for the third one as soon as I closed the book.
Come back tomorrow for Day #3 of House of Night Reviews!