I read all of the House of Night books in December so I didn't have very long to wait for the next one! It finally came in at the library so I thought I would do reviews of all the previous books leading up to the review for Awakened!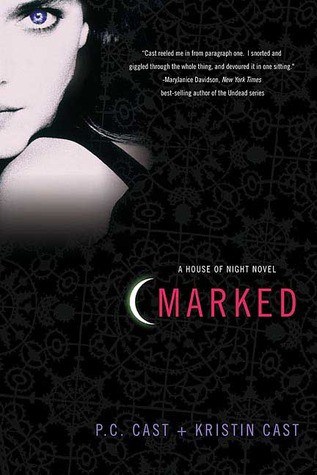 Goodreads Description:
The House of Night series is set in a world very much like our own, except in 16-year-old Zoey Redbird's world, vampyres have always existed. In this first book in the series, Zoey enters the House of Night, a school where, after having undergone the Change, she will train to become an adult vampire–that is, if she makes it through the Change. Not all of those who are chosen do. It's tough to begin a new life, away from her parents and friends, and on top of that, Zoey finds she is no average fledgling. She has been Marked as special by the vampyre Goddess, Nyx. But she is not the only fledgling at the House of Night with special powers. When she discovers that the leader of the Dark Daughters, the school's most elite club, is misusing her Goddess-given gifts, Zoey must look deep within herself for the courage to embrace her destiny–with a little help from her new vampyre friends.
My Thoughts:
As the first book in the series, this book sucked me into the world that the Cast's created and had me picking up the next books in the series before I even finished the first one.
The book starts with Zoey being Marked and having to leave her life as a human to move to the House of Night and live with the other fledglings. If that's not bad enough, she's been given special powers by Nyx (the vampyre's goddess) and has to deal with everything that comes with that. She becomes fast friends with her roommate, Stevie Rae, and her group of friends that include the "twins," Shaunee and Erin, and Damien. There is, of course, a group of mean girls that make up the Dark Daughters – a special fledgling group on campus for only the most special of fledglings on campus. Zoey and the leader of the Dark Daughters, Aphrodite, do not get along – causing normal teenage shenanigans throughout the book. When Zoey discovers what evil things the Dark Daughters are really up to it takes Zoey, her special powers, and her group of friends to stop some deadly events from taking place.
I really enjoy the world that the Cast's start to create in the first book of this series. It is full of crazy teenage drama but it was just one of those stories that you can escape into and not worry about anything else for a few hours.
Come back tomorrow for my review of Betrayed!