Welcome to the last day of House of Night Reviews!
*This review contains spoilers for the previous books in the series*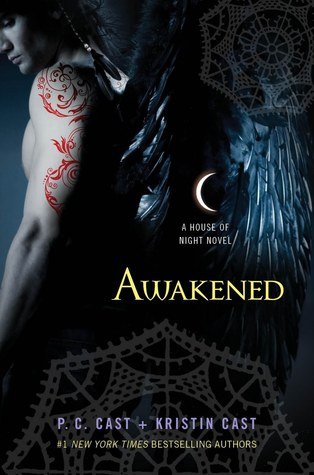 Goodreads Description:
At the start of Awakened, the pulse-pounding eighth installment of the bestselling House of Night series, Zoey has returned, mostly whole, from the Otherworld to her rightful place as High Priestess at the House of Night. Her friends are just glad to have her back, but after losing her human consort, Heath, will Zoey—or her relationship with her super- hot Warrior, Stark—ever be the same? Stevie Rae is drawn even closer to Rephaim, the Raven Mocker with whom she shares a mysterious and powerful Imprint, but he is a dangerous secret that isolates her from her school, her red fledglings, and even her best friends. When the dark threat of Neferet—who is coming closer and closer to achieving her twisted goal of immortality—and Kalona returns, what will it take to keep the House of Night from being lost forever, and what will one desperate girl do to keep her heart from being irreparably broken?
My Thoughts:
This book was absolutely crazy! The Cast's keep getting a little darker and a little more crazy with each book they right. There were some things in this book that had me going "Oh my God. Seriously?!" They definitely do not care to kill off existing characters to make the story more interesting and allow it to take many twists and turns.
Awakened starts off with Zoey still on the Isle Skye with Stark – not wanting to go home and back to reality. Stevie Rae is still trying to deal with her feeling about Rephaim while not having any communication with him. Neferet has returned to the House of Night – and has supposedly banished Kalona from her side but she is evil and needs him so of course he is still around. When a devastating death comes to the House of Night, Zoey must face her fear and return to her home and help her friends deal with the devastation as well as Neferet and the Darkness she brings with her.
There is so much going on in Awakened (House of Night #8) – probably the best book in the series so far. The direction the Cast's are taking the characters are all sorts of crazy but it keeps the story interesting and appealing. There are some parts that I really just can not believe happened and some things that annoyed me so much. I don't want to give too much away but this book is definitely my favorite of the series. If you haven't picked it up yet definitely make time. Loved it. 🙂
And that's it for the House of Night reviews – for now! The next book will be out in November 2011 and I really can't wait to see what happens with Zoey, Stark, Stevie Rae, Rephaim and the rest of the vampyres and fledglings at the House of Night.