With sales of non-fiction books at some of its highest levels ever recorded, it would seem that more and more of us are turning to non-fiction audiobooks for our next non-fiction selection.
Non-fiction can take us out of our comfort zone, engage our brain, and encourage us to challenge much of what we believe to be true. It can also make for one of the best audiobook experiences in the meantime!
11 Best Non-Fiction Audiobooks
Here we recommend an informative selection of 11 of the best non-fiction audiobooks which guarantee to provoke a reaction, but ultimately offer a varied choice of subject matter.
1. This is Going to Hurt by Adam Kay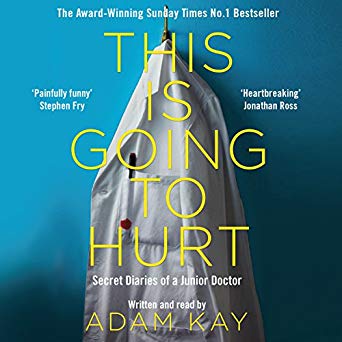 A best-selling and award-winning account of life as a junior doctor, Adam Kay reads his extremely hilarious story of his years spent working in hospitals.
A laugh out loud portrayal, the book combines the highs and indeed the many lows of many a 97-hour working week facing life and death daily, while trying to cope with the demands of the ever-burdened NHS.
No holds barred, this is a warts and all diary account which tells it like it is which at times can be heart wrenching but ultimately marred with hope. It's undeniably an audiobook with a message that will stay with you for some time to come.
Narrator – Adam Kay
Length – 6 hours & 17 minutes
2. Atomic Habits by James Clear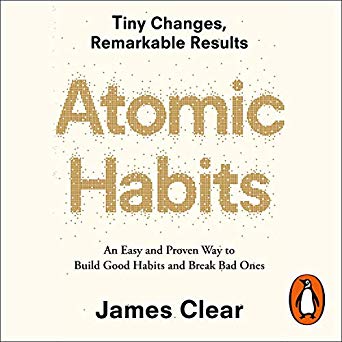 An excellent personal development audiobook, James Clear reads from his groundbreaking book, Atomic Habits, with the intentions of transforming the life of all those who listen to him.
What's more, James believes it doesn't take grand gestures or major shifts to take place to make such changes – rather a succession of tiny changes in behavior to achieve a better life all-round. Focusing on habits, decision making, and the need to continually improve ourselves, James is a world-renowned expert on the subject he discusses.
Bringing his small changes attitude to the listener, this audiobook highlights how even the most minuscule of changes can effectively grow into something more life-changing for every one of us.
Narrator – James Clear
Length – 5 hours & 35 minutes
3. Talking to Strangers by Malcolm Gladwell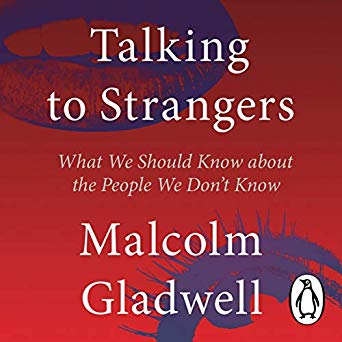 For a more intellectual non-fiction audiobook choice, look no further than Malcolm Gladwell's Talking to Strangers.
Exploring the darker side of human nature, Gladwell discusses how to challenge the many assumptions the human race tends to have. Which in turn encourages us to rethink the way we automatically assume everyday events.
Concentrating on the fact that strangers are the most complicated beings, he explores the idea how misunderstanding others can often lead to the worst possible events, thus causing us considerable pain in the process. Ultimately, by changing the way we look at others Gladwell believes we'll change the way we look at ourselves in the process.
Narrator – Malcolm Gladwell
Length – 8 hours & 42 minutes
4. Born to Run by Bruce Springsteen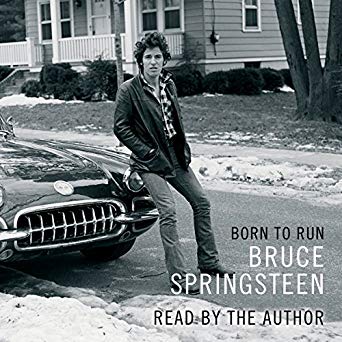 For those music lovers, Bruce Springsteen is considered the Boss of the music scene. Here he swaps music for the spoken word and brings to life his own personal account of life in the music business.
Exhilarated by his 2009 Super Bowl performance, Bruce decided to begin his extraordinary autobiography taking fans on the adventure with him. A somewhat private person away from the stage, Born to Run offers a glimpse into the man behind the music and provides a few revelations along the way.
Offering listeners deeply intimate explanations on so many of his treasured songs, Bruce's wisdom and fantastic honesty shines through here, and is the most original of audiobooks for fans and newbies alike.
Narrator – Bruce Springsteen
Length – 18 hours & 12 minutes
5. A Short History of Nearly Everything by Bill Bryson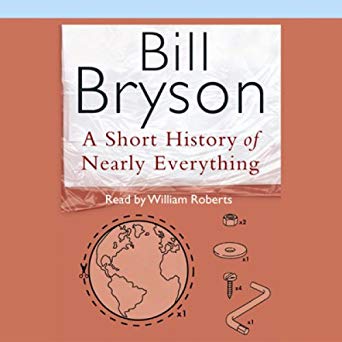 Always a fan favourite in the audiobook world, Bill Bryson returns with a quest to discover as much as he can about everything historical as far back as the big bang to recent civilization!
Challenging us to pay more attention to those subjects that are usually deemed the most boring, Bill poses the questions that are on most people's minds, but have never really been figured out.
Travelling through time and space, his fascinating cool, calm, and collective narration encourages us to take the journey with him as Bill reveals the world in a way that many of us have never looked at it before, engaging our curiosity every step of the way.
Narrator – William Roberts
Length – 18 hours & 59 minutes
6. Unbroken by Lauren Hillenbrand
A most popular audiobook of recent years, largely due to Angelina Jolie's directing of the motion picture based on it, Unbroken is an incredible true story.
Based on the life of Louis Zamperini, the audiobook is narrated by the fantastic Edward Herrmann, who brings to life the mesmerizing tale of Louis' battle against all odds story. Surviving a 1943 bomber crash in the Pacific Ocean, Louis, already an accomplished athlete, now has to endure thousands of miles clinging to a failing raft over open ocean only to be captured and imprisoned in Japan's prisoner of war camps.
A stunning tale with so much detail to these events, listeners will be held captive by one of the most remarkable survival tales ever heard.
Narrator – Edward Herrmann
Length – 13 hours & 56 minutes
7. Steve Jobs by Walter Isaacson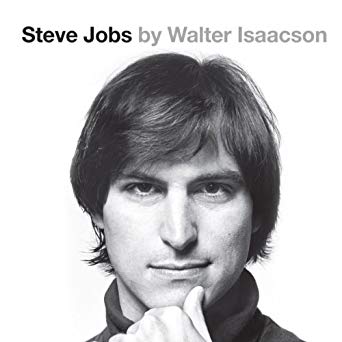 Though no longer with us, the Apple co-founder Steve Jobs continues to intrigue us. Considered by so many to be the finest of innovators of his generation, Walter Isaacson brings Jobs' professional and of course eventful personal life to the listener offering a most extraordinary account in the process.
With interviews accumulated over three years, here we learn more about the man behind the infamous logo, while gathering first-hand data from members of his family and indeed Apple colleagues.
With so many things written and indeed spoken about this man, Walter offers a deeper insight with a warts and all account but nevertheless emphasizes the inspirational legacy Jobs left behind.
Narrator – Dylan Barker
Length – 25 hours & 3 minutes
8. SPQR: A History of Ancient Rome by Mary Beard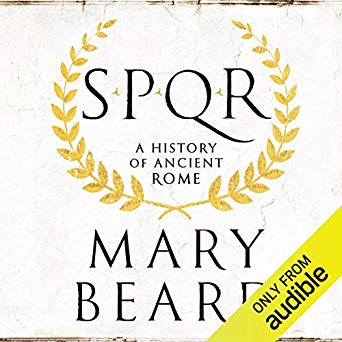 The queen of the classics for many, here Phyllida Nash brings to audio Mary Beard's history of ancient Rome for all listeners to enjoy.
Offering a new look, as usual with Mary Beard, here she disregards of all conventions casting them aside while she instills her consummate passion for all things defiant of Roman history! Covering a span of no less than 1000 years, SPQR takes us from the small insignificant village of Rome to the power that later controlled a vast amount of territory, all the while creating those terrifying figures we know as the Romans.
What's more, listeners can decide for themselves what the Romans did for us and still continue to offer us to this day.
Narrator – Phyllida Nash
Length – 18 hours & 30 minutes
9. Twelve Years a Slave by Solomon Northup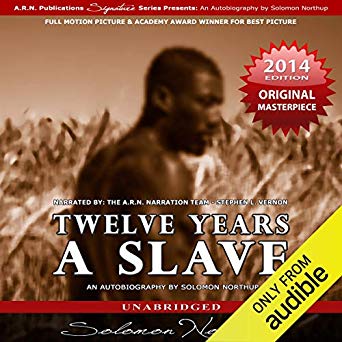 Bringing to audio the extraordinary life of Solomon Northup, Hugh Quarshie offers his calming narration to this often-harrowing tale of slavery. A true story, Solomon was an educated man living happily with his wife and family in New York State. Yet, his life changes forever when he is kidnapped and drugged, all because he is a black man.
Eventually sold into slavery, Solomon spends over a decade enduring the most brutal regime of plantation life. Now a major motion picture, this is a chilling audiobook but one with a moving central character at its heart who never loses his dignity despite the unimaginable being thrown at him.
Narrator – Stephen L. Vernon
Length – 8 hours & 22 minutes
10. Sapiens by Yuval Noah Harari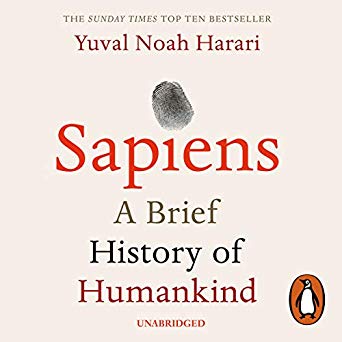 Derek Perkins brings the hugely popular Sapiens to life for all audible listeners. Written by the expert Professor and specialist in World history, Yuval Noah Harari, this is the book that has got all the world greats talking, including that of Bill Gates and Barrack Obama.
Sapiens tackles those big questions about history as well as the future and what is to become of our species. Yet, its most powerful depiction is to engage you in decision and ultimately get you thinking for yourself about your current preconceptions.
Asking what makes us so brilliant and yet so deadly, Sapiens opens a discussion on exactly how we get here, and just where we're all going.
Narrator – Derek Perkins
Length – 15 hours & 18 minutes
11. 12 Rules for Life: An Antidote to Chaos by Jordan B. Peterson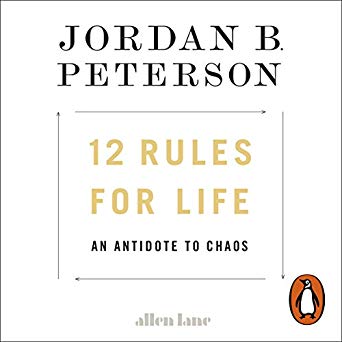 Highly controversial at the best of times, there's little to deny that Jordan B. Peterson has taken the world by storm! Bringing his no-nonsense thinking to audio, listeners can now access one of the most discussed psychology books of the day.
With his soothing and intellectual narration, Peterson attempts to bring an element of calm and practicality to the current chaos in the world we inhabit.
Applying what he believes are the 12 most essential principles you'll ever need; he discusses how to develop a more meaningful life – by searching for meaning rather than happiness and getting ourselves in order before we look to criticise others and how they live their lives.
Narrator – Jordan B. Peterson
Length – 15 hours & 39 minutes