Bringing the past to life, many listeners love to indulge in a historical audiobook as the most exciting but ultimately vivid way to reconstruct historical events.
History has never been more interesting than with the inclusion of audiobooks. Taking us as far back to the big bang and working over continents and centuries, for those keen to learn about our rich past, a history audiobook is perhaps the most thrilling way to do so.
Here we recommend a popular selection of the 12 best history audiobooks that have gained incredible attention from critics and readers alike.
1. 48 Laws of Power by Robert Greene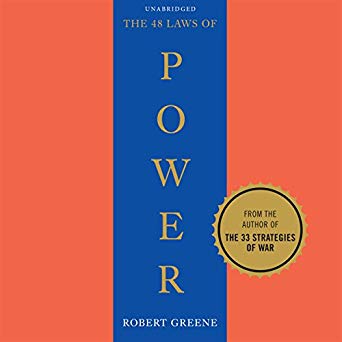 Drawn from a staggering 3000 years of history, 48 Laws of Power is Robert Greene's definitive guide to power amongst the most influential and well-known members of historical society.
From Queen Elizabeth I to Machiavelli, it charts the lessons these people learned the hard way while offering the listener the ability to achieve it for themselves the easy way!
Highlighting 48 laws, this covers such concepts as always saying less than is necessary, never outshining the master, and never putting too much trust in friends while learning how to use your enemies instead! This history audiobook could even be classed as a self-help audiobook, it offers many powerful lessons.
A thoroughly exciting concept, this is a fascinating listen, which can be referred to again and again.
Narrator – Richard Poe
Length – 23 hours & 6 minutes
2. The Silk Roads by Peter Frankopan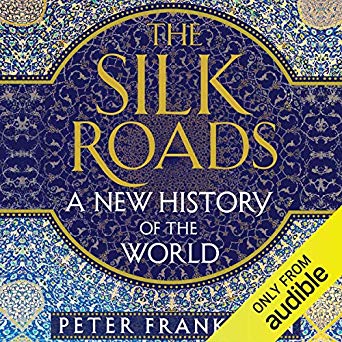 Offering a new history of the world, Peter Frankopan's immensely entertaining best seller's brought to audio for all listeners to engage in major re-enactments of world history.
A fascinating account, The Silk Roads explores those forces which have driven the rise and fall of many empires while determining which ideas have stood the test of time and heralded a new dawn when it comes to international affairs.
With so much detail and a wide geographical structure covered, listeners will be kept enthralled throughout as this rare book challenges our assumptions of everything we know and the world we occupy.
Narrator – Ray Porter
Length – 13 hours & 5 minutes
3. The Making of the Atomic Bomb by Richard Rhodes (Summary)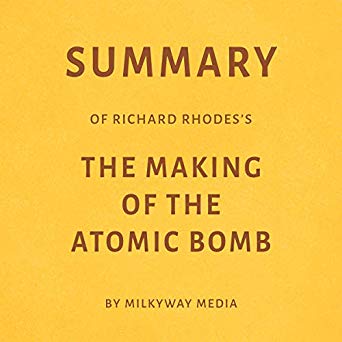 Bringing to life the Pulitzer prize-winning book of 1986, Richard Webb narrates Richard Rhode's unprecedented in-depth analysis of the years proceeding both the Hiroshima and Nagasaki bombs.
Concentrating on a select group of international physicists, it charts how nature itself has potential for destruction through the many advances in both quantum theory and nuclear physics. Telling the complete story of how the bomb was developed, this audiobook also questions the swift evolution of such great discoveries alongside those often misunderstood in this field.
A powerful listen, it's clear language and definitions make it accessible to all levels of listeners.
Narrator – Richard Webb
Length – 29 minutes
4. The Spy and the Traitor by Ben MacIntyre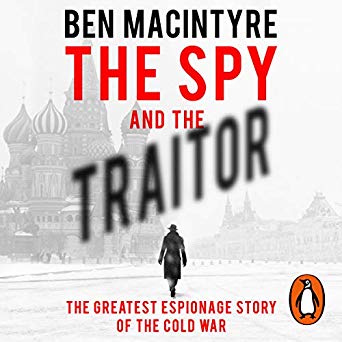 Claimed to be one of the greatest espionage accounts about the Cold War, Ben Macintyre narrates his thrilling The Spy and The Traitor to audiobook.
Telling a tale of betrayal, espionage, and of raw courage, which changed the course of the Cold War forever, listeners are taken back to 1985 and absorbed into of the most extraordinary episodes of spying ever noted in history.
Focusing on the Senior KGB officer who supplied British spymasters with a decade of priceless secrets from the soviet, this recounts the huge impact and severe damage the KGB ever encountered. Impeccably researched and retold, this is a thoroughly entertaining audiobook.
Narrator – Ben MacIntyre
Length – 14 hours & 32 minutes
5. The Templars by Dan Jones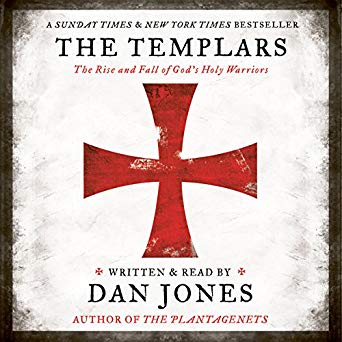 Dan Jones brings his best-selling book to life with his narration of The Templars. Considered to be the most powerful and wealthiest of groups, the Knights Templar were also the most secretive of military orders.
Flourishing in a crusading era, their story is told in the most inspirational of ways here. Encompassing what many considered to be the greatest of international conflicts of the middle ages, Dan Jones tells of the staggering increase in wealth and influence of the order while charting their bloody and all-consuming humiliating defeat that followed this period.
A fascinating listen, The Templars is an easy to listen to but serious account of the history of the templars.
Narrator – Dan Jones
Length – 15 hours & 35 minutes
6. The Devil in the White City by Erik Larson (summary)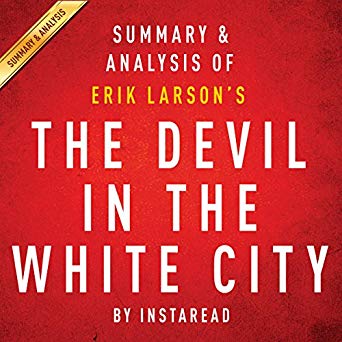 Erik Larson's late 19th century account of Chicago 's World Fair is brought to audio in this most incredible story of the White City, which many claimed a wonder of the world.
The visionary creation of architect Burnham, those white buildings set to a backdrop of wonderful canals and gardens were, in fact likewise home to the death of many young women by the killer Holmes.
While one man tried desperately to transform the area, another made it a place of torture with its gas chamber and crematorium. This audiobook sets the scene for the transformation of America and the placing of the country as it hurtled toward the twentieth century.
Narrator – Michael Gilboe
Length – 34 minutes
7. Genghis Khan and the Making of the Modern World by Jack Weatherford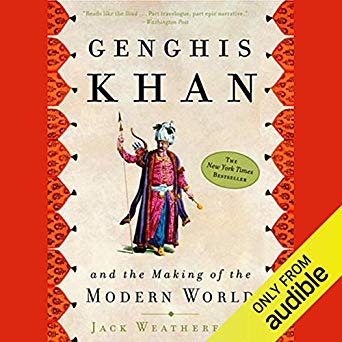 Though more known for his accounts of leading Mongol armies, Genghis Khan was, by all means, an extraordinary man who created an empire from a most humble and remote corner of the world, ultimately, leading that world into the modern ages.
Though much is written about his army, very little is often said about Genghis Khan's progression through civilization as he abolished torture, smashed aristocratic privilege, and granted universal freedom for religion.
Here, Jack Weatherford brings the epic story to life through this audiobook of how the modern world was made by means of revisionist history.
Narrator – Jack Weatherford & Jonathan Davis
Length – 14 hours & 20 minutes
8. Diary of a Young Girl by Anne Frank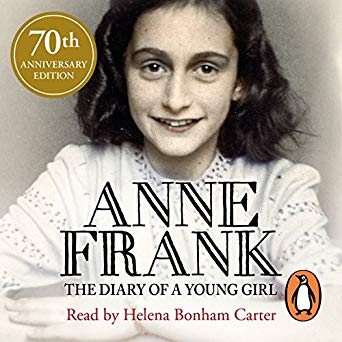 The quintessential British actress Helena Bonham Carter delves into one of the world's most famous diaries with the narration of Anne Frank's, Diary of A Young Girl.
Compiled tenderly for the 70th anniversary of its publication, Helena approaches the retelling for audio with sensitivity, revisiting Anne and her family's quest to survive German capture. A profound and often haunting read, listeners will undoubtedly be captivated by its tale of humanity, and innocence alongside the stark suffering and sheer survival of an innocent family hunted down for simply being Jewish.
A most moving account, this is a powerful testament narrated with the utmost of respect.
Narrator – Helena Bonham Carter
Length – 10 hours & 8 minutes
9. One Summer: America 1927 by Bill Bryson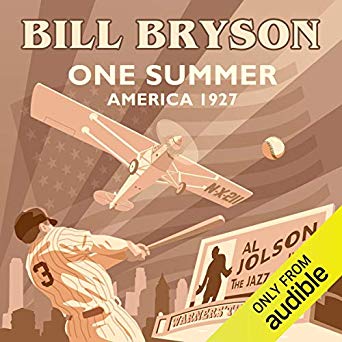 Everyone's favorite history writer, Bill Bryson is back with his American Summer accounts of 1927.
Narrating his own book, Bill recalls when America changed the world forever through a booming stock market, a four-hour working day president, a Rushmore semi-crazed sculptor, and a youthful aviator by the name of Charles Lindbergh – to name but a few to start!
Breathing life into a most unforgettable of summers, Bill Bryson provides vivid details of a fascinating period in American history and tells his tale of recklessness, optimism, adventure, and delivers energy with the utmost passion for his birth country.
Narrator – Bill Bryson
Length – 17 hours & 3 minutes
10. Soldier Spy by Tom Marcus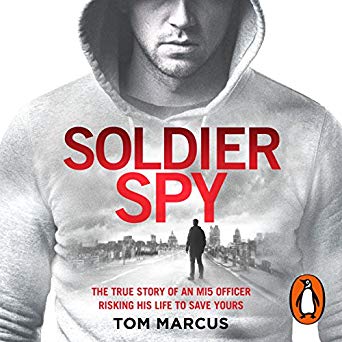 Tom Marcus' true story as an MI5 officer is the subject of this most revealing audiobook, Soldier Spy.
Offering never seen before details into the workings of MI5, Soldier Spy is a first-hand account of British counter-terrorism operations on the actual streets. Brutally honest, this is the stark portrayal of officers employed to keep the country's streets safe, as well as the around the clock battle after the tragic events of London's 7/7 attacks.
When this was first published, many reviewers and commentators were shocked by MI5's agreement to allow this story into the public domain. Undeniably gripping, Soldier Spy portrays surveillance at its limits.
Narrator – Jason Langley
Length – 7 hours & 18 minutes
11. A History of the World by Andrew Marr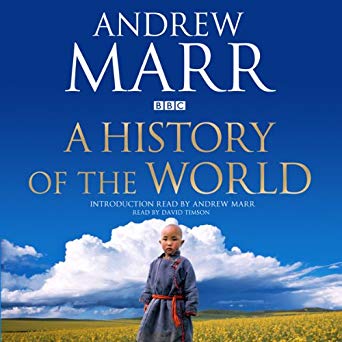 Respected BBC political broadcaster and now historical writer, Andrew Marr narrates his History of the World, thoroughly delighting while informing all listeners.
With some compelling and extraordinary research having gone into his subject matter, Marr takes us from the earliest of civilization through to current 21st century.
A large-scale global journey, it challenges old prejudices while retelling those epic stories we have all come to know. Both Marr's narration and the story are fresh and thoroughly entertaining boasting some of the most popular history subjects at their very best.
Narrator – Andrew Marr & David Timson
Length – 26 hours & 28 minutes
12. The Rise and Fall of the Third Reich by William L. Shirer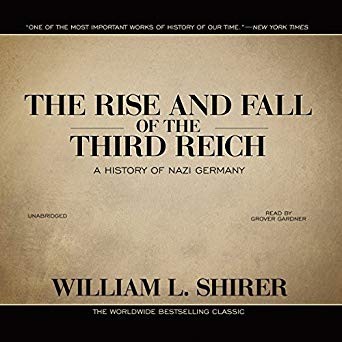 One of the very few historians to ever gain full access to the Germans secret archives, Willian L. Shirer himself, narrates this fascinating account of those most unfortunate of years whereby Hitler commanded the Nazis.
Working on accounts such as the Holocaust and the Nuremberg trials, Shirer discusses his findings, which allies captured intact. Charting the most cataclysmic events that Western Civilization has ever known, audiobook fans now get the chance to listen to what many consider the leading Nazi Germany book ever written to date.
Thoroughly researched, this is a massively informative book and one which will absorb you from the first few sentences.
Narrator – Grove Gardner
Length – 57 hours & 11 minutes