Nelson Mandela is one of the most impactful leaders and revolutionists in modern-day history. You've probably read at least one of his quotes before; his wise words live on even after his death in 2013.
Mandela served as President of South Africa from 1994 to 1999. He was the first black leader to gain control over the government and changed the lives of the suppressed black population in the country.
He was a human rights activist, philanthropist and a leader like no other. Nelson Mandela was the light at the end of the tunnel at dark times, and his amazing work will always be remembered.
At HookedToBooks we got inspired by Nelson Mandela quotes, so we decided to create a list featuring the 40 best.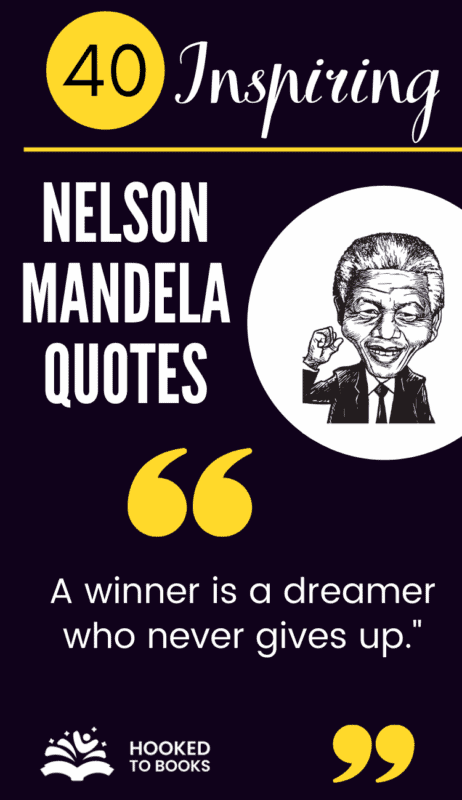 Nelson Mandela Qutes
"A winner is a dreamer who never gives up."
---
"I never lose. I either win or learn."
---
"Lead from the back — and let others believe they are in front."
---
"Live life as though nobody is watching, and express yourself as though everyone is listening."
---
"Everyone can rise above their circumstances and achieve success if they are dedicated to and passionate about what they do."
---
"Fools multiply when wise men are silent.."
---
"As we are liberated from our own fear, our presence automatically liberates others."
---
"I am not a saint, unless you think of a saint as a sinner who keeps on trying.
---
"One cannot be prepared for something while secretly believing it will not happen."
---
"I learned that courage was not the absence of fear, but the triumph over it. The brave man is not he who does not feel afraid, but he who conquers that fear."
---
"It always seems impossible until it's done."
---
"When a man is denied the right to live the life he believes in, he has no choice but to become an outlaw."
---
"Where you stand depends on where you sit."
---
"One of the most difficult things is not to change society — but to change yourself."
---
"There can be no keener revelation of a society's soul than the way in which it treats its children.
---
"There is no passion to be found playing small – in settling for a life that is less than the one you are capable of living."
---
"You can start changing our world for the better daily, no matter how small the action."
---
"It is not where you start but how high you aim that matters for success."
---
"If you talk to a man in a language he understands, that goes to his head. If you talk to him in his language, that goes to his heart."
---
"I am not an optimist, but a great believer of hope."
---
"May your choices reflect your hopes, not your fears."
---
"Education is the most powerful weapon which you can use to change the world.
---
"As we let our own light shine, we unconsciously give other people permission to do the same."
---
"There can be no greater gift than that of giving one's time and energy to help others without expecting anything in return."
---
"Do not judge me by my successes, judge me by how many times I fell down and got back up again."
---
"Courageous people do not fear forgiving, for the sake of peace."
---
"There is nothing like returning to a place that remains unchanged to find the ways in which you yourself have altered."
---
"Man's goodness is a flame that can be hidden but never extinguished."
---
"A winner is a dreamer who never gives up."
---
"You will achieve more in this world through acts of mercy than you will through acts of retribution."
---
Wise Nelson Mandela Quotes
"If you want to make peace with your enemy, you have to work with your enemy. Then he becomes your partner."
---
"Sometimes it falls upon a generation to be great, you can be that generation."
---
"When people are determined they can overcome anything."
---
"Once a person is determined to help themselves, there is nothing that can stop them."
---
"It is music and dancing that make me at peace with the world."
---
"I could not imagine that the future I was walking toward could compare in any way to the past that I was leaving behind."
---
"Only free men can negotiate,prisoners can't enter in contracts.."
---
"Money wont create success, the fredom to make it will."
---
"A winner is a dreamer who never gives up."
---
"There is no such thing as part freedom."
---
We hope you enjoyed reading these inspiring Nelson Mandela quotes. If you would like to learn more about Nelson Mandela, we recommend you to read his autobiography.
Which quote is your favorite? Share it in the comments below!
Check out these other great lists!