Most avid readers love reading in bed. It's the perfect way to end the day, and it can even help you fall asleep.
But do you often find yourself slumped in an awkward position, putting pressure on your neck or back? Sometimes, we can be so engrossed in a great book that we forget to check our posture. We don't even notice that we're sitting in an uncomfortable way that can cause long-term damage.
At a Glance: Our Top 7 Picks for Best Bed Rest Pillows
That's why investing in the right bed rest pillow for reading is a great idea. While regular pillows are designed to support us while we sleep, they don't quite cut it for sitting up reading in bed.
Reading pillows are designed to support you, keep you super comfortable and aid your posture, all helping to avoid long term problems.
I reviewed some of the best bed rest reading pillows available online and discuss the pros and cons of each one.
The Best Bed Rest Pillows for Reading On the Market in 2022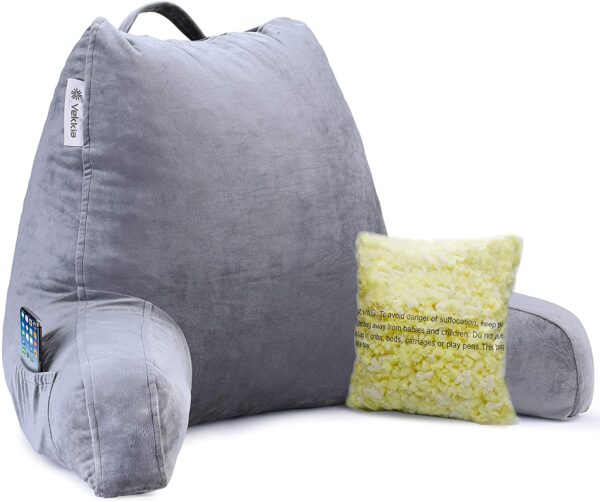 The Best Reading Pillow for Style
It might seem odd to describe a reading pillow as sleek, but that's precisely what the Vekkia Reading & Bed Rest Pillow is, especially compared with its competitors.
It has a smooth, all in one design with no gaps or extra edges, making this an exceptionally comfortable choice.
This reading pillow provides sturdy but still soft support for your back and arms and lets you read either upright or at a reclined angle.
It comes with a built-in handle, which makes it easy to carry from room to room. There's also a handy arm pocket, which is the perfect size for your phone or the TV remote.
The Vekkia has a supersoft velveteen cover that comes in 5 different color choices. It feels like a cozy little reading nest that you'll want to come back to time and time again.
Another great feature of this reading pillow is the concealed zipper at the base. It's easy to remove the cover and throw it in the washing machine. When you order this pillow, you'll also get a complimentary 200g of extra foam, which you can use to customize this pillow to the right level of firmness for your individual needs.
Pros
Extra soft velvet fabric
Add or remove foam for personalized comfort
Removable, washable cover
Cons
Some people find this pillow is overfilled when it arrives, and they have to remove some extra stuffing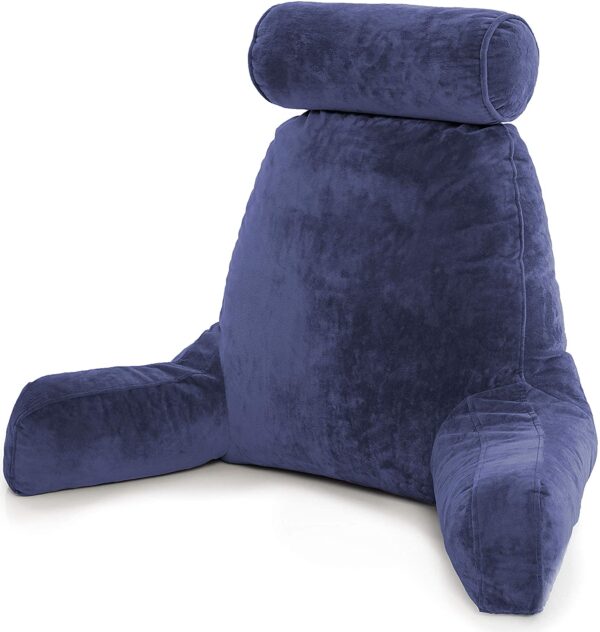 The Best Extra Large Reading Pillow
The Husband reading pillow is unique from its competitors, thanks to the detachable neck roll. This perfect for lazing back on, but if you prefer to sit up straight, it detaches easily too. This is also one of the most oversized reading pillows on the market right now, which means extra space and extra comfort.
This reading pillow passes the comfort test with flying colors thanks to the shredded memory foam. And the micro plush fabric is some of the softest I've come across. There's also a concealed zip, so it's easy to remove and wash if there are any accidental spills.
The zip also allows you to add or remove the shredded memory foam pieces to adjust the firmness. You can also redistribute the foam to provide support in different areas.
Like the Vekkia, this reading pillow has a convenient side pocket on the armrest, plus an extra back pocket, which is the perfect size for a book, reading glasses, or e-reader. There's also a carry handle at the top of the pillow, so it's easy to transport.
What's more, the Husband reading pillow comes in a vast range of different colors, so there's something for everyone. Some covers are even reversible, so you can pick and choose the look each time you wash it.
Pros
Extra-large reading pillow
Removable neck roll for head and neck support
Removable, washable covers
Cons
More expensive than some other reading pillows on this list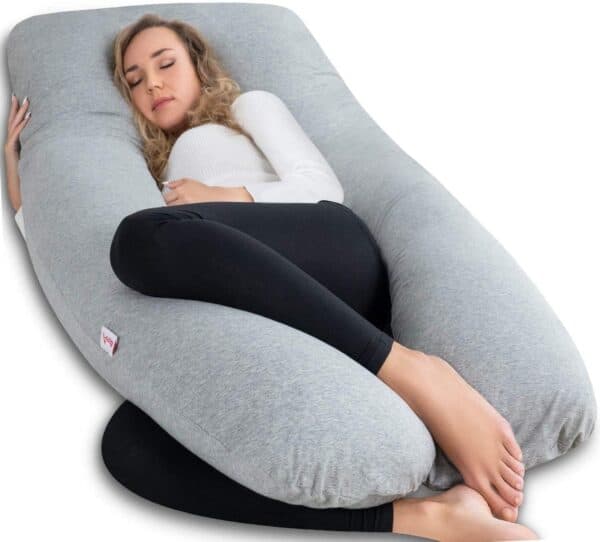 The Best U Shaped Reading Pillow
U shaped pillows are incredibly versatile, and this version from AngQi is particularly suited to reading in bed.
Unlike other types of reading pillows, this is a full-body length. Since the arms are so long, you can maneuver them into various different positions to make reading in bed even more comfortable and cozy.
The outer cover is made from a super-soft jersey knit fabric with extra cooling properties, so it's perfect to use in the warmer months. It's also completely removable and washing machine safe.
The AngQi is such a comfortable pillow; when you put down your book and turn out the lights, you won't want to switch back to your old regular pillow at all. It's perfect for reading, but it's also great to relieve back pain and help with acid reflux.
Pregnant women also swear by this pillow to help them get comfortable when nothing else seems to work.
Pros
Versatile and can be used in many different positions
Soft and cooling jersey knit fabric
Full body length
Cons
Not as firm as some other reading pillows on the market
The Best Pressure Reducing Reading Pillow
The Hermell is designed with superior support in mind. The overfilled, extra firm cushioning is particularly great if you already suffer from spinal issues, neck strain, or pressure points in your back. Your every contour is supported, taking the strain off your neck and joints.
This model also has an additional neck roll attachment. This fastens on quickly for added head and neck support, and when you'd rather just have a backrest, it's easily removed too.
The soft fabric has moisture repelling properties, so it's easy to wipe up any accidental spills. And for those harder to clean messes, simply unzip the cover at the base and wash it in the washing machine.
This best rest reading pillow is one of the sturdiest on the market. There's no need to rest it against a headboard since this model is stiff enough to stand up on its own.
Pros
Reduces pressure on joints and offers superior support
Detachable neck roll for head and neck support
Moisture repelling, machine washable fabric cover
Cons
Bulkier than some other reading pillows on the market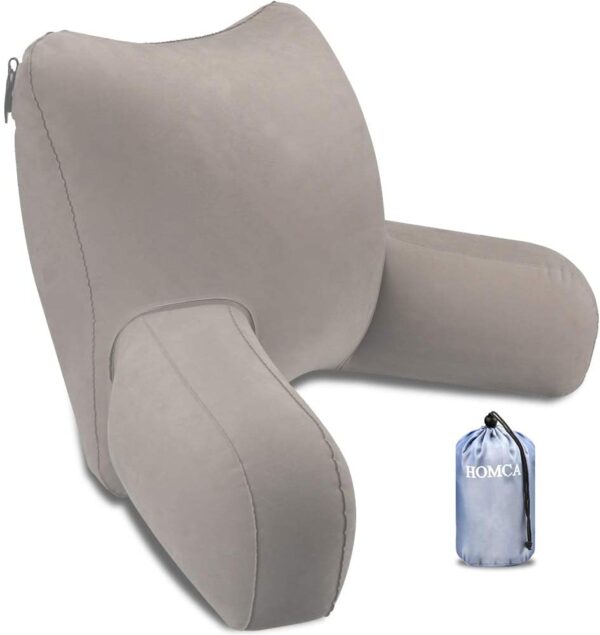 The Best Travel Reading Pillow
If you travel frequently or need a reading pillow that's easy to transport, this inflatable model from HOMCA is a solid choice. It's made from a strong yet soft, eco-friendly PVC Flocking. It's so durable that this pillow can take a real beating and still withstand punctures and tears.
The HOMCA is ergonomically designed with additional lumbar support at the base of the backrest. There are also supportive armrests, and thanks to the inflatable nature of this bed rest reading pillow, you can adjust the firmness by adding or letting out air.
It's also a great reading pillow for camping and backpacking. Since there's no filling in the cushion, it's exceptionally lightweight. And once this pillow deflates, it measures just 7 X 5 inches. It also comes with its own handy carry case.
To inflate the HOMCA reading pillow, simply blow it up by your mouth. It'll be ready to go in less than 30 seconds. The super-tight seal on the valve means you don't have to worry about air leaking out when it shouldn't.
Pros
Lightweight and very easy to transport
Additional lumbar support
Easy to inflate
Cons
No attachment for an electronic pump or foot pump
Not quite as comfortable as traditional reading pillows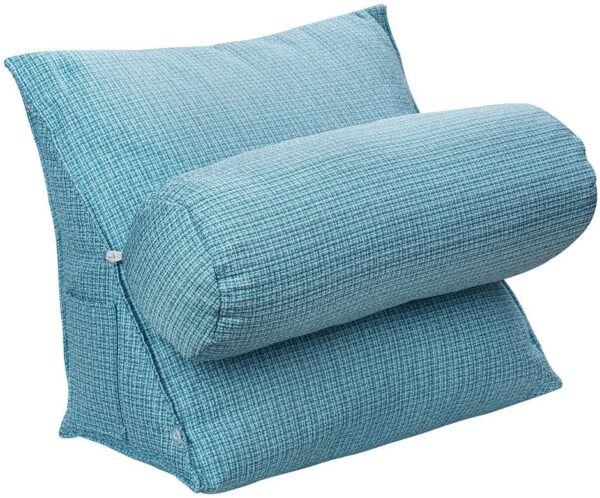 The Best Wedge Style Reading Pillow
The HALOViE is a classic wedge-shaped reading pillow with an innovative twist; an additional roll pillow for extra support, wherever you need it.
Attach the pillow at the base of the wedge for extra lumbar support, in the middle to improve your posture and restore your spine's natural's' shape, or at the top for extra neck support.
This reading pillow's fabric is made from super soft pearl wool, which looks great and feels extra comfortable against your skin. It's also easy to adjust the firmness to your own needs by adding or removing the stuffing. And of course, the zipper means the cover is removable and is 100% washing machine safe.
Another bonus of the HALOViE is the two convenient storage pockets on the sides of the wedge. They're perfect for storing your phone, a book, or an e-reader.
Unlike most other reading pillows on my list, this wedge style reading pillow is compact enough that you can even slip it behind your office chair.
If you spend long days sitting at a desk, it can help correct a slouching posture and provide extra support for your spine.
Pros
Adjustable roll pillow for personalized support
Extra soft pearl wool fabric
It can help to improve posture when sitting for long periods at a desk
Cons
Smaller than many other reading pillows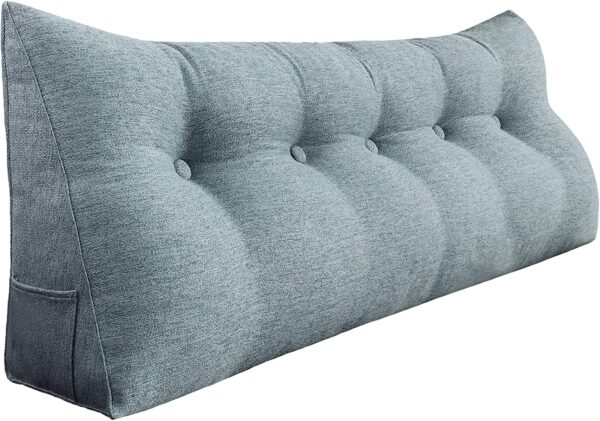 The Best Reading Pillow for Two
WOWMAX has taken the support and comfort of a regular wedge reading pillow and turned it into a headboard. This pillow stretches across the entire top of the bed and provides an alternative, much comfier headboard, which is perfect for reading in bed.
It's a great option if you have a bed with railings that are uncomfortable to lean against. It's also perfect if you don't have a headboard, as this acts as a super comfy and supportive alternative. If you do already have a headboard, this pillow can be easily placed in front of it, giving your bed an immediate upgrade.
The pillow is firm but still very comfortable. The filling is made from high-density polyurethane filler, which won't sag or slump over time.
The WOWMAX is another reading pillow that has multiple other uses. It makes a great bumper pillow for babies and toddlers and can transform a standard single bed into a day bed or couch.
Pros
Two people can use this reading pillow at the same time
You can use it in different ways
Firm and comfortable
Cons
Too large to easily transport
More expensive than a regular bed rest reading pillow
Buyer's Guide
In this guide, I'll introduce the different types of bed rest pillows for reading on the market and look at why they're so helpful for spinal support. I'll also cover some of the key features to look out for when you're shopping.
Types of Bed Rest Reading Pillows
You might be surprised how many different types of reading pillows there are on the market these days. Here are 3 of the most popular types you're likely to come across while shopping online.
Classic Back Support Reading Pillows
These are the most common type of reading pillows on the market right now. They usually have a thick, tall pillow to rest your back against, as well as armrests that come out in a V formation.
Classic back supports reading pillows work great if you like sitting up to read in bed, but you want some extra support. They can be placed in front of a headboard or used by themselves as a standalone reading pillow.
Wedge Style Reading Pillows
These versatile pillows can usually be tipped up and used in various ways, allowing you to either lay down or sit up while reading in bed.
Wedge style pillows are also a popular choice for people who suffer from acid reflux, spinal pain, or people who are excessive snorers. The pillow's angle means your head is more elevated compared with a regular pillow, helping to alleviate some of these problems.
U shaped pillows come in various sizes, but most of them are large and offer full-body support.
They're another classic design that you can use in a variety of different ways. You can sit inside the U shape, fold over the ends to create an elevated pillow, or even flip it to create a kind of seat with added neck support.
They are great for lounging and provide extra comfortable support. They also make a fantastic sleeping pillow too.
How Can a Bed Rest Reading Pillow Help With Spinal Support?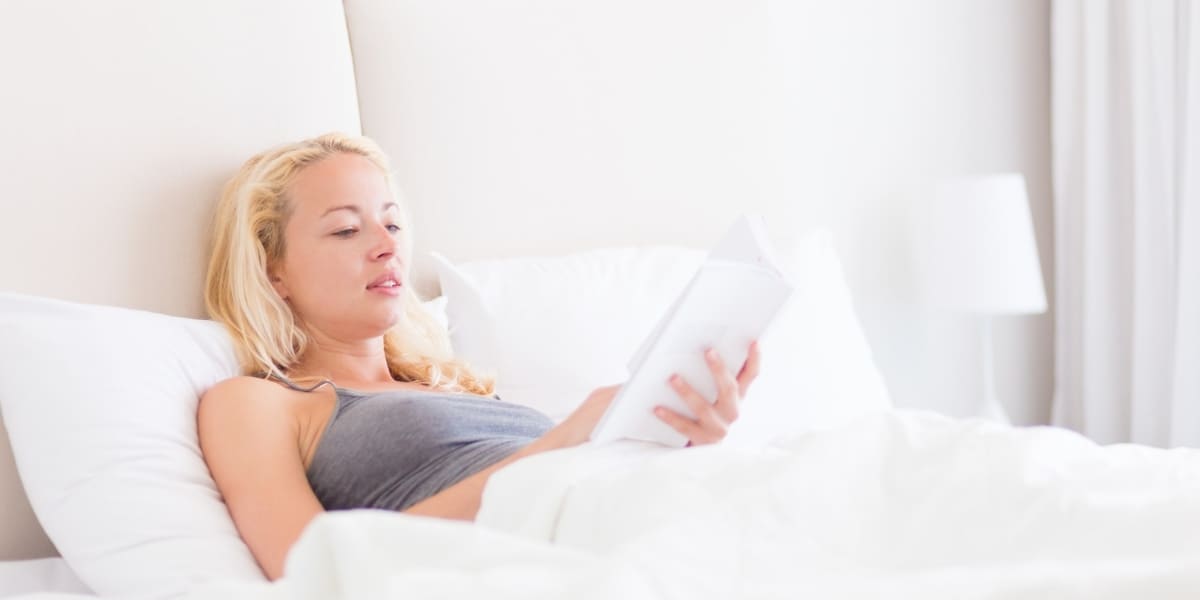 Without the right kind of support, reading in bed can lead to spinal compression, posture issues, and pressure points along the spine and the hips.
Sitting this way every once in a while is no big deal- at worst, it's uncomfortable and can leave you feeling a little sore and stiff. But if you regularly read in bed this way, it can lead to long term problems.
Regular pillows don't offer support when you're sitting (or slouching) in bed while reading. They're not firm enough to remain stood up, and they're too small to offer full-back or next support.
Bed rest reading pillows are specifically designed to keep your head, neck, and torso fully supported. They make the experience of reading in bed so much more comfortable and a heck of a lot easier on your spine.
Things to Consider When Shopping for a Bed Rest Reading Pillow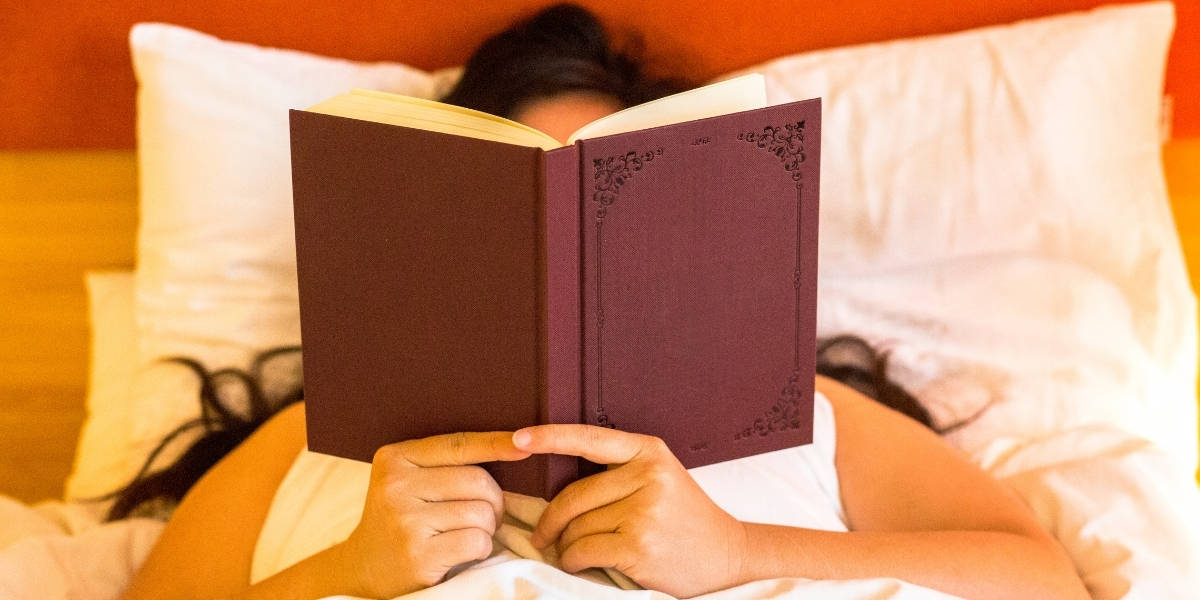 Reading pillows come in a wide variety of shapes, styles, and sizes. When your shopping online for one, ask yourself the following questions:
Will you be using it for sleeping, as well as reading? If so, U shaped pillows or wedge style pillows are good options.
Where will you be using it? Are you just going to use your reading pillow in bed? Or do you want something that will work on the sofa too? Most reading pillows can be adapted to work anywhere, but U shaped pillows and classic back support reading pillows are particularly great for using on the couch too.
What positions do you like to read in? Do you prefer to lie almost flat when you're reading in bed? If so, a wedge or U shaped pillow is likely to be a good option for you. If you prefer to sit up a little, then the classic back support reading pillows are a better choice.
Conclusion
As you can see, there's a massive variety of bed rest reading pillows out there, all of them with different pros and cons.
Whichever one you choose, you owe it to yourself and your spine to be comfortable when you read in bed. And by investing in a suitable bed rest pillow for reading, you'll make your night time escapes in a good book even more pleasurable.