Up until recently, I've always had pretty good eyes, at least when it came to reading. I've used glasses for years for seeing objects far away and activities like driving. But reading has never been a problem until now.
I suppose it's just part of the aging process. Most of us will notice our vision decline over time, but still, I'd be lying if I said it hadn't come as a bit of a shock.
Thankfully, a friend told me about multifocus reading glasses, and it's been a game changer.
Multifocus reading glasses are designed to enhance your ability to see both close-up objects and objects further away. They let you read a book, write an email, chat with a friend over a coffee, and even jump in the car to drive to the store without ever having to switch between different pairs. This is especially handy for me, as I am forever misplacing my glasses. The way I see it, the fewer pairs I need, the fewer pairs I have to lose.
Some multifocal reading glasses do more than just help you see. Certain brands block out blue light from your phone, laptop, or tablet, which is super helpful if you spend a lot of time staring at a screen, like I do.
Others feature photochromic lenses, so they transform from regular clear glasses to sunglasses when you're outside in bright light.
Multifocus reading glasses have actually been on the market for years, but since my up close vision was always fine and dandy in the past, they were never on my radar. Now, however, they're almost like an extra limb, and I feel lost without them.
The Best Multifocus Reading Glasses for Book Lovers
So, according to my eye doctor, I have a condition called presbyopia, which is basically just aging of the eye. Presbyopia is pretty common in adults over the age of 40. It hinders your ability to focus on close-up objects, and it makes reading small print books difficult.
Before I got my multifocal, I was holding books further away from my face and squinting to try and make out the words on the page. It was annoying, to say the least, especially for someone as obsessed with reading as I am.
Thankfully, multifocal are designed for people with these types of eye issues. So now, I can read comfortably without needing to outstretch my arm and furrow my brow. Phew!
My partner, who is a little older than me, has also noticed a decline in his vision, so when I started trying multifocal reading glasses, he was keen to get in on the action. So, together, we have been testing out various multifocals on the market to see which ones are most effective.
So, if you're like us and you've been struggling to read your favorite books, you'll want to grab yourself a pair of these game-changing glasses. Below is a quick overview of some of the best pairs that we've tried so far.
1. Missfive Mens Progressive Multifocal Reading Glasses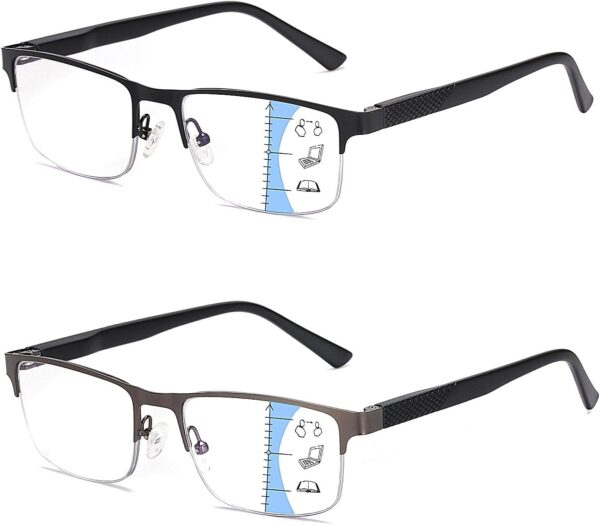 So I ordered these glasses for my partner, and he's been raving about them since he first tried them on. They came in a pack of two, so, naturally, I claimed the other pair for myself, and I can see why he's so impressed.
Even though these glasses are technically designed for men, the simple and sleek aesthetic means they work perfectly well on a woman's face, too. The spring hinges are also flexible and snug enough that I don't need to worry about them sliding down my nose. So, I'd definitely say these glasses were suitable for both men and women.
Functionality
These multifocals feature three varying strengths of magnification. The first and strongest allows you to read small print close up, the second is perfect for computer work, and the third allows you to see comfortably across a desk.
The only downside is that these glasses aren't designed for driving. For my partner, this isn't a problem, as he has 20/20 vision when it comes to seeing things in the distance. But for me, it's kind of annoying that I still have to switch over to my other pair.
Frames
I really love these frames; they're subtle and simple yet stylish, and like I said earlier, they work for both men and women.
Another cool feature is the semi-rimless design. So, when you're reading through the lower part of the lenses, there's no annoying black frame line to interfere with your vision. It kind of makes me wonder why all multifocals aren't designed this way.
Bonus Extras
Like a lot of modern multifocus glasses, this pair from Missfive features blue light-blocking lenses. So, they're ideal for working on my computer and those occasional evenings I spend away from a book and on my smartphone instead.
The lenses also have an anti-glare technology, which helps my eyes feel less tired after a little too much screen time.
Key Features
Semi-rimless design
Blue light-blocking lenses
Anti-glare lenses
Lightweight frames
Pack of 2
Adjustable spring hinges
Pros
Smartphone friendly– The lenses feature blue light-blocking technology
Three strengths of magnification– For reading, computer work, and meetings across a desk.
Great frames– Stylish and sleek with a semi-rimless design for seamless vision
2 pairs– One for the office, one for home
Cons
Not suitable for driving– So, if you need glasses for distance, you'll still need to keep an extra pair in the car.
2. Kafirlo Progressive Multifocal Reading Glasses for Women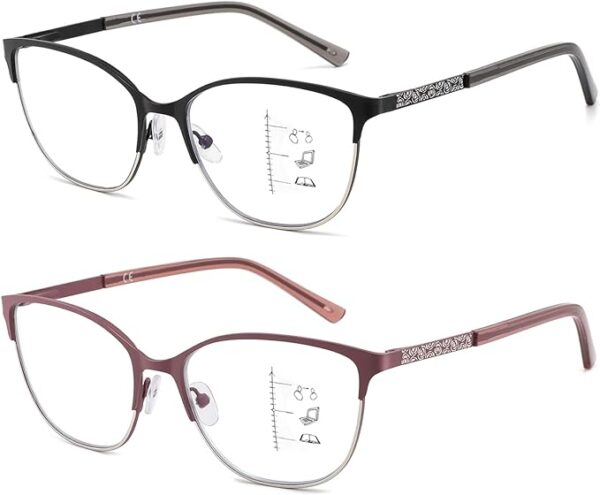 I was so pleased when I took these beauties out of the box. As much as I value functionality over fashion, after trying various relatively plain frames, it was nice to be wearing something a little more chic.
These glasses come in two different color options, so you can switch them up depending on your mood.
But of course, I didn't buy them because they're cute (that's just a bonus.) The real draw for these glasses is that Kafirlo has taken traditional multifocus lens technology and given it an upgrade. While a lot of multifocals have hard and obvious lines between the various areas of vision, these glasses are designed with progressive multi-focus, so the line of aberration (the point where different magnification strengths meet) is softer and more gradual.
Functionality
These glasses are designed for reading and distance, with a soft and easy transition zone in the middle that makes over-the-table eye contact crystal clear.
Depending on your prescription and preexisting vision, you might be able to wear these for driving. They certainly worked for me, although I did have to spend around a week getting used to the lenses before I felt safe enough behind the wheel. Now, they're like second nature, and my old driving glasses are obsolete.
Frames
These are by far my favorite frames, and I love the various color choices available. That being said, most men probably wouldn't want to be rocking these in the office (my partner flat-out refused!) as the cat eye design is definitely on the feminine side.
Another point to note is that because they're not rimless, there is a subtle frame line in view when I'm reading. But I'm willing to put up with that simply because they're so darn stylish.
Bonus Extras
These Kafirlos also feature blue light-blocking lenses and an anti-glare coating. So, they're great for computer work and smartphone usage, too.
They also reflect harmful UV rays without darkening your vision, so they're suitable for use outside on sunny days.
Key Features
Progressive multifocus design
Blue light-blocking lenses
Anti-glare lenses
Scratch resistant coating
Chic cat eye-style frames
Pack of 2
Pros
Progressive multifocus lenses– Creates seamless vision at different distances
Fashionable design– Chic and stylish frames in 2 different color options
Scratch-resistant– Your lenses stay in tip-top shape for longer
Smartphone friendly– The lenses feature blue light-blocking technology
Cons
They take a little getting used to– Allow for a 7-14 day adaptation period
Visible frame line– The rim of the glasses is visible while reading
3. LJIMI Transition Multifocus Sun Readers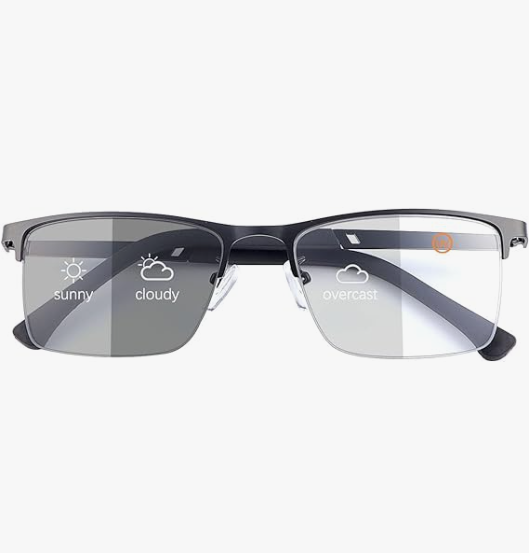 Both me and my partner love soaking up the sun while reading a good book. So we knew we had to try a pair of multifocus readers that had photochromic transitions to see how they fared outside.
At first, I was skeptical. I've tried various transition lenses for my regular distance glasses over the years, and only some of them have been worth the extra cost.
But I was pleasantly surprised by the quality of the tints on these Ljimi multifocals. Don't get me wrong, they're not super dark, and these won't replace your regular sunnies for everyday use. But the gradient change is perfect for reading in the sunlight without having to squint or strain your eyes.
Functionality
These lenses feature the same progressive multifocus technology we saw with the Kafirlo glasses, so the transition between each vision strength is soft and seamless.
The bottom part of these glasses utilizes full-strength magnification that's ideal for reading. The middle is a slightly reduced strength that works best for activities like typing, watching TV, and cooking. And the top is zero magnification, so if you don't need prescription glasses for driving, you can keep these on in the car.
Frames
These frames aren't exactly at the cutting-edge of fashion. But if you're looking for something simple, subtle, and unisex, then I think they do a pretty good job of ticking all the boxes. I particularly appreciate that, like the Missfive pair I talked about earlier, these frames are semi-rimless. So, there's no annoying frame line to get in the way of your reading.
Bonus Extras
I've already mentioned the photochromic transition lenses on these glasses, but they also feature a UV400 coating that helps protect your eyes from damage from the sun.
And, like all the glasses I've talked about so far, they block blue light, so they're perfect to use with your smartphone, laptop, or tablet.
Key Features
Photochromic transition lenses
Progressive multifocus design
Blue light-blocking lenses
UV400 coating
Semi-rimless design
Pros
Transition lenses– These glasses tint darker in the sun, and return to a crystal clear transparent when light levels fall.
Progressive multifocus lenses– Creates seamless vision at different distances
Smartphone friendly– The lenses feature blue light-blocking technology
UV400 protection– Prevents eye damage from the sun
Cons
They take some getting used to– Allow for a 1-3 week adaptation period
4. In Style Eyes Aviator Progressive Bifocals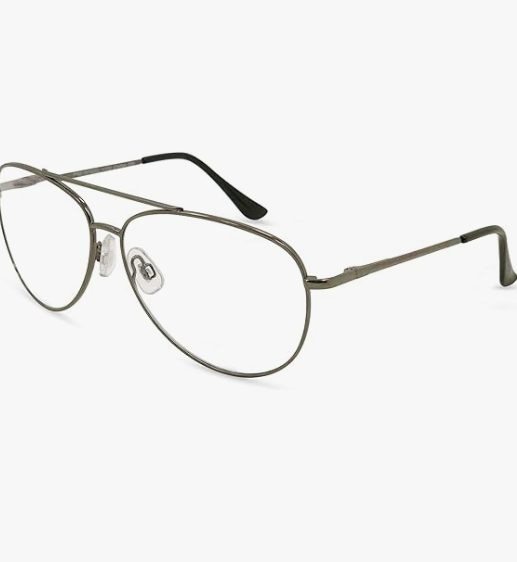 These In Style aviators were my partner's favorite pair of multifocals. But that's not because they're significantly better than the rest when it comes to reading. It's simply because they look so cool. And who am I to argue? The classic aviator shape suits almost everyone, man or woman, young or old.
But these glasses aren't just for looks; they also pack a punch when it comes to magnification, too.
Unlike the rest of the glasses on our list, the In Style aviators are bifocals, so if you need a non-magnifying layer, these aren't the pair for you. But if you're looking for something to help with close-up reading and mid-range activities like computer work or cooking, you can't go wrong.
Functionality
For reading and other activities that need a little extra magnification, these bifocals are perfect. Each pair comes with temple spring hinges, so they fit most people comfortably without pinching or pressing against the nose or temples. For reference, my partner usually struggles to find sunglasses that don't press the sides of his face, but these allow plenty of room.
Frames
These frames give Tom Cruise in Top Gun vibes, but aside from looking impossibly cool, they're also pleasantly lightweight. The flexible yet durable metal comes in three different tones; silver, gold, or pewter, so you can mix and match them to any outfit or style.
Bonus Extras
This is where these ultra-stylish aviators fall short. Unlike all the other multifocal we've tried, these glasses don't have a built-in blue light blocker. It's a shame really, as this simple addition would have put them in the running for the number one spot for me. My partner, on the other hand doesn't mind. Unlike me, he doesn't work on a computer all day long, so this feature isn't as important.
Key Features
Bifocal magnification
Unisex design
Classic aviator style
Lightweight yet durable metal frames in gold, silver, or pewter
Temple spring hinges for an easy fit
Pros
Progressive lenses– No obvious lines for seamless vision, near and far
Timeless aviator style in 3 colors– Looks great on men and women of all ages
Case and cloth– Includes a high-quality case to keep your glasses safe
One size fits all– The temple spring hinges mean these frames fit most faces
Cons
No blue light-blocking lenses– The only pair of glasses on our list without this feature
How to Choose the Best Multifocal Glasses for Reading?
There are a lot of options out there, and it can be hard to know where to begin. I was way out of my depth when I started searching online for multifocal. But then, I asked myself the following questions to narrow down my search.
What Do I Need my Glasses for?
Is it just for reading? Or do you also want to be able to improve your vision while working on the computer, chatting with co-workers, and attending meetings? What about driving?
Different multifocus glasses have different magnification options. Some feature a non-magnified top layer, letting you see clearly into the distance without distortion. Others, particularly bifocal options, are magnified through varying degrees across the whole lens. So, they might not be suitable for activities that require long-distance vision, such as driving.
Does Style Count?
Are you only using your multifocals for reading at home? Or will you be wearing them at work, in the office, or out on the street? This might influence the style you go for. Personally, I don't mind looking like a grandma in the comfort and privacy of my own home. But out in the real world, I needed something a little more chic.
Are they for Inside or Outside Use?
Most multifocal glasses are designed mainly for indoor use. That being said, out of all the ones we tried, any of them would work for reading outside on a cloudy, overcast day. But when the sun comes out, you might want to go for photochromic transition lenses that protect your eyes from UV rays.
Do I Need Blue Light blockers?
During my search for the perfect pair of multifocus reading glasses, I discovered that most brands now feature built-in blue light blockers. This actually wasn't something I was looking for when I first began researching. But now that I've tried out several pairs, I'm hooked, and it's a definite necessity for me.
FAQ's
Can I purchase multifocus reading glasses without a prescription?
Absolutely! None of the options I talked about in this post require a prescription. Simply select the magnification strength you need from the drop-down box before you check out.
How do I know what magnification strength I need?
Readingglasses.com has a handy chart to help you find the ideal magnification strength of your multifocals. Alternatively, you can visit an optician or drug store in person and try various strengths of reading glasses in real life. Note down the strength, and select that option when you checkout online. This ensures you find the perfect magnification for you.
Are multi-focus reading glasses suitable for people with astigmatism?
Yes and no. If your astigmatism is relatively mild, you'll probably have no problems using the kinds of multifocus reading glasses I talked about in this post. But if astigmatism is causing issues with distance and near vision, then it's best to visit your eye doctor, who can provide you with a prescription that is tailored to your specific needs.
In Summary
I never thought I'd enjoy the prospect of shopping for multi-focus reading glasses. But, both me and my partner have been surprised at how effective and stylish some of these glasses are.
Now, finally, we can read to our heart's content again without squinting and straining. And hopefully, with the help of this post, you can do the same. Happy shopping!