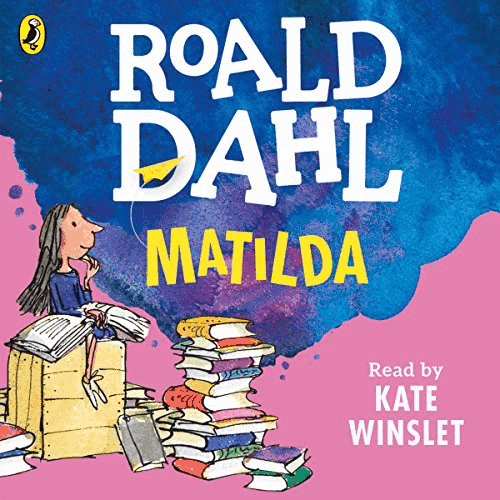 Matilda is one of the most famous children's books and films of the last 30 years. You can now also enjoy the Matilda audiobook, which is read by the multi-award-winning actress Kate Winslet. Roald Dahl first published Matilda back in 1988, but that doesn't still make it one of the most popular kid's titles of this generation. The Matilda audiobook can be enjoyed by kids of all ages and genders, saying that adults also still love the story.
Matilda Audiobook
Author – Roald Dahl
Narrated by – Kate Winslet
Type – Unabridged Audiobook
Length – 4 hours & 18 minutes
Language – English
Release date – 11/09/2014
Publisher – Penguin Books Ltd
Category – Children
Where you can listen to the Matilda audiobook
Audiobook Synopsis
Matilda is the story of a young girl from Buckinghamshire that has grown up in a family that doesn't value her existence or brilliance. Somewhat of a child genius, she has consumed a large number of books at her young age of five and a half.
Due to her parents acting the way they do she decides to play pranks on them. One time she decides to secretly bleach her dad's hair, who can be described as a show off salesman. At school, Matilda is adored by her favourite teacher, Miss Honey, for being the brightest student in the class. Unfortunately, the headmistress of the school doesn't share this outlook on her or any of the kids at the school. The headmistress, Miss Trunchbull, is the type that loathes children and wants to see them suffer.
Matilda finds out that she has an unexpected power, telekinesis, and wants to put it to good use against Miss Trunchbull and her unaffectionate parents. Miss Trunchbull takes a special disliking to Matilda, she sees her as someone that can challenge her superiority complex.
If you don't already know the full story we aren't going to tell you the rest and make sure you don't spoil it for your kids. We are sure that the Matilda audiobook read by Kate Winslet will be loved by your children, at whatever age.

Audible
Audible boasts the largest audiobook store. With a simple mobile and tablet app it's difficult to look elsewhere. Amazing Audible exclusives are the cherry on the cake! New Audible users will receive a 30-days free trial for the best audiobook service on the market!
About the author
Roald Dahl was born in Cardiff, Wales in 1916 to two Norwegian migrants. At home his first language was Norwegian, however, he was bilingual due to being raised in Wales. His father and elder sister passed away in 1920 when he was only three years old. After this, his mother debated returning to Norway but decided to stay in Wales as his father wanted their kids to attend British schools.
In his younger years, he enjoyed playing practical jokes with his friends, mainly against teachers and adults. During this era, children were treated badly at schools, which made Dahl not enjoy some of his school years. In 1934 once he had finished school he went to work for Shell Petroleum Company and after his training in the United Kingdom was sent to be stationed in Mombasa, Kenya.
Roald Dahl joined the RAF in November 1939 in Nairobi. This is where he would start to learn how to fly. In August 1940 he was authorised ready to face the enemy. His squad was based in Egypt and Greece during this time, and he was later sent back to Britain. Dahl was then referred to North America as an air assistant in the British Embassy. He wrote about his crash landing in Africa and his story was presented in The Saturday Evening Post. His first published piece. After the War in 1946, Dahl was pronounced unfit to stay on with the RAF, but he had reached the rank of Squadron leader during his service.
Dahl married in 1953 and had 5 children. His eldest child, Olivia, passed away at only 7. After writing The BFG he dedicated the book to her.
Dahl published his first children's book in 1943, The Gremlins. This was just the start of one of the greatest children's authors. Roald Dahl went on to write many best selling kids books, including James and the giant peach, Charlie and the chocolate factory, Matilda, The BFG, The Twits, Fantastic Mr. Fox and many more. In 1983 Dahl received the World Fantasy Award for Life Achievement.
Roald Dahl is in the world's best selling fiction authors of all time with over 250 million sales. His books have been translated into over 55 languages. His life was full of experiences and adventures, and with this, he gained inspiration for his books for children and adults.
You May Also Read: 40 Best Audiobooks for Your Next Roadtrip | Best of 2022