Marvel has been publishing comics since way back in 1939, and they're still going strong today.
With more than eighty years of history, they've produced a staggering amount of comic books and birthed countless classic heroes and villains alongside them.
It's difficult to imagine a world without Marvel; a world without timeless icons such as Spider-Man, Captain America, Hulk, Iron Man, and Wolverine. These characters have helped to shape generations of childhoods around the globe, and if their ongoing popularity is anything to go by, they'll be doing the same for generations to come.
But the Marvel universe is so immense that deciding which comic book to read next can lead to a serious case of choice paralysis.
With so many options, how on earth do you narrow it down to just one?!
Yet while I can't help you pick your next favorite Marvel read, I can tell you more about their immense collection and show you where to find some of the very best Marvel comics of all time for free.
How Many Marvel Comics are There & Where Can I Read Them for Free?
In this post, I'll delve into the history of Marvel and explore how many comics the company has published to date (spoiler alert… it's a lot!)
Then, I'll share four of the top-rated sites on the internet to read Marvel comics for free.
The History of Marvel Comics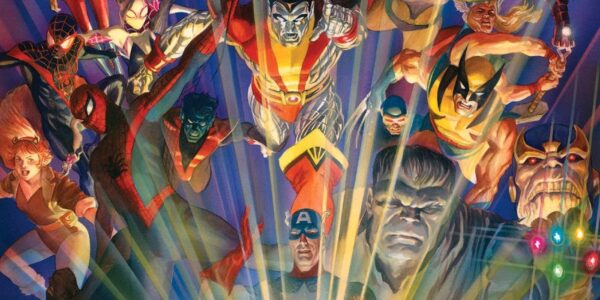 To get an idea of how many Marvel comics there are, we need to take a brief journey back in time and look at the history of this world-famous publisher.
Back in the early days, Marvel wasn't known as Marvel. Instead, the original company was called Timely Comics, which began as the brainchild of pulp-magazine publisher Martin Goodman.
This was the start of the golden age of comic books, and Goodman saw the growing market as the perfect opportunity to launch a brand new enterprise.
Timely Comics' first-ever publication was released in October of 1939, under the simple title 'Marvel Comics #1.' It marked the debut appearance of the classic superhero 'The Human Torch', and the action-packed story grabbed the attention of readers across America.
A staggering 900,000 copies were sold within the first two months, and Martin Goodman knew immediately that he was onto a winner.
Timely Comics went from strength to strength, and just two years later, in March of 1941, Captain America was born. The patriotic superhero's debut issue, simply titled 'Captain America Comics #1,' sold almost a million copies and set the scene for decades of future success.
But it wasn't always smooth sailing for the Marvel enterprise. After the end of World War II, there was a shift in American attitudes, and suddenly, superheroes were no longer as fashionable as they once were.
And so, Goodman was forced to shift focus to a wider range of genres, such as crime, horror, romance, espionage, and sports.
He began publishing these titles under the logo of his news distribution company, Atlas News, and ultimately, Atlas Comics was born.
These were tough times for Goodman and his team, and the instant success of their first comics proved hard to beat.
Yet the downturn didn't last for long, and between the mid-1950s and early 1960s, superheroes became popular all over again. This was thanks in part to Marvel's rival company, DC Comics, who began introducing their classic characters such as Superman, Wonder Woman, Batman, and the Green Lantern to readers across America.
Atlas Comics jumped on the superhero bandwagon, and soon after, they officially became known as Marvel Comics.
Then, in 1961, the Fantastic Four hit the scene and attracted a whole new set of adult readers to the Marvel universe.
Gone were the days of polished, handsome, and gleaming superheroes who always say and do the right thing. Instead, these new icons had human traits and flaws that contrasted with their incredible abilities. Some characters, such as the Hulk, even looked like villains, and this fresh approach to these popular heroes saw Marvel soar from strength to strength.
This was the peak of what would later be dubbed 'The Marvel Age of Comics,' and many of the stories from this era are still making an impact on readers around the world today.
You May Also Read: Tarzan of the Apes Most Interesting Book Characters
How Many Marvel Comics are there in Total?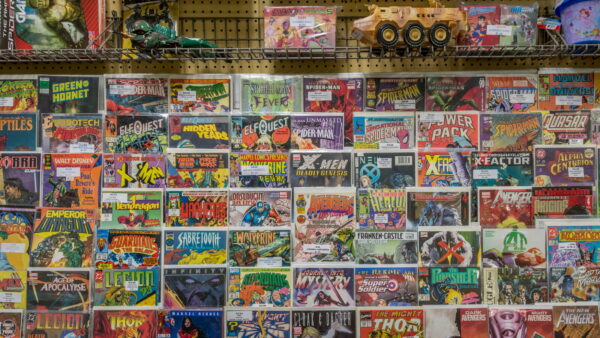 Ever since those early days, the company now known as Marvel has been publishing an incredible amount of comics; in fact, there are so many, it's hard to define an exact number.
There are a variety of estimates to be found online, but all we know for sure is that since the first issue was released in 1939, the company has published at least 40,000 issues, and that number continues to rise rapidly each year.
That's an incredible back catalog to work through, and even the most fanatic aficionados would struggle to take on the task of reading every single one. But in case you're thinking of giving it a go, it's estimated that you'd need 440,000 minutes, or a whopping 917 days, to read everything in the Marvel universe.
But if that feels like a little too much commitment, don't worry; just continue your Marvel reading journey one comic book at a time.
And to help you explore the very best that this famous publisher has to offer, I've put together a list of some of the best places on the internet to read Marvel comics for free.
Where Can I Read Marvel Comics for Free?
The official home of Marvel is, of course, marvel.com, where you can find a full, alphabetized list of every comic in their vast universe. But of course, they're not giving them all away for anything.
Most comics on the official Marvel site come at a cost, but there is a small selection of free issues to explore too. This list changes all the time, so it's well worth checking in regularly to see what's on offer.
Another great alternative is Marvel Unlimited, an official offshoot of the main Marvel site where you can read as many comics as you like for a small monthly subscription fee.
While Marvel Unlimited might not be completely free, if you're an avid Marvel fan who wants to explore as many comics as possible, this is a great, cost-effective way to do it.
But if you're short on cash or want to sample some Marvel comics for free before you commit, there are some great sites online where you can read select issues without spending a dime. Below, I've listed four of the very best to get you started.
ComiXology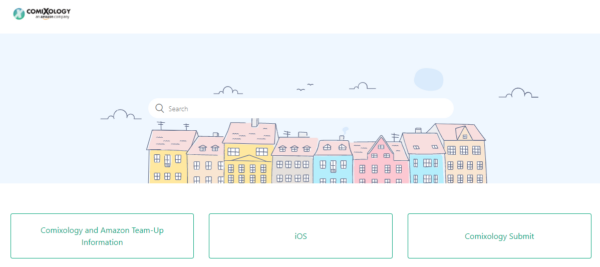 ComiXology is one of the most popular comic book sites on the internet, and there's a lot more to explore here than just Marvel. They've got tons of popular titles from the likes of DC, Dark Horse, BOOM, and Image, plus there's a vast array of manga on offer too.
But just like the official Marvel site, most of the comics on ComiXology are charged at a small fee. That being said, there's an impressive collection of Marvel issues to read and download for free, so I highly recommend checking out their inventory.
GetComics

GetComics has a great selection of both Marvel and DC issues to choose from. Many of them are completely free, and you can download them to read offline whenever you please.
They also have a hefty selection of lesser-known comics, and it's a great place to find new indie publications that you won't find on the major sites.
The GetComics website is a little clunkier than the likes of the official Marvel site, but its superior collection of free content makes it well worth a visit.
There are no hidden extras to pay for, and the website offers a surprisingly easy browsing experience that lets you search by title, genre, or keyword.
Digital Comic Museum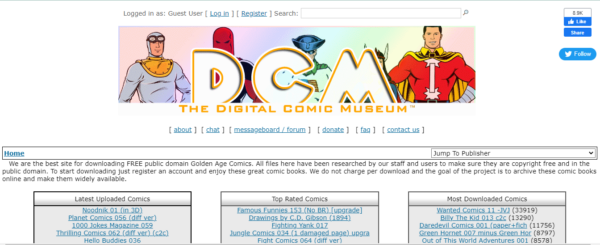 If classics from the golden age of comic books are your thing, then your first port of call should always be the Digital Comic Museum.
This is the ultimate place to find original Marvel publications from the 40s and 50s, including many that time forgot.
Every single comic on the site is out of copyright and in the public domain, so you can download, read, and share as many as you like, all for free. And as well as Marvel classics from the 20th century, you'll also find tons of older publications from other famous names such as DC, Archie, and Magazine Enterprises, just to name a few.
View Comic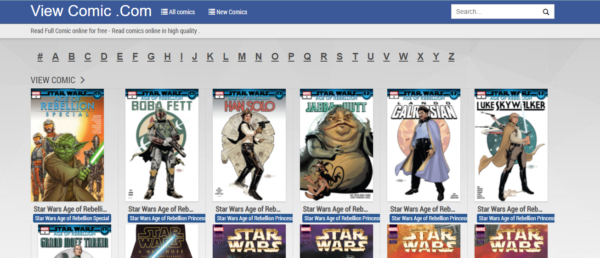 View Comic is another leading source of top Marvel comics, as well as comics from other famous publishers such as DC, Image, and Vertigo.
There are plenty of free titles to choose from, and there's no need to sign up or subscribe.
The only downside is that you'll need to know what you're looking for, as the search bar only allows you to browse by title rather than by genre or keyword.
Conclusion
There are so many Marvel comics that even the most dedicated fans would struggle to read them all in a lifetime!
And while most of the 40,000 + issues out there come at a cost, many are also available to read for free on the sites listed above.
Where do you get your Marvel comics from, and which ones are your favorites? Let me know in the comments below!