At A Glance: Our Top 5 Picks for George RR Martin Books of All Time:
What's the first thing that comes to your mind when you hear about George RR Martin? If your answer isn't Game of Thrones, there's a high chance that you've been living under a rock for the last few years!
But is Game of Thrones the only work of his that we should celebrate? The answer is no. It'd be a shame to limit such an influential writer in one series, merely because it made its way into television.
That's why we're here to shed some spotlight on some of the best George RR Martin books of all time.
About George RR Martin
George RR Martin was a student at Northwestern University. He rightfully earned his bachelor's degree in 1970, and he promptly followed it by a master's degree in journalism in 1971. That's also the year when his first short story, The Hero, saw the light.
In 1991, he started to work on the novel that would become his breakthrough into the literary world later on. A Song of Ice and Fire was published in 1996.
And to this day, Martin hasn't written its closing act yet. He's been promising for it for quite some time now, but promises have always been writers' Achilles' heel.
Meanwhile, he published a bunch of series like A Game of Thrones, A Clash of Kings, A Storm of Swords, A Feast for Crows, and A Dance With Dragons.
The 9 Best Books Written By George RR Martin
Along with A Song of Fire and Ice, Martin wrote many books that are worth reading. Here are summaries of our 9 favorite George RR Martin books that are equally mesmerizing.
IMAGE
PRODUCT
FEATURES
PRICE
The Armageddon Rag

• Available in Kindle, Hardcover, Paperback and Mass Market Paperback Editions
• Paperback: 384 pages

View on Amazon

Dying of the Light

• Available in Kindle, Audiobook, Hardcover, Paperback and Mass Market Paperback Editions
• Paperback: 288 pages

View on Amazon

Fevre Dream
• Available in Kindle, Audiobook, Hardcover, Paperback and Mass Market Paperback Editions
• Mass Market Paperback: 480 pages

View on Amazon

Tuf Voyaging
• Available in Kindle, Hardcover, Paperback and Mass Market Paperback Editions
• Print Length: 445 pages

View on Amazon

In the House of the Worm

• Available Paperback Edition
• Paperback: -

View on Amazon

Dreamsongs: Volumes I and II

• Available Formats: Kindle Edition, Hardcover, Audio CD & Paperback
• Paperback : -

View on Amazon

A Song for Lya
• Available Format: Paperback
• Paperback: 228 pages

View on Amazon

Nightflyers
• Formats: Kindle, Audiobook, Hardcover, Paperback and Mass Market Paperback
• Paperback: 208 pages

View on Amazon

A Song of Ice and Fire

• Format: Paperback
• Paperback: 5600 pages

View on Amazon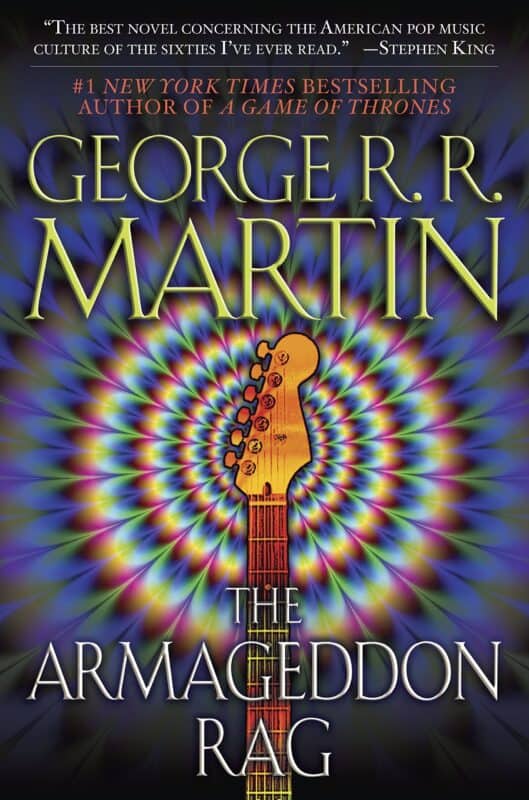 In this supernatural novel, Martin goes into the wild excitement of the '60s. He delves into a world of rock 'n' roll, murder crimes, and revenge. No one could've joined these three forces together as George RR Martin did in The Armageddon Rag.
Sandy Blair, a struggling journalist, gets pulled into a one-of-a-kind murder incident: a rock promoter, Jamie Lynch, was found with his heart torn out of his body. The truth unravels, and Lynch's murder is connected to yet another murder that took place 10 years prior.
Sandy Blair should have known better than to get amid the bizarre details of the murder. He finds himself witness to a demonic, apocalyptic crime, but that doesn't stop him. He goes off searching for any survivor of Nazgul, the music band that was once a client of Jamie Lynch.
Instead, he becomes trapped in his past, with a supernatural element on edge. The novel will take you a thrill ride that'll change your perspective of the '60s era.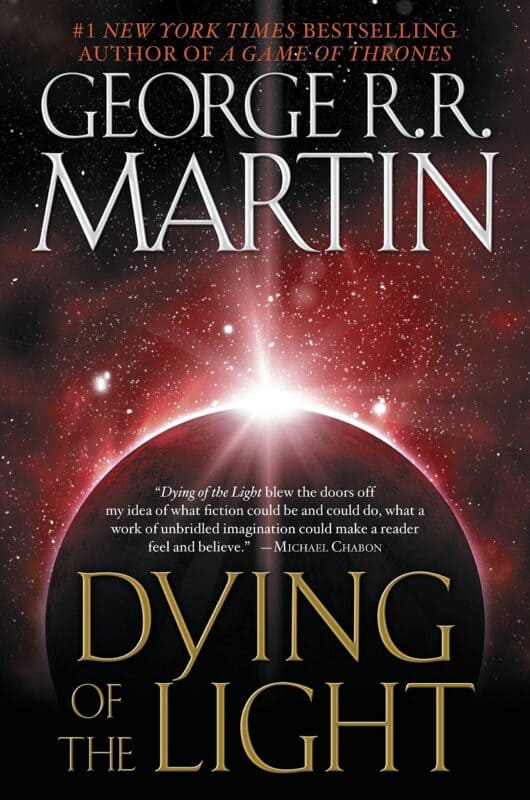 Dying of the Light was Martin's debut into the literary world, and what a debut it was! The melodramatic adventure takes action on an abandoned planet that's constantly speeding into deep space. It's a world where everyone is trying to make amends for their past, but the lack of jurisdiction doesn't exactly make it easy.
Dirk t'Larien didn't expect to find Worlorn planet bound to endless twilight. And he definitely wasn't prepared to see his beloved Gwen Delvano held captive by another man. He's persuaded to protect Gwen, so he makes a fatal decision.
On a planet that's speeding to its unstoppable demise, and without his lover by his side, what does Dirk have to lose? More than you think. You'll know all about it when you read the most thrilling love triangle to date.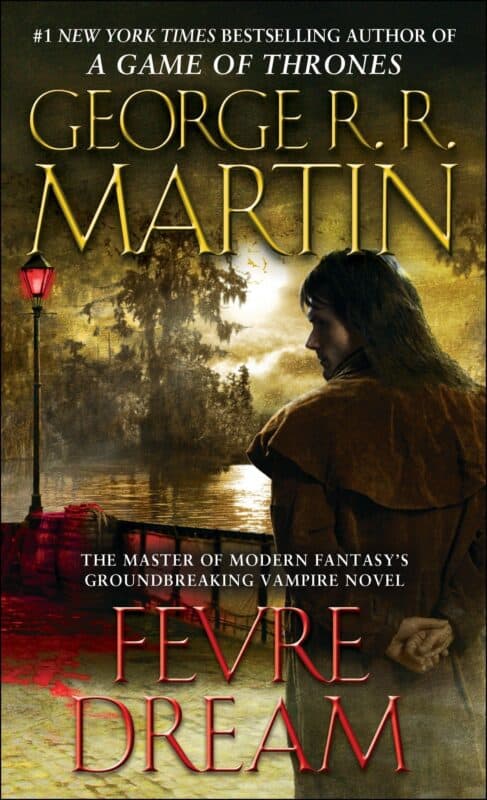 Edward Cullen isn't the only cold vampire we know, although he's the only one that sparkles.
The pale eyes of Joshua York give him away, and he doesn't care enough to hide it. Amid the bizarre life that he leads, he decides to give a sea captain, Abner Marsh, an offer that he can't refuse.
The vampire thriller, Fevre Dream, tells the story of a haunted ship that bears witness to one of the most remarkable murders in literature.
No man should have ever lived through what Abner Marsh witnessed, losing all but one of his fleet. The riverboat captain had all the reasons to question Joshua York's offer, yet he decided to turn a blind eye and go with the flow.
Once the boat starts breaking into the Mississippi water, it becomes clear to Marsh that he'd be living proof of one of humankind's most mysterious murders.
What was Joshua York opting for with his unfathomable investment? That's for George RR Martin to know and for you to find out.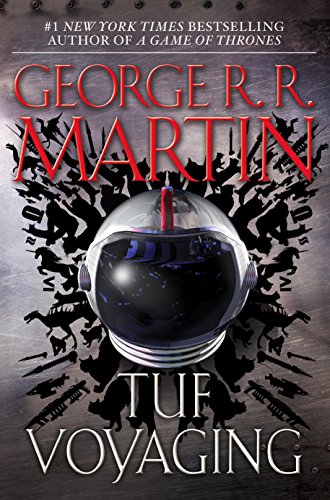 In Tuf Voyaging, Martin takes a darkly humorous approach that doesn't make the novel any less awesome.
The book is a collection of Haviland Tuf's adventures, a quirky hero who's obsessed with cats. Did we mention that he's a space-trader? Yes, an interesting mix indeed.
What's even more impressive is the position that he finds himself in, with full control over the Ark, a ruthless environmental piece of warfare. Now, he ought to clear his space of human colonists and tyrants who need someone to put them back in their place.
Armed with the most dangerous weapon in space alongside his comic nature, Tuf goes on to fight some of the worst antagonists that humankind knows of.
He vows to clear the universe of the dictators who know nothing about codes of honor. And he gracefully does it, one dictator, at a time.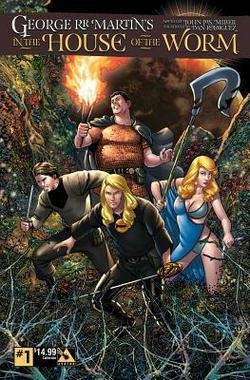 What do you expect to happen in a worm's house? You wait for everything to go wrong, and this is exactly what happens. In the House of the Worm has the most thrilling setting of Martin's books yet. It's cast in a bleak underground city, on a planet that's quickly deteriorating.
A privileged young man, Annelyn, seeks revenge after a skilled hunter, the Meatbrigner. He's not willing to do it alone, so he gathers a group of friends to help him. Wealth meets power, and the adventures begin.
They begin unraveling truths that they're no match to. Then, the incidents rapidly escalate and they connect the dots. In the process, they uncover the horrifying truth of the White Worm, a mythical creature that people worship.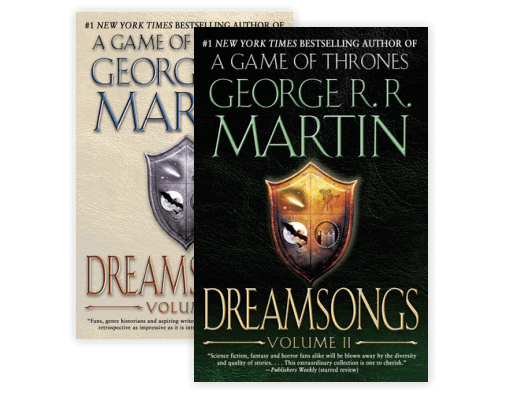 If we can name two things that George RR Martin mastered, it'll be science fiction and short stories. Dreamsongs is a refined combination of both, split into Volume I and Volume II. It's a collection of all his early work for only the truly devoted fans.
Dreamsongs volumes include some of Martin's most renowned stories, such as Nebula, Hugo, and Bram Stoker. That's in addition to Sandkings, which is a story of an affluent playboy who's in love with rare animals.
His passion throws him in the middle of a supernatural story, with an unheard-of creature that's erratically growing out of proportion.
The book also contains The Ice Dragon, which will later inspire Martin to write a New York Times bestseller under the same title. The story is that of a girl who makes friends with the wrong creature. And we all know a wrong creature in a Martin novel equals a dragon.
If you get bored with long novels, these volumes will be a nice option for you.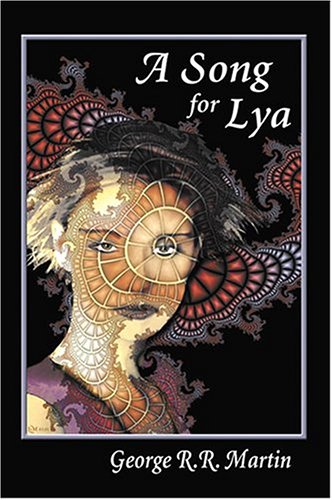 Thanks to A Song for Lya, George RR Martin rightfully gained his first Hugo award. It was the first of many to follow later on.
The novel is a story of two psychic lovers, Robb and Lyanna. Robb can interpret people's feelings, and Lyanna has the ability to read thoughts. They're literally the dream couple!
The paranormal couple goes on exploring the confines of planet Shkea, where many humans are converting into a newly-found religion.
Out of nowhere, the humans begin to disappear, and the dark truth behind the religion begins to unravel. It appears they should have known better than to get intrigued by the faithful human beings.
A telepathic duo in a confrontation with a religiously devout group of people who start abruptly disappearing.
How do you think this will turn out? It's one of Martin's most exhilarating plots, indeed!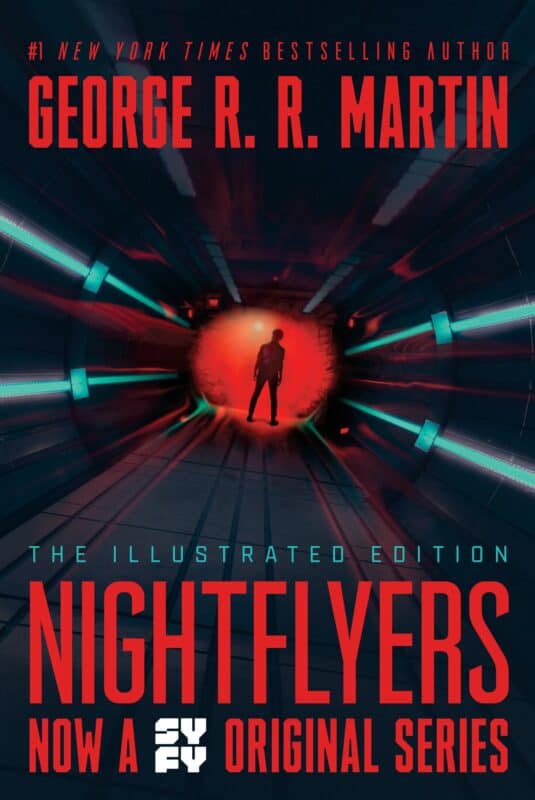 Nine wild adventurers go on a legendary mission, studying a mystifying alien species that only recently made itself known. Their only available transportation means is a spaceship that goes by the name Nightflyer. It's manned by Captain Royd Eris, who refuses to interact with people except through a hologram.
And that's not even the strangest thing on board. The crew suddenly find themselves at the mercy of a savage murderer. A bloody tide breaks out, and no one knows who's the one behind it. Their only hope is to get out with their lives intact, but mercy isn't exactly Martin's strong suit.
Unlike Agatha Christie's novels, this time, the killer isn't one of them. Are the nine scientists and the Captain the only ones on the haunted vessel? I'll leave it for you to guess.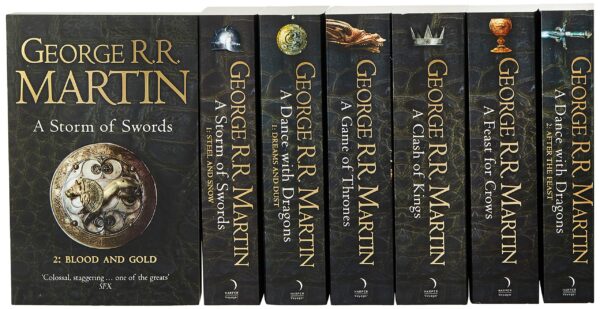 It'd be rude to leave A Song of Ice and Fire out of this list. It's still Martin's most iconic publication to date. The series takes place in a fictional continent, Westeros, and extends later on to Essos.
Between the rise of Daenerys Targaryen and the fall of a massive wall of ice lies a mystical history. It's threatened to disappear amidst the fire of dragons.
The book adopts three main storylines in the series. Out of the three, the most prominent storyline is that of a somber yet historical war over the continent of Westeros. It's a full-blown battlefield between several leading families.
The second storyline is an emerging threat of the Others, a bunch of supernatural creatures endangering a continent that's already falling under the ruins of war.
The third storyline is that of the last rightful heir to the throne, Daenerys Targaryen. A human with dragon blood running through her veins.
She returns to Westeros in hopes to claim the throne amidst the civil war going on there, which further complicates matters.
Especially when the promised long gone winter of Westeros makes a startling return.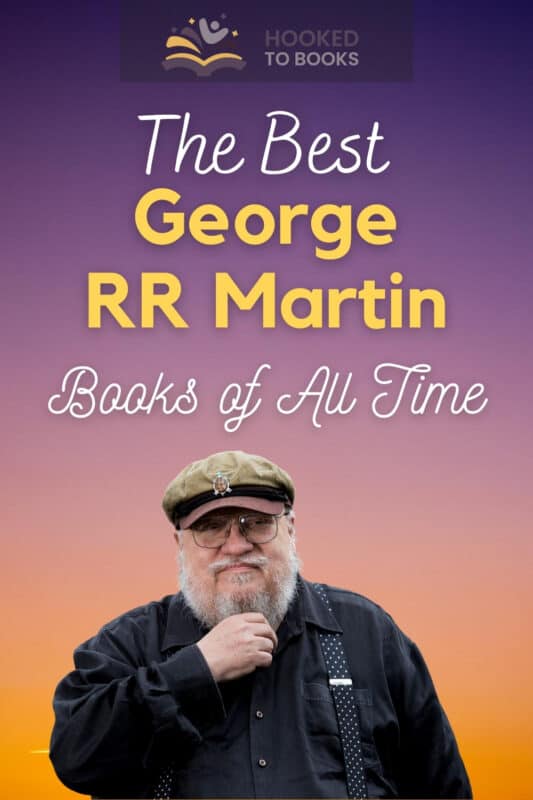 A List of George RR Martin's Novels in Order
● Dying of the Light (1977)
● New Voices I (1977)
● New Voices II (1979)
● New Voices III (1980)
● New Voices IV (1981)
● Windhaven (1981)
● Fevre Dream (1982)
● The Armageddon Rag (1983)
● The Science Fiction Weight-Loss Book (1983)
● The John W. Campbell Awards Volume 5 (1984)
● Night Visions 3 (1986)
● The John W. Campbell Awards Volume 6 (1987)
● Night Visions: The Hellbound Heart (1987)
● Card Sharks (1993)
● Marked Cards (1994)
● Black Trump (1995)
● A Game of Thrones (1996)
● A Clash of Kings (1998)
● A Storm of Swords (2000)
● Dreamsongs: Volume I (2003)
● The Art of George R.R. Martin's: A Song of Ice and Fire (2005)
● A Feast for Crows (2005)
● Shadow Twin (2005)
● In the House of the Worm (2005)
● The Glass Flower (2005)
● The Lonely Songs of Laren Dorr (2005)
● Dreamsongs: Volume II (2007)
● Hunter's Run (2007)
● The Ice Dragon (2007)
● Songs of the Dying Earth (2009)
● Songs of Love and Death (2010)
● A Dance with Dragons (2011)
● Down These Strange Streets (2011)
● The Lands of Ice and Fire (2012)
● The Wit & Wisdom of Tyrion Lannister (2013)
● Dangerous Women (2013)
● Warriors (2013)
● Old Mars (2013)
● Dangerous Women 2 (2014)
● The World of Ice and Fire (2014)
● Rogues (2014)
● A Knight of the Seven Kingdoms (2015)
● Dangerous Women 3 (2015)
● Mississippi Roll (2017)
● Low Chicago (2018)
● Texas Hold 'em (2018)
● Fire and Blood (2018)
Closing Thoughts
In every single one of Martin's novels, he teases his readers. He'll let the possibility of a supernatural element dangle in front of your eyes. Yet, he won't confirm it until the magic makes an emergence out of nowhere.
George RR Martin's books are different; his novels are only for the truly courageous. They'll let you enter a world of decaying cities, broken characters, and seemingly endless revenge crimes. You don't want to miss that!
Don't forget to tell us which book is your go-to read of the week!