Dream Me by Kathryn Berla
Title: Dream Me
Author: Kathryn Berla
Published by: Amberjack Publishing
Publication date: July 11th 2017
Genres: Romance, Time-Travel, Young Adult
Synopsis:
Zat is a dreamer from the distant future—a time when humans no longer dream and Earth is a desolate wasteland. He dreams of the beautiful Earth of the past, and a fiery-haired beauty named Babe. Against the wisdom of his peers, Zat decides to risk everything to travel back in time and live in Babe's dreams…
Babe is the perpetual new girl in town. Her father's job frequently moves the family around the country, and Babe just longs for a place to call home. As she settles into the sleepy town of Sugar Dunes, Florida, Babe begins to have strange dreams of a green-eyed boy named Zat. Night after night, Babe shows Zat her world. But the dreams come at the cost of nearly crippling migraines every morning. Babe's life outside of her dreams pales in comparison to her growing love for Zat and their time spent together.
But the more time Babe and Zat spend together in her dreams, the more Babe's pain increases, and Zat begins to question the reality of his existence. How can he live a life with Babe, when all they have is her dreams?
Can a dream become a reality?
Interview
– Hi Kathryn, thank you for joining us at Hooked To Books. Tell us where you found your inspiration to write "Dream Me". How did it start?
Two things came together for the inspiration for "Dream Me". First was my own experience as a California girl moving to the Florida panhandle and what a huge adjustment it was for me. But once I got to know the area and the people, I fell in love with it and love it to this day. Even though I moved back to California, I've always wanted to write about that beautiful area that most people outside of the South don't know much about even though it's one of the most beautiful beaches I've seen anywhere in the world.
My second inspiration came from a dream I had about a boy who came back in time to visit me in my dream. His name was Zat so I didn't change a thing. Somehow it just felt right to bring those two stories together.
– Do you have any real-life models for the protagonists in Dream Me?
I did have a few real-life models for several of the protagonists but it wasn't so much capturing the character as the essence of the character. So, none of the characters are based on real people but everyone I meet in life becomes a potential model for some aspect of one of my protagonists.
In Dream Me, Zat and Babe have to make a decision before Babe's pain becomes unbearable. This is somewhat similar to the setting in your previous book, 12 Hours in Paradise, where the main characters have their good time together running out very quickly. Is this something you constantly feel in real life, the limitation of your time?
This is such a perceptive question and the answer is, yes. So much of what happens to us in life is over before we have time to fully integrate it, whether it's to appreciate it or at least learn from it. I suppose that simply making sure to always live in the moment is the answer to that conundrum and yet many, if not most, of us find that hard to do. We worry about what's not happening, about the time we don't have. But there's something else—impermanence. It makes what we do have that much sweeter and more precious.
– You have lived in Europe, Asia, the Middle East, and Africa. That's quite a lot of places. How does that influence your view of the world, and your writing?
I like to think that it gives me an appreciation for the fact that we (in the US) are a relatively small piece of our Earthly pie. If I pick up a book to read, it's very often a book about a life, culture or historical period vastly different from my own. But I can only write about what I know personally so I hope somewhere someone is reading my books and learning something they didn't know about my world.
– Which places are your favorites so far? Why?
I can't think of a place I've visited that didn't fascinate me in some way. I love to visit places which coexist with their own ancient history. Where I live, there are very few standing reminders of civilizations older than several hundred years.
– Do you plan to visit Antarctica next? What would you bring there?
Haha! I'd love to visit Antarctica but I can't stand the cold so it probably won't happen. But one of my favorite books was "The Endurance" which takes place in Antarctica. That's as close as I'll get.
– What is something we may not know about you?
Hmmm….For years I worked as a projectionist in a movie theater. And speaking of jobs, my very first job was delivering newspapers. The local newspaper did a story on me because they had never had a papergirl before. But I don't think it ever made it to print.
– Thank you very much!
Thank you so much for hosting me 😊

About Author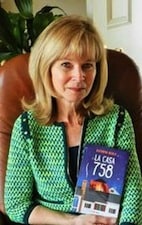 Kathryn Berla graduated from the University of California at Berkeley as an English major. She has lived in many different countries in Europe, Asia, the Middle East and Africa. She currently resides in the San Francisco Bay Area.
Website / Goodreads / Facebook / Twitter
GIVEAWAY!