The 5th generation iPad mini was released in 2019, and it's still a super popular tablet amongst Apple fans. Who doesn't want all the power and functionality of an iPad but in a more compact size? And if like me, you're a writer, you'll be using your device to get some serious work done too.
There's no Smart Connector on the iPad mini 5, but you can still sync it up to a Bluetooth keyboard and type away to your heart's content. So whether you own a 5th gen iPad Mini, or you're holding out for the iPad Mini 6, which is coming soon, this selection of keyboards should help you choose the perfect pairing for your tablet.
Best iPad Mini Keyboards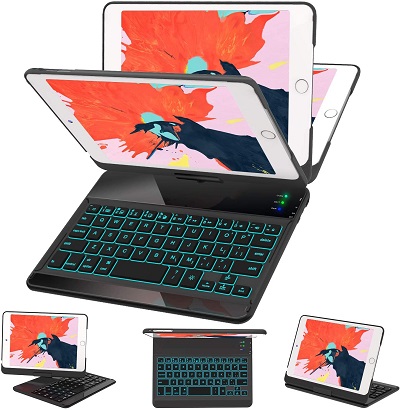 The perfectly snug fit for your iPad mini 5 or 4, this hard shell folio flip case protects your iPad while also doubling up as an effective keyboard. The keys are arranged in the same intuitive layout you'd expect from a full size keyboard, and the large chiclet-style keys mean you're less likely to make mistakes.
The 180 degree flip feature instantly transforms your iPad mini from a simple tablet into a mini laptop workstation. Plus, the 360 degree rotation means you can view your screen from all kinds of angles.
This keyboard case comes in seven different backlit color options with three adjustable brightness settings, so you can type away even in a dark room.
Pros
Keyboard and protective case all in one
Large chiclet-style keys
360 degree rotation for multiple viewing angles
Cons
The case's microfibre exterior is harder to keep clean.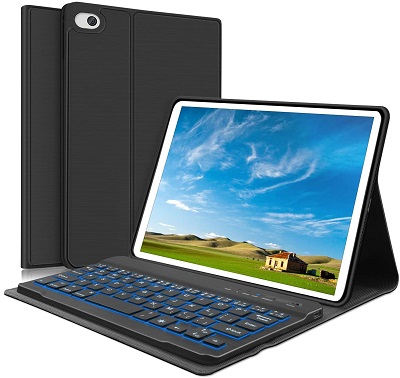 This BORIYUAN iPad mini keyboard case combo is super compatible; it's designed to fit the 1st, 2nd, 3rd, 4th and 5th generation iPad minis like a glove, transforming your device into a compact and portable laptop in seconds.
The removable keyboard is ultralightweight and ultraslim, so it won't add unnecessary bulk to your tablet. The quiet and tactile keys are intuitively laid out for seamless typing, and the color-changing backlit keys enable you to work well into the night.
The case itself is made from premium PU leather, so it's durable and easy to wipe clean. Plus, the built-in sleep/wake function means that when the keyboard case is closed, your iPad instantly enters sleep mode and wakes up again upon opening.
Pros
Affordable price
Keyboard and protective case all in one
Ultra-lightweight and ultra-slim
Auto sleep/wake function
Cons
Relatively short battery life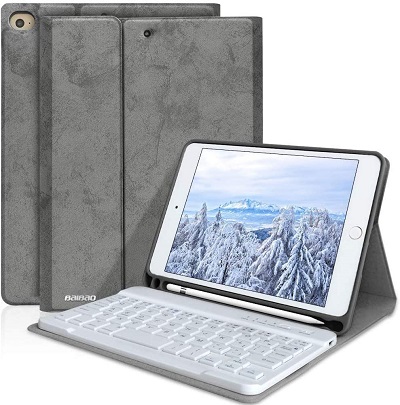 The perfect fit for both the iPad Mini 5 and 4, this keyboard case uses magnets to attach and detach easily to your tablet, making it a super snug fit.
The keyboard itself is removable from the case, so you can snap it in when it's time to do work or take it out when you're watching movies or browsing without the need to type.
This is a great option if you like typing on chunky, tactile keys rather than a flat-style keyboard. It may be small, but this keyboard closely replicates the typing experience of a full-size laptop and lets you click away at speed with fewer mistakes. And if you use the Apple Pencil, there's also a handy storage slot to keep it safe and secure.
Pros
Keyboard and protective case all in one
The keyboard is removable from the case
Apple Pencil storage slot
Chunky, intuitive keys
Cons
Heavier than some other keyboard/case combos on the market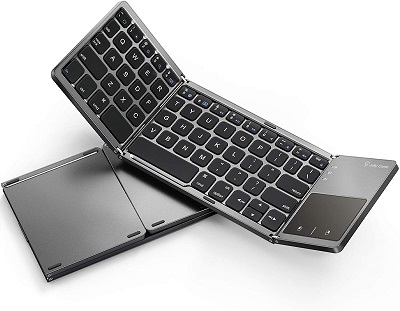 If you find it easier to type on a full size keyboard, but you need something compact to take alongside your iPad Mini on the go, then this Jelly Comb foldable keyboard is the perfect solution. It hooks up wirelessly via Bluetooth to any tablet, not just your iPad Mini, so you can switch between devices with ease.
The keyboard has large, spacious keys that are super responsive and help you type fluidly with fewer mistakes. The keyboard also features a sensitive touchpad with mouse buttons, so there's no need to carry a separate mouse with you when you're on the move.
Despite being a full size keyboard when opened, this foldable model is lightweight and slim, measuring just 5.98″x3.82″x0.71″ when packed away, making it a great travel companion. And with a battery capacity of up to 40 hours, you can bash out thousands of words before you need to recharge.
Pros
Compact yet folds out into a full size keyboard
Spacious, comfortable keys for easy typing
Great battery life
Can be used across multiple devices
Cons
No backlighting on the keys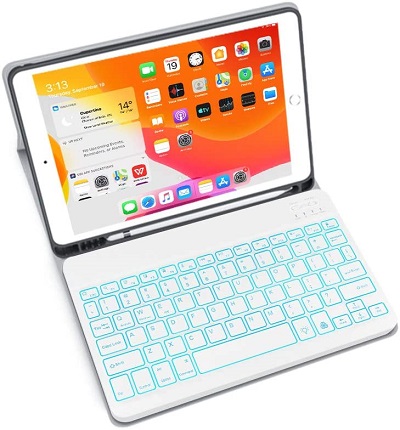 This standalone keyboard is compatible via Bluetooth to all kinds of devices, from iOS, Windows, and Android tablets and laptops, and even your mobile phone. But its compact size makes it particularly perfect for use with an iPad Mini.
The sleek, eye-catching design features seven backlighting color options, making it easy to type in dimly lit rooms and perfect for working well into the night. It's also ultra-slim and ultra-lightweight, so it's great for taking along on business trips or working vacations without adding bulk to your luggage.
This keyboard really stands out when it comes to battery life. It's fully charged within 2 hours and will last for an incredible ten days of constant use and up to 3 months on standby. There's also an auto-sleep mode that shuts off the keyboard after 10 minutes of inactivity, preserving your battery for even longer.
Pros
Affordable price
Compact and lightweight, perfect for travel
Seven color changing backlight options
Great battery life
Cons
Too small for those who prefer a full size keyboard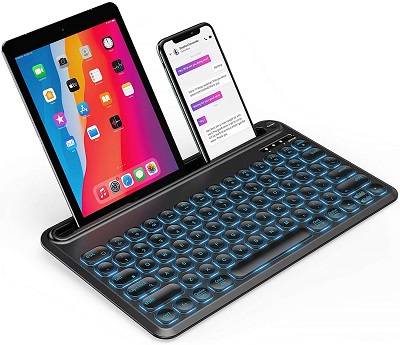 This Seed multi-device keyboard is the perfect companion for your iPad Mini, but it also pairs with any tablet or phone, so it's great if you need to switch between devices.
You can either prop up your iPad Mini separately or use the device slot to stand up your tablet, effectively transforming it into a mini laptop workstation.
Not quite full size, yet still much more spacious than many keyboards on this list, the Seenda has comfortable, tactile keys that are perfect for fast, seamless typing. There are seven color options for the backlit display, and you can also adjust the brightness from low to mid to high, depending on the working environment you're in.
This keyboard has a fantastic battery life of up to 3 months when used without the backlights, plus the auto shut-off feature helps to preserve your battery for even longer.
Pros
Pairs with any tablet or phone
Includes a stand-up slot for your device
Adjustable backlit display
Great battery life
Cons
More expensive than other models on this list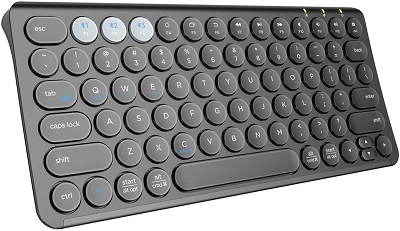 Here's another great option that pairs with any device, not just your iPad Mini. Perfect for those who prefer typing on a full size keyboard, this Samsers universal Bluetooth keyboard has a super-strong connection and doesn't need repairing after use; one click and your away.
Despite it being a full-size keyboard, it's still lightweight and slimline enough to transport around in a backpack or briefcase. And once set up, the rubber pads on the base keep it firmly in place on any surface.
Writers particularly love the unique round keys, which perfectly match the shape of the finger, leading to fewer mistakes, even when typing fast. The keys also feature anti-fingerprint keycaps, making them less prone to wear and fading and helping to keep out dust and dirt.
There's no backlight on this model, but this means it has one of the longest battery lives of any Bluetooth keyboard on the market right now. It can last up to 90 hours of solid typing and up to 6 months on standby, all on a single charge!
Pros
Affordable price
Round shaped keys for faster typing
Non stick rubber pads
Incredible battery life
Cons
No backlights for typing in darker rooms
Conclusion
You have so many options for choosing a keyboard for your iPad Mini. There's something to suit every writer; from keyboard/case combos that help protect your device to foldable and full-sized keyboards that can be used interchangeably with other tablets and phones. I hope this list has helped you narrow down your search to pick the perfect keyboard for all of your typing needs. Happy writing!
Check out these other great posts!
8 Best iPad Pro Case for Book Lovers
E-Reader vs. Tablet: Which One Should You Buy?
5 Best Tablets for Note Taking