Audible is the reigning champion of audiobooks. They are the biggest retailer of audiobooks worldwide and the most trusted audiobook subscription service around. And it's no wonder; they have a vast library of over 200,000 bestsellers, classics, and contemporary titles. When you sign up to Audible, you'd also get access to their selection of Audible Originals, which are unique audiobooks that can't be found anywhere else. 
But if you're new to this audiobook subscription giant, you might be wondering how it all works. Well, you're in luck. Here is the complete beginner's guide to teach you everything about how Audible works.
What Are The Basics of an Audible Membership?
Audible, owned by Amazon, is an audiobook subscription service. While you technically don't need a membership plan to buy audiobooks from Audible, it works out much cheaper and much easier overall.
There are several membership plans to choose from. The cheapest is a Zero Credit Premium Plus membership. Like the higher-priced plans, it offers unlimited streaming and downloads to selected audiobooks, as well as Audible Originals and podcasts. However, you don't get any credits included in this plan (a credit entitles you to one free audiobook).
If you're a regular listener, it makes much more sense to go for a plan that includes credits. These slightly higher-priced plans all include free credits, and if you sign up for an annual membership, you'll save money and receive extra credits too.
With all premium membership plans, once you've used up your credits for the month, you can purchase additional audiobooks at a discounted rate of 30% off. This, along with the bonus of free monthly credits, makes signing up for a full membership well worth it.
How Do I Sign Up to Audible?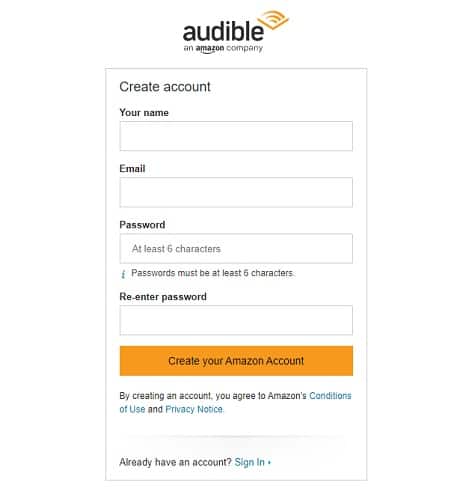 To sign up and listen through Audible, you'll need to download the free Audible app. This is available on all Andriod, iOS, and Windows devices. You can browse and download audiobooks using your phone, tablet, laptop, or even Alexa. 
To get started, simply sign-in on the app, or the audible website, using your Amazon account details (if you don't have one, you can sign up for free here). 
Whichever plan you choose, you're entitled to a free 30 day trial when you sign up. You'll immediately receive a free credit that you can exchange for any audiobook, and can browse their entire catalog to see if it's the right subscription service for you.
How Do I Find Audiobooks on Audible?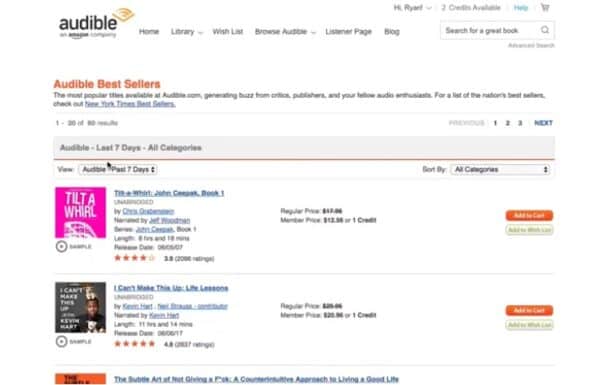 The Audible library has a pretty intuitive setup, and it's easy to browse and find what you're looking for.
To get started, log in to the Audible website and head over to the main menu at the top of the page. Hover over the "Browse" button, and a dropdown box should appear with different categories to choose from.
There are all kinds of categories, from science fiction, fantasy, mystery, thriller, and suspense, to health &wellness, business, and language learning. Each of these categories is broken down into smaller subcategories, so it's really easy to locate the book you need or find new titles based on your specific area of interest.
Once you've chosen an audiobook, you have two options. You can either use one of your existing credits to purchase the book or, if you've run out of credits or don't have any credits included in your plan, you can purchase the audiobook and pay for it outright.
Using your audible credits is generally a cheaper way of purchasing audiobooks, but occasionally there are Daily Deals and other offers, which mean that books are heavily discounted. Sometimes, these offers can work out less expensive than paying with credits.
Once you've made your purchase, the book will automatically be sent to the Audible app.
How Does the Audible App Work?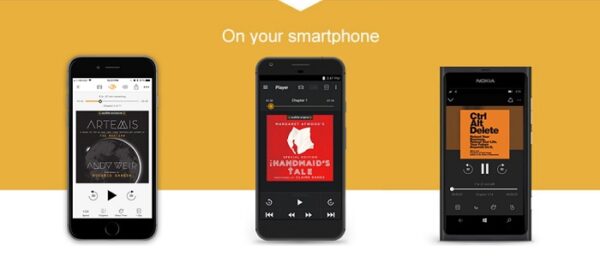 Just like the website, the Audible app is super easy to use.
There are several features on the home screen, including category browsing and personalized recommendations based on your purchase history through the "Discover" feature.
To listen to an audiobook, head over to "Your Library." Here, you'll find a complete list of all the titles that you've purchased, either through credits or by cash. You can then select any of these to download to your device. Just click on the title you'd like to listen to, and it will automatically download. Once your book is downloaded to your device, it's on there forever, or until you delete it.
As I mentioned earlier, you can use lots of different devices to listen to your audiobooks. And there's no need to worry about losing your place. For example, if you start listening on your cell phone and then later decide to continue listening on your tablet through a Bluetooth speaker, you'll pick right up where you left off. This is thanks to something called WhisperSync. As long as each device is connected to the internet, the app remembers where you're up to, so you can always find your place no matter how you're listening.
Can I Return Audible Audiobooks?
Yes! One of Audible's biggest membership perks is its generous returns policy. If you purchase and download a book, only to realize you don't like the narrator's voice or are not interested in the subject, it's super easy to return it and swap it for another one.
Simply click on your name in the top right corner of the screen, and select the "Account Details" option from the dropdown box.
Once you're on your account page, click on "Purchase History" on the left hand menu. You'll see everything you've purchased within the last 365 days, as well as all the information about the transaction (e.g., The price and if it was purchased using credits or cash). Now, simply select the audiobook you'd like to return and click "Return Order."
You'll immediately receive the credit back onto your audible account, and you can continue shopping for a new title.
Are There Any Additional Features for Audible Members?
Absolutely! One of the reasons that Audible is so popular is the wide variety of extra bonus features that it provides for its members.
There are Audible Originals, which are all unique to Audible. These are audiobooks that are created and produced by Audible themselves and can't be found anywhere else. There are a huge variety of Audible Originals audiobooks, from fiction genres like romance, sci-fi, and crime, to non-fiction works and even audio lectures.
You can also access news stories from the world's biggest news publications, listen to a huge selection of audiobooks in Spanish, and even listen to guided meditations or join audio fitness programs.
And don't forget that Audible Plus members receive free credits, plus an extra 30% off on any audiobook.
How Do I Cancel My Audible Membership?

Just like signing up, canceling your Audible membership is easy.
Go to the "Account Details" section on the website by clicking on your name in the top right hand corner.
Select "Your Membership." Now, you'll see an option to "Cancel Membership." You'll be prompted to confirm that you really do wish to cancel; simply click "Yes," and you're membership will be terminated. Whether you've paid through to the end of the month or the end of the year, your subscription will continue to work as normal until the time is up. It just won't be automatically renewed, and no more payments will be taken from your account. Easy!
Conclusion
If you're an audiobook fan and you've not signed up to Audible yet, then I highly recommend giving it a try. It's easy to use, hassle-free, and there's the biggest selection of audiobooks available anywhere on the internet. You can even try it for free for 30 days to make sure it's the right audiobook subscription service for you. 
Check out these other great posts!
How to Find Kindle Unlimited Audiobooks
The 10 Best Fantasy Audiobooks
40 Best Audiobooks for Your Next Roadtrip
How to Find Audiobooks on Spotify