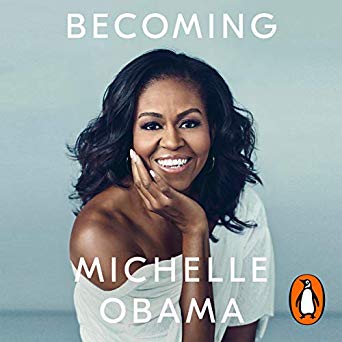 Michelle Obama is an iconic figure that needs no introduction.
In a rather warm and productive manner, she provides reflections and reminiscences of her life clearly in an audiobook. Regardless of the political spectrum, you tended to be, the sheer uniqueness and insights of the "the other Obama" portrayed could not be ignored.
In her new memoir, Becoming, Michelle Obama takes us on a journey of her life starting from childhood, through school time up to the White House years. As she narrates her story, a confident signature is displayed in every word she attars. Her story is unique and familiar to most of us.
Audiobook Details
Author – Michelle Obama
Narrated by – Michelle Obama
Type – Unabridged Audiobook
Length – 19 hours & 3 minutes
Language – English
Release date – 13/11/2018
Publisher – Penguin Book Ltd
Category – Biography
Becoming Audiobook Synopsis
In her memoir, Michelle welcomes listeners into her world with wonderful experiences from the time she was young in a small bungalow on the South Side of Chicago to when she was living an adult life able to handle serious tasks.
When growing up, her working-class parents were dedicated to supporting her and her older brother, Craig, through their education— her family really appreciated the value of education. She shows how her older brother inspired her to attend Princeton University where she graduated cum laude and went further to study law at Harvard Law School. During her college life, where she was a minority, she agitated for a heterogeneous harmony for all races in a move to inspire minority students.
After amassing stellar pedigree, she landed to her first job where she met a man — but, wasn't aware that he would someday become the 44th US president. Interestingly, she became his mentor and after he graduated, love sprouted in that relationship. As a young couple, they underwent various kinds of challenges: ranging from job, friends, and family to struggles in having children.
Time passed by, Barak ambitions in politics grew more and more, but Michelle conflicted. She didn't want to be on the limelight on the basis of politics. However, the sense of hope he promised, made Barak's supporters grow exponentially and Michelle couldn't stop it. For that reason, the theme of hope was prevalent throughout Becoming.
She later gives a vivid narration of her experience as the first African American to become the first lady of the United States of America. In the narration, she says that she has influenced various girls and women not only in the United States but globally. Together with her husband, she has shown how families can live both active and healthier lives.

Audible
Audible boasts the largest audiobook store. With a simple mobile and tablet app it's difficult to look elsewhere. Amazing Audible exclusives are the cherry on the cake! New Audible users will receive a 30-days free trial for the best audiobook service on the market!
About the Author
Michelle LaVaughn Robinson Obama is the wife of Barack Obama, (the 44th President of the United States' President) and first African-American to be the First Lady.
Being an Ivy League graduate, she managed to build a successful career, both as a lawyer, and writer, which she was able to maintain throughout her husband's early political career.
Whenever she encounters people, Michelle usually describes herself first as Malia and Sasha's mom. But, before she even became a mother, she was first the daughter of Fraser and Marian Robinson.
She was able to launch various initiatives, namely; Let's Move!, Joining Forces, the Reach Higher and Let Girls Learn.Through such initiatives, Mrs. Obama empowered women and young people and advocated for healthy families, higher education, adolescent girls education, and service members.
You May Also Read: 40 Best Audiobooks for Your Next Roadtrip | Best of 2022