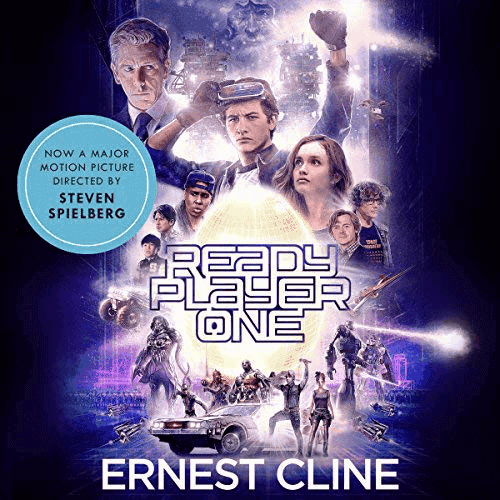 Ready Player One audiobook from Ernest Cline is one of the best audiobooks around. That statement is backed up by over 18,000 happy Audible listeners. The American actor, Wil Wheaton, narrated the audiobook version back in April 2012 and was an instant hit. The Ready Player One audiobook is set in the not so distant future. Earth now hardly exists after the previous generations destroyed it. Due to this, humans now fill their time in a virtual reality. Inside this virtual world, there is a contest for infinite riches, Wade Watts has his eyes on this prize.
A feature-length film was released earlier this year in March directed by Steven Spielberg. Some may prefer the film. However, we feel that audiobook lovers like ourselves will prefer the Ready Player One audiobook! Find out where you can listen to this amazing book below.
Ready Player One audiobook story synopsis
Set in the 2040s, the Ready Player One audiobook is a scary idea of what the world may look like then. Earth is now in peril due to the generation before completely abusing all resources. There is no oil. Poverty, starvation, and diseases have become the norm. Is there still anything worth living for?
A virtual reality named the OASIS is now the go-to place for most of the human race. Including one young man named Wade Watts, the main protagonist. The OASIS is a made up utopia that you can enter and be whatever you wish. The OASIS founder James Halliday passed away without an heir to his wealthy virtual throne. Before he died he offered all of his possessions and the ownership of the OASIS to one person. The one person that tracks down the ultimate lottery ticket that is secretly hidden inside this virtual reality. It is Wade Watts' aim to discover this ticket to gain these treasures. There are tricky riddles to solve and he is up against millions of others all searching for the same prize. Who will succeed and whose path will cross with Watts'?
To listen to this explosive title you can download the Ready Player One audiobook from Audible.
About the author
Ernest Cline is the creator of the Ready Player One book. He is an American novelist calling from Ohio. Cline is also a poet and a screenwriter. After publishing Ready Player One he followed with Armada that was also published as an audiobook. Rumours of a prequel to Ready Player One have been confirmed, however, there are no dates set yet.

Audible
Audible boasts the largest audiobook store. With a simple mobile and tablet app it's difficult to look elsewhere. Amazing Audible exclusives are the cherry on the cake! New Audible users will receive a 30-days free trial for the best audiobook service on the market!

Audiobooks.com
Audiobooks.com has a wide range of titles on offer. Their app is simple to use, you can even purchase new audiobooks from within it. Being able to buy extra credits for the same monthly cost is a great addition. Enjoy 30-days for free when you sign-up!