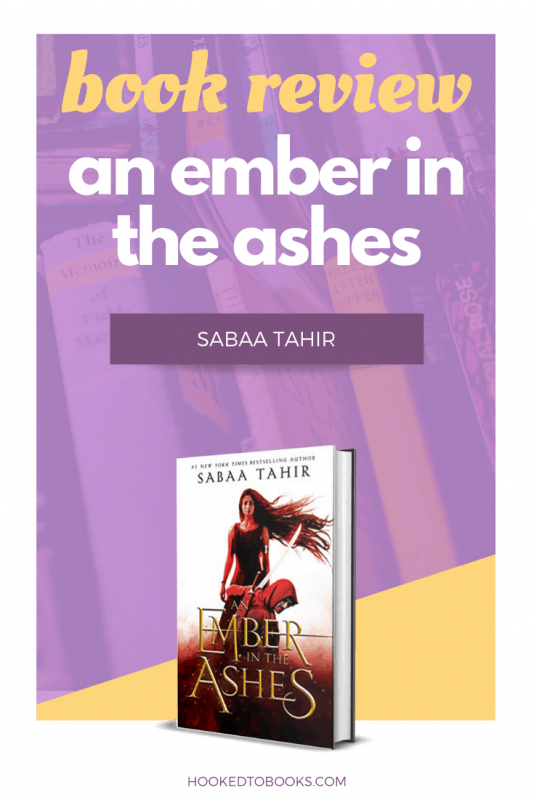 Before I write anything about this book, there is a book trailer of An Ember in the Ashes by Sabaa Tahir on youtube that I believe everyone should see before reading the book.
An Ember in the Ashes is a fantastic, fast-paced fantasy novel that leaves no stone unturned in its attempt to make sure that the readers are thoroughly engaged and entertained. While it may look like all other fantasy-novels with its dystopian-type set-up and vintage characters for the lack of better word, it maintains its uniqueness through the premise, the writing style, and its plot.
What's the book about?
Laia is a scholar living under the rule of a Martial Empire that frowns upon scholars like one does on terrorists. Her brother gets arrested for treason and Laia is willing to go to any lengths to get him out.
For that, she goes as a slave to Blackliff where the Masks (masked soldiers) who are the deadliest and cruelest soldiers are trained. The future of the empire rests on their shoulders, and they are still unaware of what is expected of them.
Action-packed
Laia is willingly in the middle of the very world she hates. To save her brother, she has joined hands with a rebel group and agreed to go deep into the heart of Martial Empire and spy for the rebels.
Elias is the most exceptional masked soldier, trained to be brutal and deadly. However, in his heart, he doesn't want to be. The most exciting part is how their fates are intertwined. This book is written in the dual point of views.
From the first chapter itself, the author captured my interest and so, I finished this big book in just one sitting.
Usually, fantasy novels are slow to start since they have to do much world-building and establish an understanding among the readers, but Sabaa Tahir does it in such a way that one stays engaged in the story while learning a bit about the world it is set up in as the chapters fly by.
The book also ends in such a way to make you crave for the sequel.
Narration
I liked Laia's chapters because it was interesting being in her head. Let me use all the adjectives because no words would be enough praise for this book.
There were moments when you just wanted to jump inside the book and strangle someone, but then you didn't because they were too scary. There were so much torture and agony all around.
"All the beauty of the stars means nothing when life here on earth is so ugly."
It was perfectly detailed, and I felt like I was living inside the book. Sometimes that was the worst thing because you could feel how agonizing it must be.
Also, then there were just instances in the book where I felt like I couldn't breathe. You have to understand one big thing about this book — it is intense. The way the trials are described, it is harsh and the atmosphere is so oppressive.
"Safety is an illusion never to trust."
What's interesting with the characters?
The characters were vivid and written magnificently. Since Rome inspires the book's premise, the characters had that ancient Roman aura. Laia's way of thinking suits her personality of a scholar, but she is also brave like a soldier.
"You are full, Laia. Full of life and dark and strength and spirit. You are in our dreams. You will burn, for you are an ember in the ashes."
Elias may be healthy and ruthless in his work, but his heart is that of a literary man.
"You are an ember in the ashes, Elias Veturius. You will spark and burn, ravage and destroy. You cannot change it. You cannot stop it."
"I'd rather die than live with no mercy, no honor, no soul."
It is inevitable for them to cross paths and be attracted to each other. Considering the world they are living in, it is a star-crossed romance.

However, the character that garners the attention of the readers is not Elias, but his mother. The commandant is a sadistic psychopath, and Elias is his bastard son.
That creates such a complex mother-son element in the book. The best part was that she was also the link between Laia and Elias since Laia was pretending to be her slave.
Why do I like this book?
The storyline was amazing. It was woven in such an intricate way that I enjoyed it thoroughly. The book is dark, twisted but also tender and sweet in parts.
"Three thousand bodies swing forward, three thousand pairs of boots snap together, three thousand backs jerk as if yanked straight by a puppeteer's hand. In the ensuing silence, you could hear a tear drop."
With some elements of magic, myths and a test for the characters, this book becomes the complete package. The hint of love triangles, yes, more than one, kept the mystery brewing and didn't even let the romance part become a bore.
The book is a test for the readers as much as it is for the characters. Since the world is a harsh and unyielding one, one has to read through a big book and devote hours to find out what happens in the end.
Also, even then, the ending leaves you with many unanswered questions.
What's so special in it?
An Ember in the Ashes was one of those rare books that made me shiver in panic. The plot made my heart beat faster and the complex web of the relation between the characters just completely jumbled up my emotions but in a good way.
This book was genuinely exciting and also evil. It made me clench my jaw because of rage and grind my teeth because of helplessness. I enjoyed all aspects of this book which is why it is one of my favorites now.
I think anyone who reads it will come back wanting more of it.
About the Author
Pallavi Sareen is an avid reader, a harsh critic, bibliophile, and a dreamer. Accustomed to telling stories, she spends her time amidst the pages of either a book or her diary.