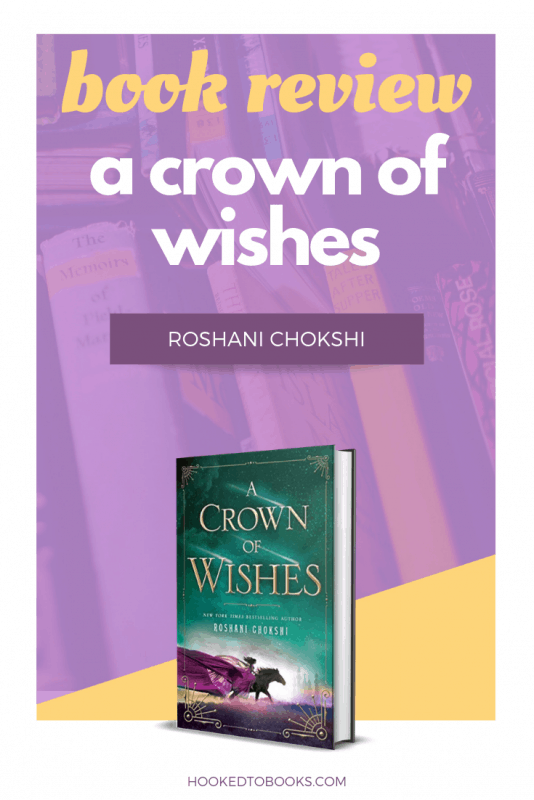 A Crown of Wishes promises to do more than grant your wish for a fantastic story. I got my wish. I had wanted to read more of Gauri's story. I was curious to find out how she grew up and what struggles she faced. Finally, the sequel to The Star-Touched Queen came out, and it is about her. I'm sure Roshani Chokshi acted like a genie and granted the wish of all those who wanted the same to happen.
How is this book different?
Now, we have already discussed The Star-Touched Queen and Chokshi's par excellence world-building prowess. A Crown of Wishes is another example of the same. The book is a Young Adult Fantasy intertwined with Indian mythology, but the difference is in the premise. Now, to understand that, one must appreciate Indian mythology a little bit. In the Hindu epics, narratives are strong, and each character has a unique story.
"What was magic anyway, but the world beheld by someone who chose to see it differently?"
You don't read it like a novel but as the lives of your characters. Therefore, there is umbrage of stories with each side character getting their spotlight. Roshani Chokshi does the same with this series. Gauri, the neglected side character in the first book, gets to tell her entire story in this book. The premise is derived from Indian mythology but is entirely different and much more complex than the previous one. However, that doesn't stop it from being just as exciting.
If you love writing, it's time to start a book blog.
start today
(we show you HOW and WHY)
Okay, so what's new exactly?
"All war is philosophical. That's why we call it a war. Strip it of its paint, and it's nothing more than murder."
Well, when you look at the plot and the writing, even then, it seems a lot similar. The quotes are worth remembering, the politics between kingdoms, the war, and romance — it all has a striking similarity on a deeper level. However, the story itself is entirely different.
The book is about Gauri. Well her and Vikram.
The fierce princess and the fox prince.
Gauri is badass. If I thought Maya was interesting, then her sister just topped the game by being three times better in badassery. She fights awesomely, she is brave, bold, ruthless but with a good heart. She is stiff and cold too, but that had to happen with such an asshole brother.
Then there is Vikram. If you read the first book, you would recognize him. An orphan but raised by the king as his son. He refuses to be a puppet of the King's court. Moreover, Gauri, exiled by her kingdom, hated by the people, betrayed by her brother would do anything to save Bharata.
Plot-twist or twisty plot?
The plot is surrounded by a tournament — a game in which you win wishes. They travel to Alaka, where the competition is taking place, face tests and meet other characters. The author is marvelous with the way she constructs the plot. Just the right roles at the right time written in a way to blow your mind. This book made me laugh, it had me hooked and most of all, it was full of action and DEPTH!
The book consisted of so many plot twists that I didn't know what the new chapter was going to bring. There were twists and turns throughout the tournament, and each level brought something new to the table.
Characters
Gauri has a devil-may-care attitude because she has nothing left to lose. Taken as a prisoner of war, her future holds nothing but exile and scorn. Meanwhile, Vikram offers her a chance to combine her mighty battle prowess with his mind to win the most significant and hardest tournament — The Tournament of Wishes.
Vikram has such a charming personality, and I loved the way both Gauri, and he fought. Belonging to enemy kingdoms, it was inevitable that they wouldn't like each other too much. Their bond grew stronger with such ease.
"At that moment, he looked like mischief and midnight, like a temptation that always slipped away too fast and left you at once relieved and disappointed."
While Gauri is trying to show the world she is not as weak as people assume her to be, Vikram is tired of keeping up appearances. He wants to be who he is. Moreover, so, that put them in a common categorization.
"Existence is the gift. Life is a choice."
Little Romance
Then there is the romance as there always is. However, it didn't feel forced or imposed. It just kind of sneaked up on them and with their opposite personalities, it just made the book more amusing. This fantasy series is becoming one of my favorites.
"It felt silly to say that he couldn't bear to lose her. He never had her. She was not a thing to be possessed. However, her entrance in his life had conjured light. Moreover, losing the light of her would plunge him into the darkness he'd never find his way out of."
Everything is so perfectly balanced, the plot, the characters, the romantic elements and Hindu mythology such as Vikrama-Vetala, the Vishkanyas and more. It was so much fun to read about these old stories come to life in a new way.
Any new sequel?
I keep wishing that there should be another book out in this series, but the probabilities are that there won't be. There are some side stories as novellas, and I think they would be just as exciting. It is called Death and Night and is Maya and Amar's small tale. There is another collection of short stories called Star-Touched stories set in the same world.
About the Author
Pallavi Sareen is an avid reader, a harsh critic, bibliophile, and a dreamer. Accustomed to telling stories, she spends her time amidst the pages of either a book or her diary.