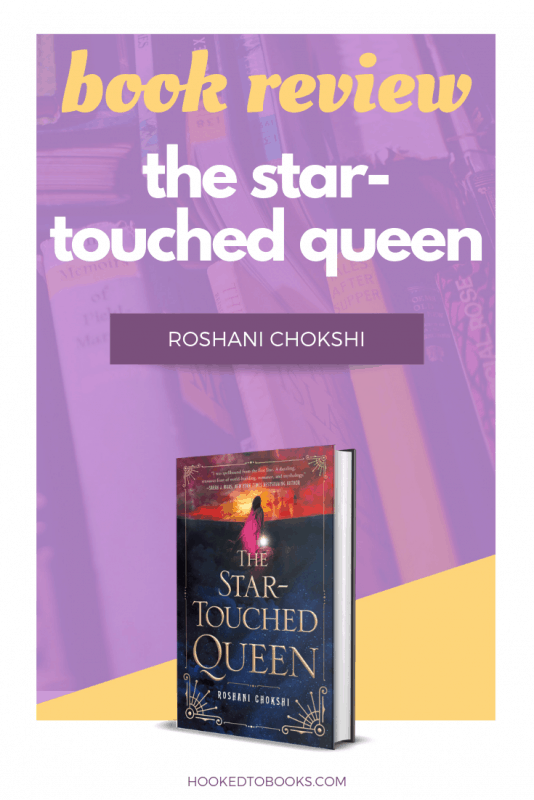 The Star-Touched Queen is an unbelievably woven story of Indian Mythology mixed with American Literary style. The novel falls under the Young Adult Fantasy genre but dabbles in Indian mythology as well. And being an Indian, I could tell the elements that formed the basis of its stories were extracted from the epics of Hindu religion.
Writing is a gateway to presence. And so much more! Start a book blog to pursue huge profits, enriching presence, meaningful work.
these tips
helped us earn
$5,400+ in December 2018
.
Just like the story of Narasimha, Naraka, Dharam Raj, these are all tales passed down in generations to us, but I enjoyed the spin author had put on it making it into this compelling Fantasy novel.
What is the Story About?
No one can imagine being the queen of a kingdom at the age of seventeen, but Maya was never a normal girl.
Born with a horoscope that says she is cursed, she comes with a promise to be married to death and destruction but being a human; she wishes to follow the path of a scholar. When she is made into the queen of Akaran, one has to find out how she lives the life she was destined for.
Word-Weaving and World-Building
The word weaving capacity of the author is so right that I read the stories I already knew about with a fresh perspective.
As I mentioned before, being an Indian, I was already familiar with the exciting stories that Roshani Chokshi derived from the mythology, and yet her writing style is so fantastic that I couldn't help but see them as genuinely her stories.
"Show me a dream unrealized. Don't show me unchangeable paths."
The entire narrative shows the realistic side of the characters, and yet, the prose takes you into the incredible world of magic. I was awe-struck by so many sentences that I kept writing them down.
"Trust is won in years. Not words."
The book is set up in early India (Bharata) as well as Akaran and Night Bazaar (the otherworld with supernatural creatures).
The premise is interesting for all those who know little to nothing about India, but even to me, it was nostalgic and bit intriguing.
I had only heard about India which had rulers instead of the present government.
Out-of-the-World Plot
The novel shows the journey of Mayawati, a condemned princess hated by everyone because of her horoscope and the rumors regarding her.
There is politics between kingdoms and supernatural/magical elements that are made to look wholly believable and with a logical explanation behind everything.
A war is awaited and in between such a tense plot, some romance to keep things light, but nothing cheesy, thankfully.
The plot revolves around the life of Maya and the only person she thinks she can trust — her husband, Amar.
However, knowing her fate and being thrust into a world full of secrets, she has to struggle through life trying to find out what is in store for her.
Relationship Drama
The author hasn't written anything that wasn't important to make this book an entertaining one.
"He loved her.
Also, she loved him.
And in such bliss does devastation grow."
Maya and Amar — they just fit together. Two misfits, unloved and misunderstood by the world. They found solace in one another and even though there were secrets and lack of trust, the visible romance was inevitable.
The kind of relationship they had and even the intensity of their conversations is something I could feel in reality.
''You know nothing about me.''
''I know your soul. Everything else is an ornament.''
With her powerful writing style, the author made me feel like I was intruding in their personal lives. However, I loved being that voyeur because it was refreshing to see such a different kind of romance.
About the Characters
Kamala, the horse, was a fantastic side character, and you could tell that because she is the one I am mentioning before I talk about the protagonist.
Kamala is hilarious, intense and completes the novel. Without her, both the characters and the story would feel incomplete.
Now talking about our main characters, what can I say about Amar? He is the typical mysterious yet charming fellow that one often comes across in Young Adult novels.
He is the kind of characters girls swoon over and dream about. His personality, his behavior makes you want to add him to your book boyfriend list.
The only problem with that is Maya.
Maya has such a fierce and likable character that anyone adores her and Amar together. He feels like the one good thing that happened in her life and so how can they not be together?
It felt so much fun being inside Maya's head and living this book through her eyes. She is the one with "fury in her heart and shadow in her smiles" and so, she invokes both hate and fear simultaneously.
Conclusion
Overall I had fun reading this book, and it is undoubtedly a memorable one. I wish to have read more about Gauri. Also, I wish there were more details in the book to make me envision everything that happened with more clarity.
The war and the ending felt rushed, and I could tell what was happening but not picture it in my head. There are a few flaws in this book, but the three-dimensional characters make up for it.
The best part about the ending of this book was that despite being part of a series, it acted as a stand-alone and did not leave me on a cliff-hanger. I will be reading and reviewing the second book in the series as well.
About the Author
Pallavi Sareen is an avid reader, a harsh critic, bibliophile, and a dreamer. Accustomed to telling stories, she spends her time amidst the pages of either a book or her diary.