I was first introduced to Margaret Atwood books as a nineteen-year-old college student when Oryx and Crake showed up on a course syllabus. I didn't have any idea what an oryx was (a type of antelope) or what a crake was (a small ground bird), and I certainly didn't know that I was about to be introduced to one of my favorite authors, and in fact, one of the greatest authors of all time. When I found The Blind Assassin at a thrift store that summer, I didn't even read the synopsis before I snatched it up.
Margaret Atwood books often weave multiple storylines into one compelling plot, moving between characters and time periods smoothly, and leaving the reader eager to unravel the connections.
She is best known for dystopian novels like The Handmaid's Tale, but her first published works were essentially poetry collections. She has also written many works of short fiction and nonfiction, as well as graphic novels and children's books.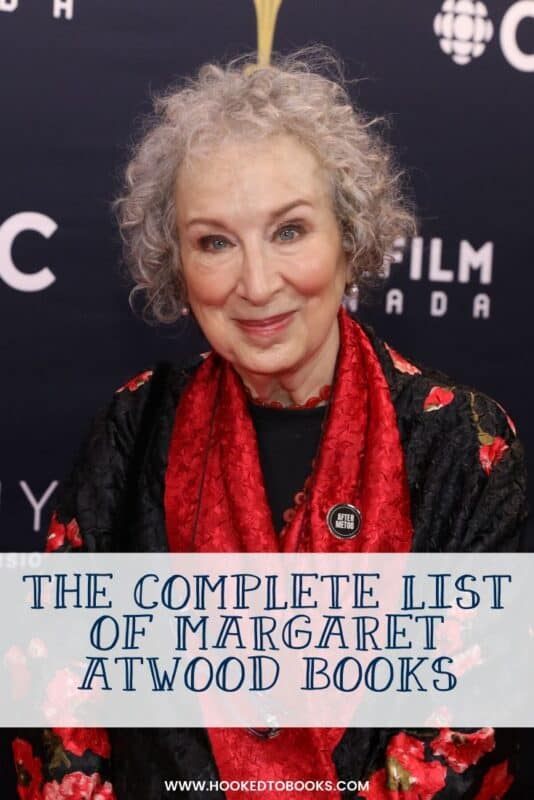 What has Margaret Atwood written?
Since the 1960s, Margaret Atwood has published 17 novels, 17 poetry collections, 8 collections of short fiction, 8 children's books, 3 graphic novels, 10 works of nonfiction, and a variety of small press editions in various genres as well as television and radio scripts.
Here is the complete list of Margaret Atwood books published by major publishing houses for adult readers:
Who is Margaret Atwood?
Margaret Atwood has spent most of her life in Canada. She was born in Ottawa in 1939 and was raised in northern Ontario, Quebec, and Toronto, where she has lived since 1992. After earning her undergraduate degree from Victoria College at the University of Toronto and a master's degree from Radcliffe, she began but never completed a doctoral degree.
From 1964 to 1989, Atwood served as an English instructor and Writer-in-Residence at a number of universities in Canada and the United States. She has also held the position of President for multiple writing associations, including currently holding the office of Vice-President for PEN International.
With Atwood's impressive list of publications, it's no surprise that she has won a large number of writing awards and been granted 24 honorary degrees from universities like Harvard, Oxford, and the Sorbonne. Her writing awards include the Arthur C. Clarke award for best Science Fiction in 1987 and the Booker Prize in both 2000 and 2019.
What are the most popular Margaret Atwood books?
The Handmaid's Tale + The Testaments
In what is probably her best-known work, Atwood provides a glimpse of a dystopian future in which birth rates have declined due to environmental pollution. As a result, fertile women are assigned to the homes of powerful men in order to bear children in place of their infertile wives.
In the style of a typical Margaret Atwood book, The Handmaid's Tale weaves together the present-day life of the narrator, Offred, with her memories of life before the current totalitarian regime.
Published 24 years after the first book, its sequel The Testaments picks up the story fifteen years later, this time through alternating voices of two teenage girls and an older woman known as Aunt Lydia. The three female narrators are all trying in their own ways, in their own places, fighting to overthrow the patriarchal system.
MaddAddam Trilogy: Oryx and Crake, The Year of the Flood, & MaddAddam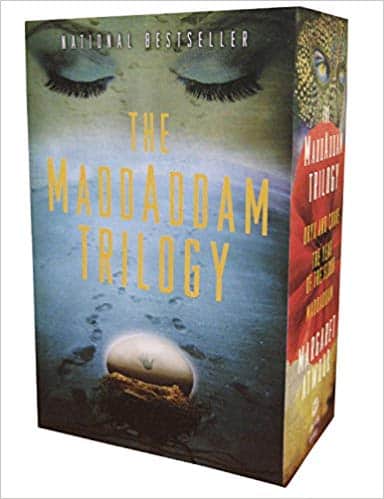 The MaddAddam trilogy is another series set in a dystopian future, this time in a world that has been made desolate by plague and out of control genetic engineering.
In Oryx and Crake, we meet Snowman, who may be the last human on earth and who tells the story of his life as Jimmy, before the plague. We are also introduced to bizarre gene-spliced animals like rakunks, which are part raccoon and part skunk, and creepily genetically engineered food, like Chickienobs, which allows scientists to only grow the edible parts of the chicken.
The Year of the Flood and MaddAddam both continue the story of this society, following people from two religious sects, one that seeks to marry science and religious beliefs while preserving all animal and plant life and one that supports the use of petroleum and rejects environmentalism.
Alias Grace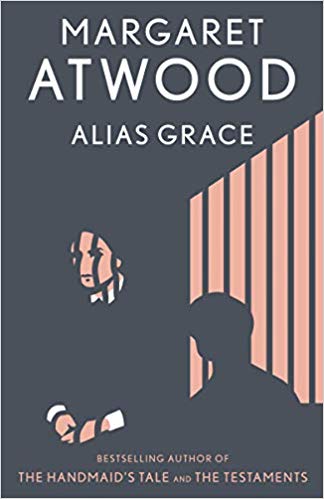 And now for something completely different, this Margaret Atwood book mixes truth and imagination to tell a version of a true Canadian crime story.
The story is told by Grace Marks, who has been convicted of murdering her employer and his housekeeper, who was also his mistress. Grace tells the story to a psychiatrist, Dr. Simon Jordan, who hopes to prove that she is innocent based on the fact that she remembers nothing of the day the murders occurred.
Atwood leaves it up to the reader to also determine Grace's guilt or innocence, as she weaves some suspicious characters and dubious events into Grace's narrative, including hypnotism and a possible ghostly possession.
The Blind Assassin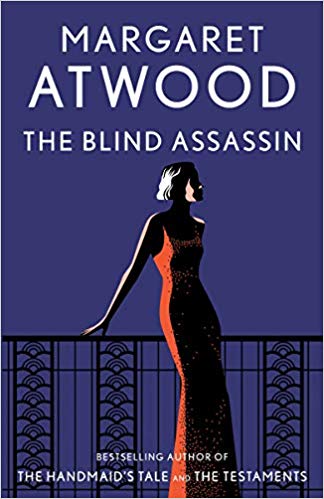 The Blind Assassin is a perfect example of Margaret Atwood's eye-catching word choice and the use of a unique plot structure. Not only do we have an old woman telling her life story (and her sister Laura's) through present events and flashbacks, but then we have a book within the book that tells the story of an author named Alex Thomas who had a relationship with both women, and then there's a story within that story called The Blind Assassin.
If that's not enough to get you to read it, just read the opening line: "Ten days after the war ended, my sister drove a car off the bridge."
Whether you're a fan of fiction or nonfiction, poetry or prose, Margaret Atwood's got you covered.
What are your favorite Margaret Atwood works?
About the Author
Katie reads about 100 books every year, thanks to ebooks and audiobooks. She enjoys a variety of genres and will read almost anything. When not reading, she is an English teacher near Cincinnati, Ohio.