Whenever you read a great book, it's natural to want to share it with your friends and family. Perhaps they'll love it too, and you can all discuss it together! But what about when your book is in digital format?
E-readers are a great way to pack a ludicrous amount of books into one small device, and you can save a fortune on what you would usually spend at the bookstore. You can also borrow eBooks from your local library and various apps and websites too, making reading more accessible than ever.
But when it comes to sharing eBooks with others, it's not always straightforward. Say you've just finished a mindblowing book, and you want to send it to your bestie so they can get started on it straight away. Is it even possible?
Here's the good news; there are a few ways you can share certain Kindle eBooks with your friends and family. Some of these methods are better suited to the occasional loan, but some make it easy to regularly swap Kindle books between your nearest and dearest.
So without further ado, here's my comprehensive guide on all the ways you can loan kindle eBooks to your friends and family. I'll start with the pros and cons of lending eBooks and then discuss the different ways you can do it.
The Pros of Lending Kindle eBooks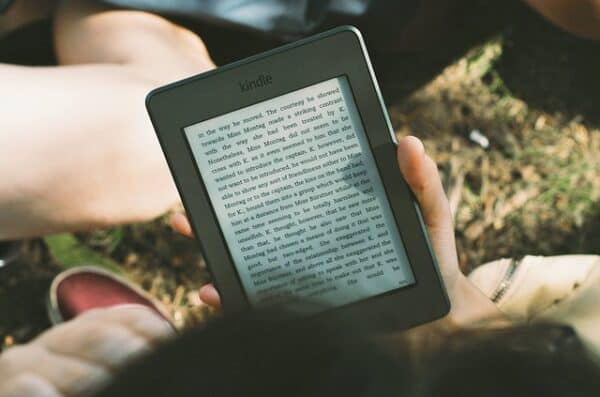 It Saves You Money
Kindle eBooks tend to be much cheaper than their hardcopy counterparts, so you're likely saving a ton of money already if you're used to digital reading. But by lending and borrowing eBooks, you're saving even more of your hard earned cash.
Lending from a Distance
These days, it's getting harder and harder to meet up in person, especially when you're separated by distance. Unlike traditional hard copy books, you can swap and share eBooks with each other, even from thousands of miles away. No more paying for expensive shipping; plus, it's a great way to stay connected with your loved ones, even when you're far apart.
No Kindle Necessary
If you want to share an eBook with a friend or family member, they don't necessarily need an e-reader of their own (and you don't have to loan them yours!). They can read it using their internet browser (by going to read.amazon.com), or they can simply download the Kindle app for free onto a smartphone or other device.
They're Easy to Share
Kindle books that are marked as 'shareable' can be shared with literally anyone! A simple click, and it's shared with them via email. They'll generally have seven days to open the link and download the title and a further fourteen days to read it before it is automatically returned to you.
Dip Your Toes in the Water
When you begin sharing eBooks with others, you'll likely end up borrowing some yourself. Borrowing an eBook is a great, commitment-free way to try out a title. If you don't like it, you've not lost out, and you can simply return it and try a new title.
No Chasing Up Missing Books
Because the eBooks are returned to you automatically at the end of the 14 day lending period, there's no need to chase your friend for that missing book they always forget to bring with them. Whether they've finished reading it or not, that eBook will be back in your possession after a maximum of 21 days (that's the 7 days to download, plus a 14 day lending window).
Share with Strangers
You're not just limited to sharing eBooks with your friends and family. Sites like Lendle make it easy to swap eBooks with complete strangers from all around the world. Having access to such a large group of other eBook readers means there are endless titles to choose from, and getting started is super easy.
When you sign up to Lendle, you'll be prompted to share a list of eBooks that you already own that you're happy to share with the community, and you can update it as often as you like. The more often you lend out your eBooks, the more often you can borrow them from others.
Another website that works in a similar way is BookLending.com. You can type the book you'd like to borrow into the search bar, and results from users all over the world with your desired title will pop up. If the eBook isn't available right away, they'll email you as soon as it is.
Goodreads also allows book sharing by connecting to your Amazon account. Simply follow the instructions on their website, and you can share any eligible book with other members of the Goodreads community, whether you know them or not.
The Cons of Lending Kindle eBooks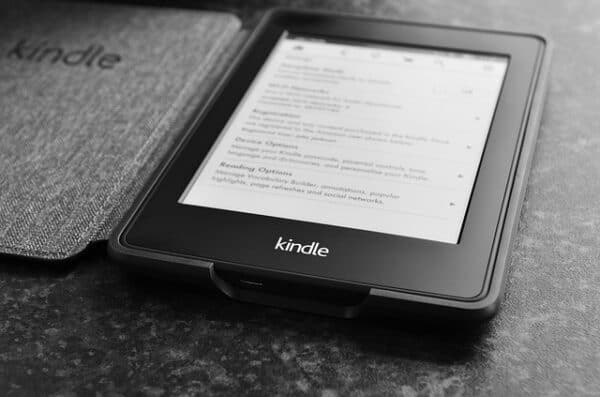 You Can Only Share Them Once
Eligible Kindle books can only be shared once in total. Once you've loaned a particular eBook out, you can never loan it out again, even if it's to a different person. So make sure your friend or family member really wants to read it before you click 'loan this title'.
Not Every Book is Shareable
That's right, Kindle only allows you to share selected books with others, and most eBooks in the Kindle library are actually not marked as shareable. To check the status of a book and find out if it's shareable, check the product details section. Popular titles, bestsellers, and new releases are less likely to be shareable, while less in-demand eBooks tend to be eligible for loans.
Only One Reader at a Time
An eBook can only be read by one person at one time. As soon as you loan a book to someone else, it's theirs and theirs alone for the entire lending period. So if you were planning on sharing an eBook with a friend and both reading it simultaneously, then you're out of luck. The only way to do that is for you to both purchase the book separately.
A Short Lending Period
Speaking of the lending period, as I mentioned before, there is only a fourteen day window for your friend or family member to read their borrowed eBook. This might not be a problem for shorter novels and fast readers, but if it's an epic or they have a busy schedule, 14 days might be a little bit of a squeeze. And as we already discussed, it's not like you can lend it to them again so they can finish it; once it's been loaned out once, it can't be loaned out again.
Lending a Kindle Book to Friends and Family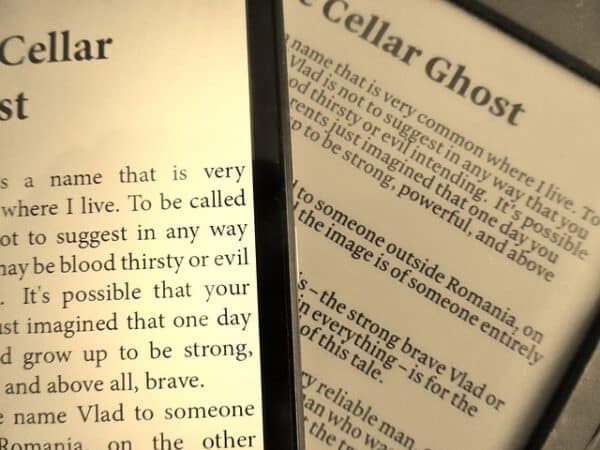 Here two of the easiest and most popular ways of sharing a Kindle eBook with others.
Loaning Kindle Books: The 'Manage Your Contact and Devices' Method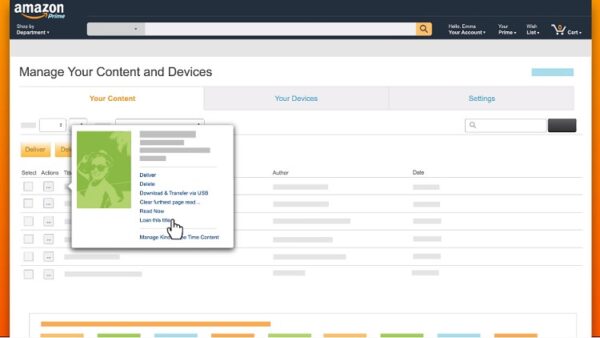 This is the easiest and most commonly used way that Kindle users share books with each other.
Log into your Amazon account, and head over to the Manage Your Content and Devices tab.
On your account page, you should see a list of every Kindle book that you have already purchased. Select the button on the left hand side of the book you would like to lend, and click on the Loan This Title button.
N.B Like I mentioned earlier, not every book in the Kindle library is shareable. If the 'Loan This Title' button doesn't appear, chances are the book isn't shareable. You can double check by visiting the product details section. If the book is shareable, but you've already loaned it out to someone else, there will be a 'Loan' tab next to the book cover.
Once you've clicked Loan This Title, you'll be transferred to a new page. When prompted, enter the email address of the person you'd like to lend the eBook to. You'll also be asked to write your name in the 'From' box, and you'll have the option of writing a message to the recipient too.
Now, click 'send'. You're all set! Remember, the recipient has just 7 days to open the email and download the title. They then have a 14 day reading period, at the end of which the eBook is automatically returned to you.
Loaning Kindle Books: The Product Detail Page Method
Another popular way of sharing your favorite Kindle eBooks with friends and family (and, well, anyone) is through the Product Detail Page in the Amazon Kindle Store.
Head on over to the Kindle Store and choose the book that you would like to share. Remember, you must have already purchased the eBook before you can loan it out to anyone else.
Now, check that the title is shareable. To do this, open the 'Product Details' section, where it will tell you the status of the book.
Assuming it's a shareable eBook, click 'Loan this book,' found in a link at the top of the page.
Now, a new window should pop up, where you'll be prompted to fill in the recipient's name, as well as your own. Just like in the first method, you can also leave an optional message to the person you're sending the eBook to.
Click 'Send,' and voila! You've successfully loaned out your e-book. Remember to prompt your friend to check their email so they don't miss the limited time link.
How to Receive Borrowed Kindle eBooks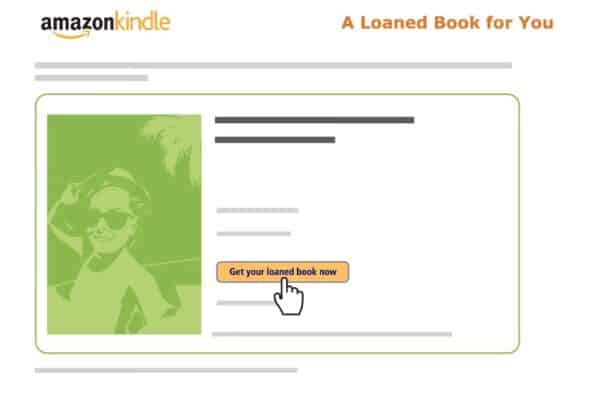 If your friend or a family member has loaned you one of their eBooks using the two methods above, follow these steps to download it.
Go to your email inbox and open the email they sent you via Kindle. The email should be tagged with Amazon.com, and the subject line will mention a loaned Kindle eBook.
Click 'Get your loaned book now'.
To read the eBook, you'll need to download the free Kindle reading app if you don't have an e-reader of your own. If you already have the app, or you're planning on downloading it to your e-reader directly, then you can click on 'Accept loaned book'.
If you don't have the app or an e-reader, no problem. You can still click on 'Accept loaned book' and download the app via the next page.
If you're not already signed in to your Amazon account, you'll be prompted to sign in now.
Select the device that you'd like the eBook to be downloaded to, and click on the 'Accept loaned book' button on the right hand side of the Amazon page.
How to Return a Borrowed Kindle eBook
If you've borrowed an eBook from a friend or a family member, it will automatically be returned to them after a maximum of 14 days, so you don't have to worry about forgetting to return it.
But if you're a super quick reader, or you've changed your mind about the book, then you might want to return it to them early. Here's how:
Open the Manage Your Content and Devices tab in your Amazon Kindle account.
Select the book you'd like to return early by clicking on the three small dots on the left of the book cover.
Click 'Delete from library' and click 'yes' when prompted to confirm. This will wipe it from your library, and it will immediately be sent back to the person who loaned it to you.
Loaning Kindle Books: The Family Library Method
If you're looking to share eBooks within your immediate family, then it's worth checking out Amazon's Family Library feature. This allows up to two adults and four children to share not just their Kindle eBooks but also their apps and their audiobooks with each other.
The downside is that the device used to read these shared e-Books must be the nominated Family Library enabled device, so it doesn't work on just any phone or tablet.
There is an upside, though; there is no limited loan period like the two methods above; you can share your eBook with your family for as long as you'd like, so they can take their time reading it. And, you can read the same book simultaneously too.
To get started, you need to select the other people in your family who will be using the Family Library. Here's how:
Head over to Amazon Household
Click on the 'Add Adult' button
The other adult (remember, there's a maximum of two allowed on one account) will also have to sign into their own Amazon account and accept the invitation.
Both of you must click 'agree' when prompted to confirm that you will share payment information and responsibilities where necessary.
Now, click 'Create Household'
You can now choose the media you would like to share amongst your household. For example, eBooks, or Audiobooks, or games, then click 'Next.'
You can follow the same steps for adding children to the account by selecting 'Add a Child' or 'Add a Teen.'
Once you've set up the Amazon Family Library, it's really easy to share books with one another. Head over to the 'Manage Your Content and Devices' tab in your Amazon account and choose which book you'd like to download. Simple!
Conclusion
Though not all Kindle eBooks are shareable, a lot are. Now, it's easier than ever to loan and borrow eligible eBooks between friends and family members.
Don't already have an e-reader? Don't worry, reading eBooks doesn't have to leave a hole in your pocket; check out our guide to the best free e-book readers for Android and iPhone.