Cleo Coyle is the pen name of the bestselling husband and wife duo Alice Alfonsi and Marc Cerasini.
Alice and Marc are both accomplished authors in their own right, and they've joined forces under their famous pseudonyms to write two bestselling mystery series.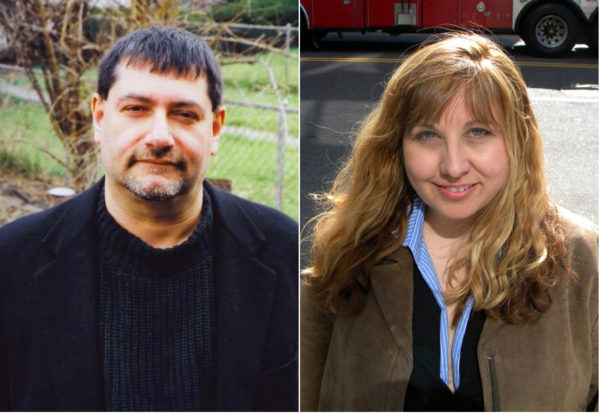 Cleo Coyle's books have sold over a million copies worldwide, and with plenty more titles in the works, that number is set to rise.
So, if you've not read Cleo Coyle's page-turning mystery series yet, stick around, and I'll walk you through them, book by the book.
Cleo Coyle's Books in Order
Alice Alfonsi and Marc Cerasini have written two popular series as Cleo Coyle, and below, I'll list them both in order. I'll also include a summary of each book so you can decide where to begin your reading journey.
| Sr. No. | Title | Publication Date | Print Length | Publisher | Where to Buy |
| --- | --- | --- | --- | --- | --- |
| 1 | On What Grounds | May 3, 2004 | 368 pages | Wheeler Publishing | Amazon |
| 2 | Through the Grinder | January 20, 2005 | 351 pages | Wheeler Publishing | Amazon |
| 3 | Latte Trouble | August 2, 2005 | 256 pages | Berkley | Amazon |
| 4 | Murder Most Frothy | January 1, 2007 | 377 pages | Wheeler Pub Inc | Amazon |
| 5 | Decaffeinated Corpse | July 3, 2007 | 288 pages | Berkley | Amazon |
| 6 | The Ghost and Mrs. McClure | June 21, 2004 | 319 pages | Wheeler Publishing | Amazon |
| 7 | The Ghost and the Dead Deb | January 1, 2006 | 399 pages | Wheeler Pub Inc | Amazon |
| 8 | The Ghost and the Dead Man's Library | September 5, 2006 | 391 pages | Wheeler Pub Inc | Amazon |
| 9 | The Ghost and the Femme Fatale | January 1, 2008 | 423 pages | Wheeler Pub Inc | Amazon |
| 10 | The Ghost and The Haunted Mansion | June 1, 2009 | 449 pages | Wheeler Publishing | Amazon |
The Coffeehouse Mystery Books
This long-running series takes us into the heart of New York City's Greenwich Village to a historic coffeehouse named Village Blend. Here we meet protagonist Clare Cosi, Village Blend's manager and chief mystery solver, when things go bump in the night.
The Coffeehouse Mystery Books in Reading and Publication Order
The Coffeehouse Mysteries can be read as standalone, but hence to get the most out of the series, it's best to read them in the order they were published, listed below.
1. On What Grounds (2003)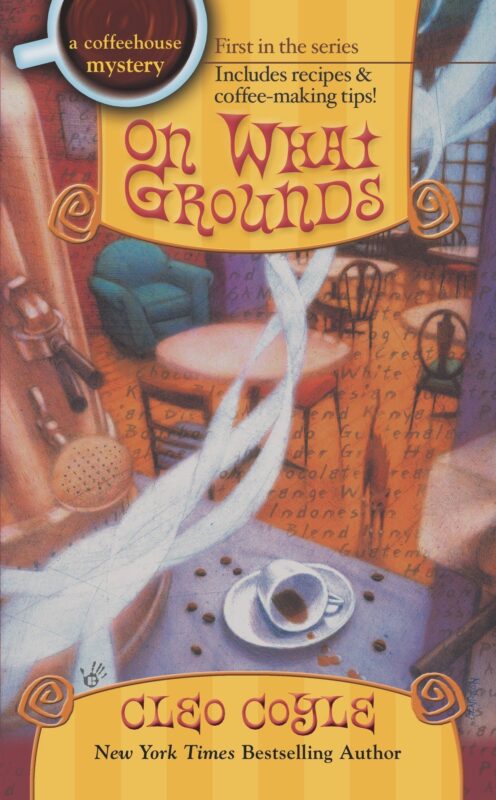 Clare Cosi arrives at work one morning to find her assistant manager lying dead amidst a mess of coffee grounds. The police find no evidence of an intruder, and so they put it down to an unfortunate accident. But Clare knows they've got it wrong, and now, she's taking the investigation into her own hands.
2. Through the Grinder (2004)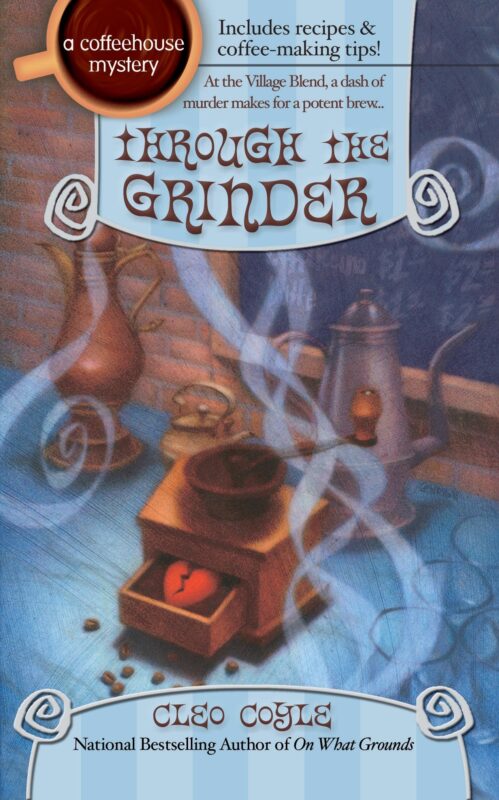 Everything was going great at the Village Blend until someone began murdering Clare's female customers. Lieutenant Quinn is called to investigate, and before long, he points the finger at Clare's new boyfriend. And so, she puts her heart and her life on the line to find out the truth before another victim falls.
3. Latte Trouble (2005)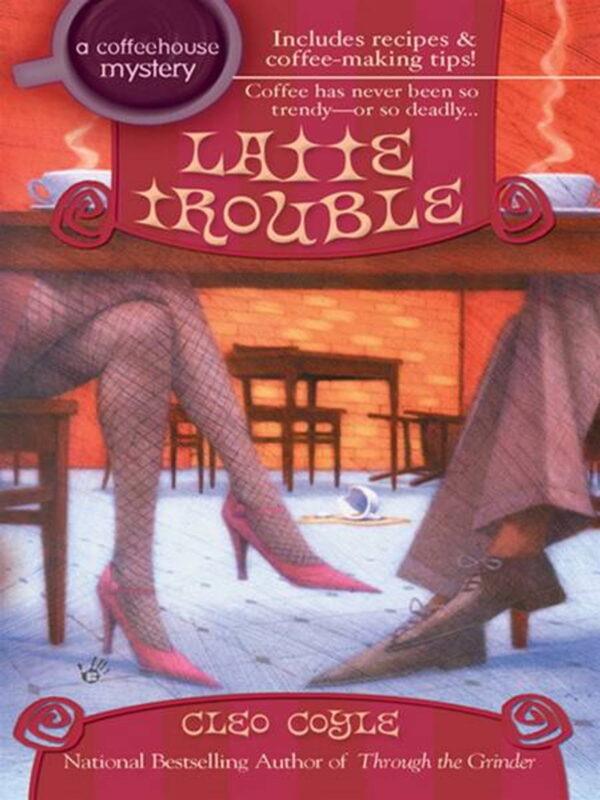 There's been a mishap of epic proportions at Clare Cosi's Greenwich Village coffeehouse. Her faithful barista, Tucker, has accidentally poisoned a famous fashionista with a laced latte, and now, her shop's reputation is shattered into smithereens.
But something about the story doesn't quite add up, so it's down to Clare to clear Tucker's name.
4. Murder Most Frothy (2006)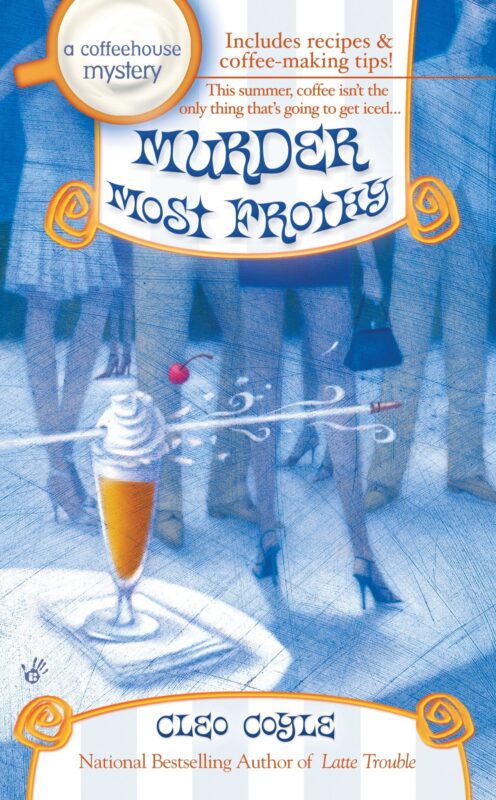 Clare Cosi has a new friend, the filthy rich David Mintzer, and he's invited her to an all-expenses-paid summer vacation at his luxurious Hamptons mansion. In return, all she needs to do is provide some training for the staff of his new restaurant.
It's an offer she can't refuse, so she heads gleefully out of New York City and onwards to the glitz and glamor of Long Island's most famous seaside resort. But her relaxing summer in the sun is about to take a deadly turn.
5. Decaffeinated Corpse (2007)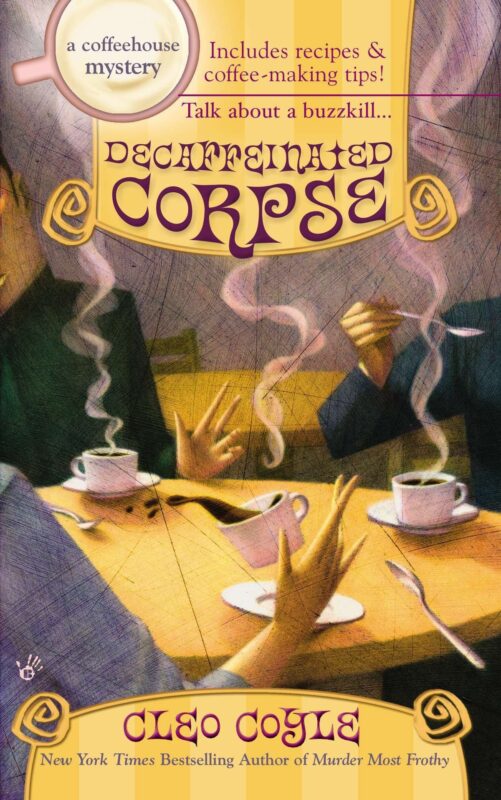 A good friend of Clare's ex-husband has made a remarkable discovery. He's managed to cultivate the world's first naturally decaffeinated coffee bean, and he's brought it back to America.
Decaf coffee is all the rage, and Clare knows this is a business opportunity she simply can't ignore. But then the bodies start to drop.
6. French Pressed (2008)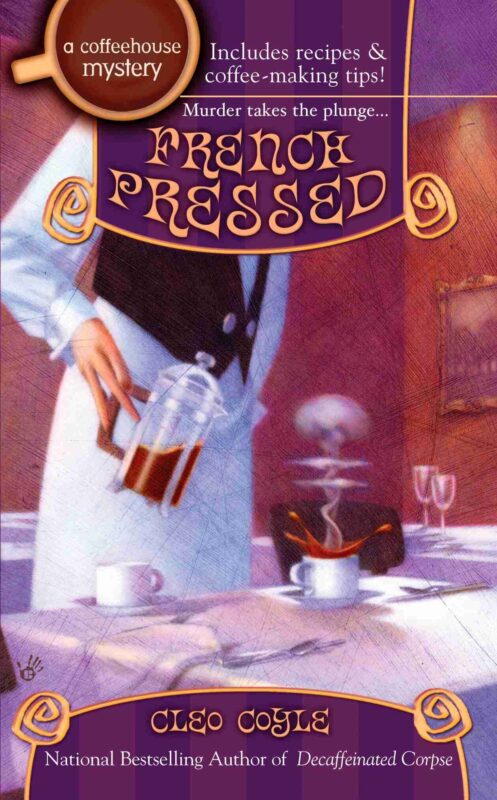 Clare Cosi's daughter, Joy, is working as an intern for one of New York's most accomplished top chefs. But against her mother's advice, she's sparked up a romance with her new boss, who also happens to be a married man.
Things heat up pretty quickly in the kitchen, and soon enough, Joy is a murder suspect, and Clare is forced to step in and help clear her name.
7. Espresso Shot (2008)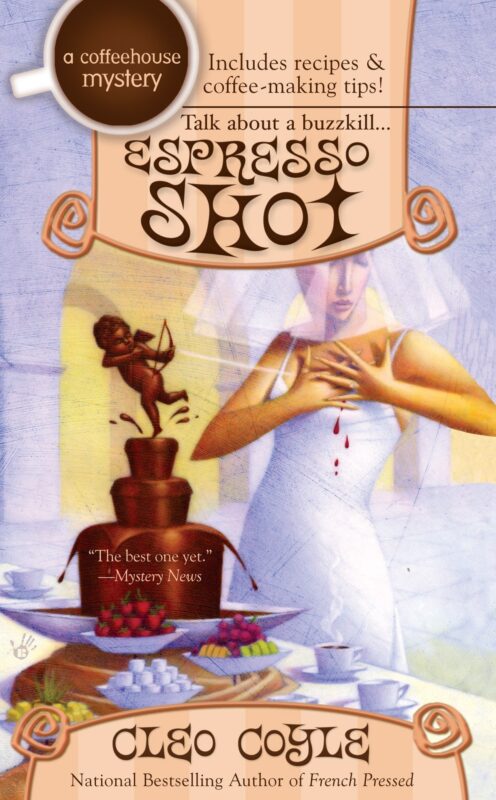 Clare Cosi is creating a luxury coffee bar for her ex-husband's fast-approaching wedding. It's a simple enough task, but there's just one problem; his bride-to-be, Breanne, is intent on making things difficult.
But when Bre is almost killed in a hit-and-run, it becomes clear that her ex's future wife is in danger. And so, Clare does the decent thing and steps in to find the culprit.
8. Holiday Grind (2009)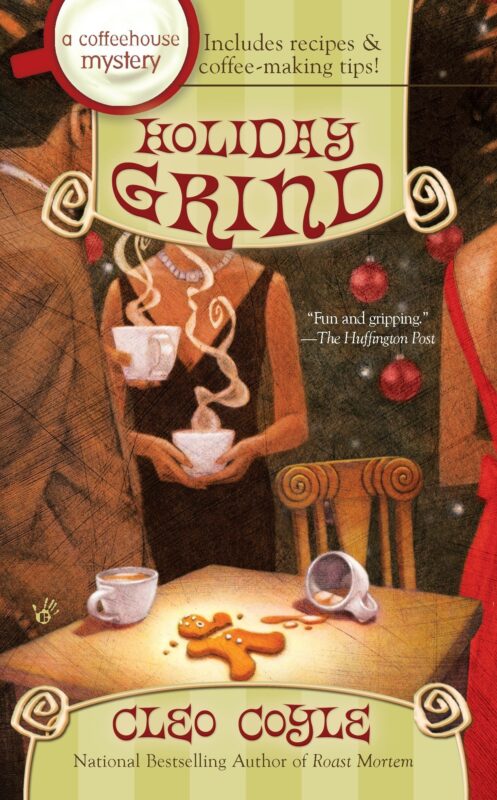 It's the middle of winter in Greenwich Village, and a local comedian turned charity Santa has been shot to death in an alleyway near the Village Blend coffeehouse.
The police rule it a random attack, but Clare Cosi is convinced they've got it wrong. And now, she's determined to stop the true killer before he strikes again.
9. Roast Mortem (2010)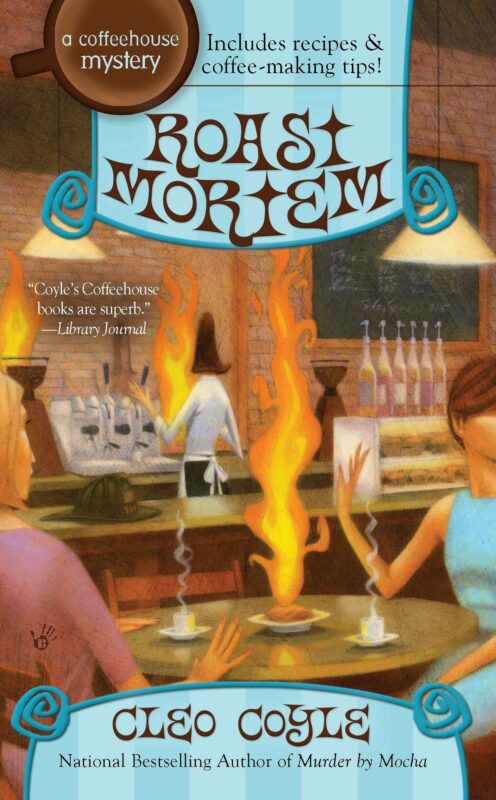 After firefighters rescue Clare Cosi from a burning café, she knows she owes them her life. And so, when these local heroes begin dying under mysterious circumstances, she uses her detective skills to find the killer.
10. Murder by Mocha (2011)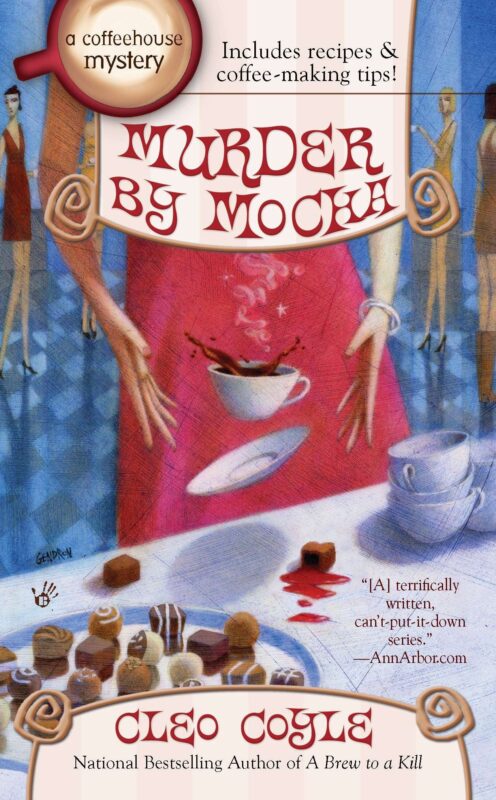 Clare's signature blend of coffee beans is the base for the brand-new Mocha Magic drink, a cup of joe laced with a potent herbal aphrodisiac.
The product is set to make millions for a popular women's website, but on the night of the big launch, the editor is found murdered in cold blood. It seems that someone is willing to kill for the secret formula, and it's Clare's job to find out who before she's next on the hit list.
11. A Brew to a Kill (2012)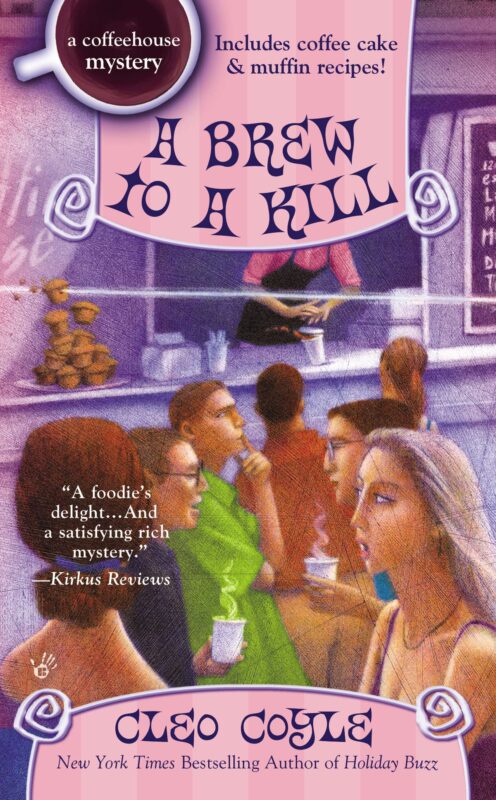 Clare's loyal friend and customer has been killed in a hit-and-run right outside her Village Blend coffeehouse, and now, she's determined to find the person behind the wheel. But as she digs deeper into the case, she begins to wonder if she is the assassin's true target.
12. Holiday Buzz (2012)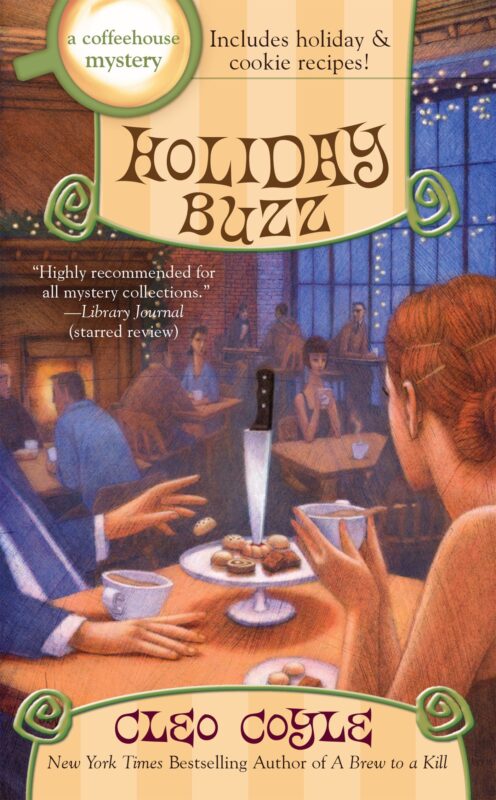 It's Christmas time in New York, and Clare is running the beverage service at the Great New York Cookie Swap. But mid-way through the celebrations, she makes a grim discovery. A baker's assistant has been beaten to death.
Police believe the crime is connected to a serial attacker who has been stalking the city. Still, Clare's boyfriend, detective Mike Quinn, thinks there's an even more sinister force at play.
13. Billionaire Blend (2013)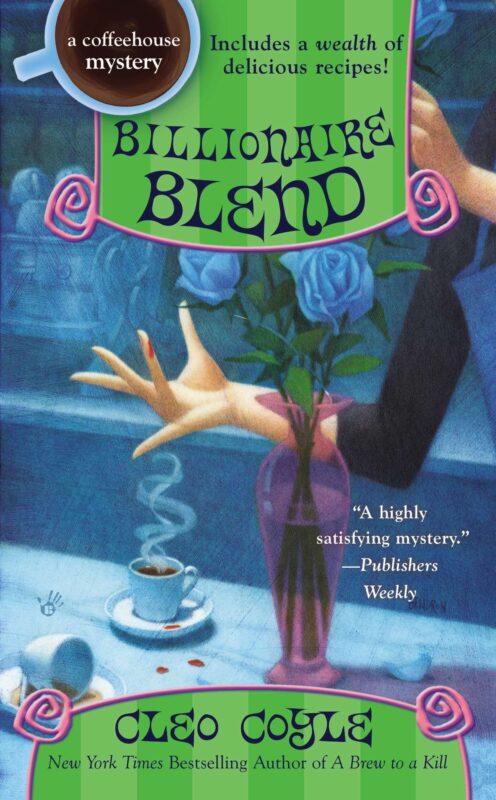 When a car bomb explodes outside Clare's famous coffee house, she springs into action, rescuing a mysterious customer from the blaze. The customer turns out to be an uber-rich tech entrepreneur, and now, as a thank you for saving his life, he's offering Clare the business opportunity of a lifetime.
But as she becomes embroiled in the billionaire's world of luxury and rivalry, she begins to question his motives.
14. Once Upon a Grind (2014)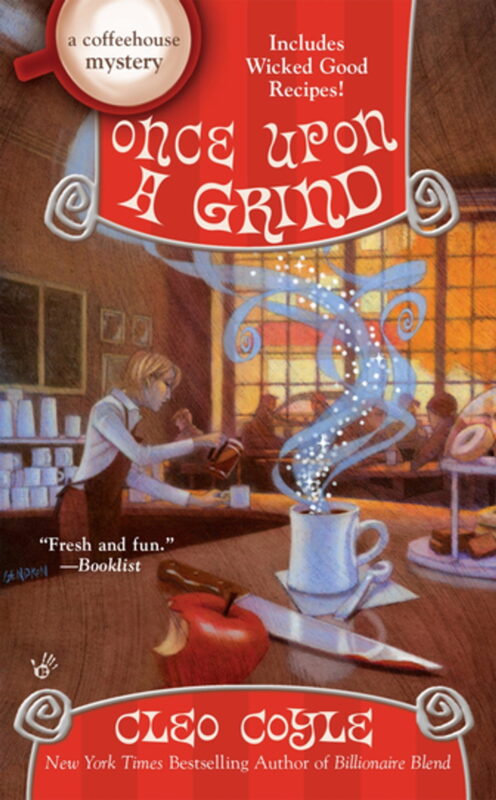 Clare has always been a skeptic when it comes to reading coffee grounds. But when she receives a clue at the bottom of her mug that leads her to a startling discovery, she begins to think twice.
The body of a young model has been found in the woods of Central Park. The police think she's passed away due to a drug overdose, but soon Clare finds evidence suggesting there's more to this woman's death than meets the eye.
15. Dead to the Last Drop (2015)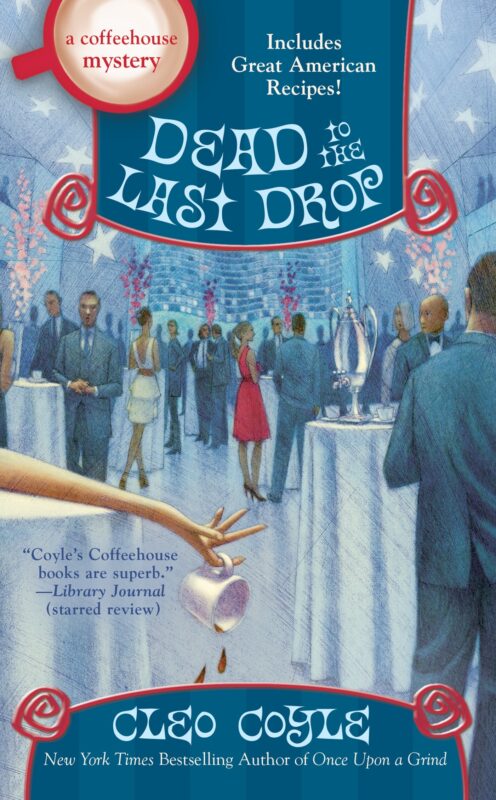 The White House has asked Clare for her caffeinated expertise at an upcoming wedding in the Rose Garden. So naturally, she jumps at the chance to showcase her skills and gain some publicity for the Village Blend brand. But she soon makes a startling discovery that puts her in grave danger.
16. Dead Cold Brew (2017)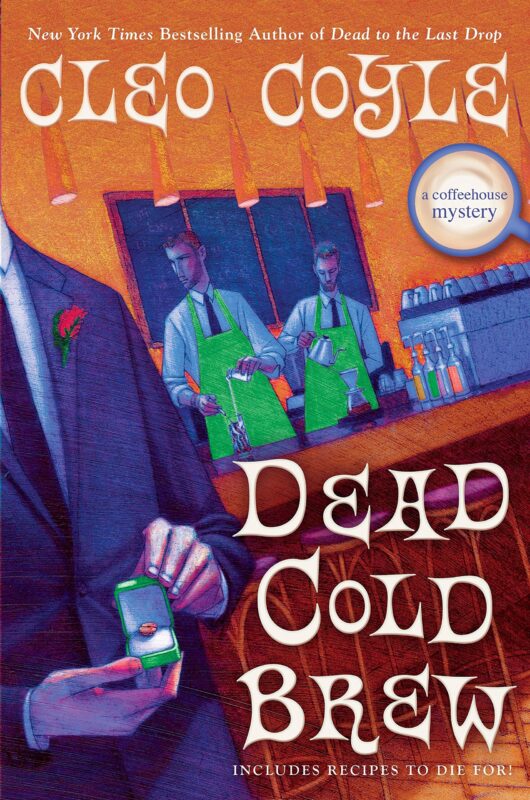 Clare's long-time boyfriend Mike has finally proposed, and their family and friends have gathered around to celebrate their engagement. But it's not long before their party descends into danger, and Clare is forced to don her detective hat and stop a killer on the loose.
17. Shot in the Dark (2018)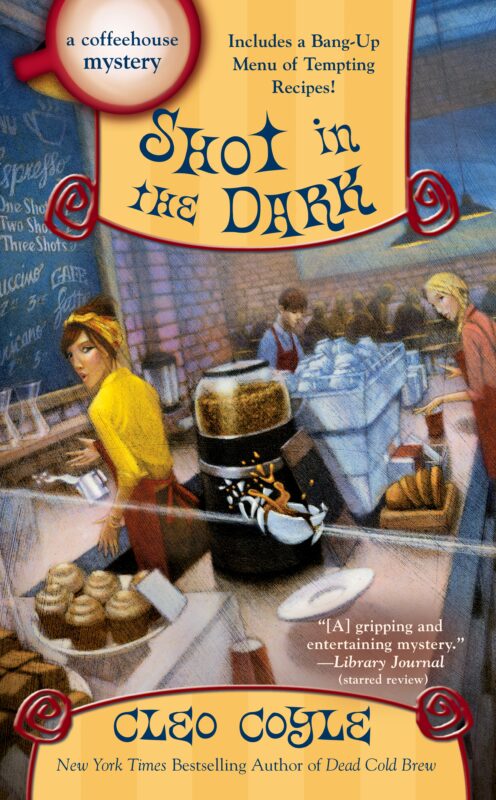 Clare's famous coffeehouse has been transformed into a speed dating center thanks to a new smartphone app that is taking the matchmaking world by storm.
Business is booming, but one night, as the espresso is busy brewing, a gunshot rings out, and murder arrives at Clare's door. In the aftermath of the shooting, police arrest a young woman. But Clare suspects the woman has been framed, and now, she'll do whatever it takes to find the true killer.
18. Brewed Awakening (2019)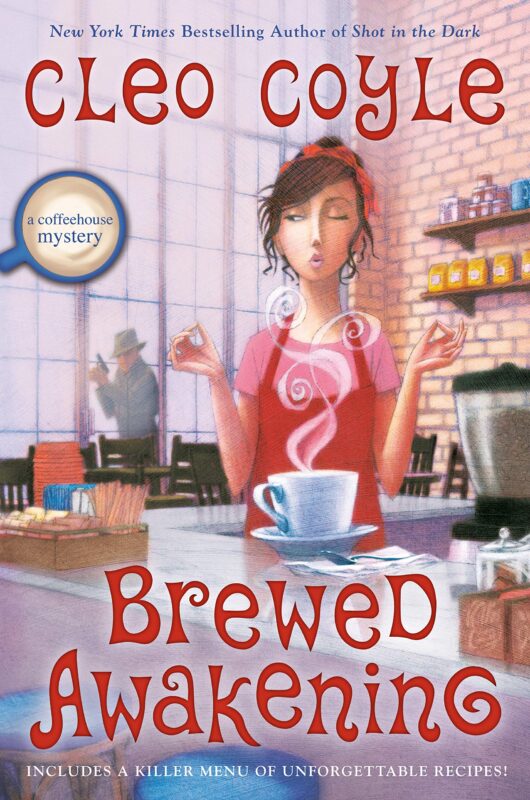 Clare Cosi has woken up in the middle of Washington Square Park. She's been missing for several days, and her friends and family have been out of their minds with worry. So, they're naturally overjoyed when she finally returns home alive and well.
But Clare has no idea how she ended up in the park. Even worse, she can't remember anything from the last fifteen years of her life, including her husband-to-be, Mike Quinn.
19. Honey Roasted (2021)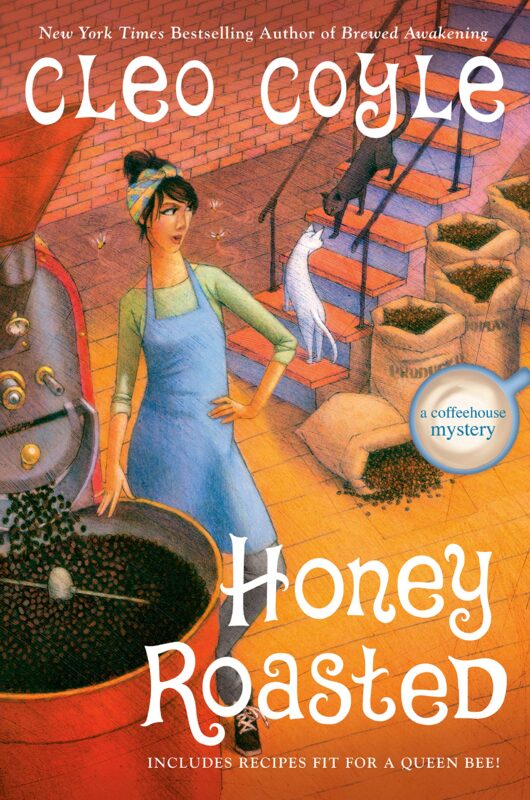 With her wedding day just around the corner, Clare is busy planning her honeymoon. All this talk of honey has inspired her to create a brand new lip-smacking beverage, a Honey-Cinnamon Latte, and it's so good she knows it will be the perfect drink to serve to her wedding guests.
But the honey in her recipe is no ordinary honey; it's prize-winning nectar from 'Queen' Bea Hastings, and everyone in the culinary world is desperate to get their hands on it. So much so that they'd be willing to kill.
The Haunted Bookshop Mystery Books
This cozy mystery series with a supernatural edge follows the adventures of bookstore owner Penelope Thornton-McClure. Her quaint little store has a resident ghost, a private investigator who died there many years ago. And even from beyond the grave, he's still solving mysteries.
The Haunted Bookshop Mystery Books in Reading and Publication Order
The Haunted Bookshop Mysteries can be read as standalone, but hence to get the most out of the series, it's best to read them in the order they were published, listed below.
1. The Ghost and Mrs. McClure (2004)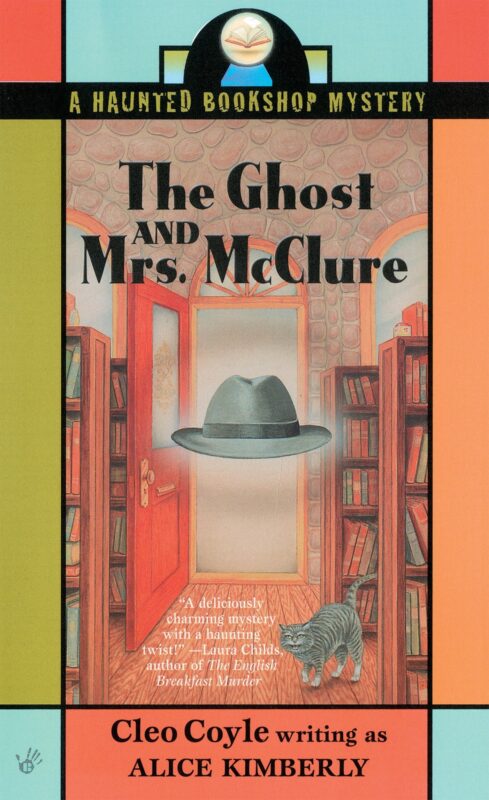 After tragically losing her husband at a young age, Penelope Thornton-McClure has joined her elderly aunt in a new venture; running a quaint mystery book shop in Rhode Island.
Business gets off to a promising start when they manage to secure bestselling thriller author Timothy Brennan for a book signing in the store's new event space. But the book signing ends in tragedy when the famous writer drops dead in front of his fans.
Is his death due to natural causes? Penelope doesn't think so. With inside info from her resident ghost P.I. Jack Shepard, she has reason to believe that Bennen was murdered.
2. The Ghost and the Dead Deb (2005)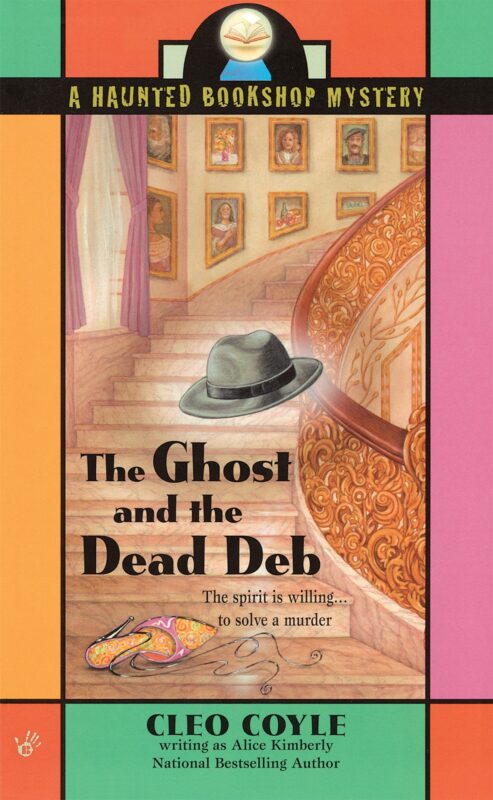 Angel Stark is one of the hottest new authors on the true crime scene, and she's agreed to do a book signing for her latest novel at Penelope's store.
Angel's brand new title tells the story of a high society debutante who is strangled to death. But in a shocking twist, Angel herself ends up murdered in the same way.
So now, with a little help from ghost detective Jack, Penelope is determined to solve the case.
3. The Ghost and the Dead Man's Library (2006)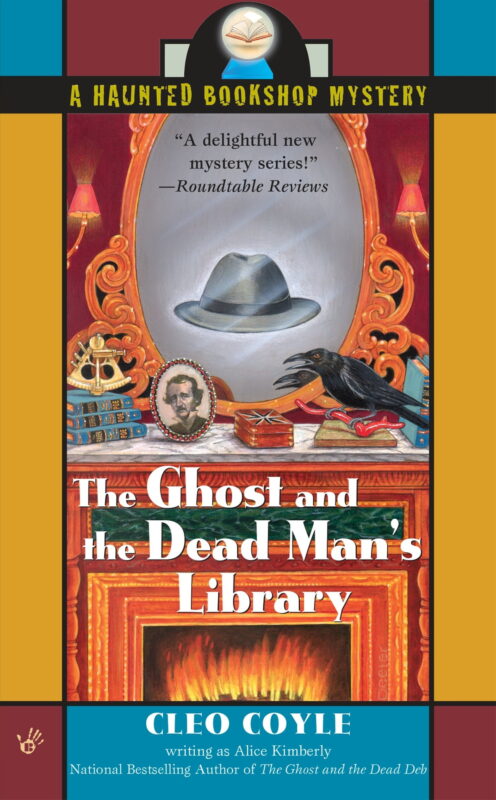 Penelope has stumbled on a goldmine, a rare collection of complete works by the iconic author Edgar Allan Poe. But as she sells the books to keen collectors, she notices a terrifying trend. Everyone who buys the valuable volumes ends up dead.
4. The Ghost and the Femme Fatale (2008)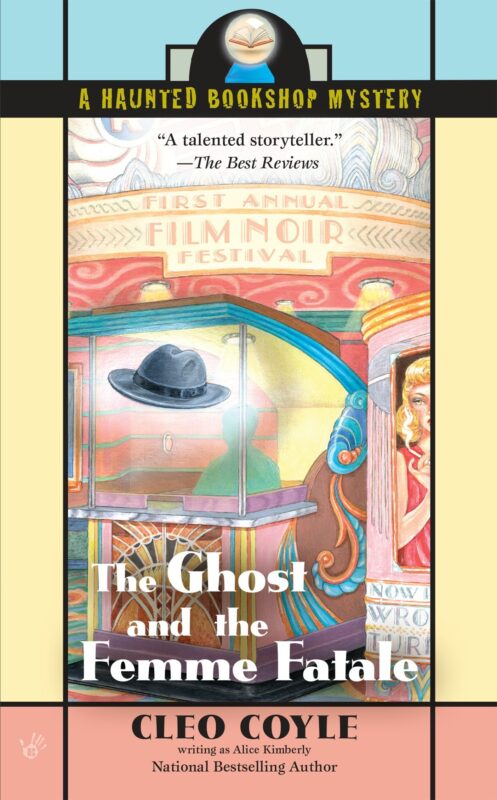 The local movie theater is holding its debut Film Noir Festival, and Penelope is in charge of book sales for the event's high-profile guest speakers.
One of the VIP speakers is legendary film actress Hedda Geist. But after all those years out of the spotlight, the moment she re-enters it, she's almost killed. Before long, other guests start to die, and Penelope is left to figure out who is behind the bloodshed.
5. The Ghost and The Haunted Mansion (2009)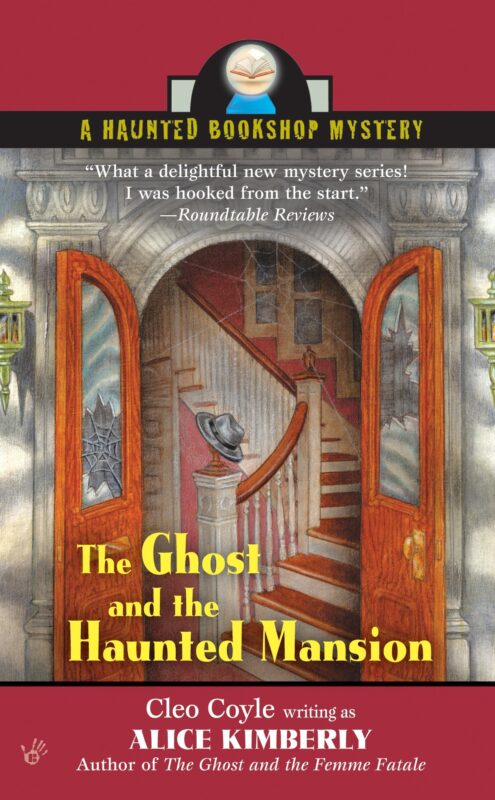 Penelope's friend and mailman, Seymore, has unexpectedly inherited a luxury mansion from a recently deceased elderly lady. But the mansion comes with more than just opulent furnishings and priceless artwork; a whole cast of ghostly entities haunts the place.
And so, Seymour decides to hire a team of exorcists to banish the spirits from the mansion and the entire town.
But there's one ghost that Penelope wants to keep around, her good friend Jack Shepard, and she'd better act fast if she's going to save him from extinction.
6. The Ghost and the Bogus Bestseller (2018)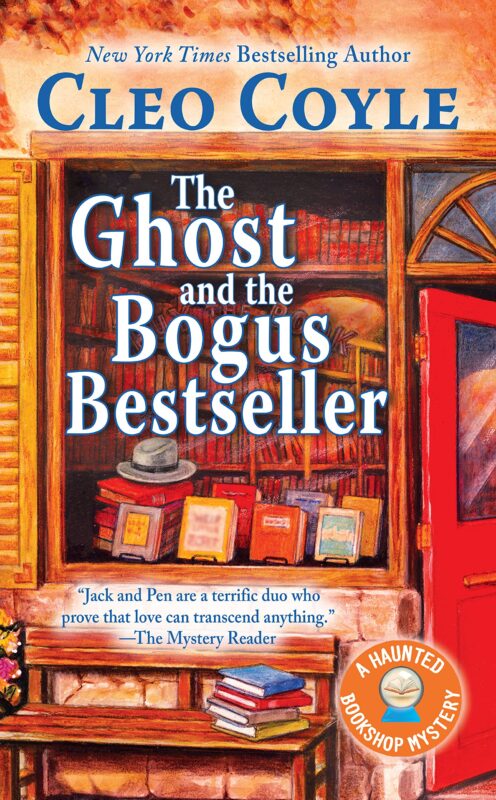 There's a hot new bestseller out, and everyone in town is desperate to get their hands on it. But the novel seems to be bringing out the worst in people.
First, a customer has a breakdown right in the middle of her store. Then another one turns up dead, followed by another, and it soon becomes clear that the book is having a sinister effect on the people of this tiny Rhode Island town.
7. The Ghost and the Haunted Portrait (2020)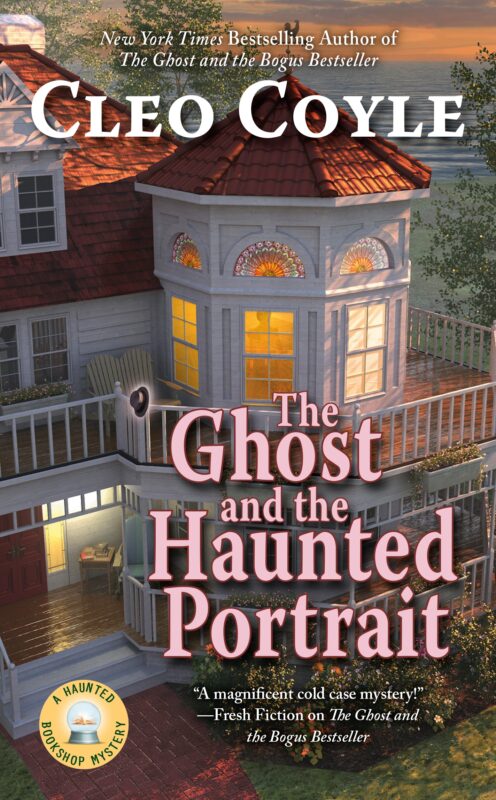 Penelope has uncovered a spooky old painting in her quaint mystery bookshop. The woman in the picture is beautiful, but according to the town's legend, she succumbed to madness.
Penelope's friend Seymour immediately falls in love with the artwork, so he buys it and takes it home. But soon, people around the painting begin to drop dead, and it's down to Penelope and undead PI Jack Shepard to unravel the mystery together.
8. The Ghost and the Stolen Tears (2021)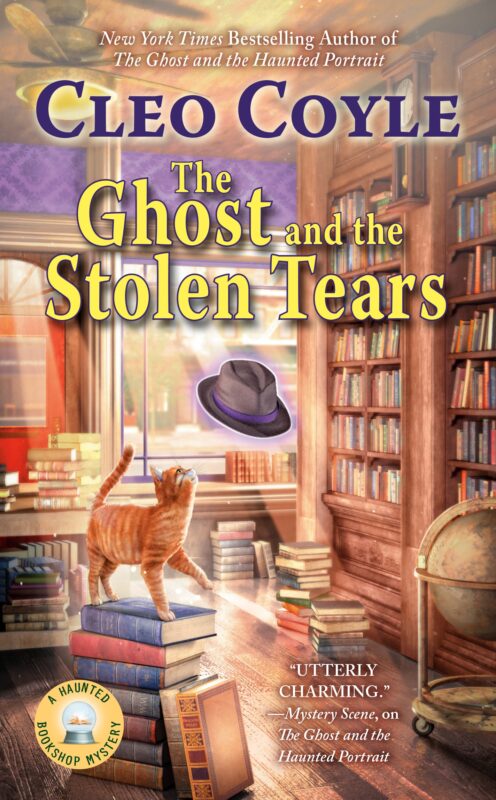 Nomadic van dweller Norma has begun working part-time hours for Penelope in her mystery bookshop. Despite her unconventional lifestyle, she's quickly become a popular member of the community.
But Norma's reputation takes a tumble when she's accused of stealing priceless jewels from a local inn. With the evidence stacked against her, the police prepare for her arrest. But before they can put her in handcuffs, she disappears from town.
Yet Penelope knows her friend isn't guilty of the crime, and with a little help from Jack Shepard, she's determined to clear Norma's name.
9. The ghost Goes to the Dogs (due to be published in May 2023)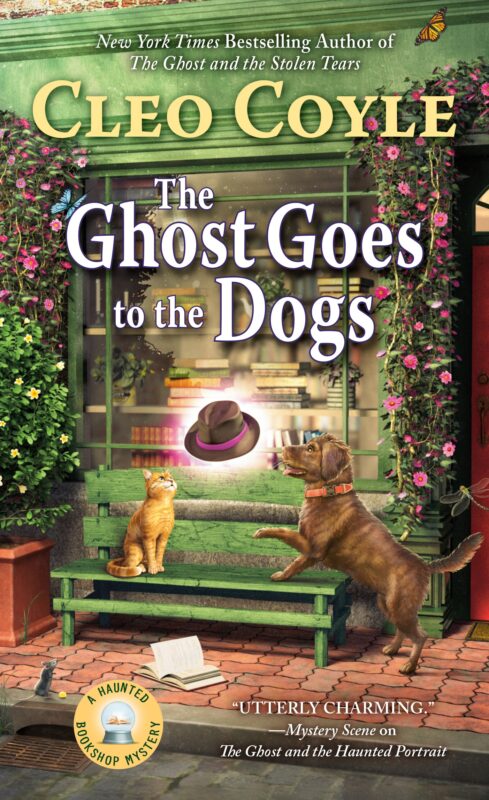 A lost dog in distress leads Penelope and her son to its owner, Mrs. Cunningham, lying unconscious in the woods with a bullet wound.
Mrs. Cunningham is a popular, kind-hearted old lady who wouldn't say boo to a goose. So why would anyone want to kill her? It's down to Penelope and PI Jack Shepard to find out.
Conclusion
If you love cozy mysteries packed with endearing characters and plenty of plot twists, then you'll adore Cleo Coyle's books.
Have you read either of the series above? If so, I'd love to hear your thoughts. Could you drop me a comment in the box below?