Fantasy is where we go to taste new worlds and walk in someone else's shoes for a while. So what makes it even more special? The characters you cannot help but fall in love with and worlds that stand apart from the rest.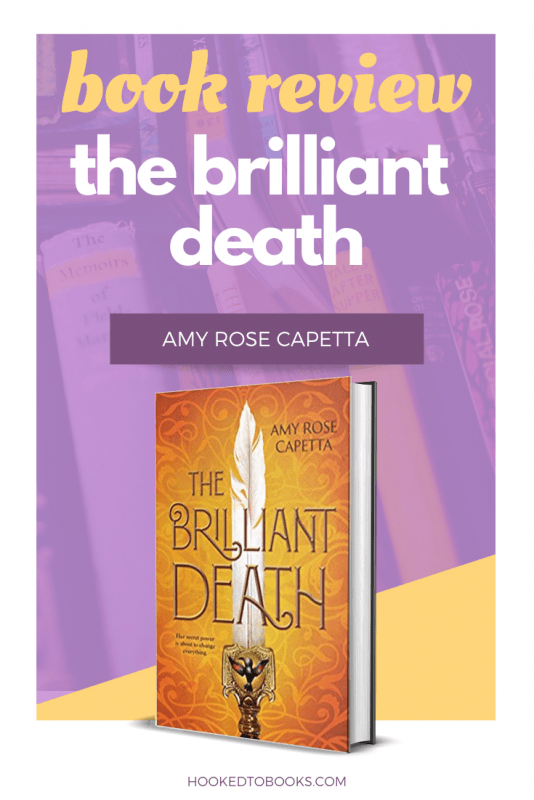 Writing is a gateway to presence. And so much more! Start a book blog to pursue huge profits, enriching presence, meaningful work.
these tips
helped us earn
$5,400+ in December 2018
.
Stumbling across generic YA fantasy books is all too common, which is why my heart leaped when I first picked up The Brilliant Death. When it introduced me to an Italian-inspired fantasy world with a Mafia-style family and a girl who can change people into objects – I was sold — totally sold.
The Book in 3 Sentences
Teodora DiSangro hides many secrets, like how she craves to be acknowledged as an essential part of her mafia family instead of being dismissed because she's a girl — and also how she can turn people into objects using her Strega magic. After her father is poisoned, she has no choice but to answer to the summons of their country's ruler. However, she won't be taken seriously unless she transforms into a boy, which is suddenly a possible option when she meets a stranger on the road who, with the flick of a book, can be anything they want to be.
Did it Live up to the "Brilliant" Title?
It was, in fact, brilliant. Oh come on, I had to say it!
The true meaning of the title is also explained in the book, and it has even darker origins than you'd first imagine. However, what first grabbed me was the world building. It stands apart from the crowd by having a stable and entrancing Italian-inspired world.
It builds its history through short bursts of information and old tales, instead of the dreaded info dumps, and it takes time to craft a world that reads as deliciously lush as taking a bite of chocolate cake. I felt like I was inside the story, and that's a powerful thing!
We have five main families, who mainly function like the Mafia, and they protect their districts and are somewhat united under the main land's ruler: the Capo. Except, the Capo poisons all the heads of the families and demands their first sons answer his summons. Is he trying to destroy them or unite them under his twisted thinking? This question gnaws Teodora the whole book as she tries to uncover the Capo's real plot.
All Hail Phenomenal Magic System
Also, the book doesn't just give us a world with history and gods and languages — we also get an intensely epic magic system. It features Strega who has a diverse range of powers, but they usually involve changing things from one form to the next.
Teodora's power manifests in that she can turn people into objects. Her favorite way to use this is to change the enemies of her family into useful household objects (a plant, a mirror, a music box). However, she has to keep this secret tightly locked away because it's forbidden to use magic.
Stregas go missing and are killed and Teodora has to keep her powers tightly in check, meaning she also doesn't learn as much about them as she'd like. Until the day she meets a stranger on the mountainside who can take any form they please. Boy? Girl? Wind? Bird? The options are limitless.
Teodora immediately craves the knowledge of this power, and she and Cielo's fates entwine as they end up making the journey to answer the Capo's summons together. Cielo wants to find out what happened to their mother, while Teodora must find an antidote for her poisoned father. They function with a kind of student-teacher relationship… except Teodora also has an inexplicable crush and Cielo has enough sass and quips to last them a lifetime. They were both sweet and cunning, which is my favorite combination!
Strong Emphasis on Family
It's easy to fall in love with books where the characters are tightly invested in their family's lives. Teodora will do anything for her family, even though she feels disregarded by them a lot because of being a girl. She's always called the "odd girl," but she feels confined by the label of "just girl." She was next in line for power.
Her father loves her, but it's her younger brother Luca, who isn't even interested in the ruling because he enjoys science and studying, that he's grooming to lead. I loved Teodora's protective and loving relationship with Luca. She also tells her little sisters stories and has so much love for her step-mother and oldest sister.
So after Cielo enters the scene, Teodora is torn between wanting to protect Cielo too and fighting them for more information about magic and how to use it. Honestly a solid relationship. I shipped them so much.
Features Nonbinary Characters by a Nonbinary Author
While YA is growing more diverse as the years go by, we're still in sore need of LGBTQIA+ representation in fantasy particularly. Then this book waltzes onto the scene starring, not one, but two main characters who are genderfluid.
Feeling like a boy sometimes is something that Teodora is. Also, Ceilo presents as a boy or a girl throughout the book as well. What makes the representation even more special is that it's from an author who knows exactly what they're talking about.
I read an article and the author was talking about writing this as a love-letter to their nonbinary partner, too. So what's more special than kids getting to see themselves represented in the fiction they read by authors who pour their whole heart into the tale?
The Writing is a Delicious Feast
I will surely never be able to get enough of this style of writing: it's opulent and emotional and full of color and vivid description. It fills your senses with gorgeous details that make you feel like you're smelling, hearing, tasting the whole world. We're pulled into this fantasy adventure of mountain hikes, magic lessons, schemes behind closed doors, castles in the mountains, dungeons full of secrets, and charismatic rulers who are plotting destruction. Also, the writing wraps you in every sensory detail along the way.
This fantasy is one you will want to gather into your arms and hold tightly for a very long time. It's rich in messages of self-acceptance and learning to be proud of yourself, your body, and your beliefs. It gives us two teens who crave to be accepted for who they are while they use their magic with fierce love to fight for their families.
It is about turning stones into flowers and ignoring hate while Teodora and Cielo love each other twice as hard to make up for anyone who would dare reject them. The ever-changing skies belong to them, and they intend to claim the world.
About the Author
CG Drews is a YA book blogger with the goal to read every book in existence. She's aiming for immortality for this. When not reading, she writes novels and blogs at paperfury.com.