With so many great books in the world, choosing your next read can feel overwhelming. We're already faced with a barrage of choices in our daily lives, and science has shown that when we have more choices, we make worse decisions. That's why I love book subscription boxes. They take the agonizing decision-making process away from my reading habit and let me sail through amazing books that are tailored exactly to my tastes.
Most book subscription boxes are delivered every month, every three months, or every six months, depending on your preferences. There's a subscription box for pretty much every type of reader out there, and you can customize them to your own interests and your favorite genres. Plus, book subscriptions are a great way to discover new books and authors that you might not otherwise come across.
I also love the little extras that you receive with many of these subscription services. Maybe it's coffee, something sweet, or a cute little artisan gift that complements the books inside. Receiving a book subscription box in the mail is a special treat, just for you.
If you want to give yourself, or a loved one, the gift of literary joy on a regular basis, then read on. Here are the best 15 book subscriptions that are worth getting for any bookworm.
15 Book Subscription to Have
#1. Book of the Month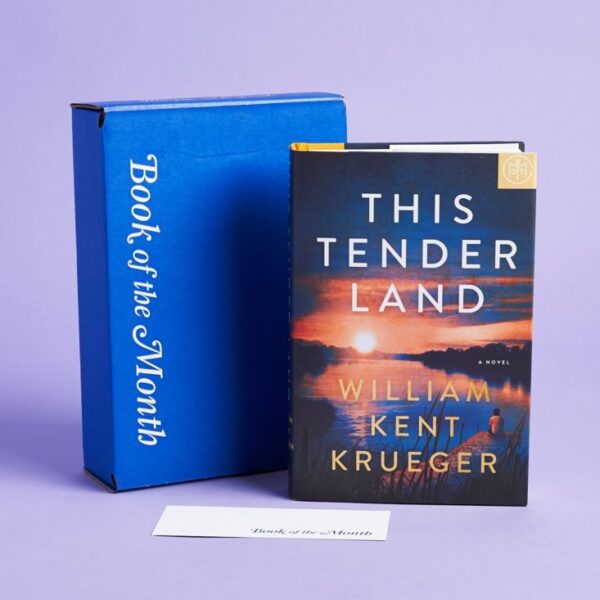 This is the O.G. of all book subscription services. Founded way back in 1926, Book of the Month has almost 100 years of experience curating the best book boxes for literature lovers.
Every month, they compile a list of five of the best new books, many of which are early releases or books from debut authors. You choose your favorite, and they ship it to you in a bright blue box. Alongside your brand new book, you'll also have access to their virtual book club site, and you'll have the opportunity to review the books you read and compare notes with other members.
I particularly like Book of the Month because rather than having an infinite list of contemporary new releases to choose from, it's narrowed down to a much more manageable selection of five options. If you prefer to have a choice about the books you receive, then this is the subscription service for you.
Another cool feature of Book of the Month is that if you don't like anything you see on the list, you can skip a month whenever you like. If you skip, you don't get charged, so it takes the commitment out of signing up for a subscription service.
#2. Owlcrate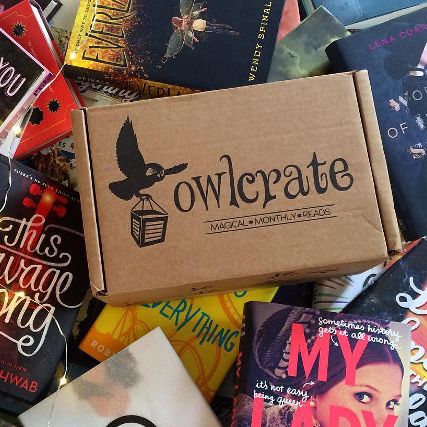 Owlcrate is one of the longest-running and most popular book subscription boxes for young readers. Their classic box is tailored for readers aged 14+ and contains a brand new hardcover book that is often signed by the author. You'll receive high-quality bookish items and exclusive goodies curated by the author. Having this personal touch between the author and the reader really brings a novel to life for young bookworms and keeps them reading, albeit sometimes way past their bedtime.
The classic Owlcrate subscription box is so popular that you'll have to sign up to their waiting list right now, but spots do open up fairly regularly.
Owlcrate's other subscription box, Owlcrate Jr, is a middle-grade reading level box tailored for readers aged 8 – 12 years old. Owlcrate Jr currently has no waiting list and is open to new subscribers.
#3. Rainbow Crate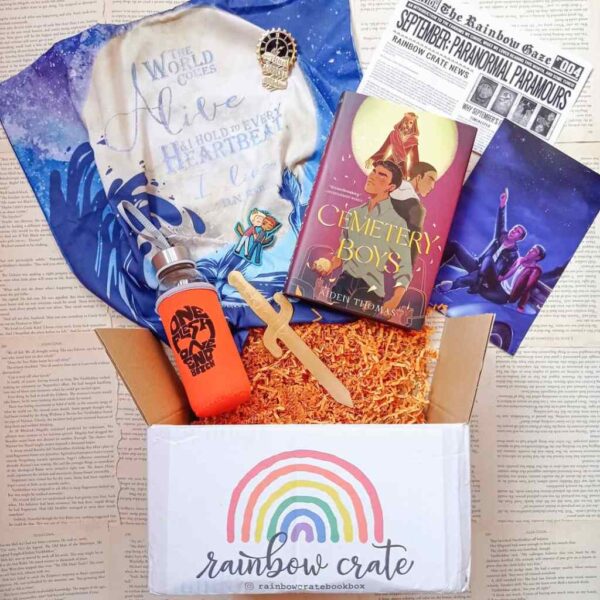 Rainbow Crate celebrates the very best in queer literature. Queer couple Jamie and Danielle, an artist and a librarian by day, noticed that while there are tons of awesome book subscription boxes out there, none seemed to celebrate LGBTQ+ literature and feature queer fictional couples. And so they decided to make their own subscription service, and Rainbow Crate was born.
Each box is curated around a different theme every month. It contains a brand new hardcover book that focuses on queer life by a queer author. The box also contains exclusive and beautifully designed goodies that complement the book. The genres vary from month to month, but you can be sure that each book features major queer characters. It's a great way to build your own home library and explore new literature that celebrates LGBTQ+ life.
Rainbow Crate is another super popular subscription box, so they are currently on a waitlist system. Once you register your interest and join the list, you'll be emailed as soon as a spot becomes available.
#4. BlackLIT Box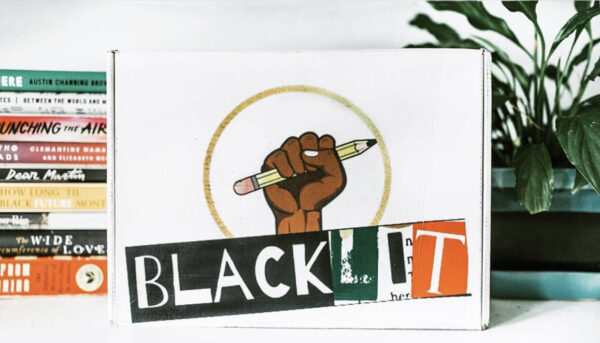 The BlackLIT Box is all about increasing representation for writers of color while closing America's literacy gap.
Created by an educator who felt disheartened at the racial divide both in the classroom and in the adult world, she aims to celebrate black authors and black-owned businesses while introducing people of all races, cultures, and backgrounds to fantastic new books.
Each month you can choose from a selection of books spanning every genre and age group, all written by authors of color. The box also includes a t-shirt designed by a black creative, three to five products made by black-owned businesses, as well as five discussion prompts intended to provoke new ideas and challenge your perceptions.
Every box contains over $100 worth of stuff, which equates to way more than the subscription fee. They ship directly to your door on a monthly basis, and they also offer international shipping too.
#5. Sol Book Box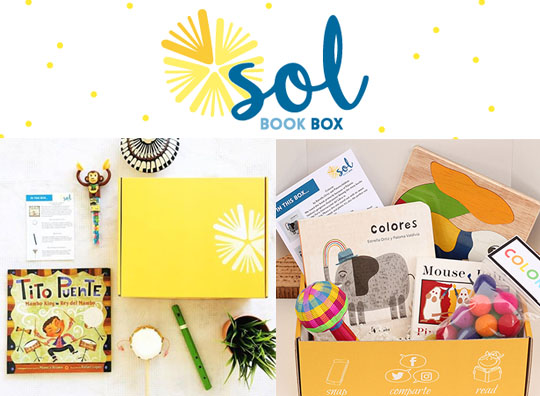 This awesome subscription service for young bilingual readers up to the age of 6 helps to make reading in Spanish easy, fun, and fascinating. Whether your kid's first language is English or Español, these books will introduce children to new vocabulary while celebrating bilingual and bicultural families from various Spanish-speaking backgrounds worldwide.
Each box comes with one hardcover book, which you can choose to receive every month, every three months, or every six months. The books are imported from various regions in Latin America, Spain, and the U.S.
Kids get so excited when their Sol Book Box arrives at the door. Whatever language is mainly spoken at home, this subscription box helps to introduce kids to new words, ideas, and concepts when their brains are still like a sponge.
#6. Used Books Monthly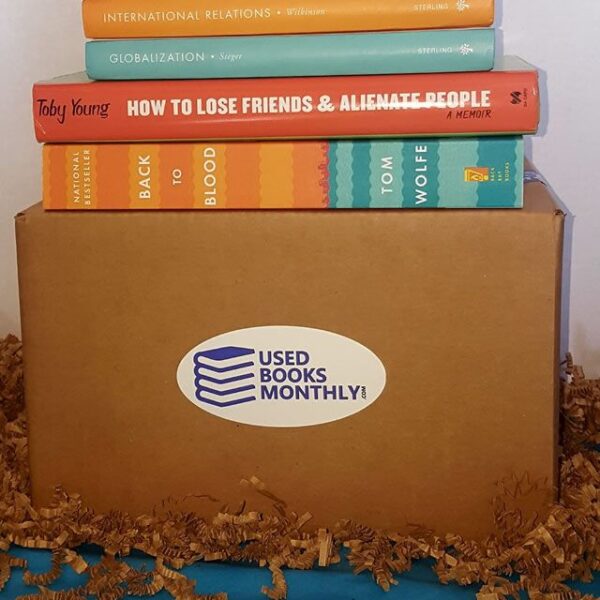 Used Books Monthly's mission is to find new readers for used books, and it's the cheapest book subscription box I've come across by far. If you love browsing through used bookstores (who doesn't?!), then this is the subscription service for you. The budget box ensures that secondhand books don't end up in a landfill and that great works from authors around the world endure the test of time.
When you sign up, you select your preferred genres and your reading preferences from their huge list of options. Then, every month, you'll receive a selection of either one, two, or four books that are tailored to your specific tastes.
Although the books are lightly used, they're never worn out, ripped, or damaged, and most appear to have been read by just one careful previous owner.
#7. Powell's Indispensable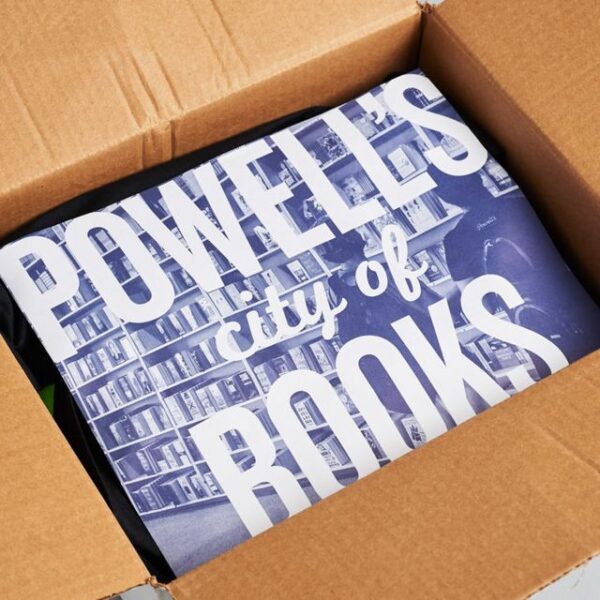 Powell's Books is Portland's biggest independent bookstore and has been serving customers since 1971. Now, they are on a mission to be "the world's best destination for readers, a place that fosters a culture of reading and connects people with the books they'll love."
To do that, they've created a subscription club that delivers new literary fiction on a six to eight-week basis. They pay special attention to independent publishers, and each book is signed by the author and presented in an exclusive edition hard sleeve that looks great on your bookshelf. They also throw in some literary-based surprises into every box.
Powell's also has a specially curated kid's box called BOOX, which also comes on a six to eight-week basis. Every box comes with a new hardcover edition picture book, plus a copy of a hardcover staff favorite. The books all beautifully illustrated and feature diverse characters. And as you would expect, they throw in some exciting kid-friendly goodies too.
#8. My Thrill Club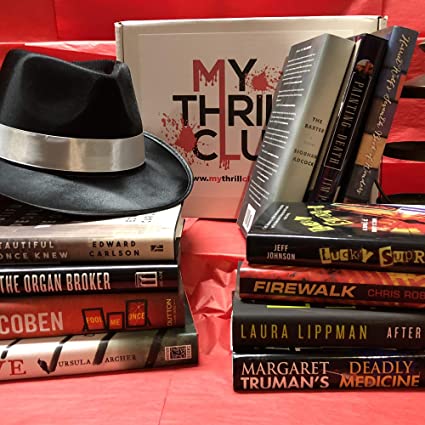 Readers who prefer a more relaxing or soothing read should definitely avoid this subscription box. My Thrill Club is all about introducing readers to the best new horror, thriller, and mystery novels that get your pulse racing and your spine-tingling.
You can choose between any of the three genres, or if you prefer to be surprised, you can leave it up to them. Each month, you'll receive two hardcover books for a price that works out at less than the cost of a new paperback. You'll also receive a voucher for a free e-book to download onto your phone or e-reader.
You can start your monthly subscription whenever you like. From the moment you sign up, you'll receive your first box within two business days.
#9. The Wordy Traveler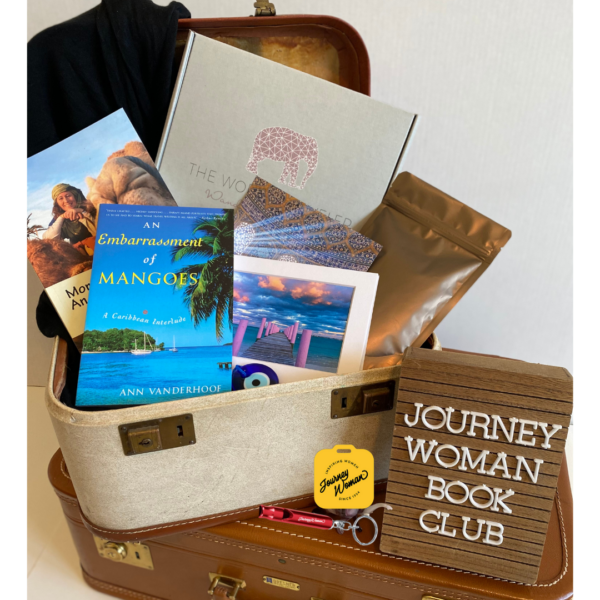 International travel is not so easy these days, but this book subscription box from The Wordy Traveller offers readers the next best thing by allowing them to explore the world without ever having to leave their armchair.
Every three months, you'll receive either one or three books, depending on your chosen subscription tier. The Backpacking edition is the more budget-conscious option, or you can go all-in with The Full Suitcase. Both tiers let you choose between fiction and non-fiction, or a mixture of both.
The books are all handpicked and curated by world travelers to help scratch that wanderlust itch. The books chosen are all guaranteed to send you on a new globetrotting journey, told through the eyes of dreamers, adventurers, and explorers. The box also includes a limited edition fine art print, along with ethically and responsibly sourced tea representing the region you'll be journeying through in the pages of the book.
For every subscription box sold, part of the proceeds goes towards supporting charities for women in girls worldwide by providing education and healthcare where it's needed most.
#10. Peace and Pages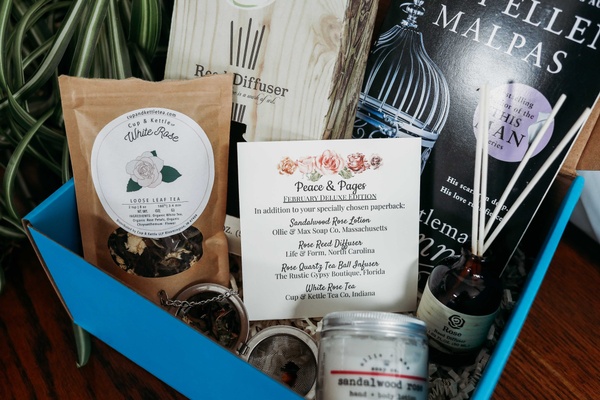 The opposite of My Thrill Club, Peace and Pages focuses on soothing relaxation, something we could all use a little more of from time to time.
There are a variety of different tier options to choose from to suit your taste and budget. Each monthly box has a different theme and contains a new, like-new, or gently used paperback book from a variety of genres, alongside a selection of goodies curated to help you relax and unwind. You'll find aromatherapy products, candles, bath bombs, soothing teas, and more. Everything in these boxes is sourced from U.S.-based small businesses; no mass-produced Amazon products here.
#11. Coffee and a Classic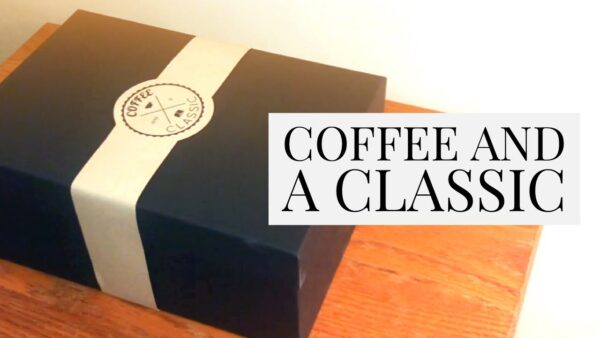 Personally, I love nothing more than curling up with a good book with a big cup of piping hot coffee, and I know I'm not alone. And for lovers of the classics, this book subscription service lets you do just that each and every month.
There are two subscription levels to choose from. The starter tier comes with one brand new hardcover classic, a bookmark, two bookish surprise items, and your choice of either coffee, tea, or hot chocolate. Level up to the standard subscription and receive all of that, plus a mug and a sweet treat, presented in a high-quality photo box.
All the books are classic works of literature. You can choose between classic fiction, classic non-fiction, and classic children's literature. It's a great way to treat yourself every month and build up a home library of timeless books.
#12. Colouring and Classics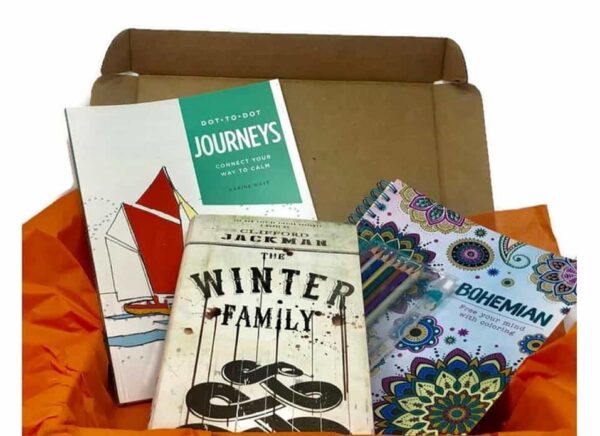 For those who love the classics but would rather skip the coffee, how about some coloring instead? This monthly book subscription box is designed to reduce stress, refocus and let your mind be free. In your box, you'll receive a mindful coloring book for adults, a brainteasing puzzle book, and a brand new hardcover copy of a great classic or critically acclaimed book in the genre of your choice.
This is another bargain subscription box that costs less than the price of a new paperback. You can also upgrade to a premium box that comes with all the basics listed above, plus 12 oz of premium hand-roasted coffee.
#13. Authentic Books
If you consider reading part of your all-important self care routine, then the Authentic Books subscription box is well worth checking out.
It's one of the more expensive book subscription services out there, but what you get inside is an absolute treasure trove of goodies all designed to give a unified experience through all six- yes, six, senses.
Your sense of sight lets you choose from two brand new contemporary hardcover books, while your sense of taste and smell are stimulated with drinks, treats, and hand-poured candles that capture the flavor and scents between the pages of the book. Touch is incorporated with a soothing boutique spa item, and you'll also receive a custom playlist that evokes the sounds inspired by the book.
The final sixth sense is the heart. Authentic Books keeps it heartfelt by donating 5% of every membership fee to support children's education charities. They also source all of their products from small, independent, artisan businesses here in the USA.
This box really is an all-encompassing experience where every item is thoughtfully curated and connected to the book. So pour yourself that delicious beverage, light that candle, put on those tunes, and pamper yourself while reading incredible new books from authentic authors around the world.
#14. Bubbles and Books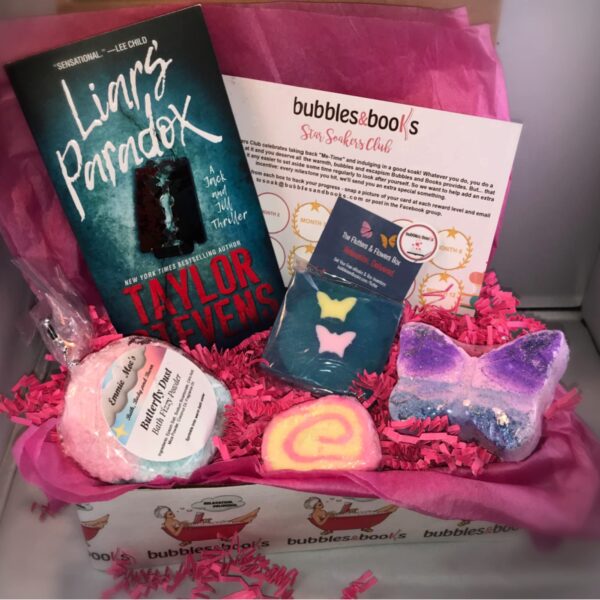 Love reading romance novels in the bath? Then look no further; this is the subscription box for you. Each monthly box includes either one or two paperback romance titles, along with five or more romance e-books. If you have an e-reader, but you also like to delve into a physical copy of a book from time to time, this combination of physical and digital reads is perfect.
Along with the books, you'll also receive several luxury spa products, such as handmade soaps, scented candles, bath bombs, hand and body lotion, aromatherapy oils, and of course, a bubble bath. They're all handpicked and curated by fellow romance lovers and designed to get you in the mood for love.
#15. CoachCrate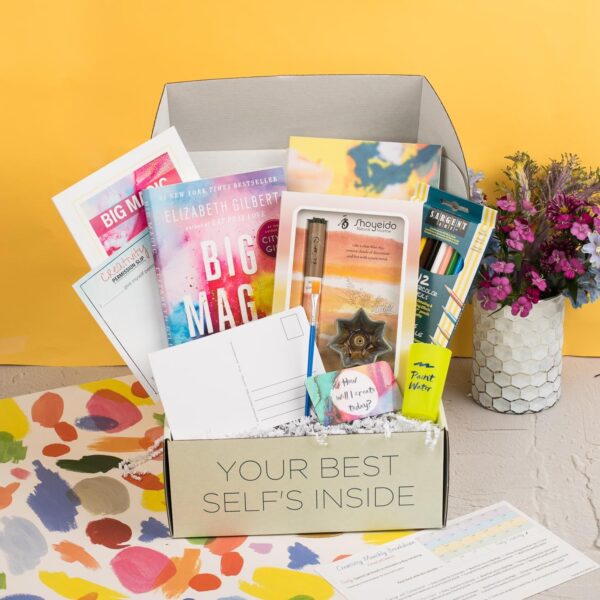 If you can't afford a life coach, this personal growth-themed book subscription box is the next best thing.
Every month, every three months, or every six months, you'll receive a box dedicated to a specific theme. Topics such as happiness, self-love, forgiveness, self-esteem, productivity, and vulnerability, are all designed to help you become the best version of yourself that you can be.
Each box contains a brand new copy of a specially selected self-help book, along with a reading guide full of tips, suggestions, and thought-provoking questions to guide you as you work through the book.
You'll also receive recorded online coaching sessions that expand on the month's topic, as well as exclusive access to an online Facebook community where you can connect with other like-minded wellness fans.
Depending on your level of subscription, your box will also contain 3 or 6 specially chosen products to help you reach your personal goals and explore your potential.
If you're always working on your self-development but find it hard to stay focused and organized, then CoachCrate is a helpful way to stay on track. The box also includes a monthly coaching breakdown and a personalized growth plan for the month that you can check off as you go, along with tons of additional coaching content in the form of worksheets, audio files, live group coaching calls, and more.
Conclusion
Book subscription boxes take the mystery out of choosing your next book while treating yourself to a little something special at the same time. There are tons of options out there; some of them offer bare-bones books without any extras, while others are a treasure chest of treats and trinkets designed to put a smile on any book lover's face.
Whatever kind of reader you are, there's a book subscription box out there for you. Have you tried any of these services out for yourself? I'd love to hear about your experience. Leave your thoughts in the comments section below