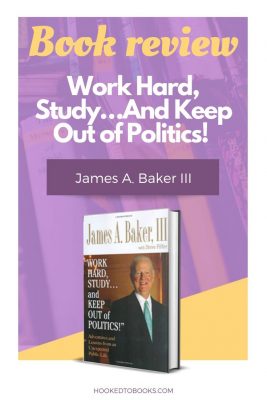 This Book Review of Work Hard, Study…And Keep Out of Politics! by James A. Baker III is brought to you by Katie Sykes from the
Titans of Investing
.
Genre: Non-fiction
Author: James A. Baker III
Book: Work Hard, Study…And Keep Out of Politics! (Buy the Book)
Summary:
In his book Work Hard, Study… and Keep Out of Politics, James A. Baker, III shares his personal memoirs regarding what he considers his unexpected public life. From his upbringing in Houston, Texas, through his career as a lawyer and family life, Baker shares the personal stories that shaped him into one of the most respected public servants in the history of the United States.
Baker first recounts a short family history, along with his education, law career, and lose association as a conservative Democrat. After "converting" to the Republican Party, Baker would display great skill and interest in politics and public service. It was not until 1975 that Baker began his career in Washington at the urging of George H. W. Bush, his good friend, by serving under the secretary of commerce to President Gerald Ford.
Baker would then put his distinguished law career on hold to lead five presidential campaigns for Gerald Ford, Ronald Reagan, and George H. W. Bush, and also serve as chief of staff and Secretary of the Treasury to Ronald Reagan, and Secretary of State and chief of staff to George H. W. Bush.
In these roles, Baker would be instrumental in implementing Reaganomics, leading peace talks when the Cold War came to an end and skillfully advancing the foreign policy goals of the United States, among many other accomplishments.
After his meaningful time in Washington, Baker continued to help with special assignments in foreign policy from the George W. Bush administration and other government reform groups. He also set up the James A. Baker III Institute for Public Policy at Rice University, a top nonpartisan think tank for public policy research.
Known for his diplomacy and wisdom, Baker would leave a powerful legacy in U.S. economic and diplomatic history, and in his book, Baker shares many lessons learned from his unique positions in the United States government.
Baker also writes to inspire readers to consider using their talents to serve the United States of America when he states,
"each of us has the capacity to make the world a better place… all it takes is the dedication of some part of our time and talent to public service."
In this Titans Brief, you will find Baker's answers to these questions:
How are decisions and government work really accomplished?
Who are the most powerful people in an administration?
What is the role of loyalty in politics?
The Brief also provides Baker's views on:
Foreign policy in the United States and how to implement pragmatic idealism
What it takes to work successfully in public service and politics
KEEPING OUT OF POLITICS
"Prior preparation prevents poor performance."

–James A. Baker, Jr.
James A. Baker III inherited the drive to succeed from his family. Born in Houston, Texas, he is a descendant of a legacy of successful lawyers after whom he was named. Baker's great- grandfather, James Addison Baker, helped found the Baker Botts law firm, where Baker's father, James A. Baker, Jr. worked as well. A family of Houstonians, Baker's grandfather, Captain James A. Baker, was instrumental in founding Rice University through his own law career.
A former Marine, Baker's father taught him the importance of discipline and education from a very early age. In fact, Baker would attribute many of his successes in school, work, and public life to following the lessons of discipline imparted to him by his father. Baker believes that one lesson in particular, his father's most famous aphorism, helped him nearly every day of his adult life:
"The Five Ps: Prior Preparation Prevents Poor Performance."
In his preparation to prevent poor performance, Baker attended boarding school in Pennsylvania for the second half of his high school years, then followed in his father's footsteps to Princeton University for his undergraduate education. While in college, he met Mary Stuart McHenry, whom he would later marry.
Baker entered the Marine Corps platoon leaders program and served two years of active duty after graduating from Princeton. To continue the Baker family career trend, he decided to go to law school at the University of Texas. In furthering his education, Baker followed his grandfather's admonition to "work hard, study, and keep out of politics."
Upon graduation from law school, it was time for Baker to choose a law firm. Baker Botts, his family's firm, had a nepotism policy that prevented him from working there, so Baker joined Andrews, Kurth, Campbell & Bradley, another well-respected law firm in Houston.
Before long, Baker had a promising career at his firm and his family grew as his four sons were born. At the time, he would have never considered entering politics, as his goals related to becoming a distinguished lawyer. Furthermore, Baker considered himself a conservative Democrat, but almost apolitical, since the extent of his political involvement had been simply voting. Mary Stuart, on the other hand, was an active Republican.
In 1970, a family tragedy occurred as Mary Stuart fell ill with breast cancer. Sadly, she passed away just months after the prognosis. Baker and his sons, aged 7, 8, 13, and 15 at the time, were devastated. Though time passed, Baker found it difficult to overcome his grief. Thankfully, a good friend, George H.W. Bush, was Baker's tennis doubles partner and empathized greatly with his loss, as he had suffered the loss of his three-year-old daughter due to leukemia.
During this difficult time for Baker, Bush suggested that Baker work on his senatorial campaign to take his mind off his grief. Though reluctant to accept, Baker helped with the campaign for Bush and later remarked that
"if politics didn't exactly save my life, it certainly helped preserve my sanity."
Although Baker had previously considered himself a conservative Democrat, he enjoyed supporting his friend George so much that he began to align with the GOP. He notes that this was the moment he became "hooked on politics."
After the election, Baker was asked to be the state finance chairman for the Texas Republican Party, which was very weak at the time. He also coordinated the Nixon re-election effort in the Gulf Coast area of Texas in 1972.
In August 1973, Baker married Susan Winston. Baker's four sons combined with Susan's three children to blend into one family, and their eighth child would be born four years later. Susan had an interest in politics as well, which encouraged Baker to continue his involvement.
If you love writing, it's time to start a book blog.
start today
(we show you HOW and WHY)
COMMERCE DEPARTMENT AND PRESIDENT FORD CAMPAIGN
"In public service, titles are important for both symbolism and prestige, but they do not necessarily reflect the importance of your duties or how much influence you have. Presidents rely upon the people in whom they have the most confidence, regardless of title… these are the people who have been in the trenches with them…helped win difficult elections. That's why…campaign workers who move to White House staff are frequently the most important advisers to the chief executive."

–James A. Baker, III
It was not long before Baker was itching for a larger role in public service. He turned down an offer to serve as the head of enforcement for the Environmental Protection Agency because he was not highly interested in that role. By June 1975, Rogers Morton, Secretary of Commerce under President Ford, chose Baker to be his number-two person in the department. This brought Baker to Washington for the first time.
As Baker recalls, first impressions are very important in Washington. Baker's first impressions of President Ford and Chief of Staff Dick Cheney during his first visit to the Oval Office were very impactful, leading to great friendships and mutual respect.
Shortly after Baker's appointment, President Ford and Ronald Reagan were in the middle of a close, contentious battle for the Republican presidential nomination. Baker began his work in the Commerce Department to help ease problems brought by government regulations and "red tape." However, after traveling with Ford to Texas on a campaign trip, Ford asked Baker to leave Commerce and work full-time on the Ford campaign as the deputy chairman for delegate operations.
Baker worked tirelessly to learn all that he could about winning delegates for Ford. His successful efforts ultimately led to the necessary votes which secured President Ford the Republican nomination. In addition, Baker began to build credibility with the press–something for which he would be known throughout his career.
After this success, Baker was named campaign chairman of Ford's 1976 election campaign against Jimmy Carter. Baker truly believed that President Ford personified "all that is good about America," as he was popular on both sides of the aisle in Congress, and admired and respected by his staff for his integrity. Unfortunately for Ford, this was not the way all voters viewed him.
The Ford campaign worked to change public perception, but people perceived him as "not television-friendly." In the end, his pardon of Richard Nixon and voters' concerns about the economy led to Carter's narrow victory, in the closest presidential race since 1916. Baker had led the campaign to give Ford the best opportunity possible, and Baker received appropriate admiration for a first-class performance.
1980 PRESIDENTAL ELECTION
"The best way to persuade someone to see things your way is to start by trying to see things his way"

–James A. Baker, III
Baker moved back to Houston and resumed his partnership at Andrews Kurth after Ford's defeat. Unable to stay out of politics for long, he decided to run for Attorney General in Texas. This was Baker's first and only bid for elective office.
After a bit of campaigning, he eventually withdrew his name from the ballot, which in hindsight, he considered a great political move. Shortly thereafter, George H.W. Bush asked Baker to come back to Washington to head his campaign for the Republican primary in January 1980.
Bush was a little-known candidate at first. This was apparent by his low rank in the early polls. However, Baker notes that a low rank in the early polls gives a candidate the opportunity to do better than expected, which is "the name of the game." According to Baker, the ability to look at the glass half-full instead of half-empty is an essential trait for politicians.
The campaign worked hard and Bush remained optimistic. However, as the convention drew near, Bush knew that his support was insufficient to win, so he threw his support to Reagan. At the Republican National Convention, many felt that Reagan would choose Ford as his running mate.
However, to the pleasant surprise of Bush supporters, Reagan chose Bush as his vice-presidential candidate. The Bush camp, including Baker, was thrilled, and even more so when Ronald Reagan asked Baker to serve as his debate negotiator.
As debate negotiator, as in every previous role, Baker remembered the importance of the Five P's. He negotiated for the best terms for Reagan's debates and helped with mock debates to prepare Reagan to succeed. Baker gained Reagan's trust because he believed in Reagan's viability as an orator and president.
In the final days of the 1980 election, the incident that became known as Debategate occurred. Through Bill Casey, Reagan's campaign came into possession of President Carter's debate briefing material. An investigation ensued, during which Baker felt very disturbed that his credibility and reputation for truth-telling were in question. Findings later backed up Baker's honesty and even Bob Strauss, President Carter's campaign manager, said:
"there isn't anyone in American politics whose ethics I place higher than Jim Baker's."
The debates showcased Reagan's ability to share his ideas about how he could make Americans' lives better, and shortly thereafter, Ronald Reagan was elected as the next president of the United States.
REAGAN ADMINISTRATION: CHIEF OF STAFF
"History is shaped by human actions and reactions."

–James A. Baker, III
Two days after the 1980 presidential election, Baker was asked to serve as the White House chief of staff to Reagan. In his memoirs, Baker describes how loyalty is repaid in Washington. It is often the people who are integral in getting a candidate elected who are later chosen for cabinet or White House positions.
Baker soon learned that White House chief of staff is one of the busiest jobs in Washington. In fact, he states "the White House chief of staff, I came to learn, is potentially the second most powerful person in Washington, as long as the holder of that office remembers who is boss."
On March 30, 1981, President Reagan was shot after speaking at a hotel in Washington. His administration was shaken, and the President was distinctly changed by this event. After Reagan recovered, he felt he was "spared for a purpose."
This infused a sense of urgency in him to work to improve the lives of Americans and reduce the threat of nuclear war. Baker states that this moment reminded Reagan, along with his staff, that every day is precious and that in the end, he belonged to God.
Central to all operations of the White House, Baker recalls the extremely demanding, yet rewarding, work of the chief of staff. Working from dawn until dusk each day, he spent a significant amount of time working to bring Reaganomics to reality.
This policy included lowering taxes, reducing government spending (except for defense), working to reduce regulations, a sound dollar, and free trade. Baker's job also included explaining these policies to the press.
Getting Reagan's budget bill passed was a great triumph. Baker relates that to accomplish anything, they had to "pick their fights" and put all of their energy into winning the battles they deemed most important. Eventually, Reagan's bill, which included $130 billion in savings along with tax cuts of $750 billion over five years, was passed with bipartisan support.
Its passage soon made Reagan's economic principles, which seemed radical in 1981, conventional wisdom. Reaganomics would instigate an economic turnaround for the country with real economic growth of seven percent and sustained non-inflationary growth for the following twenty-plus years.
Throughout Reagan's administration, Baker recalls that it was during the smaller meetings within the Oval Office between Reagan and "the Troika" (Baker, Counselor Ed Meese, and Deputy Chief of Staff Michael Deaver) where big White House decisions were made.
After reflecting on the administration's accomplishments and his time as chief of staff, Baker offers the following pieces of advice for success in this arena:
Understand what the president wants and help him get it; if you think he's wrong, tell him, but always respect and carry out his decisions.
Be an honest broker and hear all sides.
Surround yourself with the best people you can find.
Give loyalty and demand loyalty.
Delegate and expect performance, then show appreciation.
Treat everyone with dignity.
When you're ahead, call the question, when you're behind, work harder.
If you can't get everything you want, get what you can.
When you can't win, fall back and fight another day.
Never lie.
In 1984, Baker led Reagan's re-election effort, debate negotiations, and preparation. Reagan had a strong record with an improving economy and won forty-nine out of fifty states.
REAGAN ADMINISTRATION: SECRETARY OF TREASURY
"If I had a theory of history, it was: that if we worked hard and worked smart, we could win each day's battles, and that if we won each battle, we would win the war"

–James A. Baker, III.
Soon after Reagan's re-election, Baker was ready for a new challenge. Originally, his agreement with President Reagan was that the chief of staff position would be a two-year commitment. Baker had an interest in serving as the National Security Advisor, but he did not get the position.
Therefore, Don Regan and Baker came up with a plan to switch jobs, making Baker the new Secretary of Treasury. After getting approval from the President, the switch was made official on January 7, 1985.
During the second term of Ronald Reagan's presidency, tax reform was the top domestic policy priority. In trying to close loopholes and reduce tax rates, Baker "rolled up his sleeves" and played an integral role in shepherding the legislation through Congress.
When the Tax Reform Act of 1986 passed in October of 1986, America had the lowest marginal tax rates and most modern tax code among major industrialized nations in the world.
Before leaving office, Reagan's letter to Brezhnev and his working with Mikhail Gorbachev would lay important foundations for an end to the Cold War. Reagan became known as the "Great Communicator" and Baker admired him for his humor and intellect.
As Reagan's administration came to an end, George H.W. Bush asked Baker to lead his 1988 presidential campaign. Baker discussed this with Reagan and eventually received his blessing to resign from Treasury to begin Bush's campaign.
Baker would always be loyal to the friend who brought him to Washington in the first place. Alan Greenspan, Federal Reserve Board Chairman at the time, described Baker as "one of the most effective Secretaries of the Treasury in the nation's history" and "a tough act to follow."
1988 PRESIDENTIAL ELECTION
"Politics is perception."

–James A. Baker, III
Bush's path to the White House started with the 1988 Republican primaries. According to Baker, Americans must see the president as a person who fits this framework:
Someone who shares their vision of America
Someone with whom they are comfortable,
Someone who can lead. Bush was this man in 1988.
After Republican primaries, Bush was easily named Republican nominee for president. Bush and his vice-presidential candidate, Dan Quayle, strived to highlight their values as the best representation of the majority of Americans at the time.
The campaign focused on contrasting Bush and Michael Dukakis, the Democratic candidate from Massachusetts. After the debates, many believed it was clear that Bush would win, while Baker illustrated the importance of working diligently until the last moment for the victory of a candidate.
BUSH ADMINISTRATION: SECRETARY OF STATE
"The United States has a track record…of exercising power in ways that advance the human condition."

–James A. Baker, III
Bush's appointment of Baker to Secretary of State was the first appointment announced. Baker describes these years as the "most exciting and demanding four years of my professional life." He considers his service under George H.W. Bush as "the payoff of four decades of American leadership."
As secretary of state from 1989-1992, Baker witnessed the fall of communism in the Soviet Union and Eastern Europe, essentially marking the end of the Cold War. Baker also witnessed the eradication of apartheid in South Africa. When he left office, the United States was one of the most admired countries in the world and the world's sole thriving superpower. Baker describes a few details of these events.
In October 1990, with the fall of the Berlin Wall, the United States-led Western alliance achieved their goal of "peace through strength." Not only this, but the victory illustrated how "principles of classical liberalism–personal, religious, and economic–prevail against totalitarian ideology."
During this time, Baker developed a personal friendship with Eduard Shevardnadze, foreign minister of the Soviet Union. Additionally, Baker and Bush used their influence to convince a reunified Germany to continue membership in the European Community and NATO.
After the Cold War ended and the Soviet Union dissolved, Baker went on what he called his "freedom and democracy tour" throughout Eastern Europe and Central Asia. Baker's visits to these nations were pivotal to building good relations and increasing the world's confidence in freedom.
Regarding the Gulf War, Baker recalls his attempts at first to avoid war through meeting with country leaders. However, when Iraq invaded Kuwait in the fall of 1990, the United Nations authorized the use of force through Desert Storm. This was only the second time the UN had ever authorized the use of force to protect a member state from aggression.
Baker also helped to bring about peace prospects for the Middle East. After visiting Syria fifteen times, he persuaded Syria to meet and begin negotiations with Israel designed to end over forty years of conflict.
Having a successful term as secretary of state does not come without its sacrifices. Baker remembers celebrating Thanksgiving day away from his family and outside of the country and the unbelievable demands of his schedule. His personal sacrifices, however, enabled the U.S. and world to see changes that promoted freedom and democracy around the globe.
1992 PRESIDENTIAL CAMPAIGN
"One constant in politics is change." I

–James A. Baker, II
In 1992, while Baker was still secretary of state, Bush asked Baker to help with his re-election campaign and serve as White House chief of staff. Though Baker could not resist his friend's request, he remembers that his resignation and farewell speech from his Secretary of State position was the most emotional speech he ever gave. His term had been exceptionally influential, and he considered it the best job he ever had.
Bush earned an 89% approval rating in 1991. However, as time passed after Desert Storm, the administration did not capitalize on the opportunity for a domestic program of economic revitalization. During Bush's re-election campaign, it became very apparent that Republicans had controlled the White House for too long.
Twelve years of Republican control was significantly longer than the average eight years before a switch of a political party. As Baker writes, "one constant in politics is changing," so, to this end, voters and the press were ready for a change.
Campaigning against Bill Clinton and Ross Perot was tough, complete with media difficulties and false accusations. This, combined with the public's readiness for change, made Bush's re-election campaign unsuccessful. On January 20, 1993, Bill Clinton was inaugurated as the United States' forty-second president and a peaceful transition of power was made, which Baker notes is the hallmark of our great democracy.
Baker was disappointed that he did not get a chance to serve a few more years as secretary of state, particularly to work to promote peace for Israel. Despite this, Baker remembers a feeling of relief that his next job–outside of Washington–would give him more time for his family and hobbies.
AFTER POLITICS, MORE POLITICS (AND SERVICE)
"The past lives in us and we are, individually and as a nation, the beneficiaries of untold generations of love and toil and sacrifice. It is our responsibility, in turn, to pass on these same values to future generations."

–James A. Baker, III
Baker received many offers to work at Fortune 500 companies, law firms, banks, and other organizations before deciding to finally join the Baker Botts law firm, which embodied his family's DNA. He served as a senior advisor to the firm, helping mostly with special and unique issues of his expertise. He also served as a senior counselor at private equity firm, The Carlyle Group. Baker stayed busy with a variety of jobs and projects.
Baker set up the James A. Baker III Institute for Public Policy at Rice University, which serves as a top nonpartisan think tank for public policy research. Baker also enjoyed positions on the boards and served as a trustee for many organizations, including the King Ranch, Princeton, Rice, the M.D. Anderson Cancer Center, and Enron (until 1995).
In 1996, Baker seriously considered running for president himself, but ultimately decided against it. In the 2000 election, Baker represented George W. Bush in the Florida vote recount. This included many trials in Florida's state courts and finally in the U.S. Supreme court for legitimacy. Baker notes the following lessons learned from the recount:
Candidates must abide by rules in place on election day.
Journalists should allow elections to play out naturally, without calling the outcome early, or undermining the integrity of the process.
Americans should be thankful that our constitutional democracy works; "there were no tanks in the streets" thanks to American faith in the rule of law.
Baker's reputation for excellence and diplomacy led him to find leadership positions in many special assignments. For instance, Baker helped the United Nations with establishing self- determination in Western Sahara. In 2003, Baker participated in the Special Presidential Envoy to the nation of Georgia to impress on the president how important it was for Georgia's elections to be free and fair, even if it led to Eduard Shevardnadze's resignation. Baker also led the effort to ask other countries to forgive Iraq's debts, as would the United States, in hopes of helping Iraqi people rebuild their country.
Domestically, Baker joined President Jimmy Carter in 2005 as co-chair of a bipartisan commission on Federal Election Reform to improve voter involvement and integrity of elections. In 2007, Baker served as co-chair of the National War Powers Group with Warren Christopher, which studied how the Constitution allocates the power to start, conduct, and end wars.
In 2006, Baker was asked to co-chair a bipartisan study group on Iraq with Lee Hamilton. Its intent was to keep out of the public eye while giving suggestions to George W. Bush's administration and Congress regarding issues in Iraq and the situation's outlook. The group unanimously agreed to launch an offensive to build an international consensus for stability in Iraq and the Middle East region.
The group decided that externally the United States should deal more aggressively with the Arab-Israeli conflict. Internally, the study group resolved that the United States should help Iraqis take responsibility for their own future by supporting them as long as they made substantial progress on their own. People of various differing political views respected the study group's suggestions.
Writing is a gateway to presence. And so much more! Start a book blog to pursue huge profits, enriching presence, meaningful work.
these tips
helped us earn $5,400+ in December 2018.
LESSONS ON FOREIGN POLICY AND PRAGMATIC IDEALISM
"Unfortunately there has been a deterioration in our nation's relationships with many countries. [In 1993,]…America was the most admired nation on the face of the earth, but… today…most countries oppose our policies and distrust our motives. It is vital to understand this and exercise our power in as understated and as collaborative of a way possible."

–James A. Baker, III
"Pragmatic Idealism" is the approach to foreign policy that Baker suggests. It is based on an optimistic view of man but is tempered by the knowledge of human imperfection and the complexity of real-world trade-offs. Baker's advice for foreign policy in the United States includes the following practices and ideas:
Be comfortable with using our power; other countries depend on our leadership.
Recognize that U.S. power is limited; we cannot be a policeman for the world.
Cooperate and coordinate with others to expand trade, investment, and macroeconomic policy.
Make coalitions with others, but be prepared to go it alone if vital interests are at stake; appreciate our allies.
Be prepared to change course if necessary if or when events change.
Be prepared to talk with our enemies, for "talking with your enemies is not appeasement or a sign of weakness provided it is done the right way."
Be aware that domestic support is essential to successful foreign policy; the will of American people are the final arbiter of foreign policy.
FINAL THOUGHTS ON PUBLIC SERVICE
"In the back of my mind, I knew the things I was involved in were important; that's one reason I enjoyed public life so much."

–James A. Baker, III
Baker's unexpected involvement in government quickly turned into a very significant public life for which our country is grateful. Towards the end of his memoir, Baker reflects on a few ideas powerful people must remember. The first is the impermanence of power and place.
Baker warns that "power can be intoxicating and addictive…[and] it tends to corrupt." During his years in the spotlight, Baker says it was his family, friends, and faith which helped him remain grounded. He reminds readers that faith, family, and friends are the things that give life real meaning.
Baker also cites his love for the outdoors and his favorite hobbies, hunting, and fishing, as important outlets outside of Washington during his career. Whenever he got the chance, Baker would often retreat to his ranch or Wyoming home to rejuvenate.
Throughout all of his roles in politics and public service, Baker's actions exemplify the importance of appreciating and respecting others despite political differences. He had the utmost respect for the presidents he worked for (Ford, Reagan, and Bush) and considered all of these men to have great personal integrity in addition to being very smart and personable.
Baker's admiration and gratitude for these presidents and for his time in Washington are very evident. Lastly, Baker writes to readers about the significance of public service:
"each of us has the capacity to make the world a better place. All it takes is the dedication of some part of our time and talent to public service…It is the promise of such participation by our citizens that is the best hope for our country's future."
HookedtoBooks.com would like to thank the
Titans of Investing
for allowing us to publish this content. Titans is a student organization founded by
Britt Harris
. Learn more about the organization and the man behind it by clicking either of these links.
Britt always taught us Titans that Wisdom is Cheap, and the principal can find treasure troves of the good stuff in books. We hope only will also express their thanks to the Titans if the book review brought wisdom into their lives.