Ah, puns, how I love thee. Both hilarious and cringy in equal measure, puns are the undisputed champions of the wordplay world. They're also a great way to irritate your loved ones who might not appreciate the wonder of puns quite as much as they should.
If you enjoy a good pun just as much as I do, then you'll love the books on this list. Packed with witty, imaginative and eye-roll-inducing one-liners, these are the best pun-based books around!
Best Book of Puns to Make you Laugh, Howl, and Cringe
| Sr. No. | Title | Publication Date | Print Length | Author | Publisher | Where to Buy |
| --- | --- | --- | --- | --- | --- | --- |
| 1 | It's a Punderful Life | February 13, 2014 | 64 pages | Gemma Correll | Dog N Bone | Book Shop |
| 2 | The Best Book of Puns | August 25, 1998 | 168 pages | Art Moger | Kensington Publishing Corp. | Amazon |
| 3 | The Little Book of Puns | January 1, 2011 | | Alison Westwood | Hachette Australia | Amazon |
| 4 | The Rather Large Book of Puns | April 18, 2015 | 206 pages | Benjamin Branfman | CreateSpace Independent Publishing Platform | Amazon |
| 5 | The Smart Ass Book of Puns | August 21, 2020 | 34 pages | LEFD Designs | LEFD Designs | Amazon |
| 6 | Let the Pun Shine | October 08, 2019 | 64 pages | Teo Zirinis | Dog N Bone | Book Shop |
| 7 | Have a Little Pun | August 11, 2015 | 80 pages | Frida Clements | Chronicle Books | Amazon |
| 8 | Does the Name Pavlov Ring a Bell | January 2, 2018 | 272 pages | Gary Blake | Skyhorse | Amazon |
| 9 | The World's Best Collection of Puns | April 08, 2020 | 136 pages | Punstar | Shn | Book Shop |
| 10 | The Pun Also Rises | April 03, 2012 | 240 pages | John Pollack | Avery Publishing Group | Book Shop |
1. It's a Punderful Life: A fun collection of puns and wordplay by Gemma Correll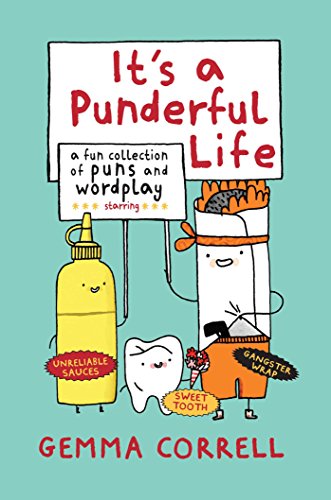 Gemma Correll's illustrated online series, Monday Punday, was a hit with punsters around the globe, and so in 2014, she released her book 'It's a Punderful Life', taking her creations into print and onto coffee tables worldwide.
Correll's adorable illustrations perfectly complement a hilarious and clever collection of wordplay and puns. If you're already a fan of her online work, then you're in luck; for this book, she's selected only the creme de la creme, her all-time fan favourites, but there's also a great selection of brand new, never before seen puns for fans to enjoy too.
Some are short, simple, and so groan-worthy that you can't help but smile. But others are a little more complex and clever, so much so that even the most seasoned pun pros might have to read them out loud before they get the joke.
This is a relatively short and sweet collection of just over 50 puns in total, all of which come with the publisher's guarantee to "bring a smile to even the most miserable person's face."
2. The Best Book of Puns by Art Moger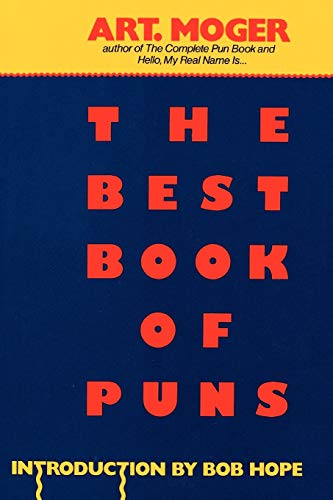 With a book title like this one, it's clear that author Art Moger is pretty confident about the quality of his puns. And so he should be; with page after page of twisted phrases, double entendres, and pun-ishingly hilarious wordplay, this compilation of quips is a great all-rounder for anyone who can't resist a word-based wisecrack.
It's packed with super-smart, quick-witted one-liners along with a healthy dose of those groan-inducing bottom of barrel puns that we love oh so much. There's also a handy PUNdix and a PUNabridged dictionary that you can refer to whenever you need a little wordplay ammunition.
3. The Little Book of Puns by Alison Westwood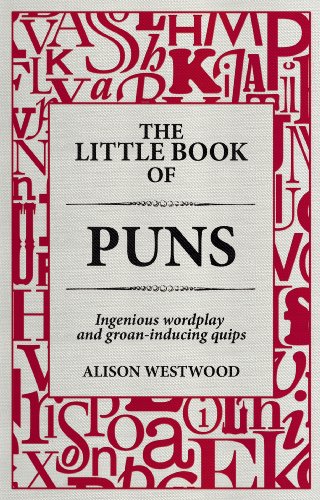 Alison Westwood's neat little wordsmith's companion refuses to accept the modern-day idea that puns are old-fashioned, cheesy, and inferior forms of wit. Oh no, instead, she insists that a good pun actually takes a great deal of skill, timing, and intelligence to pull off, and we're inclined to agree.
In a world where text speak and lazy slang are taking over the common vernacular, the author reminds us why preserving the art of the pun is more important than ever. And so, her 'Little Book of Puns' is both a celebration and an exploration of all things paronomasia (yes, that's right, the practice of puns has its own fancy word!).
It's packed full of what critics describe as 'ingenious wordplay and groan-inducing quips' that only the most sharp-witted punsters can pull off around the dinner table.
4. The Rather Large Book of Puns: Over 500 Excellent and Original Pieces of Wordplay by Benjamin Branfman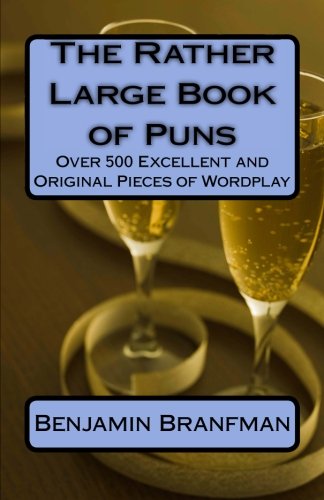 If it's quality and quantity you're after, then Benjamin Branfman's 'Rather Large Book of Puns' is an essential addition to your coffee table collection. There are over 500 top-notch, classic, and original puns, quips, and jokes to explore, and unlike many other books of puns out there, this one will take much more than one sitting to enjoy (or endure, depending on your pun-spective!).
There are plenty of hilarious one-liners and witty quotes thrown in, too, making this an all-around sidesplitting read that's bound to turn any frown upside down.
5. The Smart Ass Book of Puns: Guaranteed to hit your punny bone! by LEFD Designs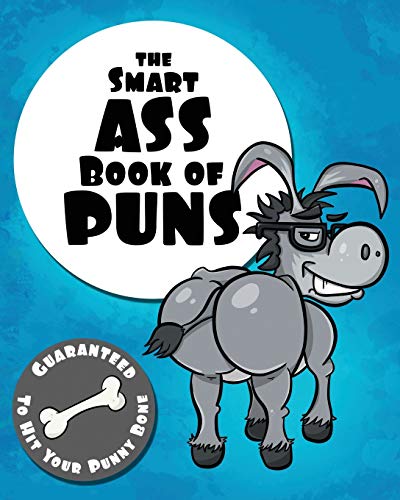 The Smart Ass Book of Puns is a pun collection with a healthy side order of sass. It's packed full of cheeky, good-humoured zingers that will make you laugh out loud and add a little cheer to your day.
And if you have a penchant for sarcasm, then you're in luck; this is the perfect blend of imaginative wordplay and quick-witted sarcastic jibes that gets right to the heart of what we're all really thinking in those situations where we just smile and nod.
This snarky selection of tongue in cheek puns gently nudges the boundaries of 'acceptable,' making it an excellent gift for anyone prone to "taking it too far." And if the jokes aren't already hilarious enough, this book is filled with vibrant, colorful, and imaginative cartoon illustrations that tie the side-splitting fun up into a neat little bow.
6. Let the Pun Shine: Fun puns to brighten your day by Teo Zirinis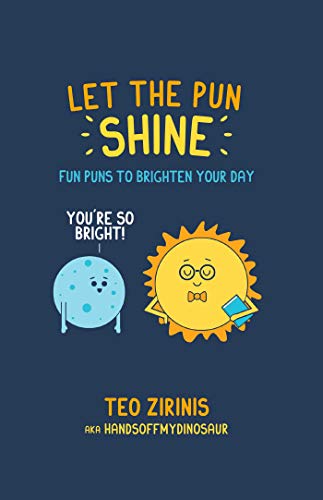 Teo Zirinis is the brains behind the viral internet sensation, HandsOffMyDinosaur! – a fun-filled collection of illustrations and comics inspired by food, books, animals, and the little things that make up our everyday lives.
His super silly and hilariously adorable visual gags have become a social media marvel, and now, he's bringing his unique, endorphin inducing style to our bookshelves, too.
'Let the Pun Shine' features over 50 beautifully illustrated and hilarious visual jokes. Some are the so-bad-they're-good type that all true pun lovers adore, and others are surprisingly quick-witted and clever. Reading this book, you can't help but be impressed by Zirinis' ability to combine simple words and pictures to create something truly brilliant.
7. Have a Little Pun: An Illustrated Play on Words by Frida Clements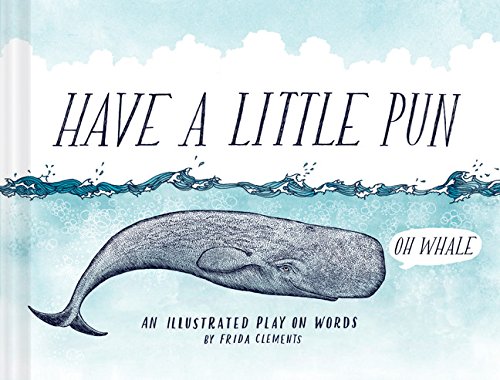 Frida Clements is another punster combining her own original brand of wordplay and humour with colourful, vibrant illustrations to create a grin-inducing coffee table read.
Each page is a work of art in itself that would look great in a frame on the wall. And when you lean in to read the hand-lettered words, you won't be able to resist cracking a smile or breaking out into a full-on ROTFL.
This playful collection is a celebration of the Earth's flora and fauna, punctuated with witty one-liners like "That's coo, says the pigeon," "Honey, bee yourself!" and "Hate puns? Birch, please." It's the perfect gift for any nature-loving pun-slingers in your life.
8. Does the Name Pavlov Ring a Bell? 879 Hilarious Puns to Test Your Wit by Gary Blake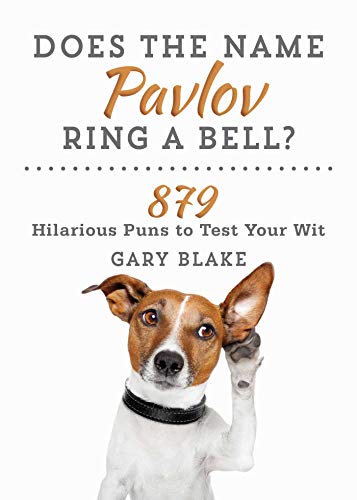 Gary Blake's 'Does the Name Pavlov Ring a Bell?' is a humongous anthology of puns; in fact, you'd be hard-pressed to find a bigger collection of wordplay anywhere else.
There are a whopping 879 one-liners packed inside the pages of this entertaining compendium, all designed to make even the crankiest of curmudgeons crack a smile.
A backwards poet writes inverse. The calendar thief only got twelve months. Why does the Pope travel so much? Because he's a roamin' Catholic. See, I bet you're smiling (or cringing) already!
9. The World's Best Collection of Puns by Miss Punstar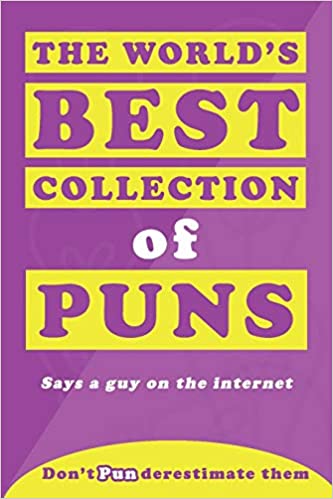 The World's Best Collection of Puns (says a guy on the internet) is a compendium of over 400 hilarious puns that will make your friends and family groan, squeal and giggle with delight.
The mysterious author, Miss Punstar, urges you not to pun-derestimte them, claiming some are so good, you can even use them in your best man's speech at a wedding!
And best of all, this play-on-words-manual is small enough to fit inside your pocket, so you can take these wisecracking puns with you wherever you go (at least until your friends and family stage an intervention.)
10. The Pun Also Rises: How the Humble Pun Revolutionized Language, Changed History and Made Wordplay More Than Some Antics by John Pollack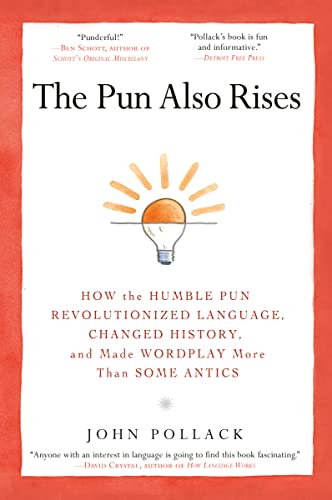 Listen up, pun-slingers; you don't need to justify your love of puns to anyone. But if you wanted to, then The Pun Also Rises would be the book for you.
Unlike the rest of the titles on this list, The Pun Also Rises isn't just a collection of hilarious jokes and quips. It's a deep dive into the history and evolution of puns that explores the many ways they've revolutionized not only language but also our modern civilization as a whole.
That's right; puns are anything but the lowest form of humour – they're a glorious and hilarious expression of human wit and creativity, even if they do make us cringe and groan. And speaking of cringing and groaning, this book explains precisely why so many of us have this kind of reaction to these clever little wordplays.
Plus, as a pun-lovers bonus, sprinkled in between the well-researched chapters on etymology, history, anthropology, and brain science, are plenty of the author's own hilarious puns, along with some of the most classic pun-perfect examples of all time.
Conclusion
Jokesters rejoice; these ten books are the perfect reads for anyone who appreciates the true glory of the humble pun. But if you can't wait to get your next wordplay fix, then don't worry, I've got you covered…here's my collection of 60 book-related puns that are guaranteed to make you giggle.
I don't know about you, but I could always use a fun pun to brighten up my day, so if you've got any zingers up your sleeve, drop them down in the comments box below!