At A Glance: Our Top 5 Picks for Floor Lamps for Reading:
It wasn't until very recently that I swallowed the floor lamp pill. I used to read using the regular ceiling light… Like an animal!
When I went to college, I decided to grab myself one of the best floor lamps. And let me tell you, it elevated the experience.
I truly believe I read more because the warm light was just so inviting.
Obviously, you don't need the perfect environment to read a book or get to work. But why settle for less when you can create an enticing atmosphere that puts you in the right mood and boosts your creativity?
Plus, for most people, a regular lamp or ceiling light isn't powerful enough for reading and they end up straining their eyes!
Before you go out there and pick up a random floor lamp for reading, you need to know a few things.
What to Look for When Buying a Floor Lamp for Reading
Not all lamps are created equal.
Depending on how you want to use them, there are many different options. Keep in mind that the best floor lamps for reading aren't necessarily suitable for anything else.
If you want a bright, energetic light to welcome guests in the living room, you might want to choose "cool" color temperature (3500K to 5000K).
But the same lamp in your bedroom will keep you up all night. In that case, you need a warmer color temperature (<3500K).
(Note: If you want a floor lamp to accommodate the different rooms in your house, check out this post)
On the other hand, did you know that as we age, our body requires more light in order to read effortlessly?
For example, if at the age of 45 you need 400 lumens to read your favorite book, at the age of 55 you'll need 700+. While the best reading floor lamp for the elderly have a dimmer switch, it is wise to choose something powerful enough so it'll last for years!
But wait! Even if you take everything into consideration, you might still end up with an ugly light that hits your reading nook "the wrong way".
See, the atmosphere a lamp creates matters.
The 6 Best Floor Lamps for Reading
So, what's the sweet spot? Fear not, my desperate bibliophile, because I will assist your quest and present you with the best reading floor lamp for your eyes.
Here's the only floor lamp you'll ever need… (Ok, more like six, but whatever.)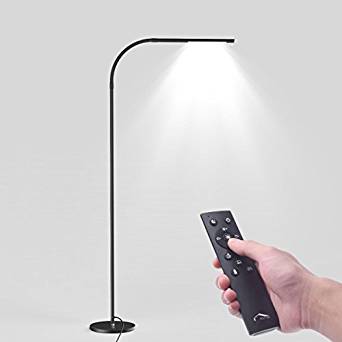 If you're looking for a thin, tall floor lamp with a minimalistic design look no further. Joly Joly provides you with a discreet light source that can fit almost anywhere. And don't be afraid to move it around, it's very sturdy.
It comes with adjustable brightness levels and color temperature, meaning you can safely use it at night.
The best part is that you get a remote control so you don't have to get up when you're about to fall asleep. Pretty sure that's something I was praying for since I was a little kid.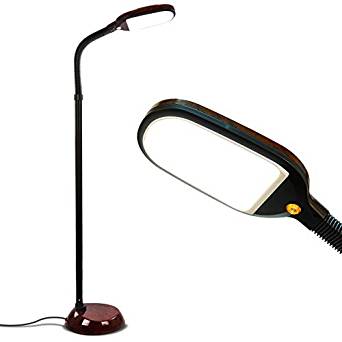 Not gonna light, my first impression was "Wow, that's an ugly lamp". But hear me out because I've changed my mind.
This bad boy is one of the best LED floor lamps for reading. Even though it produces a rather cool temperature light, the adjustable gooseneck makes up for that. You can move it around and find the perfect lighting angle.
Plus, the bulb doesn't heat up, meaning you can throw a colorful cloth on it and create the perfect mood (that's a cool trick coming from my mother btw).
As for its style, I suggest you avoid the original, plain black color. Go for something more warm and fun.
Lastly, you can use this one for detailed work, be it editing, designing or even crafting.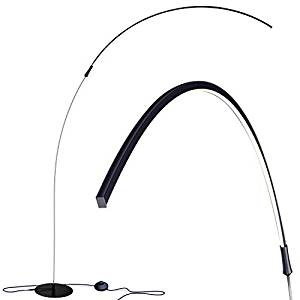 One of the coolest, futuristic-looking lamps out there.
The way it curves over your reading nook illuminates your whole reading space, without creating shadows and uneven lighting.
The warm light is perfect for sensitive eyes but also powerful enough so you can read or write with ease. But it's definitely not strong enough to light up a very big room so keep that in mind.
Although it's a bit pricey, you shouldn't think of it as another floor lamp. It's a piece of furniture that can add to the overall aesthetics of your room.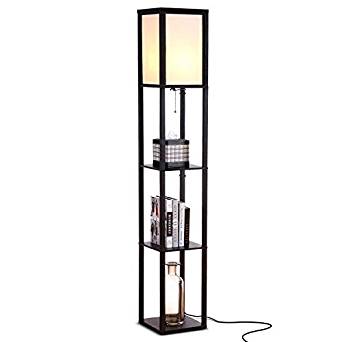 Well, it's in the name. It's a lamp that also has shelves. Is that important for a floor lamp?
I thought it wasn't but it turns out that it this particular lamp can transform the room. You can use it as a small, cozy library where you keep your most precious gifts or you can decorate with different items to create a reading-friendly environment.
I'm usually not a fan of the multi-purpose products, but this one did it the right way!
You don't need me to convince you. Look at how beautiful it looks! Imagine having it by your bed…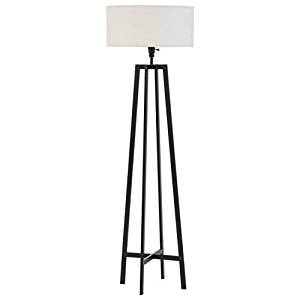 I've seen these lamps in every decoration related blog or magazine. And yeah, they look pretty cool, to be honest.
For the most part, this is the most "simple" lamp in this list but it can add a lot to your room.
It's the traditional lamp we all had in our house but the tall, sturdy base gives it a nice "artistic" look.
In my opinion, it's perfect to use it in your living room for those winter nights where you want to snuggle with a good book!

And this is MY lamp. Well, not exactly this particular model but you know what I mean.
That's the one I picked up when I went to college and now sits in my house, after 7+ years of heavy use.
I don't know what to tell you about this one. I mean, it kept me company when I was pulling all-nighters, it brightened a lot of movie nights, and helped me read a buttload of books!
(Actually, it was the ONLY light working properly in my old, college house. I believe the ceiling lights didn't even have bulbs and I never really bothered to replace them…)
OK, so what's so special about it?
You'll find that most – cheap – floor lamps target a very specific spot. But this style lights up the room in a way that accommodates your reading (it's dimmable).
Trust me, if you're on the fence and you need a versatile floor lamp for reading AND general use, check it out!
Do You Actually Need a Floor Lamp for Reading?
It's not uncommon for someone to spend 8 to 12 hours per day in front of his/her laptop or phone. Be it for work or entertainment.
This puts a lot of strain on our eyes and if we don't take all the necessary precautions, we might pay for it.
After all, it's not a secret that cases of presbyopia, usually reserved for the elderly, are becoming more and more prevalent in younger populations.
What's the solution?
Besides grabbing yourself a quality pair of reading glasses, you need adequate light AT ALL TIMES when you're reading.
No, your ceiling lights won't cut it. Don't be cheap when it comes to protecting your eyes.
And honestly, you don't have to spend a fortune. Pick a floor lamp for less than $150.
Keep in mind that the most important thing when it comes to reading is enjoying it. And I don't know about you, but I hate having to tilt my book towards the light source every time I turn a page.
Let There Be Light…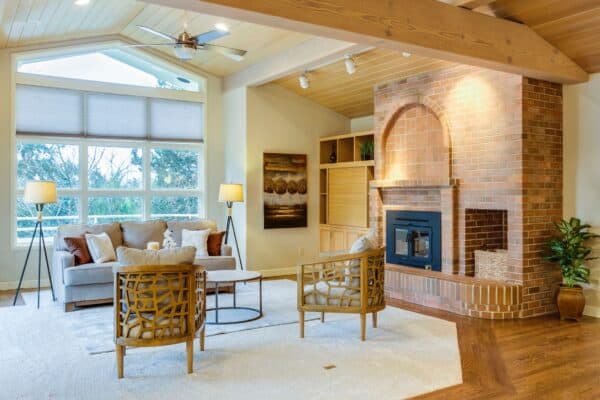 I have a weird theory that our brain likes horizontal lightning (floor lamps) more than vertical lighting (ceiling lamps).
In the past, all of our light sources were mostly hanging from the wall or sitting on the floor. So, in a way we've been programmed to prefer horizontal when it comes to artificial light!
While I have ZERO evidence to back this up and I'm probably wrong… I dunno. Every time I use my trusty ole floor lamp, I feel ready to do some serious studying.
But when I'm forced to read under the ugly ceiling lights I'm reminded of my old office's fluorescent lamps, ugh…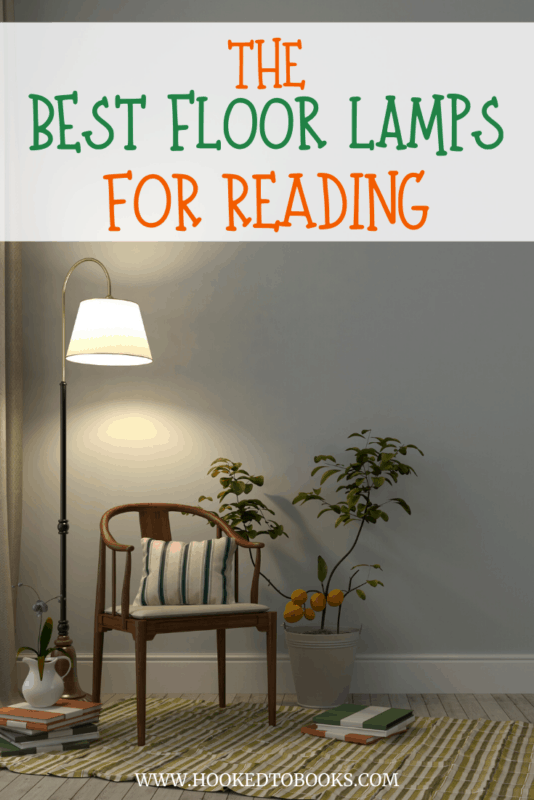 Which floor lamp you prefer? Show us a picture of your well-lit room on the Hooked To Books Facebook page or tag @HookedToBooks on Instagram.
About the Author
George Kourakos is an ad-man by day, a writer by night. He is a mathematician with a creative side. Working full time as a copywriter, George wants to explore his creative side by writing about his favorite topics.