The Amazon Fire HD 10 is the best of both worlds for book lovers; it's an all in one superfast tablet that lets you browse the internet, watch videos, play games, and more; plus, it doubles up as an e-reader.
At A Glance: Our Top 7 Picks for Amazon Fire HD 10 Cases
And thankfully, now that it's no longer the latest model, you can pick up an Amazon Fire HD 10 for a super reasonable price. But if you've got yourself one of these devices, you're going to want to protect it from bumps, scratches, and scrapes. There are countless cases on the market right now, but not all of them offer value for money. Here are 7 of the best Amazon Fire HD 10 cases that not only look great but protect your device from whatever life throws at it.
Best Amazon Fire HD 10 Cases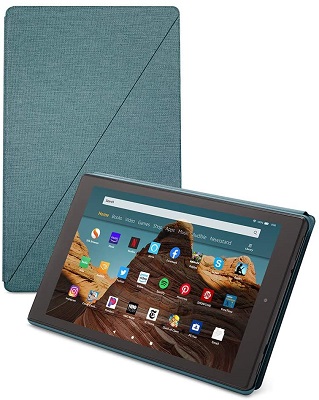 The official Amazon Fire HD 10 case is a solid choice if you're looking for simple, straightforward protection in a stylish, slimline design.
The full cover case is made from soft microfiber material, with an anti-scratch interior featuring a magnetic connection to stay securely fastened when it's closed and on the go. Plus, the auto sleep/wake function means that your tablet automatically wakes on opening and sleeps on closing, helping to preserve your battery life for longer.
The slimline design makes it easy to slip into a bag or purse and carry around without being too bulky, and while this case doesn't offer the most robust protection out there, it definitely wins points for style and functionality.
Pros
Streamlined microfiber finish
Magnetic wake/sleep function
Stays securely fastened
Cons
More expensive than other options on this list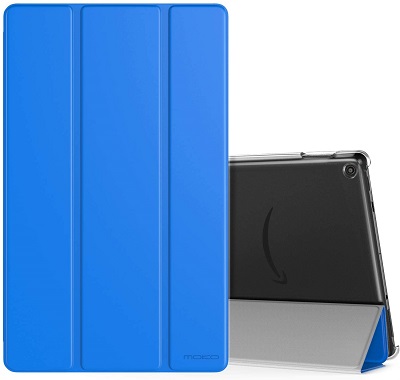 This MoKo case offers all the protection you need for light use at a super affordable price. Just like the official case, this model automatically wakes your tablet when you open it and sends it back to sleep upon closing.
All the buttons, ports, and the camera are all easily accessed, and there are no bezels surrounding the screen, so you can swipe away without any obstruction.
The streamlined case is designed from premium PU leather, with an anti-scratch microfiber interior.
This is a lightweight option that won't add unnecessary strain to your wrist when you're reading e-books or browsing the internet.
Pros
Affordable price
Slimline, lightweight design
Easy access to ports and no bezels around the edge
Cons
Less protection against drops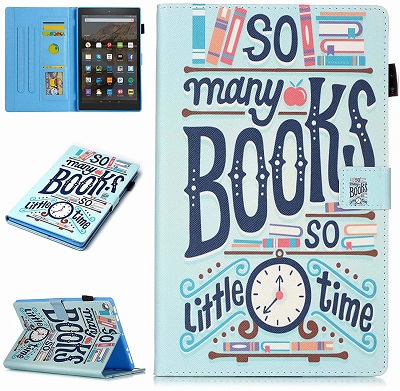 Celebrate your love of books with this super fun "so many books, so little time" case from AKHIOK. The eye-catching microfibre, vegan-friendly leather cover lets everyone know what an avid reader you are while protecting your tablet from everyday wear and tear.
The magnetic closure keeps it securely fastened while you're on the go, and the automictic wake/sleep function preserves your battery life for longer.
There's also a handy kickstand cover that flips backward to transform the case into a viewing stand, so you can watch videos and enter hands-free mode with ease.
And if you're the kind of book lover who's prone to spilling coffee on their tablet case, worry not; the AKHIOK case is made from durable, easy-to-wipe clean PU leather.
Pros
Affordable price
Eye-catching design for book lovers
Handy kickstand for hands-free viewing
Wipe clean
Cons
Less protection against drops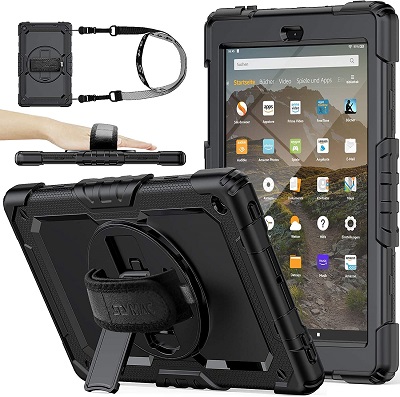 If you need a case that will withstand a beating, then this SEYMAC shockproof case is a great choice. You can see just by looking at it that it can stand up to all kinds of wear and tear. The high-grade thermoplastic polycarbonate shell and silicone anti-skid screen cover provides complete protection against drops, scratches, dust, and lint.
There's also a useful hand strap and portable shoulder strap, so it's a good option for those who like to take their tablets out on the road or hiking in nature.
The 360 degree rotating kickstand makes it possible to view your device hands-free from multiple angles; plus, it allows you to get some killer shots from the built-in camera if outdoor nature photography is your thing.
Pros
Super tough and durable; perfect for outdoors
Built-in shoulder and hand strap
Anti drop, dust, and scratch protection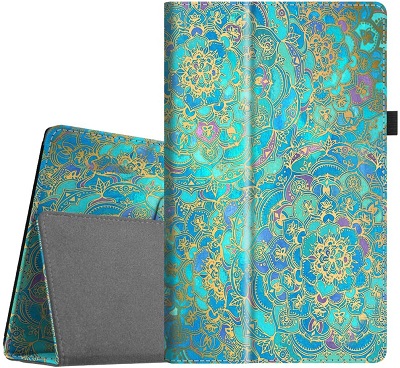 If you're looking for an eye-catching, super stylish case that will also protect your device, then you can't go wrong with this mandala effect Fintie cover.
The premium vegan friendly leather exterior is easy to wipe clean, and the soft microfiber interior protects your screen from scratches, fingerprints, dust, and dirt.
The magnetic cover has a built in auto sleep/wake function, and when it's flipped backward, it transforms the case into a horizontal stand for hands-free viewing.
Pros
Affordable price
Eye catching design
Easy to wipe clean
Built in stand for hands-free viewing
Cons
Less protection against drops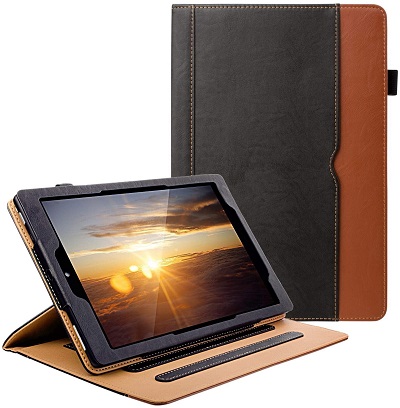 This Grifobes vintage leather case is all about style and functionality. The classic black and tan finish is both professional and elegant, and when closed, your tablet will look more like a leather-bound notebook than an electronic device. But it doesn't just look the part; it's one of the more robust and protective cases on this list.
There's also a handy document card pocket where you can discreetly store credit cards, business cards, notes, or bills. And like most of the cases on this list, there's a magnetic sleep/wake function that preserves your battery life when your tablet is not in use.
Pros
Classic vintage design
Robust protection
Handy document card pocket
Cons
Heavier than most cases on this list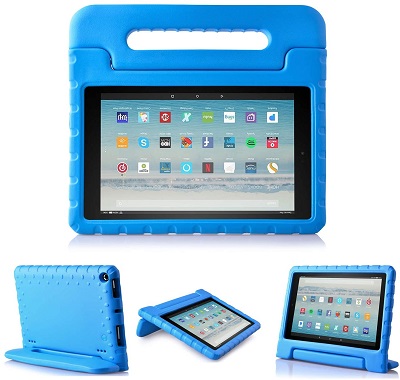 It's not just grown-ups that are sporting the Fire HD 10, and this super durable case from LTOP is as kid-proof as they come. Thanks to its super thick eco friendly plastic shell, this case can withstand all kinds of bumps, drops, scratches, and scrapes. But despite its chunky appearance, it's lightweight and easy to carry, even for little hands.
The case easily attaches on and off and can be wiped clean or even submerged in water to clean up any hard to remove stains.
Pros
Lightweight and easy to carry for little hands
Touch and durable; great protection against drops
Wipe clean and washable
Cons
The built in stand is not as robust as others on this list
Conclusion
These cases will protect your Amazon Fire HD 10 from everyday wear and tear. From streamlined, chic, and lightweight designs to robust, chunky, bulletproof protection, there's something to suit every type of book lover.