When you picture a book lover, you naturally envision a stereotypical bookworm sitting in settings of solitude, don't you? But even for quiet bookworms, joy is amplified by sharing, relating and connection. That's why we've compiled this list of funny and relatable quotes about reading books.
Because every book maniac out there will smile, chuckle, or downright laugh out loud as they read this list.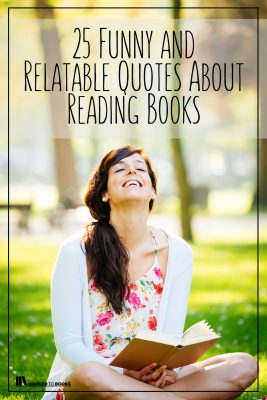 And there's something about knowing that other book fanatics can relate to these love of reading quotes that makes the list even funnier. It's like we have an inside joke amongst ourselves.
These reading quotes tickle your funny-bone the way a knowing look from a friend can, or the way an accomplice subtly winks at you in the moments of mischief we all secretly love.
(Scroll all the way down for images and source credits.)
List of Funny and Relatable Quotes about Reading
Most Relatable Quote
My problem with reading books is that I get distracted… by other books.

Funniest Quote
If my book is open, your mouth should be closed.
[socialpug_tweet tweet="If my book is open, your mouth should be closed." display_tweet="If my book is open, your mouth should be closed."]
Quote for the Solitude Lover
If anyone needs me, I'll be reading. Please don't need me.
Quote (lol)
I enjoy long, romantic walks through the bookstore…
Quote
When trouble strikes, head to the library. You will either be able to solve the problem, or simply have something to read as the world crashes down on you.
Bookworm Quote
How to shop with a bookworm:

Enter the store

Keep eyes on your bookworm at all times

Wow ok you lost them

They're gone forever now
Also read:- 50 Inspiring Quotes About Libraries and Librarians
Quote
Apparently, reading during lunch and ignoring others is considered "rude".
Quote
Anyone who has time to clean, is not reading nearly enough.
Quote
I'm not addicted to reading. I can stop as soon as I finish the next chapter.
Quote
Bookworm problem: Laughing out loud while reading a book in public place and getting funny looks from the other people.
Also Read:- 60 of The Best Quotes for Book Lovers
Quote
*Losing your bookmark in your sheets while reading in bed*
Quote
Can't get out of bed.
Send help…
Or books!
Yeah, just send BOOKS!
Quote
The suspense is terrible. I hope it will last.
Also Read:- 33 Funny and Meaningful Sherlock Quotes
Quote
Sometimes you just need to lay on the couch and read for a couple of years.
Quote
When a character does something really stupid or embarrassing, I have to close the book and breathe for a second because I can feel their embarrassment.
Quote
*That moment at 3am when you whisper to yourself, "I need to stop…" as you turn the page*
Quote
I do not want to just read books; I want to climb inside them and live there.
Also Read:- 75 Most Famous Book Quotes of All Time
Quote
If you're going to binge, literature is definitely the way to do it.
Quote
When you're halfway through a book and come to a plot twist at 1am… I don't need sleep! I need answers!
Quote
People who say that I'm hard to shop for must not know where to buy books.
Quote
Friend: Are you finished with this book?
Me: Physically? Yes.
Me: Emotionally? Stares into distances Never…
Quote
*That major sleep disorder you have called "Reading".*
Quote
Just in case things get boring, I'm bringing a book.
Quote
I was the kid who got in trouble for reading past her bedtime and for reading when the teacher was talking.
Also Read:- 50 Walt Whitman Quotes (Author of Leaves of Grass)