When Angie Thomas announced her second book On The Come Up, I was sure we were about to be hit with another stunning bestseller. Her debut, The Hate U Give, has only been on the bestseller list for two years now and this author continues to cement her name as one of the top YA authors of our generation.
She tackles big issues and fills her stories with relatable teens who easily capture your heart. It only takes one chapter of meeting Bri, the complex and heartfelt sixteen-year-old rapper, before you know you don't want to miss a single page of her journey.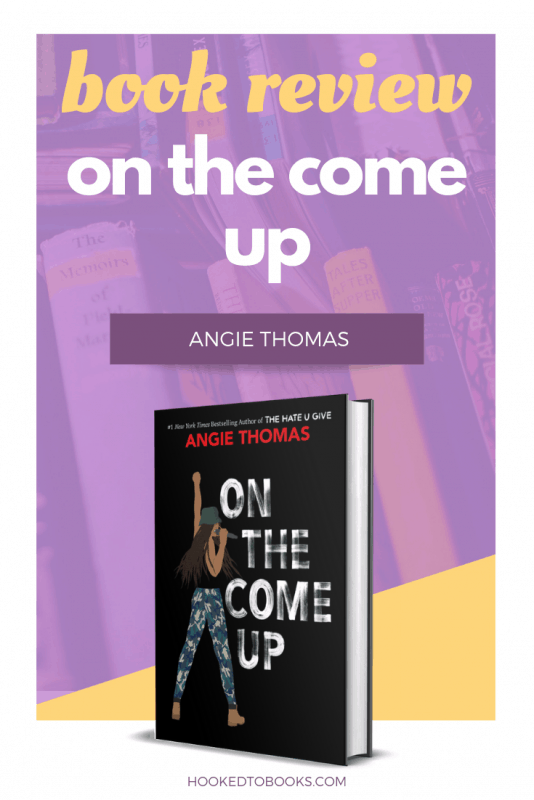 The Book in 3 Sentences
Bri dreams of being a rapper and, while she has the talent for it, getting started is proving hard since she's sixteen, still in school, and is watching her family slowly spiral towards homelessness. When she gets her big break in the form of making some aliases with shady people, Bri isn't sure if it's right to take it. However, she can't let her family end up on the street.
Too many books for your bookshelf? You may need an
e-reader
.
Rapping, Poetry, and Beats
Bri's top dream in life is to be a rapper, and she's not full of wishful thinking. She's good. It also runs in her blood since her dad was an excellent rapper who was murdered before he made it big. He's a neighborhood legend, and people are quick to assume Bri's following in his footsteps and trying to be a mini-me for him. Except she's not.
Bri wants to be her person, build her name, and be known for her talent – not who her father was. She feels super guilty but she barely even remembers him.
As the book's plot begins to unwind, we follow Bri as she has the opportunity to record her first official rap to stream online. However, she writes lyrics that could easily be misconstrued and sounds like it has gangster themes, even though Bri was talking about stereotypes that her black community has to deal with.
Everything snowballs from there, and it's quickly out of Bri's control. As someone who knows very little about rapping, I was worried I wouldn't connect to the book. However, pfft. The writing is excellent. You're drawn in no matter if you can rhyme two words or pour out your heart in powerful lyrics. Angie Thomas herself is a rapper, and she wrote every line of Bri's heart-pounding raps. A lot of talent and love went into this part of the story for sure.
Can We Just Appreciate Bri for a Second?
She's the kind of character who isn't reduced to her two-dimensional inked pages. She is so real! Her passion for raps burns through every page, but she's also a huge geek, and I loved the scenes where she was that flat-eyed emoji expression at having to explain her nerd references to her family continually. (Mixing up Star Trek and Star Wars? Rude.)
Her family is also tight-knit, fierce and epic. Her big brother is protective and loving, and her mum puts up with 0% shenanigans but adores Bri. They haven't had it easy either.
Her mum, Jay, is a recovering drug addict and lost the kids for many years (they stayed with their grandparents who are still spiteful towards Jay for her mistakes) and now she's trying to stay sober and focused on raising her kids… except she loses her job.
They're already in debt, struggling to pay bills, and relying on food charity. It curdles Bri's stomach and drives her even harder to try and succeed at rapping so she'll get paid. You sure can't help but fall in love with this family. Bri has a whip-sharp temper. She's also passionate. She's also trying to figure out who she is, while the world is busy stereotyping her.
She grits her teeth at being labeled that "sassy black girl." Why can't she just be herself? She's furious at her school for always thinking the worst of her and labeling her "aggressive" just for having an opinion. This pain regularly tumbles out in her rap lyrics.
Squad Goals
Characters are the heartbeat of any story, and the weight of 400 pages can't just rest on the protagonist. So how were the secondary characters for this book? You know I'm just going to sit here and cheer!
Bri has a major squad group, full of ups and downs and bantery moments as well as bitter fallouts. Sonny is gay and a graffiti artist. Malik is Bri's secret crush (but that doesn't go well) and into film documentaries. Their dynamics are constantly changing, which I found realistic and relatable for high school friendships.
Bri is also really close to her aunt, who has chosen a dubious path with gangs, but who's always supported her rapping. Also, while the book doesn't feature a romance front-and-center, there is an adorable and shippable boy who struts onto the page and isn't deterred by Bri's raised eyebrows. I loved them! It made the book stronger while not taking away from the family-centric focus.
The Writing is so Personal
It's like we're right there with Bri and she's telling us her story face-to-face. I love that style! I'm not American so I did struggle with some of the slang and references (like the shoe brands or the sweets they were eating), but it was easy to get immersed in the culture and surprise of the author and this book to share their world with everyone. I also laughed out loud, which was an excellent relief for when the anxiety-inducing scenes crashed onto the page. For a book that's over 400+ pages, it went by fast due to addictive and engaging writing.
Is this a Powerful Follow-Up to the Famous The Hate U Give?
With a debut so powerful and casting a huge shadow, you can imagine that the second book has a lot to live up to. I think it pulls it off masterfully. It wasn't as overall dark as The Hate U Give, but it was powerful and needed and full of incredible heartfelt love. It unpacks racial profiling and prejudice. It talks about what it truly means and feels to be poor. The story is about consequences too, and stereotypes that break or make you, and how it's important to speak out and be yourself. I can't wait for Angie Thomas' next book announcement!
About the Author
CG Drews is a YA book blogger with the goal to read every book in existence. She 's aiming for immortality for this. When not reading, she writes novels , at paperfury.com.